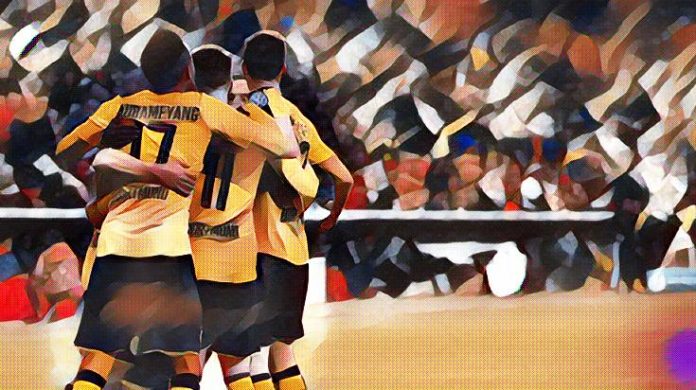 I said top five, right? I said I'd be happy with a top five season and call that a job well done? Then the terrible two-some of Tommy T and Zorc sold three players that were going to have a huge impact, remember that bit?
Yeah, best thing that could have happened to us.
Read Part I, II, III, IV, V, VI, VII, VIII, IX, X, XI, XII and XIII here.
We managed top five alright. We went a few better than that. Yes, Dortmund II have claimed back-to-back 3.Liga titles!

It's safe to say we didn't race away with it. We failed to win any of our last six, including defeats to the teams closest to us – but, two draws in the last two games just about did the trick. Champions, once again.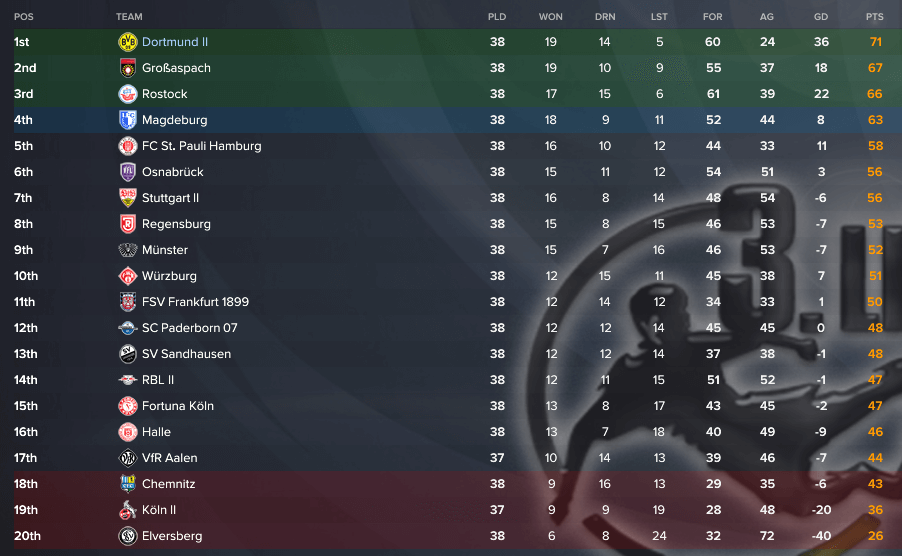 Grosapach and Rostock will be kicking themselves – if either one of them mustered together any kind of strong run in then we would have been dead in the water. But, they didn't. And that means we got the trophy.
You will note we lost five more matches than last season – which could be considered as regression. Mitigating circumstances m'lud. For three of those matches, we had between five and seven players away on international duty. And, we never got battered. Each defeat we incurred was by a single goal, and on each occasion I was fuming that we had not got something out of the game. But, champions eh?


Yet again, we were reasonably tight at the back. 19 clean sheets in 38 games is OK, least goals conceded in the league was pleasing and we only conceded two or more goals in a game twice.
Who were the stars?

As you can see, Thomas Schuster was the best player in the division. He was going to be Serra's understudy, but when he was sold Tommo stepped up to the plate and dominated the division. He's 18, so hopefully I'll get another season out of him before he moves up or out on loan.
Gabby had one hell of a season – 3rd best average rating in the league as a striker-cum-right winger playing as a right back. Throw in 12 yellow cards and 3 red cards and there was always something going on. A couple of goals and 12 assists was impressive too.
Luca Kilian was there or thereabouts for the second season running – he has three years to run on his contract and I cannot see him making the first team so if he is not sold then he might be someone I can rely on being there for next season.
Cisse was also a revelation – again, he is a striker-cum-attacking midfielder and I fancied him as the roaming playmaker in the DM3. 9 goals, 5 assists and that kind of average rating proved my gamble paid off.
See below for all the KPI stats.
A few other things for you to cast your beady eyes over…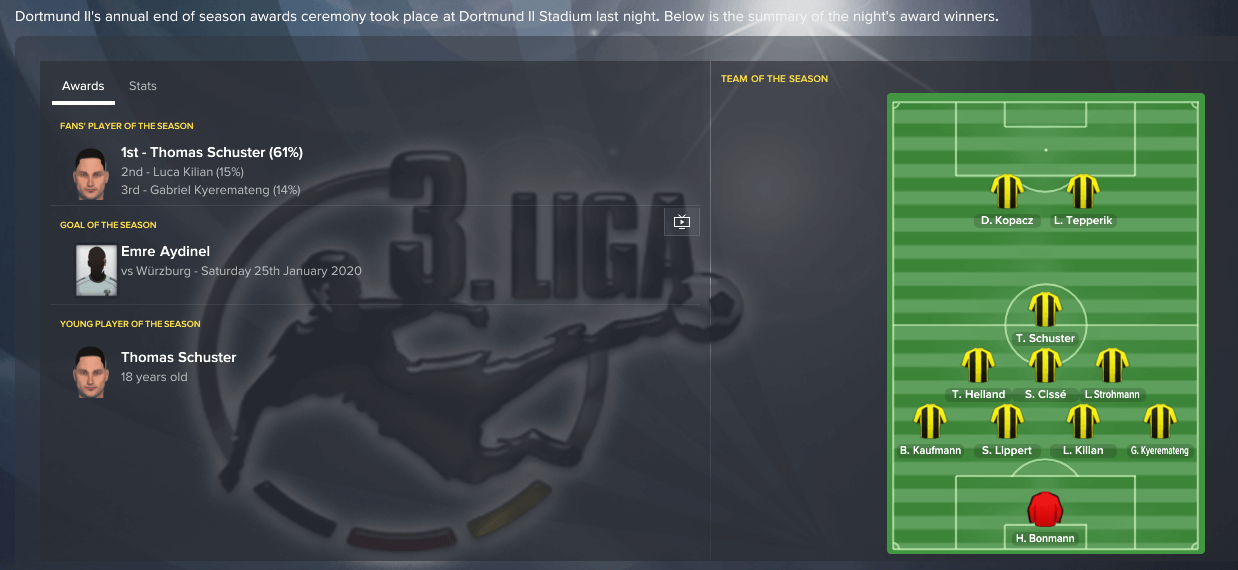 No real surprises in any of those!
So, two other topics to go over really – how the first team did and what next season looks like.
Absolute bottle jobs. Dortmund were top from the third game of the season until the last game of the season and then they allowed Schalke, yes Schalke, to get there on the last day. That's a sackable offence for me, Bayern won't be that bad again.
Realistically though, 2nd in the league and a Europa League semi-final isn't a bad season for Tommy T and I would imagine he's staying put. It's a weird thing with him, he isn't doing anything remotely annoying to me – each time he takes a player, which is rare, he gives me one back and the boys that go out on loan are stepping up to 2.Liga or the BuLi each time so I can't really complain. At Bilbao they'd get farmed out from the second flight to the third or fourth flight to play "first team football" which made little sense. None of that here, it's quite well organised.
But – this concerns me…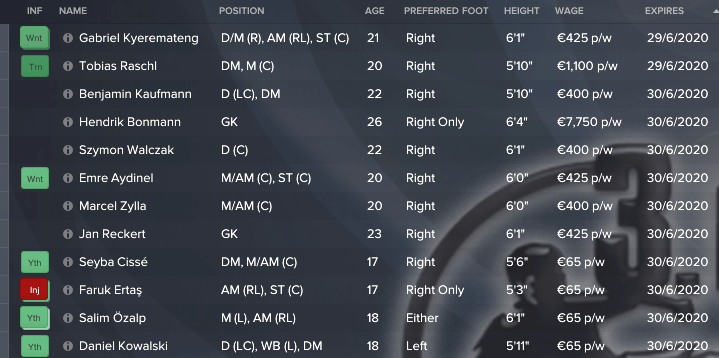 12 players out of contract – Gabby, Cisse, Zylla, Bonmann and Salim are all regular starters for me. Kaufmann has proved very useful, and Emre has weighed in with a couple of important goals. I'd rather have Walczak and Reckert still in the squad than not, so I am about to lose a chunk I reckon. I'll try and get the first five back as soon as they leave, but there is always an element of lottery in that.
On top of that, there is then the inherent risk that players will get shifted up or out. I've already lost this boy to the first team, my excellent regista for the last two seasons.
Still, we have three more top prospects in the U19's who, hopefully, will be available to me next season as well. I did say at the start of this season that we'd win the league next season, and we did it this season, so, as ever, I am completely clueless as to what happens next.
All I do know is, I am going nowhere. Werder Bremen tried to tempt me to turnaround their club which has been relegated from the top division, and although it is exactly the kind of situation I love walking into I said no. First team, and first team only for me.
Soon, I hope.