After the narrow failure that was the end of season 6 (part 18 for those keeping score) I couldn't leave it there. Of course, there'll be a season 7. There's life in these Canaries yet. Unfortunately there is more than life in most of our rivals – in fact, there are millions of pounds and better, more astute managers. Man Utd have brought Patrick Vieira back to the Premier League. Liverpool spent £20m on Ronaldinho. Arsenal have spent £9m on Carl Cort. Wait, what? Well anyway, teams are throwing money about. We're having to scrape about to try and make ends meet.
Meanwhile, in Italy, there is such a thing as having too much money.

Be that as it may, it's time for the traditional season opener in the name of charity, though now it is in the name of the community.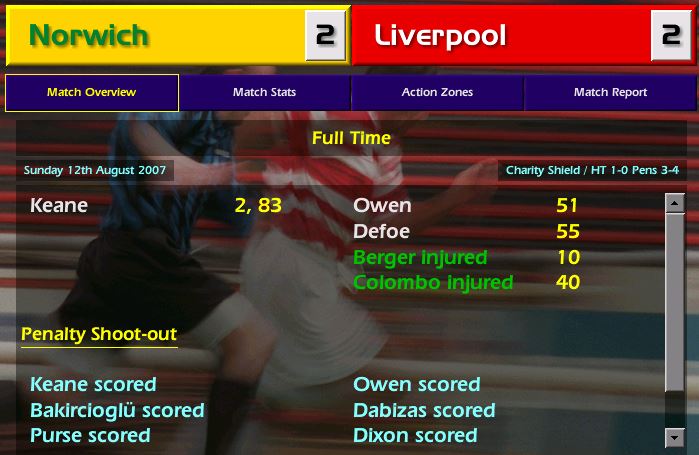 My screenshot can't go down any further but To Madeira and Marcus Bent both missed and we lost. Ho hum.
Before the season proper can start there's a Champions League draw. It's not bad. Dortmund are obviously a tough nut to crack but Brondby and Lyon are more our level. I'm cautiously optimistic.

The season is off to a solid if unspectacular start. Wins are wins.

Our first signs of it all going wrong come away at Sheff Wed, where once against Australian Scotsman Scott McDonald has our lives.
We head to Old Trafford in a miserable mood, though we lead at half-time. It soon goes wrong. Van Nistelrooy might score past me forever.

Sigh. Hopefully, Europe will get us back on our way, though we are 1-0 down to Nicolas Anelka after just 5 minutes.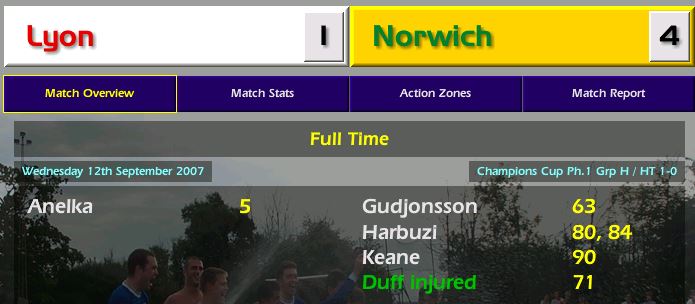 Phew. What a comeback. A strong second half gets us off to the best possible start.
A convincing win over Leeds is a real shot in the arm. Maybe this won't be a disaster after all?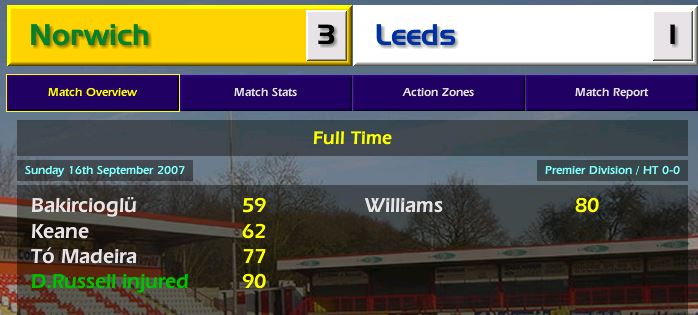 Then again, maybe it will.
That home defeat is a rarity, we're usually so strong at Carrow Road. Our gauntlet of a season moves on to Highbury. Kick in the nuts, anyone?

We got through the emotions of losing Keane to injury only for his replacement to score, but a late winner is a huge blow. We need to get over it before our trip to Denmark.
When does it become a crisis?

Shearer's arrival from the bench is desperation but all he can do is convert a very late penalty. We're up against it now.
Back at Carrow and a nervous win awaits us. Former player Jonas Lunden applying the pressure late on but we survive.

Millwall then visit us and we give them a thrashing. Shearer is 37, I can't rely on him.
Therefore when Robbie Fowler becomes available it's an easy decision to bring him to Norfolk. He's 32 but the goals don't move and he has plenty of people around him who can move.

I'm sure he'll be fine. Obviously, we lose to Chelsea, former Canary Darren Eadie equalising for the Blues before David Dunn scores yet another late goal.

We really have to beat Brondby and To Madeira knows it. Mexes tries to de-rail us but we keep our hopes alive. A win against Lyon next up and we've got every chance.
We have a chance to avenge the Charity Shield loss first though, and even after we score early Dabizas punches To Madeira in an off the ball incident. He's off, and we win at a canter.

But then…

Our usual reliable goal scoring is drying up when we need it most. This is a crushing defeat in terms of progression from the group. The only thing in our favour is that it is tight and if we can win in Dortmund we'll go through.

Fowler gets off the mark but we still blow a 2-0 lead at Newcastle. Our away form is really holding us back.

It never rains but it pours and it's off to Anfield in the League Cup. We were beaten finalists last season but Michael Owen scores two late goals to knock us out at the first possible opportunity. It might not be a bad thing.

Still annoying though.
Fowler sees us past Blackburn after To Madeira's early bath for fighting Tim Cahill.

That's 6 out of 6 at home, but 1 out of 6 away. We're a respectable 5th, not a million miles away from the leaders and we've already been to Old Trafford, Highbury and Stamford Bridge, so things might improve from here.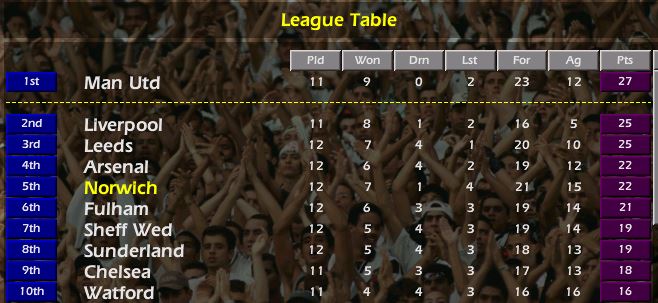 They also might not, as we travel to Germany knowing anything but a win will prematurely end our involvement in Europe.

Wow. You little buggers. We've lost some awful away matches this year but to win by scoring 4 away in Dortmund, I don't know how we have the stones for it sometimes. Harbuzi has been nowhere near as good as last season but he's electric here, a very welcome win.
And breathe…

Ah hot piss.

That will present a challenge of its own next week, but for now, I will bask in the glory of getting away with being terrible. We must improve. Join me next week to see if we manage it. Toodles for now.