In a time approximately 2 years ago when the Higher Tempo Press was basically just Chris and I retweeting each other for a laugh, I started a journey. Chris will tell you it was a spiritual one between two men and a love of a video game, but in reality it was the beginning of something special between a man and a country. I took charge of Scotland on CM01/02, defied the odds to qualify for World Cup 2002 and then went on to reach the final. An unbreakable bond was formed.
I made a commitment to take Scotland to Euro 2004, once again bringing you blogs in real time with the actual schedule. Some of you might have been with me all the way, whereas many more of you will have tapped out after the World Cup final. Quit whilst you're ahead, they said. You'll never do better than that, they said. You're probably right, but here we are, preparing for Euro 2004. Oh it brings a tear to the eye.
It's a tough group awaiting us. Germany and Holland will be among the favourites to win the whole thing, whilst Sweden cannot be underestimated. All I have is Mark Kerr.
The glorious Scottish FA have lined up two friendlies to prepare us for this gauntlet. One at home to Austria but first, away to Greece. Greece have at least qualified.
One new call up is Bob Malcolm, who is versatile and jumps like Tigger. I like that.
I'm sticking with 4-3-1-2. Usual centre half McGuire of Aberdeen is injured so Innes gets to make a claim to start alongside Wilkie. Bobbo debuts at right back
Greece have one of my favourite keepers on the game and Nikos Dabizas. Machlas knows where the goal is.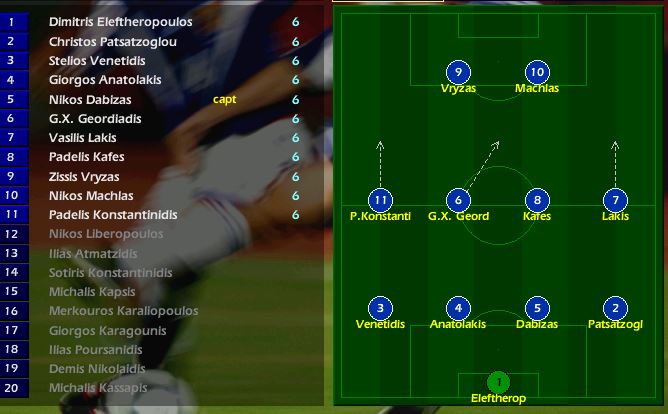 This was a very professional away performance. Nicholas has only scored three goals all season for Tottenham but he netted twice here, cementing his starting berth in the AMC role. He's useful.

Innes failed his audition whereas Bob was great. Most of the attackers did well in fairness, though the question marks over McPhee's partner and the left sided midfielder remain. Even Neil SUllivan didn't disgrace himself.
A month down the line it's time to welcome Austria to Hampden Park. This is the last chance for some of these boys to work their way into my final 23 man squad that will go to Euro 2004, so Kerr is moved to the left (he is either footed) and Gary Teale is brought in on the ridht hand side. McGuire is back alongside Wilkie whilst Bobbo could be my right back forever if he does well here.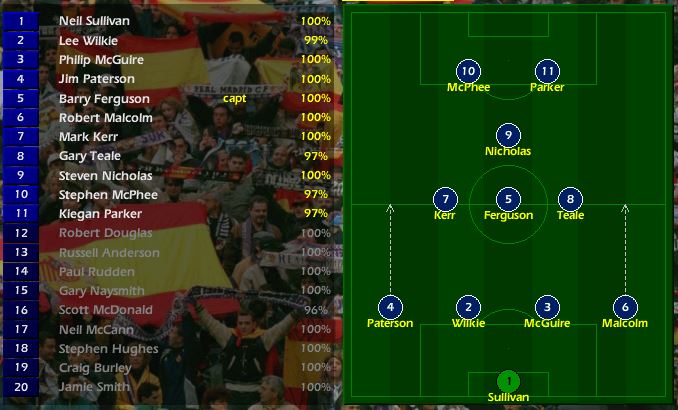 Austria opt for…3-4-1-2? Wingbacks anyway. Future Middlesbrough man Emmanuel Pogatetz will snap anybody within 3 feet of him, which is something to look forward to.
This couldn't have gone any better. 3-0 up by half time thanks to Parker, Kerr and Wilkie. We play some wonderful football. Kerr is getting games for Roma now and he looks at home on the left side of three central midfielders. McGuire heads in a 4th in injury time to cap off a good performance against average opposition. Good for confidence, maybe not the best preparation.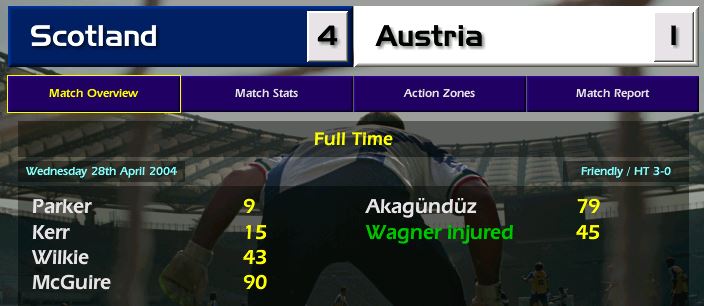 Lovely Mark Kerr gets man of the match. Everyone is great. Except Sullivan who lets in one of the few shots he faces. He's banned for the opening game of the Euros against Sweden, so really I should have tried one of his understudies. Ho-hum.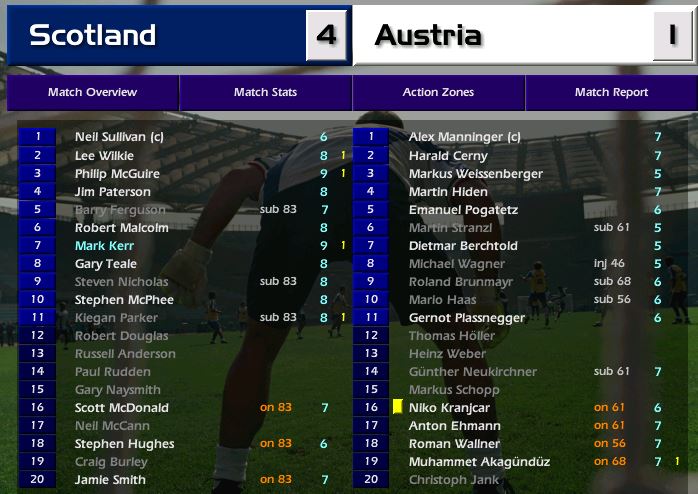 Is Niko Kranjcar from Austria? Bit odd. Anyway, we've won two out of two from this batch of friendlies, you can't say fairer than that. But what now? Well, the squad will be announced in May and then we'll have each of the group games in a live text. I don't think we'll get beyond the group stage but if we do then that's a great time for all. For now though, this was a brief International update. Toodles for now.