Over the years, Football Manager and its predecessor Championship Manager have introduced us to top young players who have become household names. This article will look at some of our favourite wonderkids from the two games' history. Here is part one of our FM wonderkid journey:
Freddy Adu
The Ghanaian/USA forward is quite simply a Football Manager legend, even if his football career didn't entirely take off the way many expected in real life. In some of the early FM games, he was quite simply a player who was a must-have on any save.
Unlike some of the players on our list, he was not discovered by most for the first time on FM. In fact, he was once the most hyped footballer in the world game. At 14, he had a professional contract with MLS outfit D.C United, becoming the youngest player ever to be handed a pro contract in the USA top flight in the process.
Adu had admirers worldwide, including legendary Manchester United boss Sir Alex Ferguson. Some even compared him to the Brazilian superstar Pele, who he met as a youngster. He had the world at his feet. Unfortunately for the forward, for one reason or another, his football career fell flat.
From when he started his professional to his last stint at the Swedish club Osterlen in 2021, Freddy Adu had spent time at 15 different clubs. After his opening three seasons with D.C United in the MLS, he only once managed to play more than 14 games in one season. His best performances goalscoring-wise came in MLS in that first spell in the US top-flight with United and a second stint in 2012 when he scored just five times in 24 appearances for Philadelphia Union.
Now 33, Adu last played professional football in 2018 with Las Vegas Lights, where he made just 14 appearances in the United Soccer League. Freddy Adu may well be the poster child of too much too young when it comes to football, but he will forever be a legend to those who owned him on their saves.
Maksim Tsyhalka (Maxim Tsigalko) (RIP)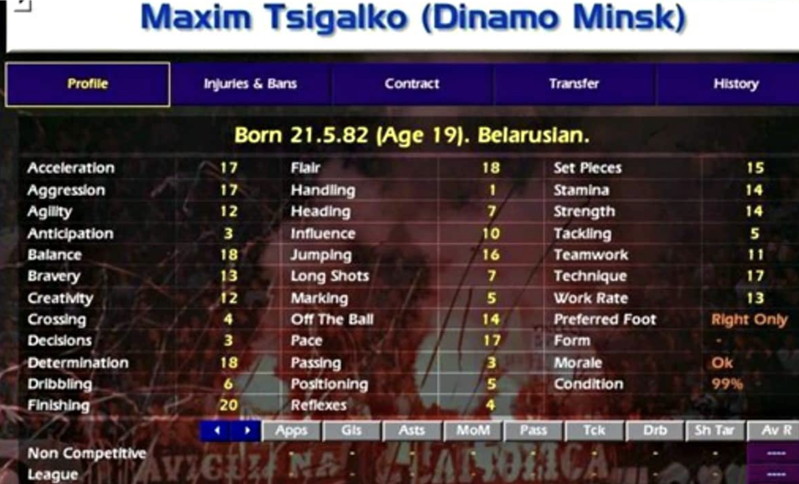 While Adu not fulfilling his football potential may be sad, the news that Championship Manager scoring legend Maxim Tsigalko's death in 2020 at the age of 37 was a huge shock to many players of the 2001/02 edition of the game. Strangely, we felt like we knew the forward. If you know, you know.
The Belarussian forward will go down as one of the best wonderkids the game has ever seen. He could be bought cheap cheaply, and his goalscoring output in the game would put Erling Haaland and co. to shame.
His excellent performance in the game was because the researcher in charge of stats for Belarus, Antonio Portillo, loved Tsigalko, so he decided to exaggerate his ability. In modern terms, he was overpowered, and boy, did we enjoy his exploits.
Unfortunately, things didn't pan out as well in real life as they tended to in Football Manager. He started his football career with his hometown club, Dinamo Minsk, first representing the youth team before becoming a first-team player between 2001 and 2005. During that time, the forward won the Belarus Premier League title in 2004, as well as finishing as a runner-up in the countries cup competition in 2002.
The most productive spell of his career came during his time with Dinamo when he scored 24 goals in 53 appearances. He also played for Naftan Novopolotsk, Kaisar, and Banants before finishing his playing career at the now-defunct Savit Mogilev.
The forward retired from playing in 2008 due to injuries at just 26, having made also made just two international appearances and scoring once. He then went to work as a construction worker. However, the job caused him serious health issues, as he sustained both back and leg issues.
Tsigalko may never have fulfilled his potential in real life. However, he will always live in the memory of those of us who managed him in Football Manager. He brought many people great moments of joy in the game. RIP Maksim.
Cherno Samba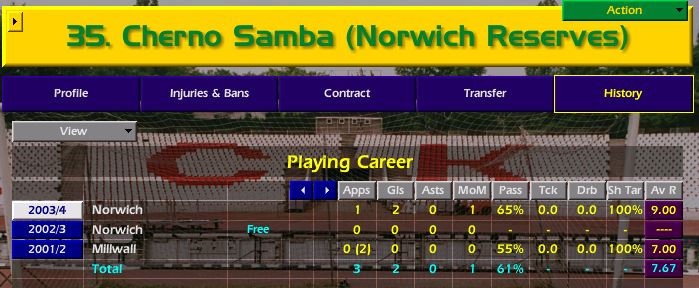 On Championship Manager, the forward enjoyed cult-like status. He could be bought cheaply as a teenager and usually developed into one of the most prolific forwards in the game. Samba was usually one of the first players you looked to sign in your save. Despite his ability in the game, Samba's football career never really got off the ground in real life.
The forward was another player who was considered by many as a future star after impressing in the youth ranks in real life. After moving to England from Gambia at age six, Samba represented England at every youth level up to under-20.
He started his professional career at Millwall but never made a first-team appearance for the Lions. However, his form in youth football reportedly attracted the interest of both Liverpool and Manchester United.
A big move didn't materialise, and instead, he ended up making a move to the Spanish club Cadiz in 2004. During his time with Cadiz, he had a loan spell at Malaga B, where he enjoyed the best season of his career, scoring 11 goals in 18 for the Spanish outfit.
Despite his productive campaign in Andalusia, Samba returned to England in 2006 to sign for Plymouth Argyle on a free transfer. He spent two years with Argyle, making just 13 appearances and scoring once. During that spell, he also had a loan stint at Wrexham, where he made just three appearances.
The next stop for Samba was an 18-month deal with Finnish team Haka. Once again, he struggled for games making just seven appearances for the team from Finland before signing a two-year contract with the Greek second-tier team Panetolikos. In two seasons in Greece, he failed to make a first-team appearance, failing to score.
In 2012, after failed trials at Forest Green Rovers and Alfreton Town back in the UK, Cherno Samba made the final move of his career as he joined the Norwegian Second Division team FK Tonsberg, where he scored three goals in 11 appearances in a one-year stint.
In 2015, Samba called time on his playing career due to injuries. The forward has since talked about suffering from depression as a youngster and that he attempted suicide during his time in Spain.
The forward has set up a football academy in Ghana called "Cherno Samba Academy of Football" in partnership with professional outfit Samger FC.