How do you do? Things are heating up in season 6, as our season got off to a reasonable start despite the fact that my strikers can't score goals. Robbie Keane can though and that's maybe all we need. We've still got the UEFA Cup to enjoy but of course, our main aim is to get back in the Champions League.
Being 2-0 down to Watford inside 11 minutes is not how I picture my days but a pair of Swedes save the day and a point.

Harbuzi is fast becoming my hero. He's now starting games in the AMC role with Keane pushed up front with To Madeira. They are devastating against Sheff Wed.
The UEFA Cup is very much the second prize and drawing Inter in round 3 is awful. We are level for a bit in Milan but it soon runs away from us. At least we got an away goal.

How do you approach the second leg? Attack like hell, obviously.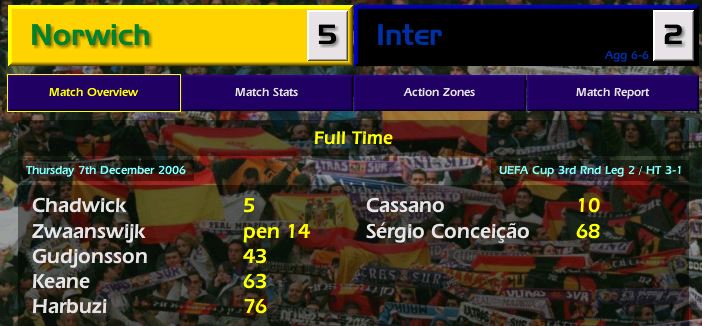 6-6. Out on away goals. It's a cruel world. It should never be a bad result beating Inter Milan 5-2, but we're out. The European adventure is over for another year.
In between legs (ooer), we blow a -3-0 lead away at Newcastle. Shearer opens the scoring from the spot at the ground he scored so many goals but Newcastle will be the happier of the two sides.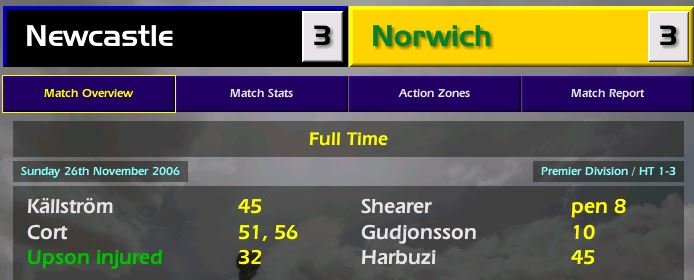 Shearer also scores at Ewood, in a good week for fans of players scoring at grounds they are idolised. It's the league cup semis for us.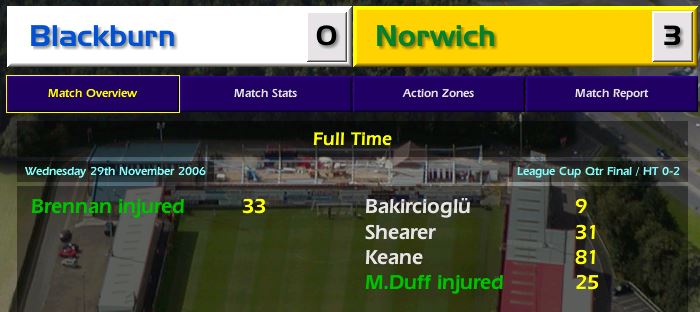 Silly Said.

He hasn't been a regular for a while now, and he likes complaining. Regardless, it's a Canary clean sweep for the November awards.

We then beat high flying Fulham to continue our good form.

On the eve of the Inter Milan second leg, the League Cup is a harsh mistress.

So either way, that's going to be rough.
Just days after beating Inter Milan 5-2 and going out on the damn away goals rule, we're off to Gresty Road.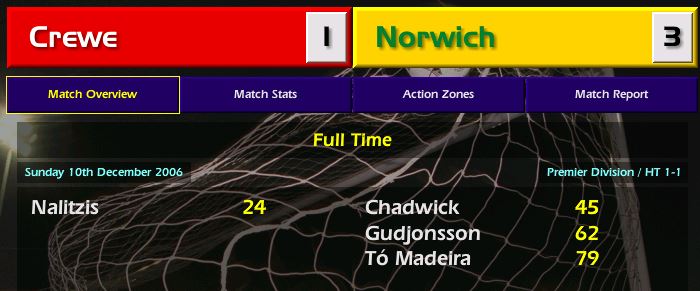 The half-time deficit was looming before pretty boy Chadwick levels it up. Baby Kangaroo Gudjonsson puts us ahead before To Madeira finally gets off the mark for the season. It's December. But beggars can't be choosers, and we're in the top 3.
Momentum is a huge thing in football. Not just for us, but also for To Madeira. He scores again at Gillingham before Harbuzi grabs the headlines with a late winner, before Madeira makes it 3 in 3 with the final goal in another win at Blackburn.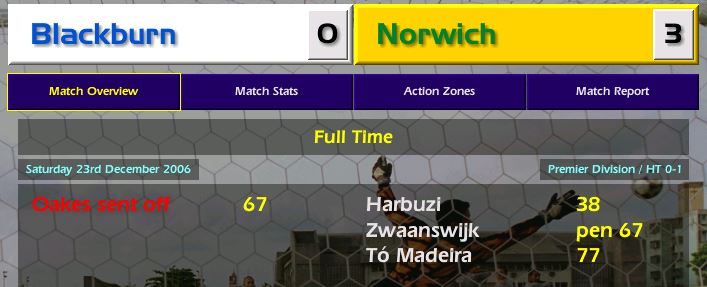 Just when you think you're invincible, along comes Robbie Fowler to ruin your day. Happy Christmas.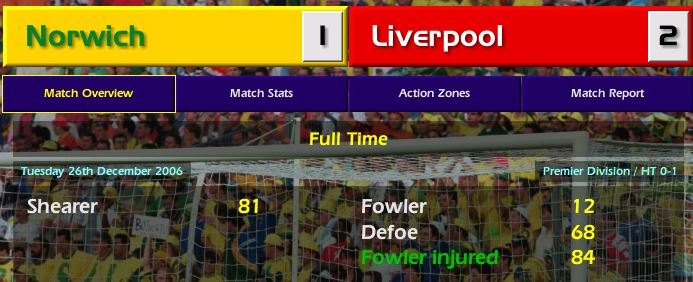 We beat Stoke to round off the year. To the goal machine at it again.

Just two days later, on New Year's Day, it's the always difficult trip to Stamford Bridge. There's something wonderful about this team though. 2007 might be our year.
As ever though, whenever I get ahead of myself, Ray Parlour comes along and ruins it all.

This is…urgh. 2007 is not our year.
An awful result as QPR gain some revenge for the cup final defeat. Speaking of the cup, we're in the fifth round after wins over Mansfield and then Portsmouth.
So that's good. The draw…is not good.
After our recent blip in the league, we need to come back strong. Fortunately, Sunderland show their famous discipline and assist us to a comfortable win.

That sets us up nicely for a trip to Wolves, rivals in a positional sense as we scrap for that vital 4th place.

The early set back does us little harm, Harbuzi once again the key man. That takes us into a clash with Leeds, where Robbie Keane takes the chance to brush aside his former club.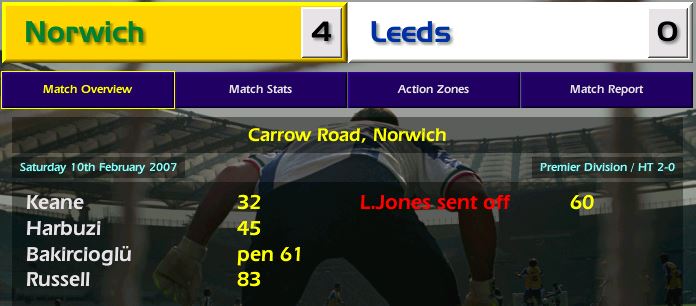 That's more like it!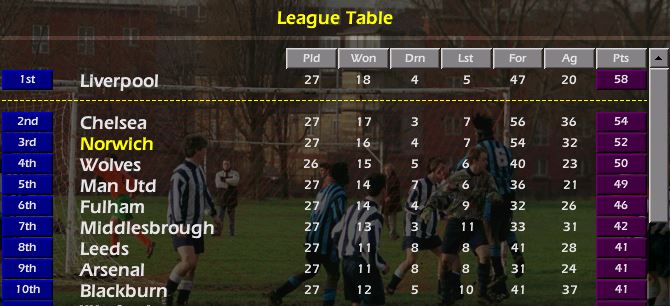 Back into third but Wolves' game in hand could bring them back up to third. Liverpool are starting to get on my nerves. The first leg of the League Cup semi-final didn't go to plan…

We lead – twice – but Defoe and Owen have too much for us and now we have a huge job on our hands in the return leg. Once again though, Chadwick – the man for the big occasion. Sort of.
It's all set up nicely for a grand finale to season 6 next week. There's a big chance we'll end the season with no trophies, or we could win three. Imagine if we won three? On that note, I'll see you next week. Toodles!