Hello again. You'll recall the last chapter was called 'a free hit' and it was about me facing Arsenal to make the semi-finals of the FA Cup. We looked at how my formation was better than there's and my wing-backs would be able to exploit the space down the flanks. However, if you were paying attention, you would have also recalled me saying that it all depends on if my scout has got it right.
In this edition of 'Beating Nuno', we'll see what happened against Arsenal, preview the Middlesbrough game and see how the lads got on while on international duty. As always, if you don't know what I'm going on about when it comes to Beating Nuno, you can read the prologue here.
Right, so we'll begin with the teams for the Arsenal game; I went through the way I was setting up in the last chapter and that was done on the basis that Wenger was going to line up with a 5-2-2-1 formation with a really narrow outlook. My scout's inability to do his job struck again as this show Arsenal lined up…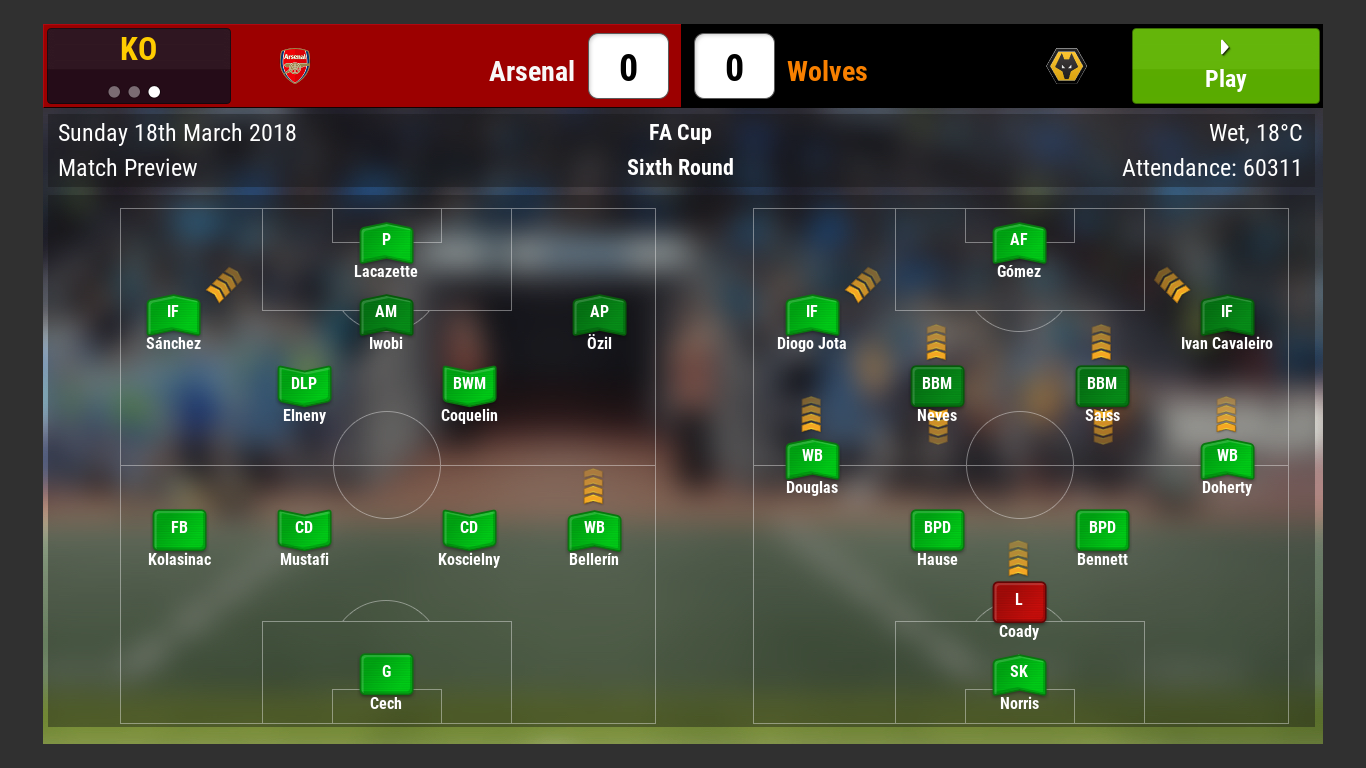 How can you get it that wrong? They're not even remotely similar. There was nothing that I could do about it as I wasn't in the game of changing the formation before the game had even begun, so we had to hope that we could still overthrow them when it came to our final third. I'll level with you, the first-half didn't go exactly how I was hoping…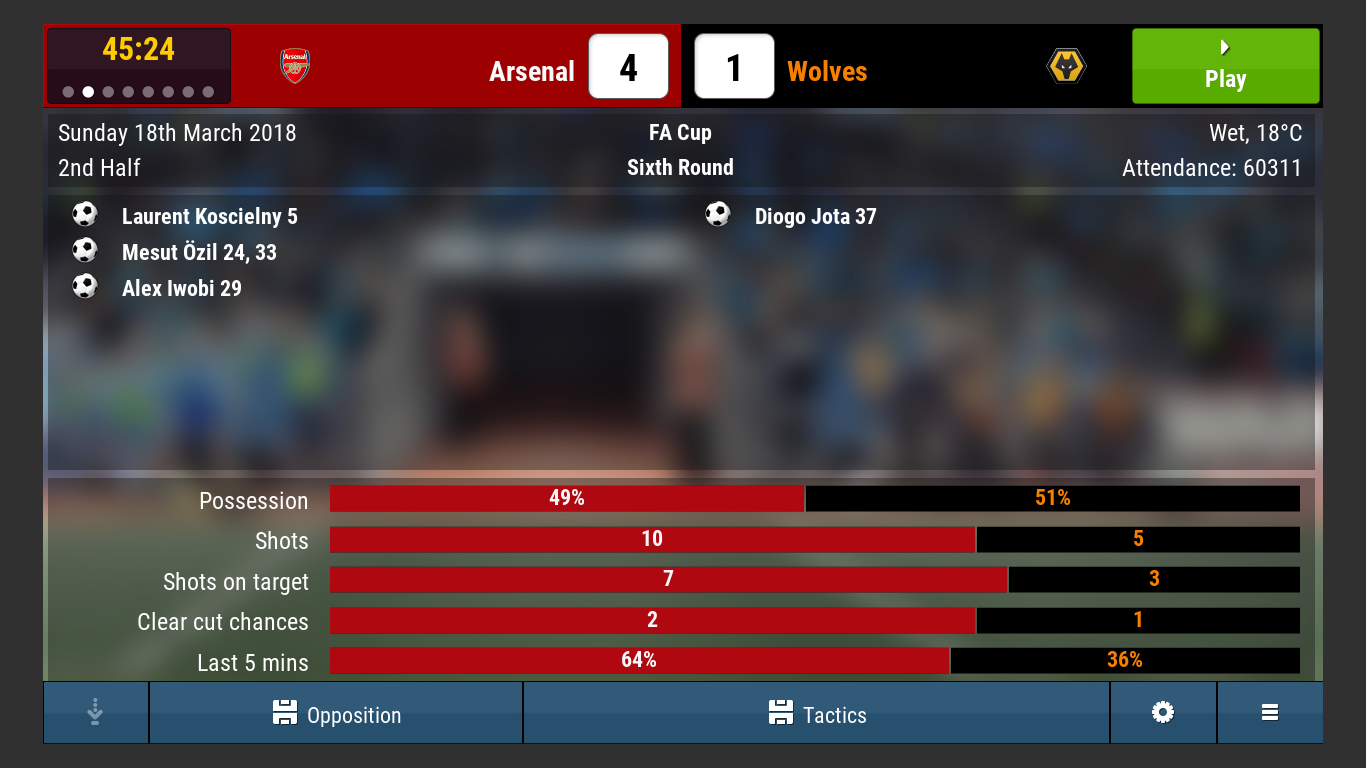 Four goals in twenty-eight first-half minutes. What a fucking embarrassment. As you can see, the screenshot was taken just after the second half kicked off. I wasn't going to take one, I was going to try and disappear off the face of the earth.
Then I stopped and thought, management isn't always about glory, you've got to take the shit as well. I changed things up at halftime, withdrew the wing-backs and told the lads to 'win the second half'.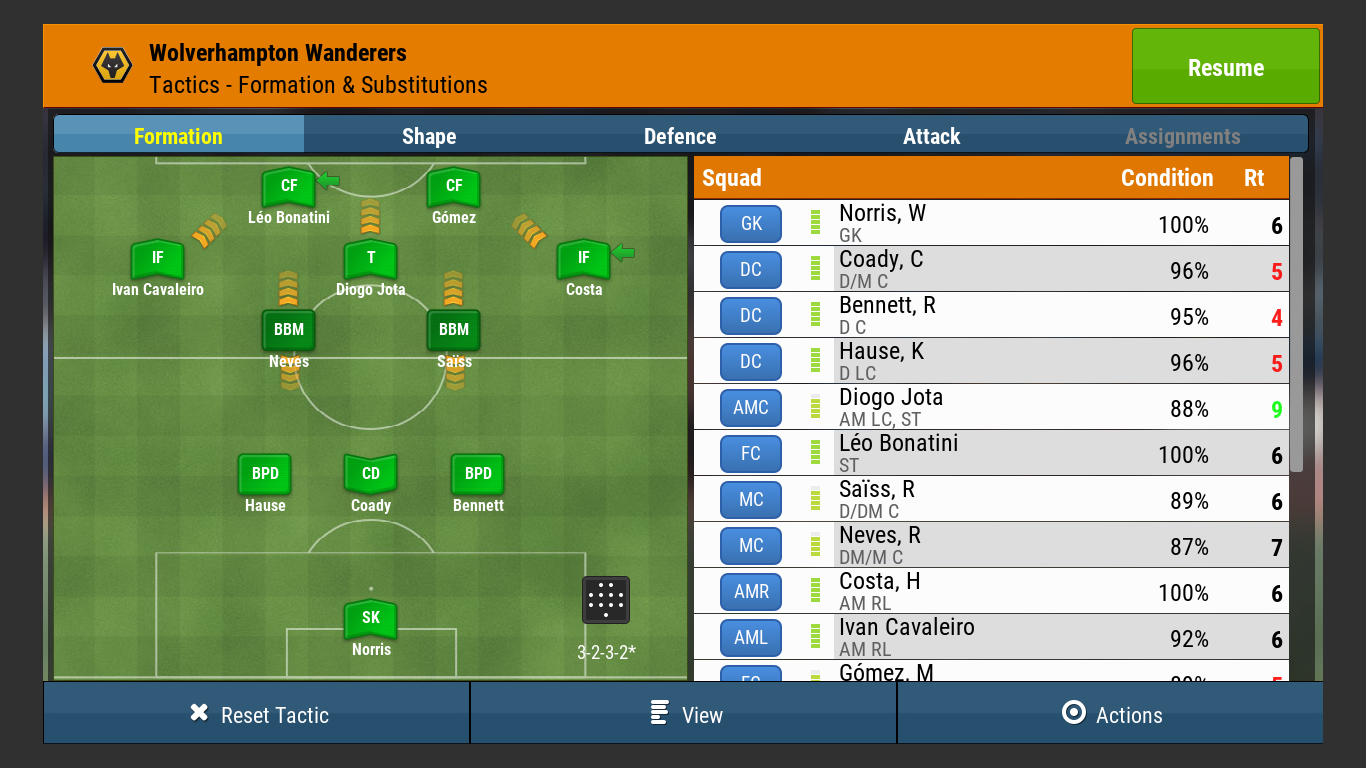 Look at the state of my back three. Ratings of five, four and five. I don't think I've ever seen it like that. Not for my team anyway. Nevertheless, the message of win the second half was ringing in their ears as I introduced Helder Costa and Leo Bonatini for Douglas & Doherty, who incidentally, had ratings in the red as well. I didn't want to say it to the lads, but a three-goal advantage isn't much if we can get an early goal in the second-half…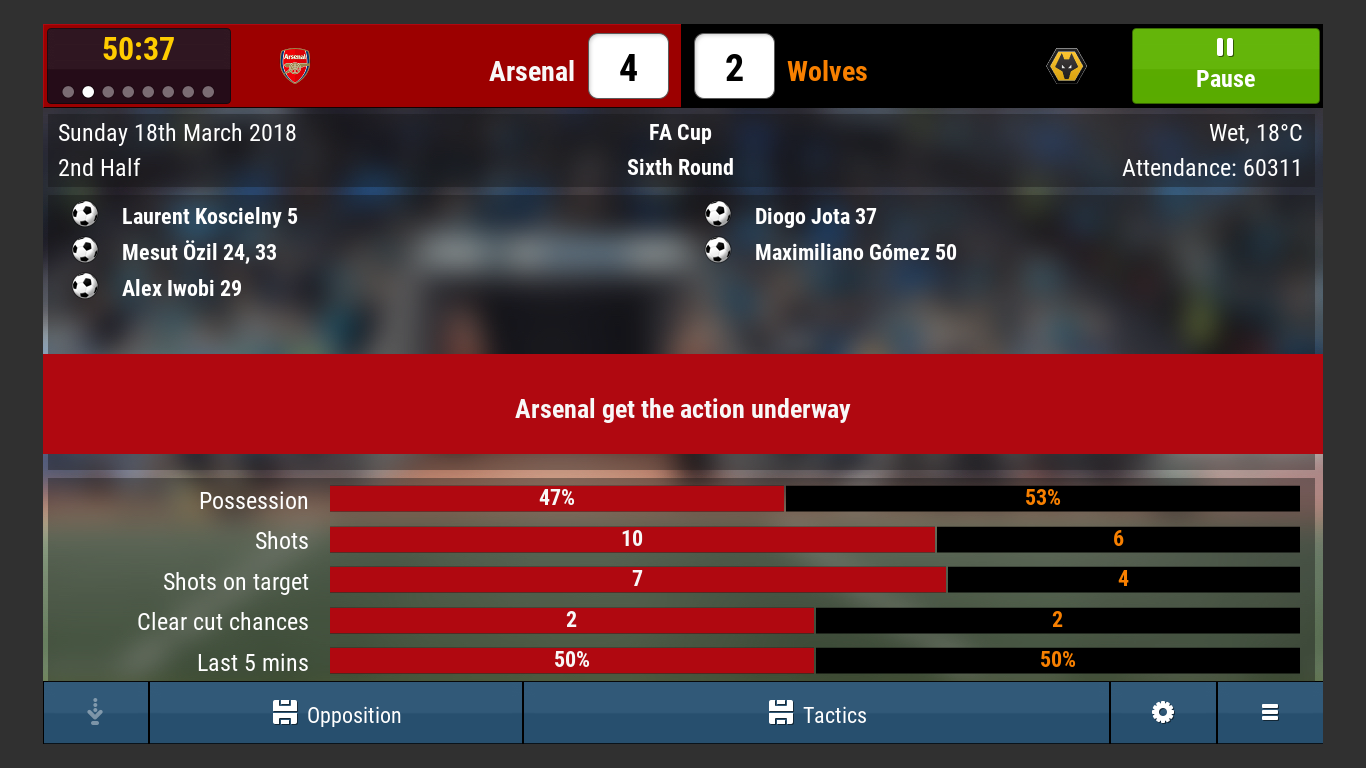 Well, well, well. Now the difference was only two. Surely we couldn't?
Literally two minutes. That was the problem with this formation, it really was do or die. We were banking on Arsenal sitting back and letting us attack them, which was a bit naive and with the deficit back at three, I had one of them moments where I lost my head ever so slightly. I changed to attacking from balanced and told them to go for it. If we lost 10-2, at least we would have had a go.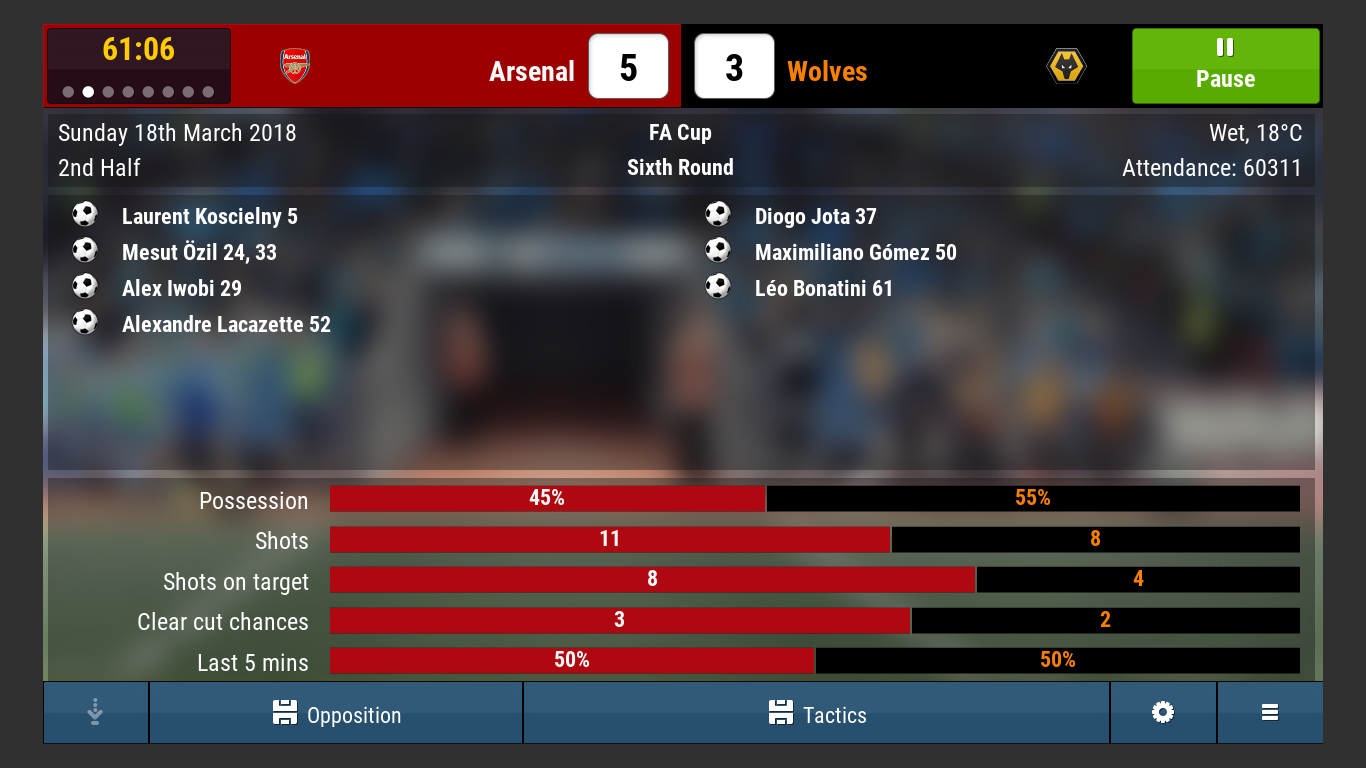 Still half an hour left, whoever gets the next goal is in the driving seat…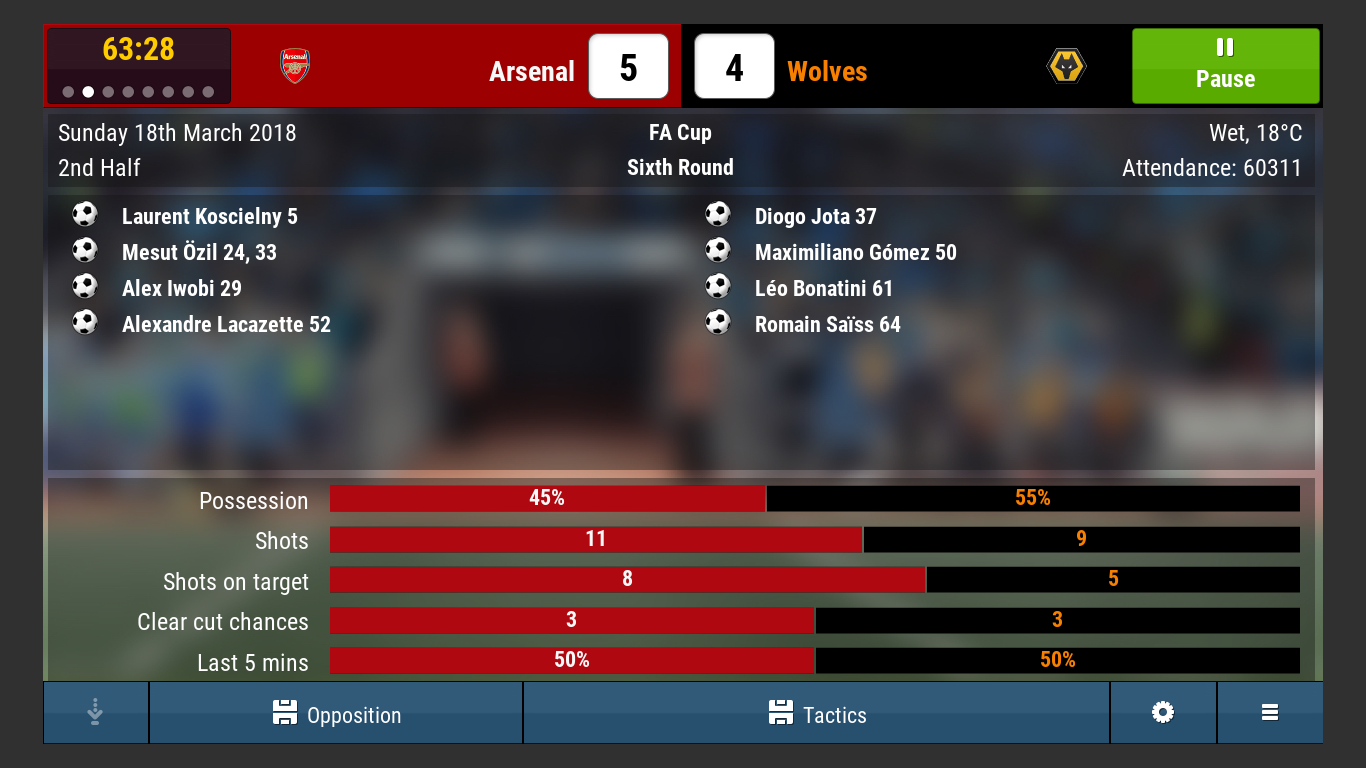 HELLO. Still twenty-five minutes on the clock. We're 3-1 up in the second-half but we're now in a position where we could actually do this.
If you've been following the 'Beating Nuno' book closely, you'll know that there's no way in the world there wasn't any more goals in this…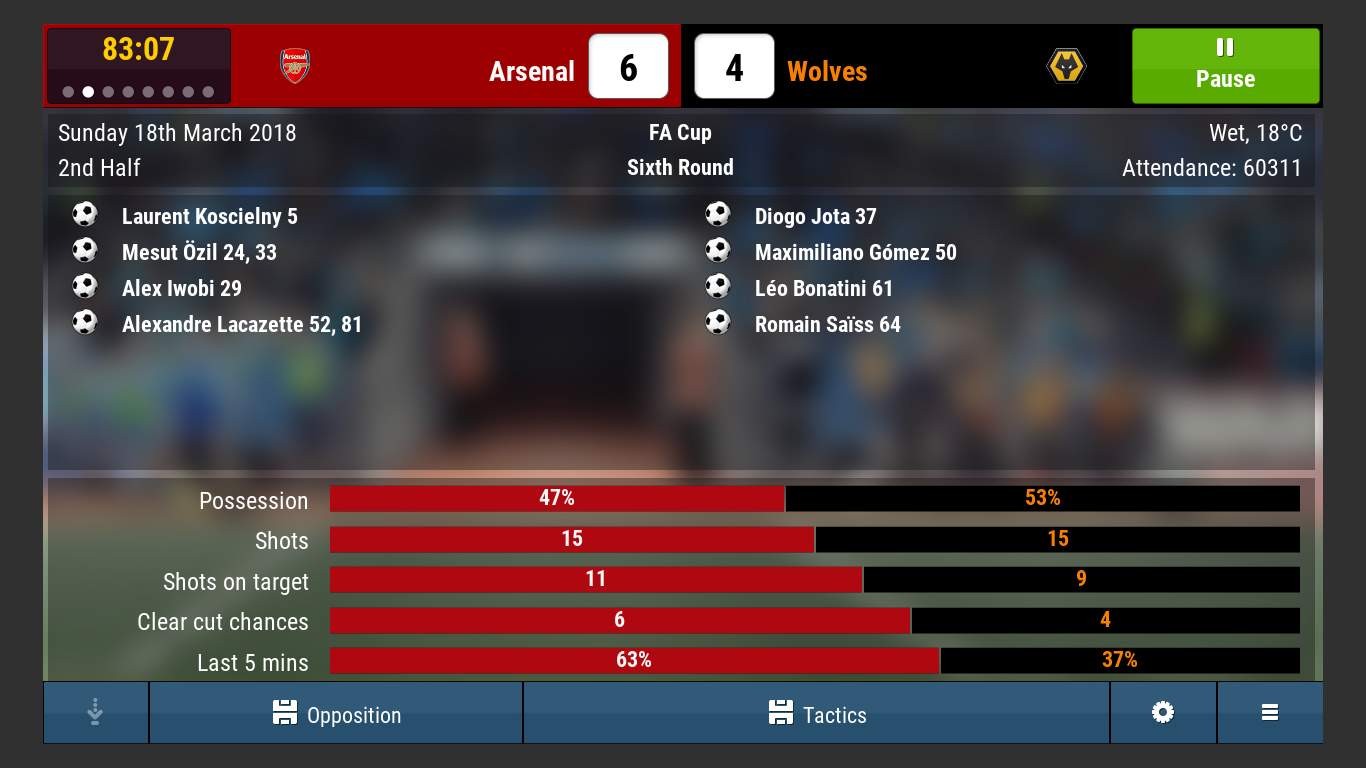 As you can see from the two pictures, in the twenty minutes that past, Arsenal had three clear-cut chances and we had one. Ours was a sitter, Gomez just had to put it away. Lacazette then went up the other end to put the final nail in the coffin. Or was it?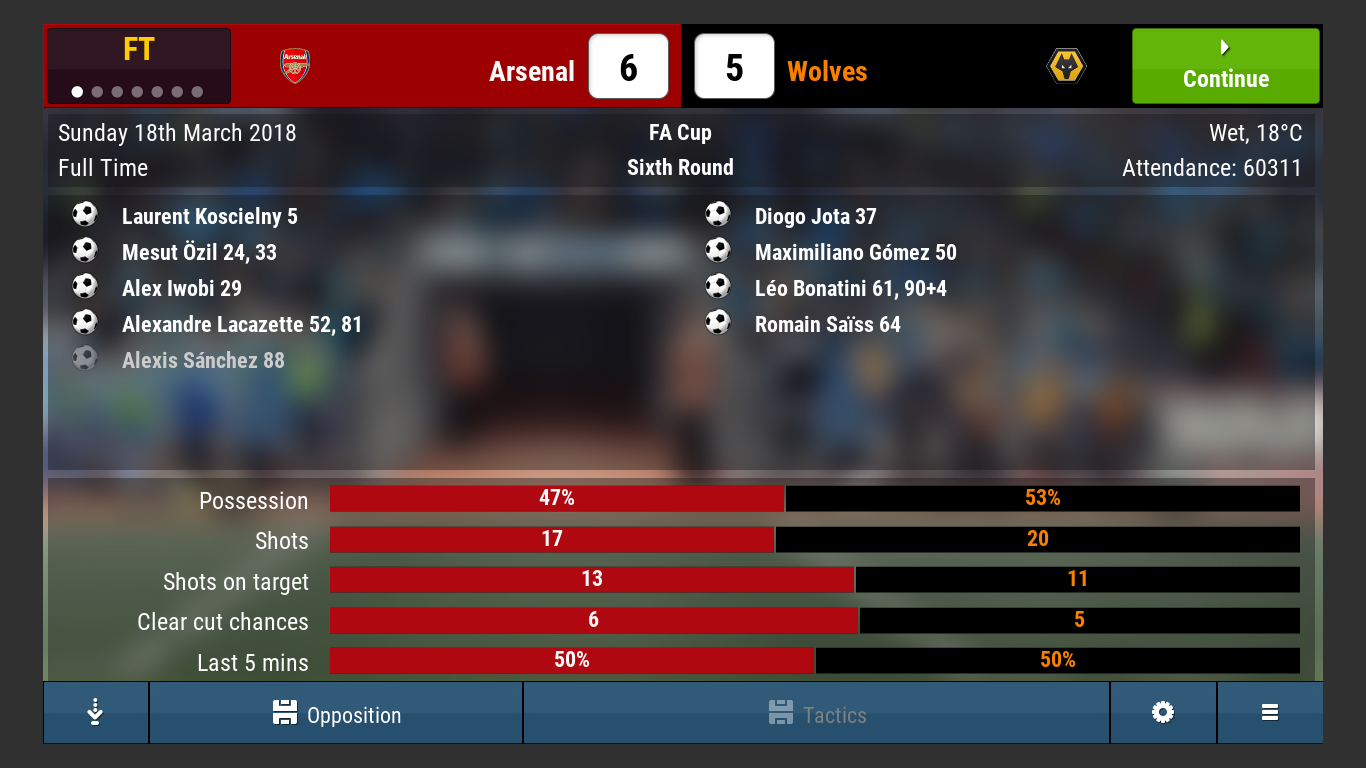 Sanchez had one ruled out and then in the dying embers of the game, Bonatini got his second off the bench to set up a grandstand finale. When I say finale, I mean the referee blew the whistle as soon as they kicked-off and my lads dropped to the floor exhausted.
It was typical Wolves to be fair and I'm on about pre-Nuno Wolves as we were always a nearly team and if Bonatini had scored that even five minutes earlier, we would've had a better chance. Ah well, at least we can focus on the league now. Mickey Mouse cup anyway. It's now time for International Watch…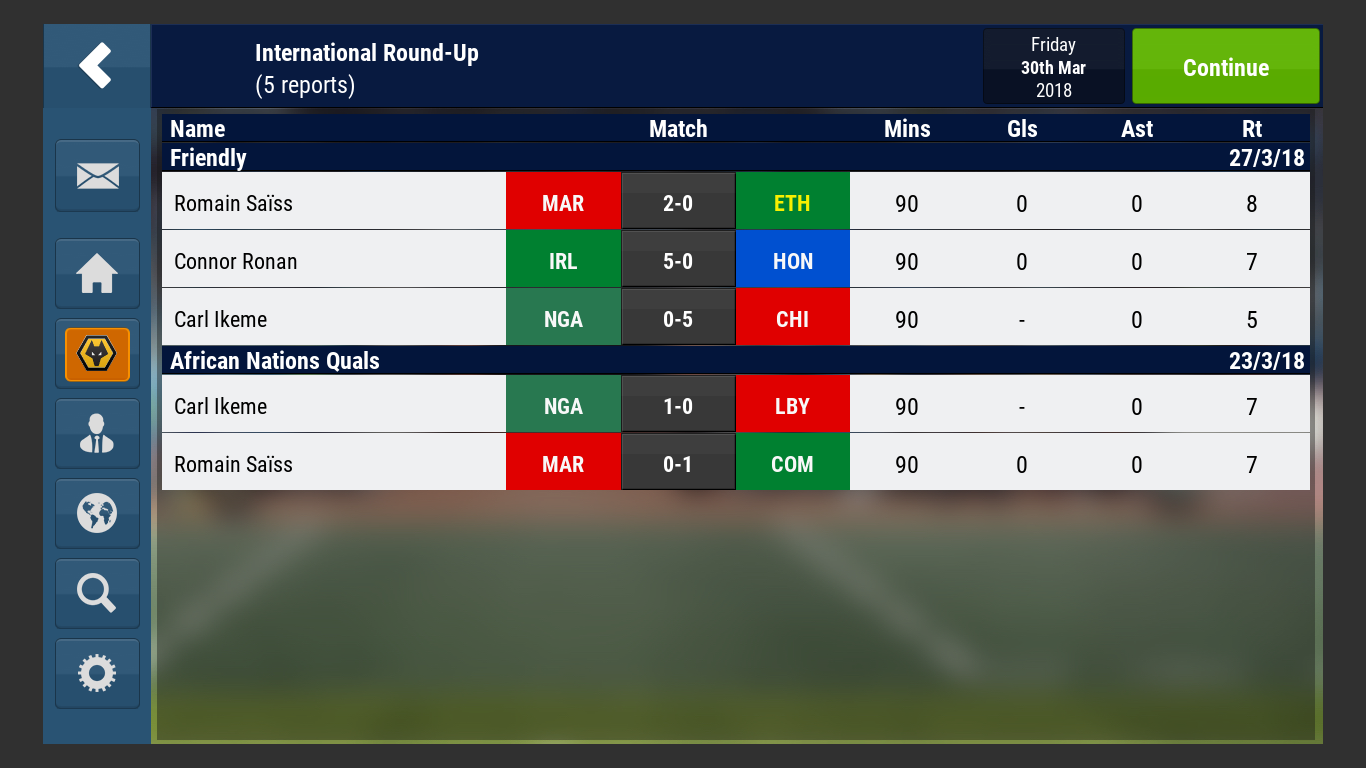 Not too sure what happened here as we did have six players called up, I'm guessing only half of them were good enough to make the cut! Ikeme's first Nigeria experience seems like a mixed bag to say the least after keeping a clean sheet on his debut to then conceding five against a rampant Chile side. He played the full game in both which is pleasing to see.
Moreover, Ronan got the full ninety as well which I'm ecstatic about and Saiss getting the full game is nothing new, although quite how Morocco managed to lose to Comoros is beyond me.
I've been 'lucky' enough to have a scout report for the Middlesbrough game, nonetheless, I've completely ignored it because after the balls up of the Arsenal game, who knows how right this'll be…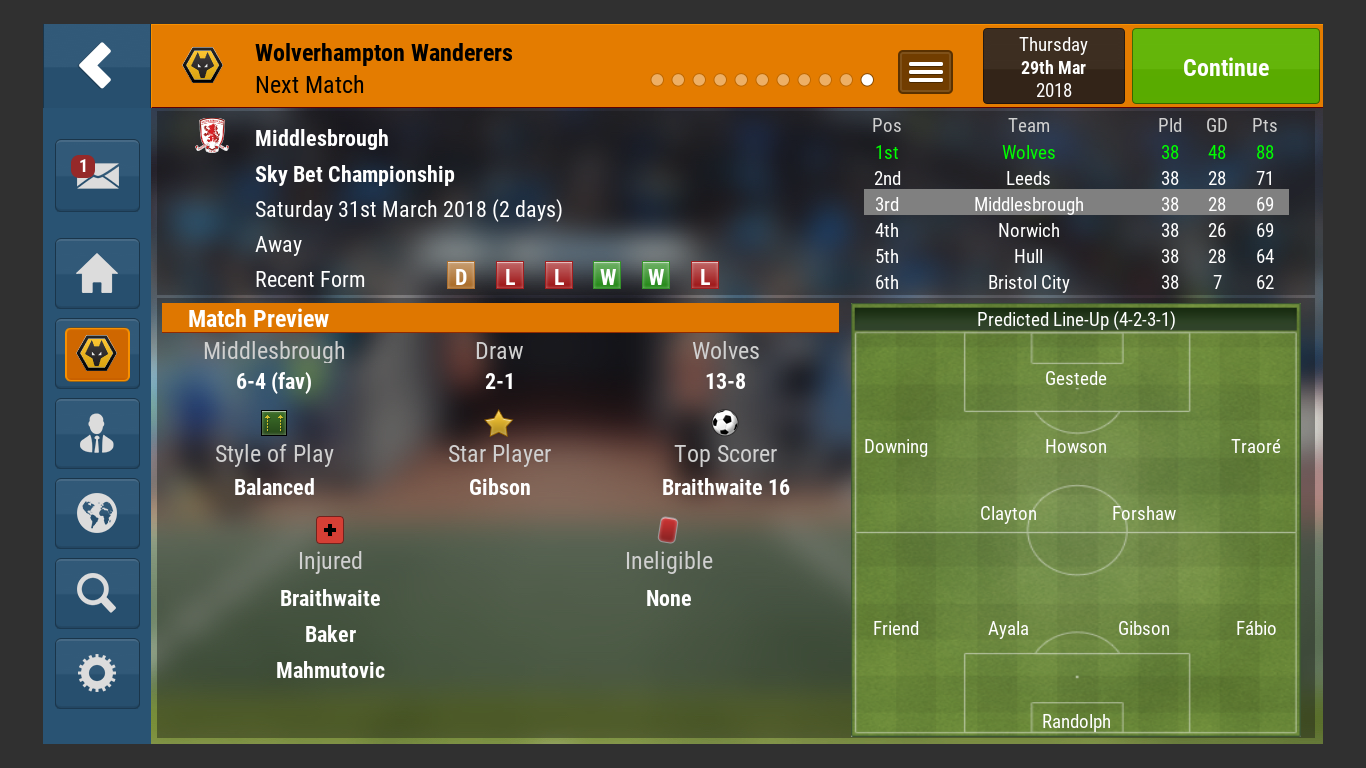 The table in the top left-hand corner makes interesting reading. There is currently a nineteen point gap between ourselves and Boro meaning that if I beat them and Norwich fail to win, promotion to the big time will be confirmed at long last.
The only issue with that is we haven't beaten Boro in their neck of the woods for what seems like an absolute age. We can take hope from our win over them on the opening day, though. Here is how we'll be lining up on Teeside.
No survivors from the Arsenal game when it comes to the defence. If you're surprised at that then I'd begin to question your sanity. I've reverted Saiss to centre-half which allows Ronan to come into partner Neves and my thinking there is, Ronan will be buzzed after making his Ireland bow so he'll have a blinder. 100% is the condition of all the players, which means we can go full pelt against these and then look at changing things up against Hull if we have to.
In closing, am I disappointed we couldn't get to Wembley? Of course. Am I certain we'll get revenge on them next season? You bet I am. I'll be back on Saturday to recap how Nuno and I both got on, on Teesside, for what it's worth, I think we'll both win.
Until the next time.