Greetings and welcome to the final update of season 6. Managing Norwich on CM01/02 has been a rollercoaster of emotions, usually around looking at our ever-fluctuating bank balance. I've never known a club lose so much money on a day to day basis. Anyway, the board have agreed to let me expand the stadium, that should help. With 11 games to go, we're 6 points off the lead in the Premier League, whilst we have to overturn a 4-2 deficit in the League Cup semi-final 2nd leg against Liverpool. We've also got an FA Cup to retain. Maybe not being in Europe will help?
To retain our FA Cup we're going to have to knock out Man Utd. Their powers are fading, thankfully, so despite Ruud Van Nistelrooy still plundering the goals in old man Barthez is less adept at keeping them out. It's a welcome win.
Much to my surprise, the field is fairly weak. It'll be 2nd Division Tranmere away in the quarters. You've got to be happy with that.
We warm up for the 2nd leg of the Liverpool tie by thrashing Millwall. Yes, that is Rivaldo. Actual Rivaldo. Fortunately, the fake To Madeira has remembered what a goal is

So then, trailing 4-2 against the league leaders is going to take a huge effort for us to advance. If you remember the Inter Milan game, you'll know we like a challenge.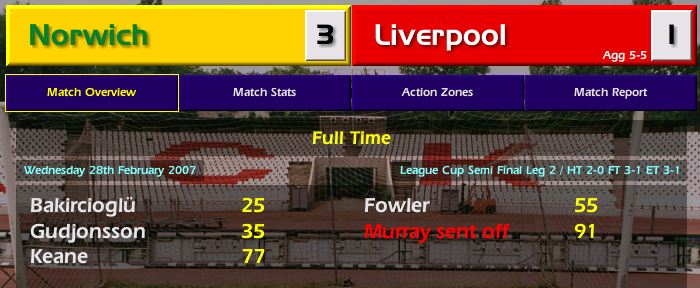 The rule that away goals only count after extra-time means the extra 30 minutes are annoying but some jabroni called Dave Murray kicks Robbie Keane up the arse off the ball and you just can't do that. He's off. We're going to Wembley! Newly developed Wembley. Leeds will be our opponents.
From the highs of that to the Reebok. Bolton are in relegation trouble and we need to keep the pressure on Liverpool. This feels like a pivotal night…

To battle back from 2-0 down took some guts but my former player Gillespie pops up with a late winner and it's like a punch to the stomach. We're winded on the canvas.
Not to worry, we take out our frustrations on poor old Tranmere. I hope that's Garth Crooks.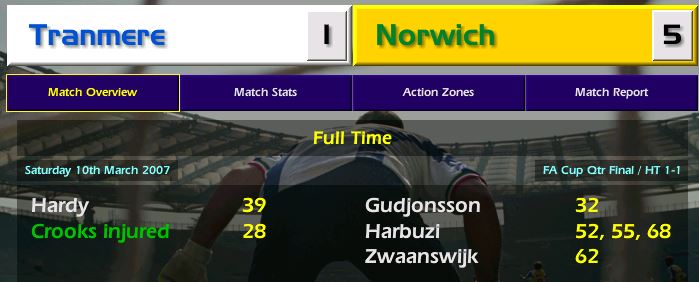 It's a semi-final with Birmingham at…Craven Cottage?!
It turns out Craven Cottage has been turned to Craven Mansion, a 55,000 capacity stadium. I can't wait to see how Carrow Road gets developed.
Having said that, we are really quite good at the current version. Baby Kangaroo Gudjonsson scores a hat-trick as Man Utd are brushed aside for the second time in a month
With 8 games left, we're up to third. We are within striking distance of Liverpool though, and our second last game of the season in a trip to Anfield. It's wonderfully poised.

It's League Cup final day. The boys are ready, we're veterans of the big game now.
So why do we barely turn up?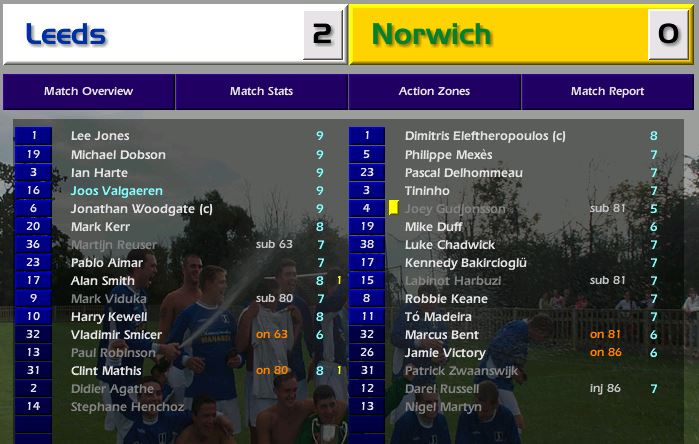 It's actually 0-0 for a long time but Mathis curls in a free kick and Smith adds a late second with bodies committed forward. I've opted to show you the player ratings screen – look at that Leeds back 4 and keeper. What chance did we have?
Off we go to Middlesbrough to lick our wounds. I brought in Darren Purse for £6m to add depth to the centre-halves, he couldn't play against Leeds due to being cup-tied but he makes his debut here and scores a pen. Why not? Unfortunately every time we get ahead Hamilton Ricard gets in the way. The year could be 3001 and he would still be scoring past me.

It's probably more points dropped. No time to feel sorry for ourselves, the PFA awards are up for grabs.

So deserved, Kennedy. A hero of the game. Not sure I'd put him in centre mid with Robbie like but that's another matter.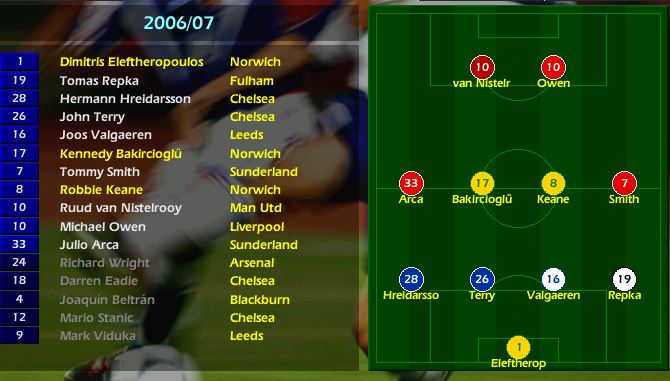 FA Cup semi-finals now and First Division Birmingham prove to be a stubborn side to breakdown. Jerzy Dudek in nets makes a string of saves but big centre-back Delhommeau finally beats him. Craven Cottage is wowed. We're off to Wembley again.

It'll be Millwall waiting for us. That's never good news.
The league campaign rumbles on, Del boy scoring for the second consecutive game

We've got momentum now though, Marcus Bent kindly pops in his first goal of the season (it's April ffs) but it's a pair of wins over Fulham and Watford to give us 6 points in 4 days.
The race is most definitely on.
With To Madeira already out injured, the last thing we can afford is a 3-week injury for Robbie Keane. His replacement, old man Shearer, scores, but it's a false dawn as we fall to a 3-1 loss at Sheff Wed. Damn.
That's a double blow, but we still manage to score 4 against Crewe without our first choice strikers.
Even a draw against Sheff Wed would have helped…

It's a three horse race but Chelsea's shock defeat to bottom club QPR effectively rules them out. It's time for us to go to Anfield. Our last games see me at home to Blackburn whilst Liverpool travel to already relegated Bolton. You feel it's now or never.

The scenes in the away end as Mike Duff gives us the lead, heading past Frey to give us a deserved lead. We are strong. It's our time. Then Michael Owen scores and it's not. A pin in the balloon. I tell Sky we're still fighting for this title. I'm not sure they believe me.
We have to rouse ourselves for the FA Cup final, where Keane is back on the bench but still not 100% fit after sort of recovering from a twisted ankle. He's not even back in full training yet. Shearer scores but Millwall equalise to force extra time. On comes Robbie. You know the rest.

We've retained the FA Cup! Considering we barely won a cup game in my first 4 years, this is some turnaround.
All we have to do is beat Blackburn and hope Liverpool don't win at relegated Bolton. We do our bit, despite Harbuzi losing the plot towards the end. That was his 24th goal of the season, compared to Keane and Kennedy's 18. Joey the Gud got 15, it's a good job all these midfielders score goals. Anyway, I digress. Can Bolton do us a favour?

They tried…

Kicking the shit out of them nearly worked but a late winner seals the title for Liverpool. We'll have to settle for second, which is our highest ever Premier League finish. That's no consolation.

You have to try and take the positives from this. Top scorers by a mile. Most handsome manager. Champions League football. Stadium rebuild is on the way
WHAT? For goodness sake. Firstly the pedestrianisation of Norwich city centre and now this. This country.
How do we build on this? Well, the board actually seem to have lowered their expectations. Is this their way of saying there's not going to be any money?
We'll find out next week. Yes, we'll go again. I'm off to fight the "strong local opposition" – obviously not Ipswich.