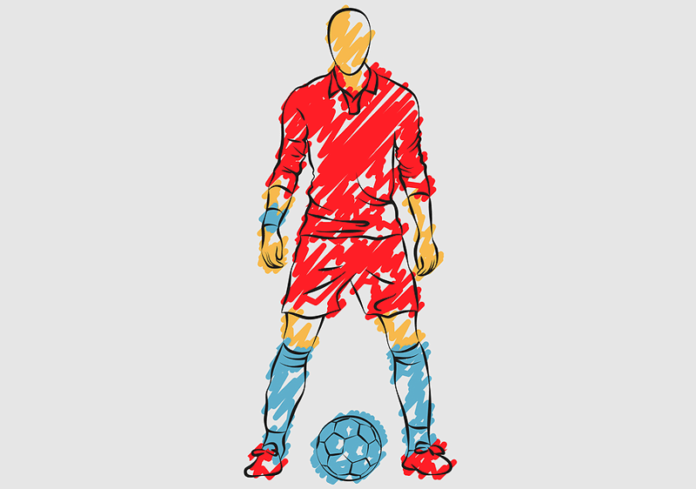 It is nice to have a decent transfer budget in FM, but sometimes as a boss, you enter a club with a very small budget where you need to bring in players that can improve your team cheaply. That is where an excellent free signing can be a great solution. Here are some of the players available on a free transfer that we look to sign:
(Please note that list is based on the original database, so players may not be available on free transfers in updates)
Santiago Arias (Right-back)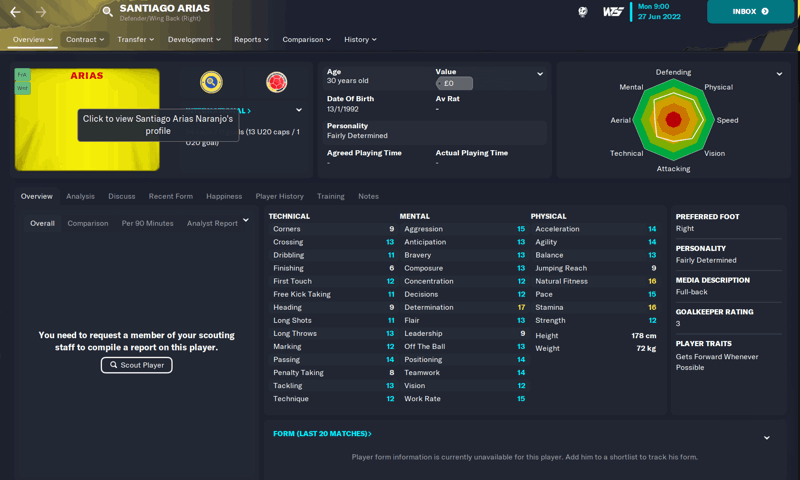 The Colombian international right-back is, without a doubt, one of the best free transfers on FM23. At 30 years old, he is a highly experienced player who can give you a lot of quality just for the sake of paying his wages, which are usually between £30,000 and £50,000 per week. Arias is a good signing for any team in the bottom half of the Premier League or even the top Championship clubs.
His attributes belie his free-agent status, which is both good and bad, as often, some of the richer clubs in Europe decide to sign him as a backup for their already talented squads.
Jetro Willems (Left-back)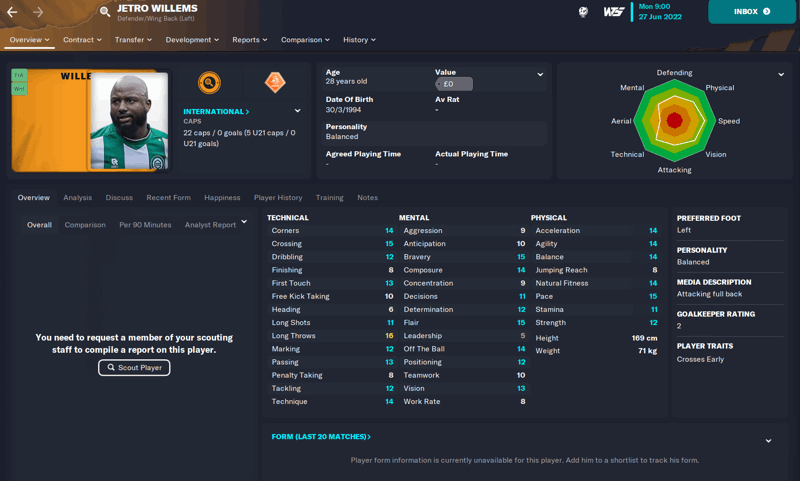 The Dutch full-back was once considered a rising star of the game. In fact, he made history in Euro 2012, as he became the youngest player to ever feature in a final's tournament at aged 18 years and 71 days. However, his career has not panned out as expected, and he hasn't fulfilled his potential.
He is 28 at the start of the game, which is not old for a player, and he has decent stats. The full-back's attributes may just be good enough for Willems to cover for the first team towards the bottom end of the Premier League. However, he could be a very good player for teams in the Championship. His wages are usually not massive, which could be lower than £20,000.
Mateo Musacchio (Centre-back)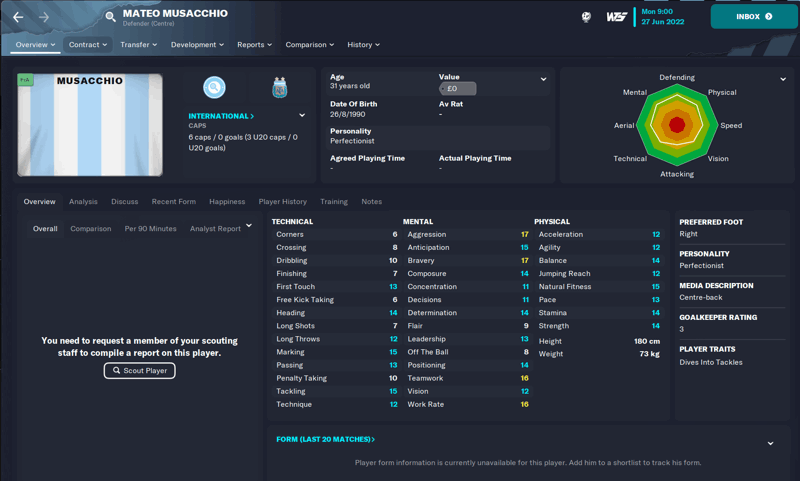 The Argentinian centre-back in his younger years has been a must-sign on FM. However, at 31, he finds himself without a club, which could prove to be good news for any FM 23 boss looking to pick up some central defensive depth on the cheap.
When it comes to his attributes, they are strong for a player that turns 32 early in FM 23. He would do a decent short-term job for teams at the lower end of the Premier League.
He is usually also open to signing for Championship clubs, so he could be a good starter for teams looking to win promotion to the Premier League in the first season of the game. His wage demands are usually £30,000-£40,000 per week, though.
Nemanja Radonja (Defensive midfielder)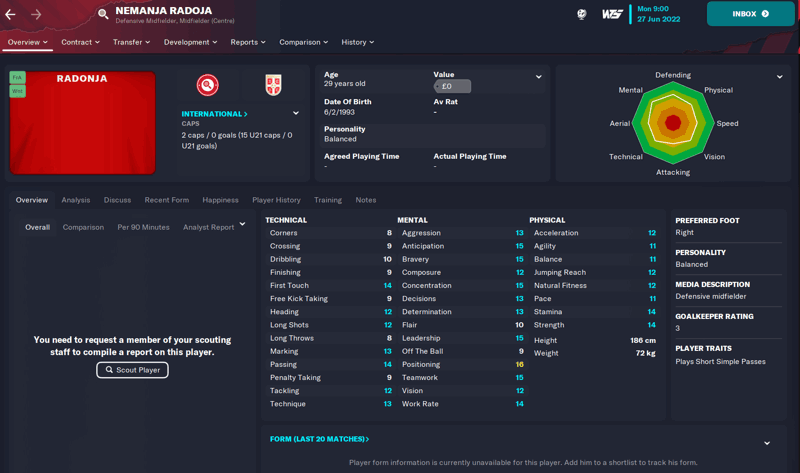 When it comes to defensive midfielders available for free, you can't really beat the Serbian international. Radonja is only 29 when the game begins, and his stats mean he can usually provide a good backup for teams at the mid-to-lower levels of the Premier League.
He would undoubtedly be an excellent addition to any team chasing promotion, as he is the sort of reliable player that teams need in the centre of the park. The only negative aspect of the midfielder is the fact that due to his solid stats and free-agent status, he can be majorly in demand at the beginning of the game.
William (Right-back)
The Brazilian right-back is one of the most attractive free agents in FM 23 for many reasons. The first reason is that William has good stats for a player available for free while also being just 27, which means even if he doesn't become a key player or his signing doesn't work out, your club can receive a fee for selling him.
His ability to play on the opposite flank adds to the appeal to mid-lower-level Premier League clubs. William can provide cover and often even start at the top level. He is well worth his likely wage of £20,000-£30,000.
Graziano Pelle (Striker)
The Italian striker is a blast from the past after starring in Premier League with Southampton in years gone by. Pelle is now 36 years of age and is unlikely to be a starter or regular in a Premier League team.
However, he could be a good option off the bench for teams toward the bottom of the Championship or League One. He still has a lot to give with limited minutes, as he hasn't lost his ability to find the back of the net. The Spaniard is a short-term option, but maybe a worthwhile one.
Fernando Llorente (Striker)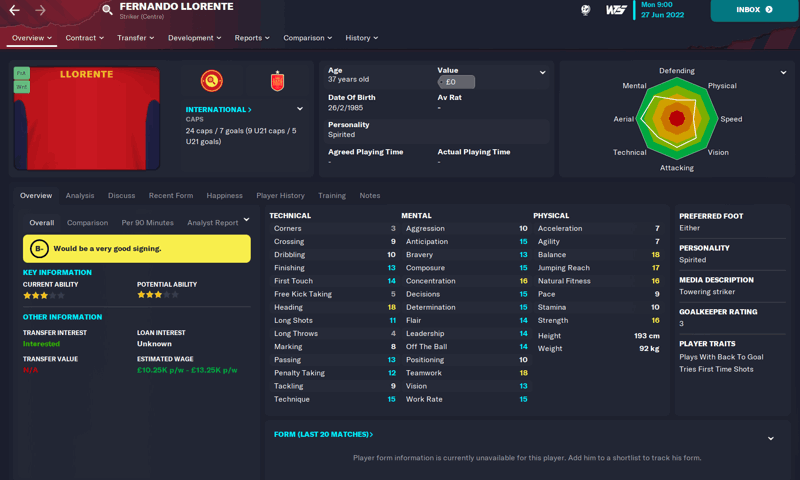 Like Pelle, Llorente once graced the Premier League and European game. At 37, he is no longer a player that can start regularly in most leagues. However, if you are a Championship club in need of a short-term striker who can be brought on late in the game to add an attacking threat, then he may be your man.
His wages of £5,000-£10,000 per week are not bank-breaking for an ambitious second or maybe even third-tier side.
Do you sign any of our free agent suggestions on your FM23 saves? Let us know via our socials