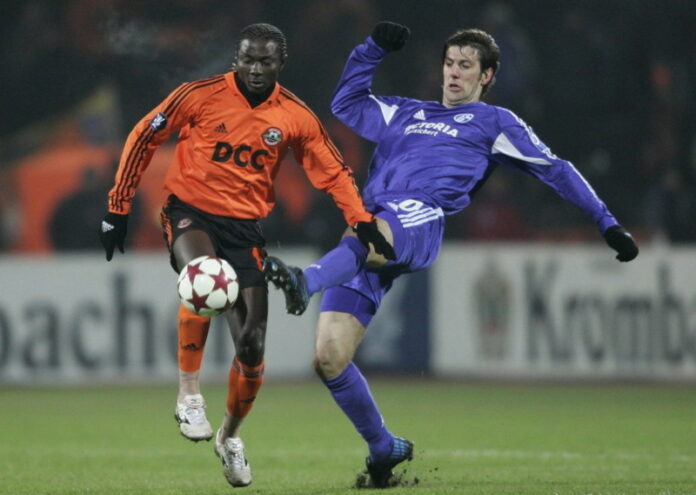 Last week we wrote the first article in our series on Football Manager wonderkids and what happened to them in their real-life careers. However, we have barely scratched the surface of the wonderkids that have given us so much joy over the decades. Here is the second instalment:
Julius Aghahowa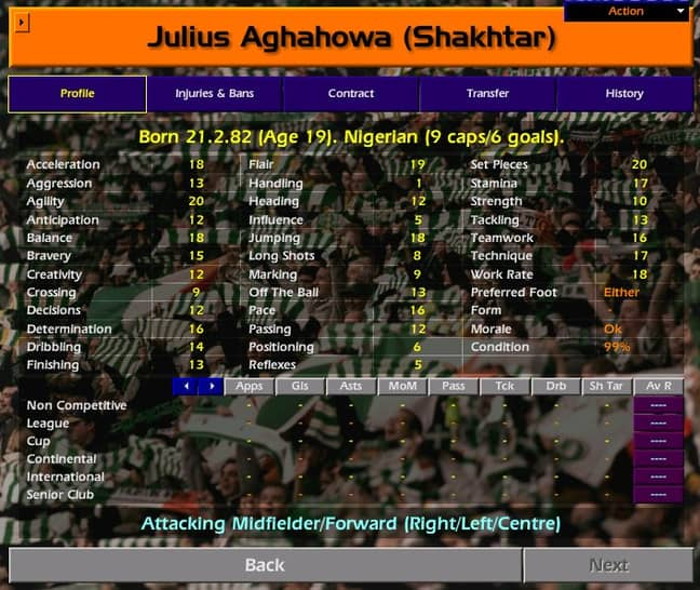 The Nigerian attacker is a legend of CM/FM, with his appearance in one of the best editions of the franchise, Championship Manager 2001/02, arguably the most notable.
On that particular edition of Champ Manager, another legend Maxim Tsigalko was prolific. However, Aghahowa was right up there with the Belarussian as a must-sign player at the start of any save.
He was not as prolific as Tsigalko, but this highly versatile attacker had almost every attribute in his game to be a great. The fact that he could be signed for cheap on Champ Manager was also a bonus. However, if you were playing in an English club, it was always difficult to sign Aghahowa due to work permit issues.
Unfortunately for Aghahowa, the forward's real-life career couldn't quite live up to his Champ Manager one. He started his career playing for his local police team, Police Machines, as he was a police officer for a short while.
However, he started his professional football career with Bendel Insurance before a switch to the Tunisian club Esperance.
It wasn't until a switch to Shakhtar Donetsk in 2000 that he came to prominence. The forward spent seven seasons with the Ukrainian side, making 89 appearances and scoring 32 goals in all competitions.
Aghahowa actually moved to the Premier League in 2006. However, the forward made just 20 appearances over two years and failed to score. He then moved on to the Turkish Club Kayserispor, where he enjoyed a slightly better spell, scoring six goals in 29 appearances.
The forward then finished his career with three years back at Shakhtar and one season on loan at Sevastopol, which saw him make a combined total of 20 appearances, yielding just one goal. The forward retired in April 2013.
During his career, Aghahowa had also represented his national team on 32 occasions, scoring 14 goals.
According to the Daily Star, as of February 2022, Aghahowa worked as an assistant librarian in a Bedfordshire library after spending time at the University of Falmouth doing an Art and Textiles degree.
It was always going to be hard for Julius Aghahowa to live up to his Championship Manager legend. However, it seems the forward has found his niche in life in books rather than back-flips, which the forward usually performed as a goal celebration.
Mark Kerr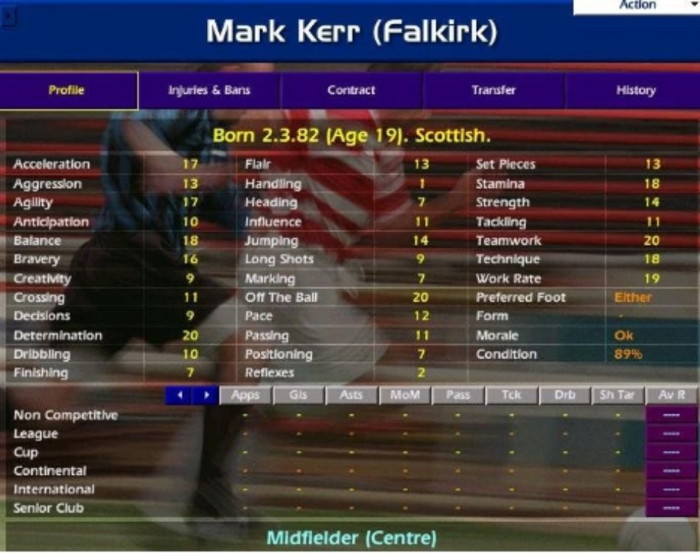 Like Aghahowa, the Scottish midfielder first found fame in Championship Manager 2001/02. The midfielder started the game as a 19-year-old plying his trade with Falkirk.
He was a rare gem whose stats were unbelievable for his price tag, which was usually a fee that even the skintest Premier League club could afford. He was one of the first players most CM 2001/02 players attempted to sign.
Kerr would go on to become a cross between Paul Scholes and Roy Keane, as he would develop into a complete midfield player. In the game, the Scottish midfielder would ply his trade at the highest level of football with elite clubs, often being a key player for a decade and a half at the top level.
However, like so many of our most loved wonderkids, Kerr's real-life career did not quite reach the same heights as his time in CM.
Kerr spent the first five years of his professional career with Falkirk, where he made 127 appearances and scored nine goals, with the majority of his games being in the Scottish Second Division.
However, in July 2003, he earned a big Bosman move to the Scottish Premier League club Dundee United. Kerr became a mainstay in United's midfield, making 30 or more appearances in each of his five seasons with the Terrors.
He left for Aberdeen in 2008, once again on a free transfer. During his two seasons at Pittodrie, the midfielder captained the team and made 81 appearances for the Dons.
In 2010, Kerr embarked on a Greek odyssey as he joined Asteras Tripoli, where he made just 12 appearances over two seasons. His time in Greece was made easier by the fact that some of his new teammates knew of him because of his Championship Manager fame.
Kerr then returned to his homeland, featuring for Dunfermline Athletic, Dundee, Partick Thistle and Queen of the South. In 2014, the midfielder returned to the place where it all started, Falkirk, and enjoyed four seasons there, making 122 appearances and scoring twice.
The midfielder made the last move of his career in 2017 when he joined former boss Ian McCall for the third time at Ayr United. In 2019, the midfielder had a stint as the player-manager with United, managing the team on 41 occasions and leaving the club by mutual consent in February 2021.
Overall, Mark Kerr enjoyed a very steady playing career. Despite not winning the big prizes in the world game in real life, Kerr won the Scottish First Division title in season 2002/03. He also won the Scottish League One title in season 2017/18.
Were Julius Aghahowa or Mark Kerr amongst your favourite CM wonderkids?