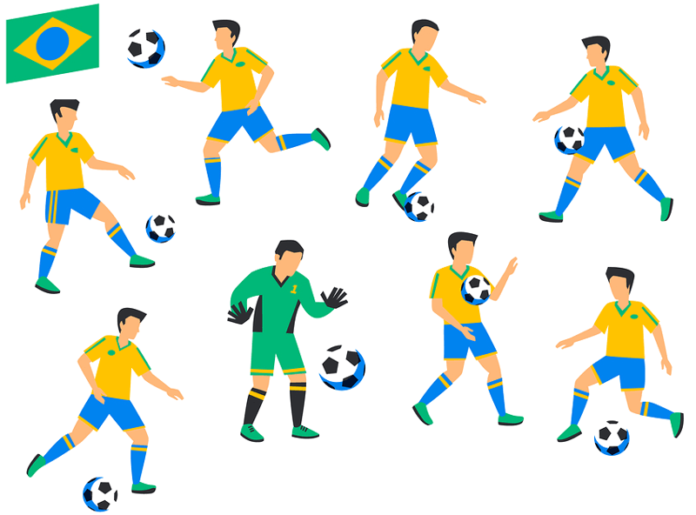 When it comes to Football Manager, there is nothing better than nurturing a wonderkid from a promising teenager to a world star.
Wonderkids are vastly available in the game, and there is one country that seems to produce more than its fair share of talented young players, that country is Brazil. There are just too many Brazilian wonderkids to feature them all.
However, here are five of our favourite Brazilian wonderkids on FM 23:
Endrick (Palmeiras, minimum fee release clause foreign clubs: £21m)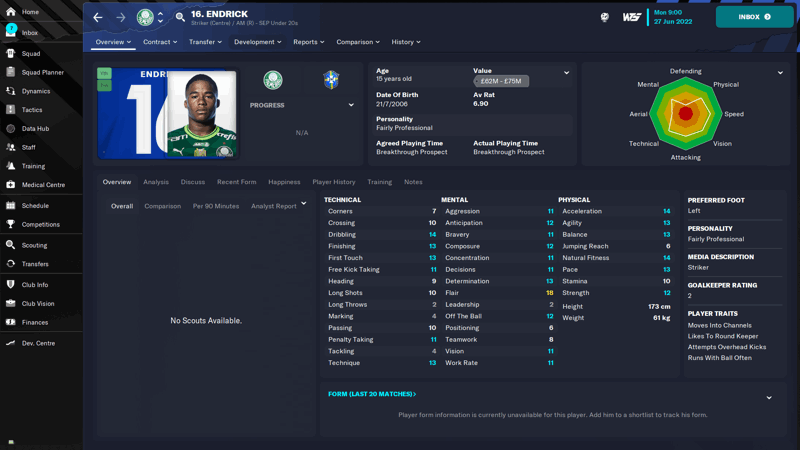 The starlet is one of the brightest young players in the world game despite still only being 16 years of age. The teenager is brilliant on FM and regularly becomes one of the best players in the game. His stats are difficult to match, and he will be an explosive option for any team.
His versatility means that he can play as a central forward and on the right wing. He can also be developed to play in virtually any position in an attacking area.
However, there are issues with signing Endrick. The first is that he will join Spanish giants Real Madrid in 2024 when he turns 18. If you start the game with the original database, though, you still have a chance to sign the youngster if you are a big enough club and have the finances to complete the deal.
Marcos Andre (Fluminense, minimum fee release clause foreign clubs: £40Mill, usually available for around £25m)
If you are looking to sign a highly talented defensive midfielder, then look no further than Andre. He has the stats of a much more experienced player, and they only get better, as he plays regular football, he becomes a key player for most teams.
His ability to play as a ball-winning midfielder or a segundo volante makes him a perfect player to slot into our favourite 4-2-3-1 Plug and Play formation. Andre has become a key play for Fluminense in real life after enduring a previous spell in real life in Serie A.
Despite a minimum fee release clause of £ 40 million for foreign clubs, a fee of around £25m is often enough to snap up a player that could become an integral part of your team.
Marcos Leonardo (Santos, estimated fee £15-25m)
Santos in Brazil is a breeding ground for world superstars. Brazil legend Pele played for the club for the majority of his playing career, while current Brazilian star Neymar also came through the club's youth ranks.
Looking to follow in the pair's footsteps is 19-year-old forward Marcos Leonardo, who, on FM, has the potential to become a world-class poacher or advanced forward. He can also play as a left-winger, a role where he has often thrived in our previous saves.
He may have a minimum release clause of £51 million for domestic clubs on the original database. Still, he is usually available for between £15-25 million in the game's first season. Even mid-table Premier League clubs have a chance to sign him if you are quick enough, although you usually have competition for his signature. It is usually money well spent, as he becomes one of the most prolific players in the elite game.
Angelo (Santos, estimated fee between £13-25m)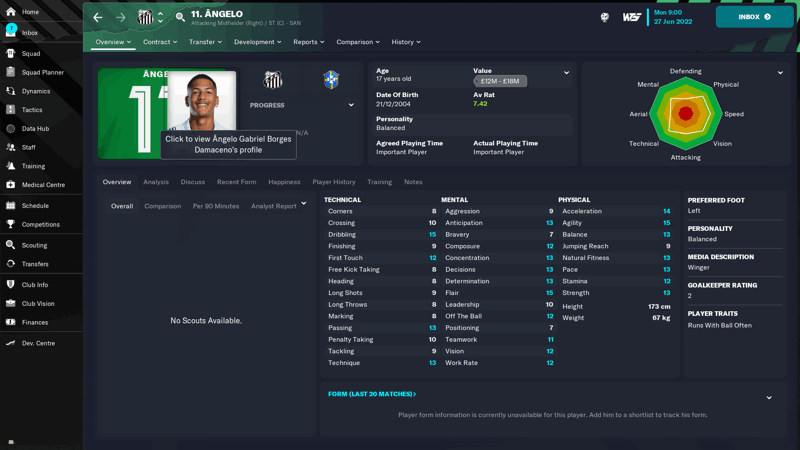 The 17-year-old's emergence has been compared to that of former Santos Neymar. The right winger doesn't start with great stats, mainly due to his age. However, with game time, he can become one of the best wingers in the game. He will score and assist with lots of goals if developed correctly.
He can be a bargain signing at a fee of between £13-25m. If you are at a big European club, then it may be worth signing the winger at the start of the game and sending him out on loan to a good-level club. This helps his development.
Talles Magno (New York City FC, estimated fee between £10-20m)
The 20-year-old Brazilian starlet has made a mark on MLS with New York City FC in real life. In FM, Magno is the all-purpose attacking threat who scores goals and creates in heaps if given regular first-team football. He has starred for many of our teams in previous saves.
Magno's sheer versatility is in itself worth paying his fee for, as the youngster can play on both wings as a central attacking midfielder and also as a central forward. If you are looking for a bargain Brazilian starlet who can stay with you for your whole journey to the top of European football, then Talles Magno may be the player for you.
Tell us who your favourite Brazilian wonderkids via our socials