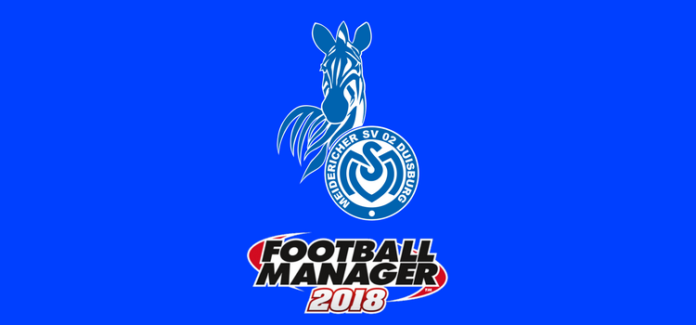 Guten tag! Welcome back to Dirk van Oortveld's quest to survive in the Bundesliga with MSV Duisburg and get them into the upper echelons of European football teams! If you want to catch up on what's happened previously, check out this link here.
We're back for the annual summary of the launch of the season – now may be a good time for a free bet! We're six matches into the 2019/2020 Bundesliga season, and we've got some results to share against some of the higher quality teams like Cologne, Bayer Leverkusen, and Borussia Dortmund! We are counting that our loyal readers and potential punters will be able to use this valuable information in order to make some successful Bundesliga bets in the near future and increase their wins!
Let's take a quick look at our excellent start to the season, shall we?
Our season opener was against Cologne in a high-scoring match that saw us lose the away match 4-3. The first half was quiet, with both teams really sizing up the opposition and unable to commit, but after the 43rd minute, Levin Ozunali, a recent signing from Mainz 05, drew first blood for Cologne to send us into the break down a goal. On a side note would like to add that Duisburg's odds of winning their next game againt Gr Furth are not looking too bright either. With betting odds of 2/1 in most sports books, Gr Furth are the likely favourite to win
From the 51st minute onwards, it was really back and forth with a lot of great attacking moves from both sides of the field and some subpar goalkeeping. In a 10 minute period, we saw five of the seven scored goals netted, and we were down 4-2 before the last minute goal from Stanislav Iljucentko put us at the ending result of 4-3. Even if we were on the losing side, it was against a top-four team and it was some fine soccer to watch for the supporters! Considering the opposition and the quality of our attack, that we lost wasn't a bad thing in my mind, and we did take away a good bit for the drawing board after starting off the season against one of the stronger Bundesliga sides.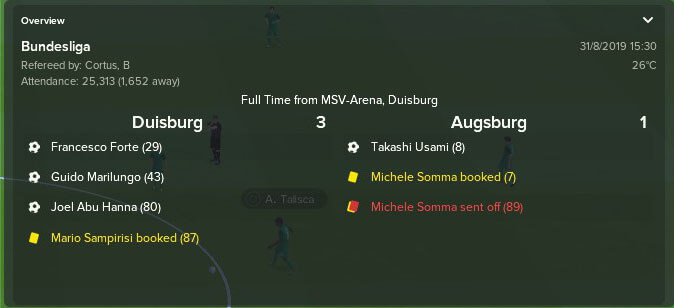 In our first home match of the season, we met against midtable Augsburg, and we took all three points in an enjoyable 3-1 victory. Takashi Usami scored first for Augsburg in the 8th minute of the match, but we were able to come in from behind. Francesco Forte and Guido Marilungo both scored in the first half to put us in the lead at the break, then defender Joel Abu Hanna, our new signing, got in a goal at the 80th minute to seal the deal before Michele Somma was sent off to reduce Augsburg to 10 men with 4 minutes of added time.
It was a thrilling victory against a mid-table team in the position that I want to eventually aim for, so it's great news to have three points on the board when we couldn't beat them last year, and the supporters get to go home with 3 points on the league table after our second match.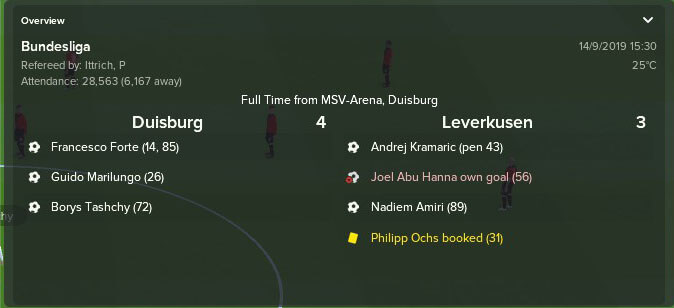 Our third match and one of the two more surprising results of this update was against Bayer Leverkusen in our second home match of the season. We took the win with a 4-3 score. Forte and Marilungo scored in the 14th and 26th minutes respectively to put us in a good place going towards halftime, though Kramaric was granted — and then scored — a penalty kick to put us at 2-1 at the break.
In the second half, we saw a second Forte goal and Borys Tashchy came off the bench to score an additional goal, though the end result was blemished by an own goal from our own Hanna, who inaccurately headed the ball towards the safety of 'keeper Daniel Bachmann. Still, it was all three points at the end of the day to give us our second victory of the season!
Following up on that, we had to face off against Red Bull Leipzig away from home, and we ran into an on-fire Moussa Dembele, who scored a hat-trick against us after joining the team from Tottenham Hotspur.
Leipzig was in command of this match, and we couldn't get anything out of it, going into the break with the score 4-2 before a Timo Werner goal sealed the deal for them at 5-2.
Considering the previous result and the result I'm about to share, it should feel like a kick in the teeth, but out of context it was a commanding result from a big team in the league, so it is what it is.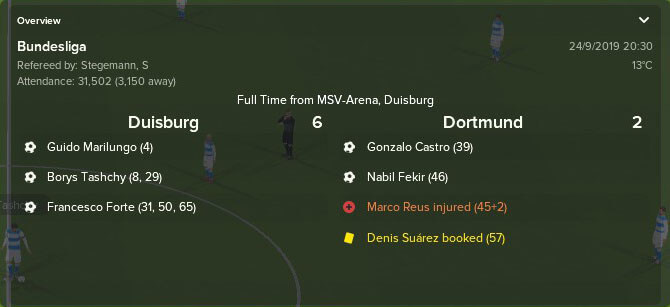 A mere three days later, we hosted Borussia Dortmund at home at the MSV-Arena, and we came away from the RB Leipzig loss with a convincing 6-2 victory against Borussia Dortmund.
Guido Marilungo opened the proceedings for us at the 4th minute, and we caught them on the wrong step, stealing a hat-trick from Francesco Forte and a brace from Borys Tashchy while Dortmund was only allowed two goals of their own following some impressive performances from Daniel Bachmann, who was easily the third best of our players on the pitch at the time.
This is a result that the team can be proud of, and it's a nice little bit of revenge against them following our horrendous defeat last season that saw us refund the traveling supporters their money! Nine points in the bag so far!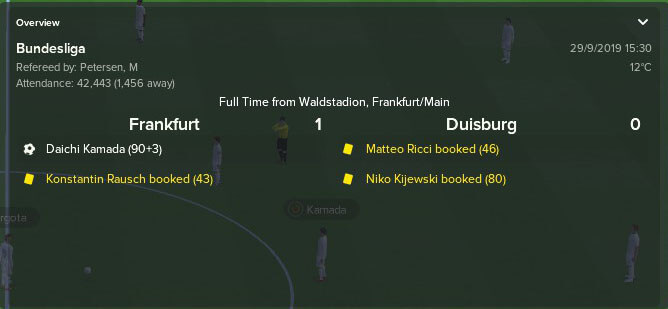 Our final match of the month was against Frankfurt, and it was neck-and-neck, though neither team could outdo the other until we saw the Frankfurt goal at 90+3.
Following our successful previous outings, to losing our draw at the last minute felt like a points-dropped situation, and it was certainly a blemish on our month!
This is our schedule up to the end of 2019 and a repeat of our previous results. With 4 of the bigger teams already out of the way, we need to focus the rest of the year on snatching away whatever points we can grab against mid-table opposition.
We still have to meet Borussia MGB in the German Cup, and we still have to face them and Bayern Munich back-to-back in the league, but we've put in some stellar performances to start off the season. I'm not looking for major upsets this season because my focus is still on improving the team, but following the results of the previous season, snatching away what should have been easy wins for the opposition teams so far gives me optimism that we're on the right track this year to avoid second season syndrome and look to improve our overall position on the table this time around.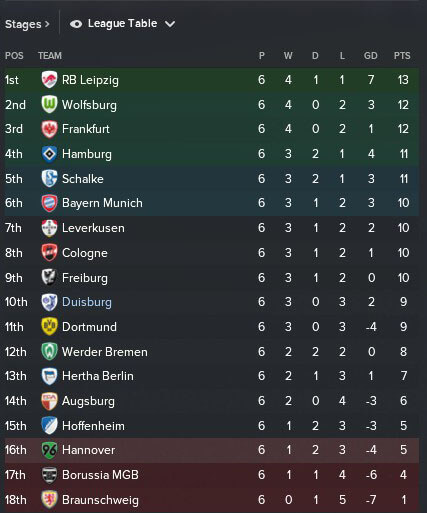 After 6 matches, Leipzig sits at the top of the table with 13 points, and Wolfsburg, Frankfurt, and Hamburg aren't far behind. 7-time defending champions Bayern Munich are off to a rough start, and they currently sit in sixth on the table with 10 points.
MSV Duisburg isn't far behind with 9 points and a positive goal difference on Borussia Dortmund.
At the bottom of the table, Hannover, Borussia MGB, and Braunschweig are off to rough starts and occupy 16th, 17th, and 18th respectively.
There's still a lot of soccer to play still, so it's only a matter of time before the table starts to "normalize" itself. Let's just hope we can remain near the targeted mid-table position when it happens!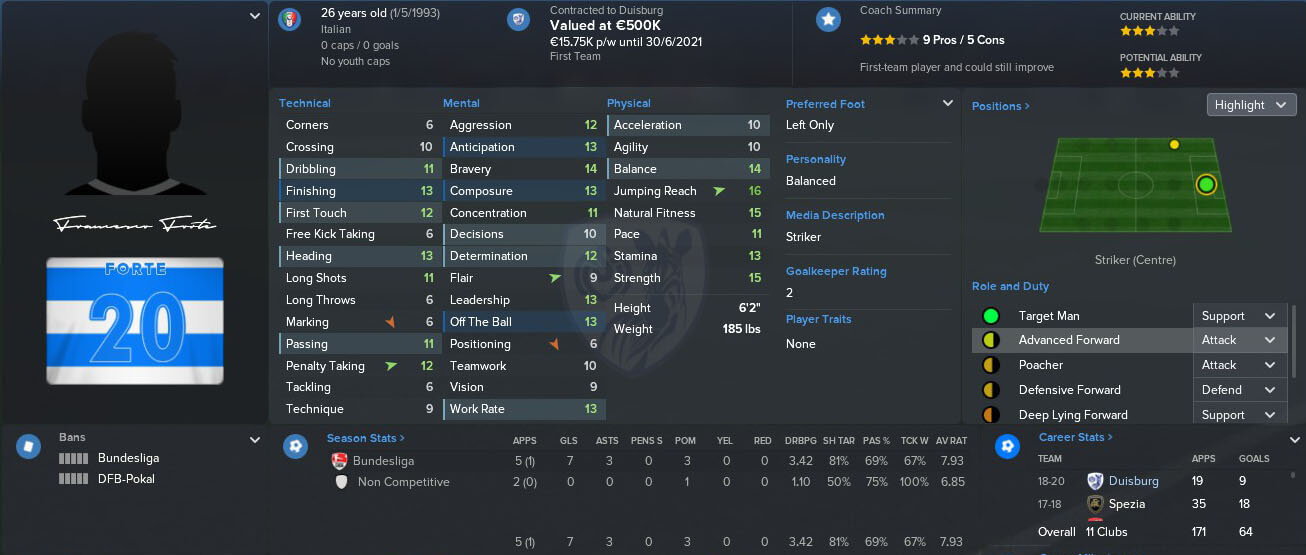 If I had to name one player for Player of the Month for MSV Duisburg, the accolade easily goes to Francesco Forte. With 7 goals, 3 assists, and 3 Player of the Match awards after these six games, he's off to a great start after his lukewarm 2019 performances following his signing in January. Now that he's finding his feet and becoming an established member of the team, he's been a great asset to us. The former Internazionale player has been on fire so far, and his value as a player is starting to really climb now that he's found a senior top-division team to join after all of those loan spells away from his parent club!
As you can see, we're off to a surprisingly good start to the season, and 9 points from 6 matches is definitely beyond what I projected we'd have in the last update! After a rough previous year, I'm really getting it into my head that this will be a better season than before, despite our not having the money that some of the other teams have.
In the next update, I'll be back with more of the season underway, and we'll see just how Duisburg is going in the league with several more matches under our belt.