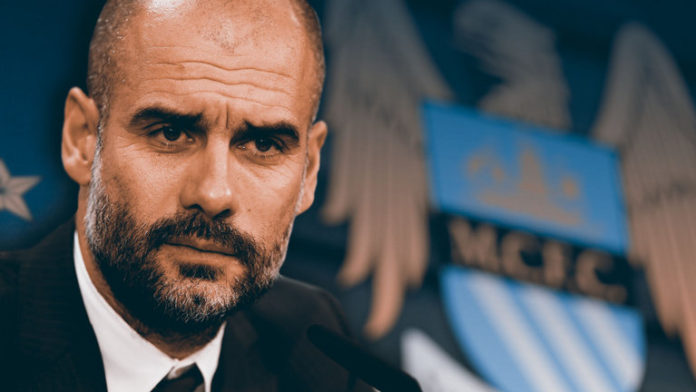 Manchester City boss Pep Guardiola insists his team are preparing for the Champions League, as well as next season. The Spaniard has given up on the Premier League title chase after leading the Sky Blues to two consecutive trophy captures, conceding to Jurgen Klopp's unbeaten Liverpool side midway through this term.
The Reds would have to get a lot wrong to miss out on the league title this season, having opened up a 13-point advantage at the top of the league standings. City find themselves 14 points adrift after losing five times so far this term, with their latest coming in the form of a 3-2 comeback from Wolverhampton last Friday. They've since bounced back with a win over Sheffield United on Sunday but Guardiola isn't very hopeful and is redirecting his focus to the remaining competitions his teams can actually win.
"A team which has the numbers of Liverpool, why should we think about that? It's just preparing, play good and better to be as close to the top of the league as we can, prepare for the knockout competitions and for the next season," the manager said recently (via Goal.com).
"Every game helps us to improve for next season. Hopefully, we can do better.
"The motivation is to improve because when we improve we win games and that is the way to live better. That is the best motivation for all of us. Even in the past.
"Now we recover for three days, thank you for three days to recover, and prepare for the next game against Everton. That is what you have to do."
Despite their wonky form in the Premier League, Man City are still the bookmakers' favourites to win the Champions League this season. Fans can get the scoop on all the Champions League free bets available if they head to freebets.co.uk, where they can also find tips, predictions, enhanced offers and a variety of pertinent information where football betting is concerned.
City are 4/1 to win the tournament with Bet365 but Liverpool are close in behind at 9/2. Ladbrokes are offering 5/1 odds on Spanish supremos Barcelona while French giants Paris Saint-Germain are 7/1 with William Hill. German side Bayern Munich are also 7/1 with William Hill, who have attached 11/1 odds to Italian outfit Juventus and 18/1 odds to Spain's Real Madrid.
Last season's finalists, Tottenham Hotspur, are 20/1 with Marathon Bet, Atletico Madrid of La Liga are 33/1 with Betfair, and the Bundesliga's RB Leipzig are 40/1 with Betvictor. Unibet are offering 50/1 on Frank Lampard's young Chelsea side, who made it to the round of 16 after a thrilling end to their knockout campaign.
City are set to face Real in the round of 16 when the UCL returns in February and are 6/4 favourites. And , while Guardiola has admitted that his team aren't where they thought they'd be at this point in the season, he's reminded fans of the side's achievements over the last three years.
"The fans can say or do whatever they want but they cannot deny that the team in the last three years was incredible in every single competition," he said.
Of course, he's hoping the Reds slip up just enough to give City a fighting chance in the Premier League, but no one can fault him for being realistic as it will take a massive implosion for Klopp's men to lose their grip on the title or even hand any other team expectations of claiming it themselves.