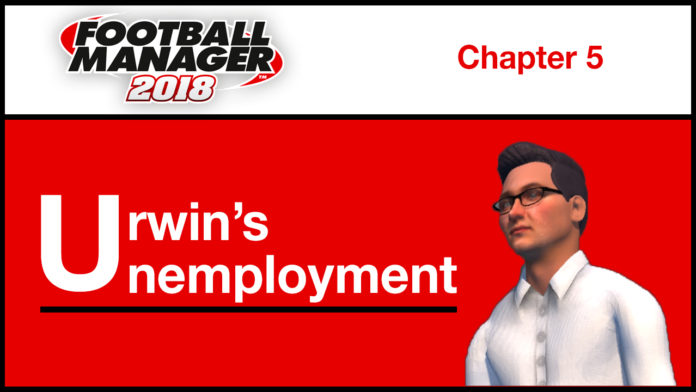 Welcome back to chapter five of English manager Nicholas Urwin's unemployment challenge. He is pursuing his third season in Malaysia and we pick up at February 2020 in which Urwin is managing newly-promoted side Negeri Sembilan in the first tier. A high intensity pre-season full of fixtures every few days saw the new members of the squad fully implement and know Urwin's system inside out.
Missed the previous chapter? Follow the link to find out what Urwin got up to in Chapter 4 of Nicholas Urwin's Unemployment Challenge.
A Warm Welcome To Super League (February):
The importance of getting the season off to a good start with the well-drilled side could set the tone for the rest of the season. Luckily for Urwin his players have comfortably made the set up, with a 3-0 away win at Kedah and 4-1 home win against Terengganu.
The FA Cup 2nd Round saw Negeri overturn Sabah 4-2 with braces from Mohd Haszaime and winger Mohd Zainal. Rounded the month off unbeaten but in disappointing fashion as Kuantan snatched an 88th minute goal from Ganesh to draw 2-2.
Kedah-t Of Here (March):
After cruising past Kedah 3-0 in the first league game of the season, Urwin's Negeri side crushed them 6-0 away from home once again. Mohd Haszaime netted a double with the young striker stepping up in the absence of regular first team strikers.
Johor DT punished in a 3-1 defeat for Negeri with Mohd Rosli missing a crucial penalty which would have made it 2-2. The month ended brilliantly with Rosli making up for the previous game by scoring in the 94th minute to clinch a 3-2 win in the first leg of the FA Cup Quarter-Final against Pahang.
One For The Fans (April):
Urwin's fantastic start with Negeri in the Super League and FA Cup was certainly getting a lot of attention from the press. Feeling confident, Urwin told a journalist he already felt the FA Cup tie was already wrapped up with Negeri playing home in the second leg with three away goals.
That confidence drained and turned to embarrassment when a motivated Pahang came to Negeri and beat them 3-1 and knocking Urwin's side out. Urwin's focus will mainly be on the league and his players reacted superbly to beat fierce rivals Selangor 4-1 at home including a hat-trick from Rosli.
Points Lost In Congested Fixture List (May):
After just two games in the previous month, six league fixtures were scheduled for the month of May and Negeri got off to a terrible start with an embarrassing 4-1 home defeat to Sabah. That was a confident blow and the ten-men had to hold out for a measly 2-2 draw in the next game against Perak.
Some revenge gained in the next fixture over Pahang with a 2-1 win as hot-form Rosli scored again. The following three games put the strong team cohesion to the test with Negeri having to come from behind to draw in all three games with PKNS, Kuala Lumpur and Kelantan.
Regroup And Recovery (June):
With nearly a month off until the next fixture, Urwin opted to avoid arranging friendlies to focus on training and recovery. The three week break proved effective with Negeri continuing their win streak over Kedah 3-1 as both strikers Muhd Ahmad and Mohd Sidid netted the goals.
There was no chance of Kuantan snatching a late draw this this with Negeri ending the month with an impressive 4-0 win over the struggling visitors. Fan favourite and winger Mohd Salahhudin scored alongside Sidid, Ahmad and full back Muhd Mazlan finishing from the penalty spot.
Super Sidid (July):
Sidid is showing no signs of decline with the 31 year-old netting a hat-trick in a dominant 5-1 away win at Terengganu before netting again in a 4-1 Malaysian Cup group game against Perlis. The win streak continued as Selangor missed a late penalty meaning Negeri ran home 2-1 winners and completed the double over their rivals.
Premier League side Felcra, who Negeri were once underdogs against before Urwin's reign, were crushed 5-0 in the second Malaysian Cup group game. Negeri's run of scoring in every game this season was suddenly and surprisingly over, ending the month with a 0-0 bore draw against Perak.
Six Games Again + Transfer Update (August):
Negeri booked their place to the Malaysian Cup Quarter-Final with a 3-0 win over Kelantan, 6-0 win over Peris, 4-1 home win over Felcra and rounding off with a 6-0 home win over Kelantan. In between those fixtures however, Urwin's hopes of clinching the title were damaged as a 2-0 home defeat to Johor DT who completed the double over Negeri this season.
Having made the Quarter-Final stages of the Malaysian Cup very comfortably, Negeri could not muster anymore than a single goal with MIFA dramatically clinched a 1-1 draw. Full back and penalty taker Mazlan gave Urwin's side the lead but caved in on the 91st minute with the tie all to play for in the second leg.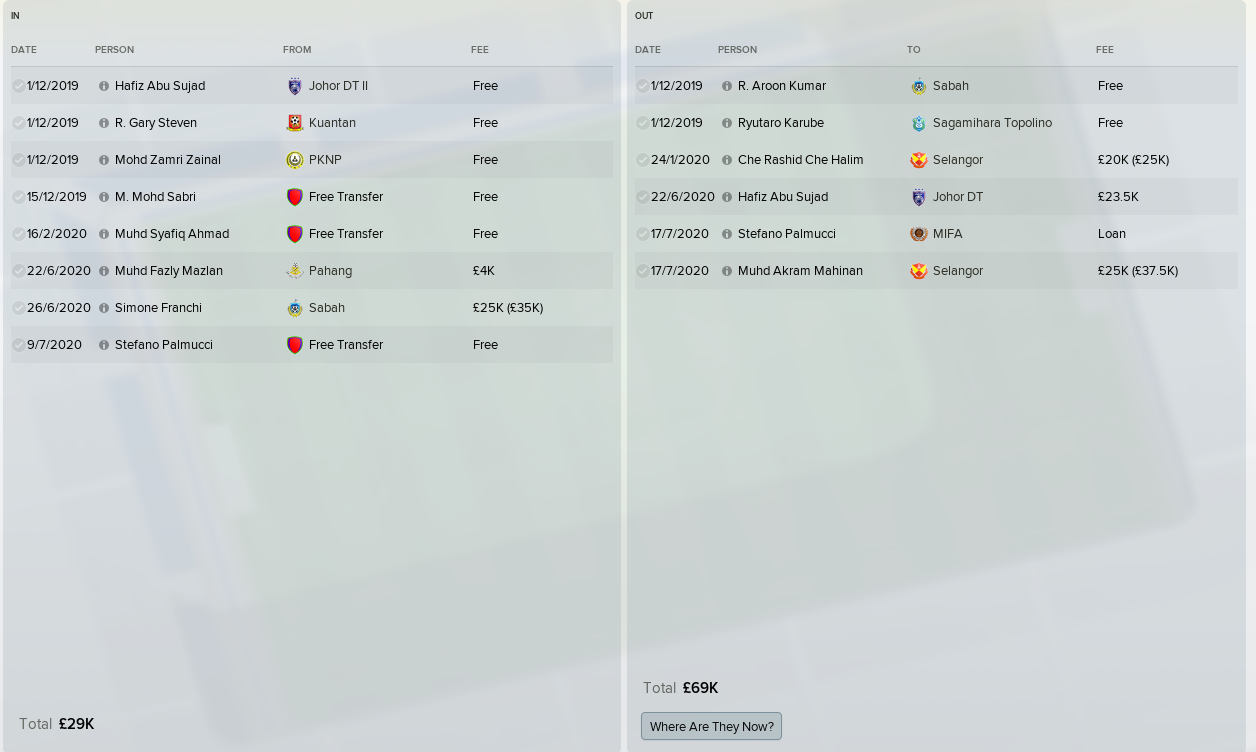 Incredibly the finances of the club were looking strong enough to allow for some investment into the team, with young Italian centre back Simone Franchi being carefully scouted and added to the side. Mazlan cost just £4k including one thousand pound instalments over 12 months.
Another promising Italian in midfielder Stefano Palmucci was bought in and loaned out to Premier League side MIFA for game time. The sales of full back Che Halim during pre-season bought in funds whilst ironically Hafiz Abu Sujid was purchased by Johor DT for nearly £24k after arriving on a free by their second team Johor DT II.
Level-Headed, Professional, Ruthless (September):
With the run-in looking extremely tight, it was vital for Negeri to not slip up and try to pull away from the hot-on-the-heels chasers in Selangor and Johor DT. Ahmad and the back-up winger Kumaahran netted in a 2-0 win over PKNS. Urwin oversaw his side have some success in the Malaysian Cup with the return leg against MIFA resulting in a comfortably 4-0 win.
Robbat Gary Steven is proving why he deserved to be a first-teamer after requesting a place in the side with a goal in a 2-0 win over Sabah. Ahmad then scored FOUR in a cruising 5-0 win against Pahang and made a big statement of retaining top spot for the remainder of the season. Exciting times as the end of the tunnel looks bright and back-to-back silverware is very much in sight.
Next Chapter:
Urwin is set to play the Semi-Final legs against Perak and play the final two games of the season. Is he really going to be able to achieve back-to-back trophy success in Malaysia with the side he has developed? Could he win his first ever cup competition alongside the Malaysian Super League title? Find out in the next chapter.