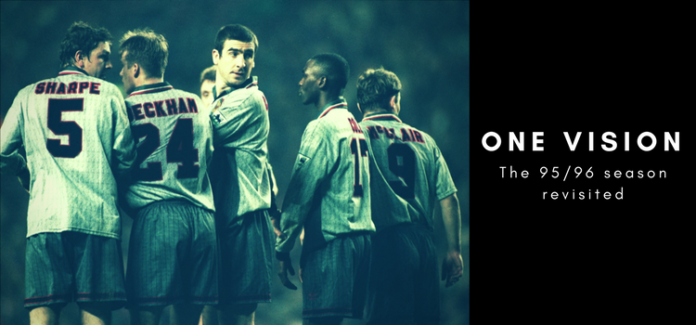 It's 1995. The Premier League is called the Premiership. Fans have names like "Cantona", "Fowler", "Yeboah" and, well, "Dowie" on the backs of their shirts, shirts that are still made by the likes of Umbro, Pony and, believe it or not, Admiral. Tony Blair isn't in office yet (I don't think, I might be wrong) and Alan Hansen has only just uttered the words, "you can't win anything with kids". Welcome to a time when football was real. So real. Catch up on the journey so far here.
*
It's been a tough start to life in the East End. The locals don't seem too keen on me, the players even less so. But, despite the negative vibes, we sit in the top half of the Premiership after 7 games and we've been OK in the last two. It was a great time for an international break, as I said last time out.
I am adopting a new hardline approach to dissenters. Come into my office and disagree with me and you end up on the transfer list no matter who you are. Hutch should be off to Ajax as a result, Rowland off to Rangers and club legend Alvin Martin is next to find his name crossed off my list, sadly (for him – he got a 5.7 in the one start I have given him).
Incredibly…

Yes, take him now if you can.
This deal is hilarious – I mean, Ajax won the Champions League last season for crying out loud.

Either way, I might be here to spend it come January (yeah, couldn't get rid of the transfer windows sadly).
I don't expect him to knock on my door again if he has turned down the chance to play with Gazza.

Idiot.
Next up, the Saints. Matt Le Tissier at the Dell before Alan Ball got hold of him. Dave Merrington. 19th in the table, this has to be the year they go surely?
Playing Le Tiss as an out-and-out striker, eh?
Huzzah, another win!

Fat Frank has his first for the club now, as well.
But beating Southampton is one thing. Going to Anfield and getting a result will be different. Roy Evans' team are teasing the Liverpool faithful by being top of the table. Obviously, they won't win it but it won't stop the Scousers dreaming. I don't think West Ham have a great record at Anfield, do they?
Julian Dicks has been awful for me so far and wants more game time. I said no. He argued. I listed him.
Then FM broke.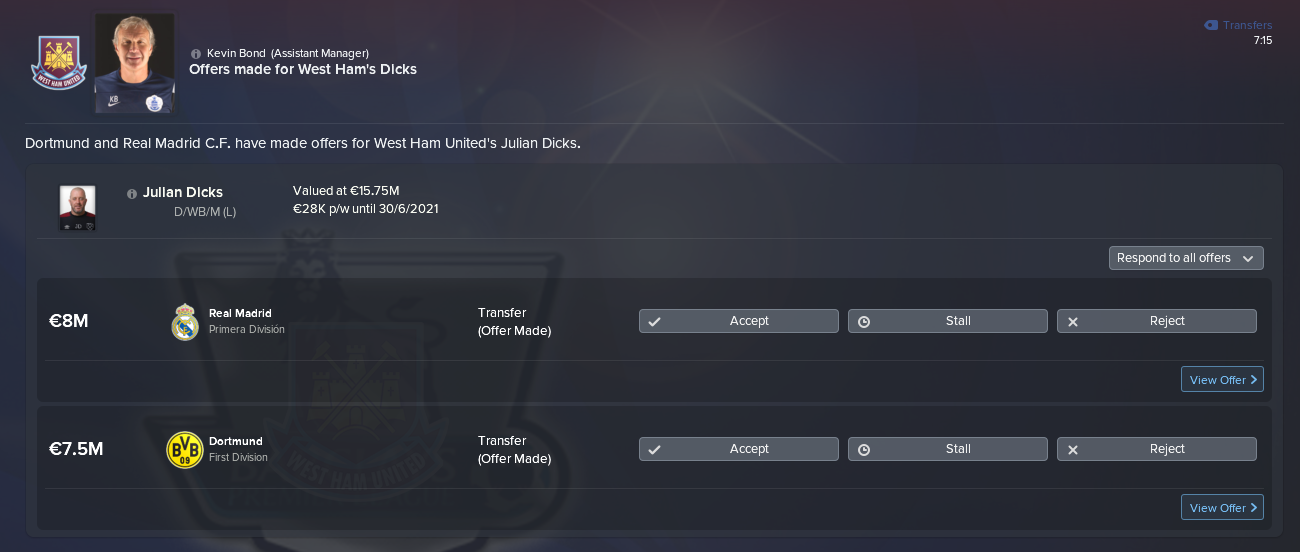 Er, yes. You can go to Real Madrid with my blessing.
Chelsea, wow. Sparky sticking it to Sir Alex.
442 eh, Roy?
Robbie Fowler. I tipped him to break every record going. Oops.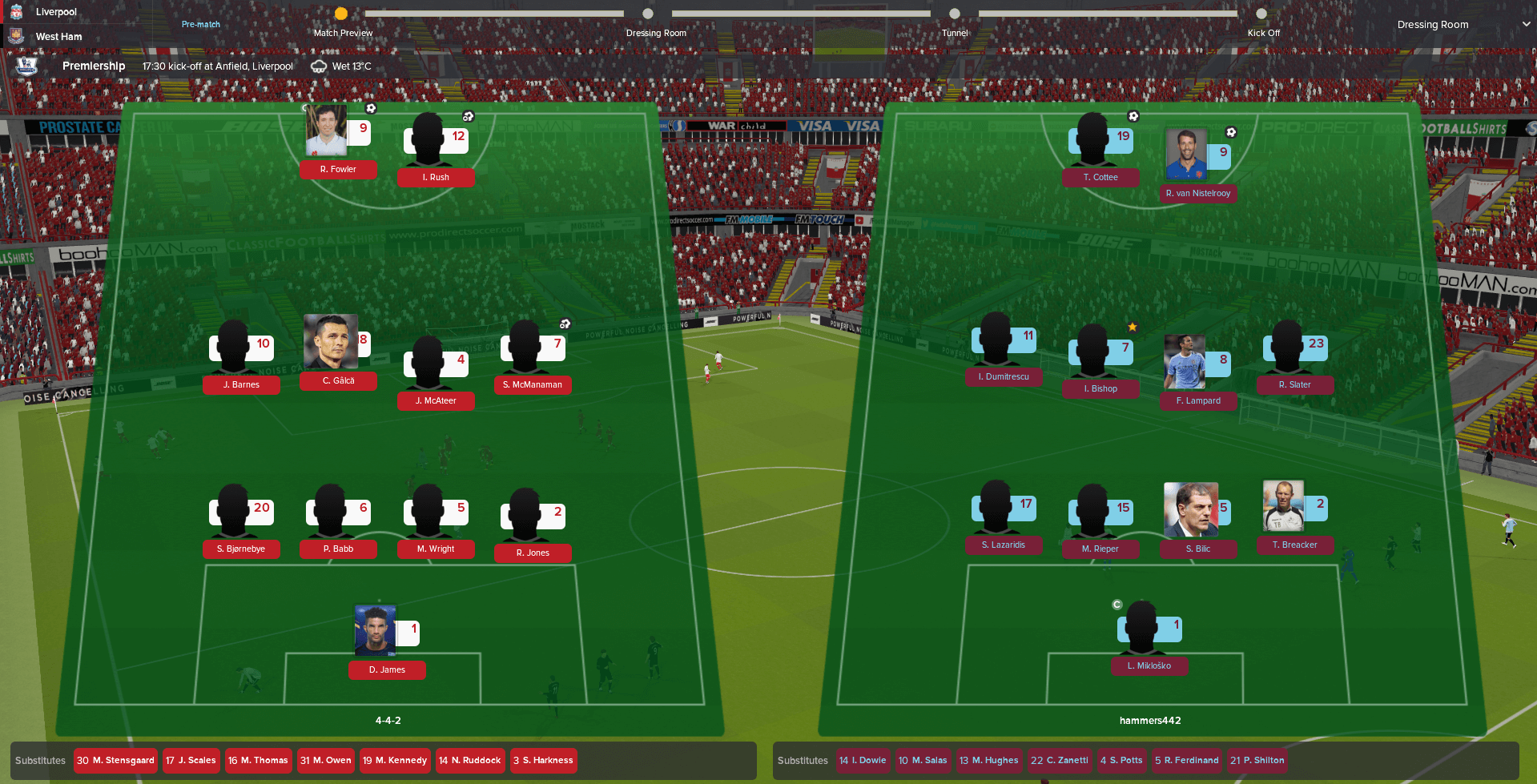 This is a very, very good result.

They battered us in many ways, but we kept them out.
Villa next, but before we head to Birmingham what about United?

They are 6th now, 6th!
In fact, we could go above them if we beat Brian Little's men.
I can see why they are 2nd now. Dwight Yorke! Paul McGrath! Ugo! Southgate!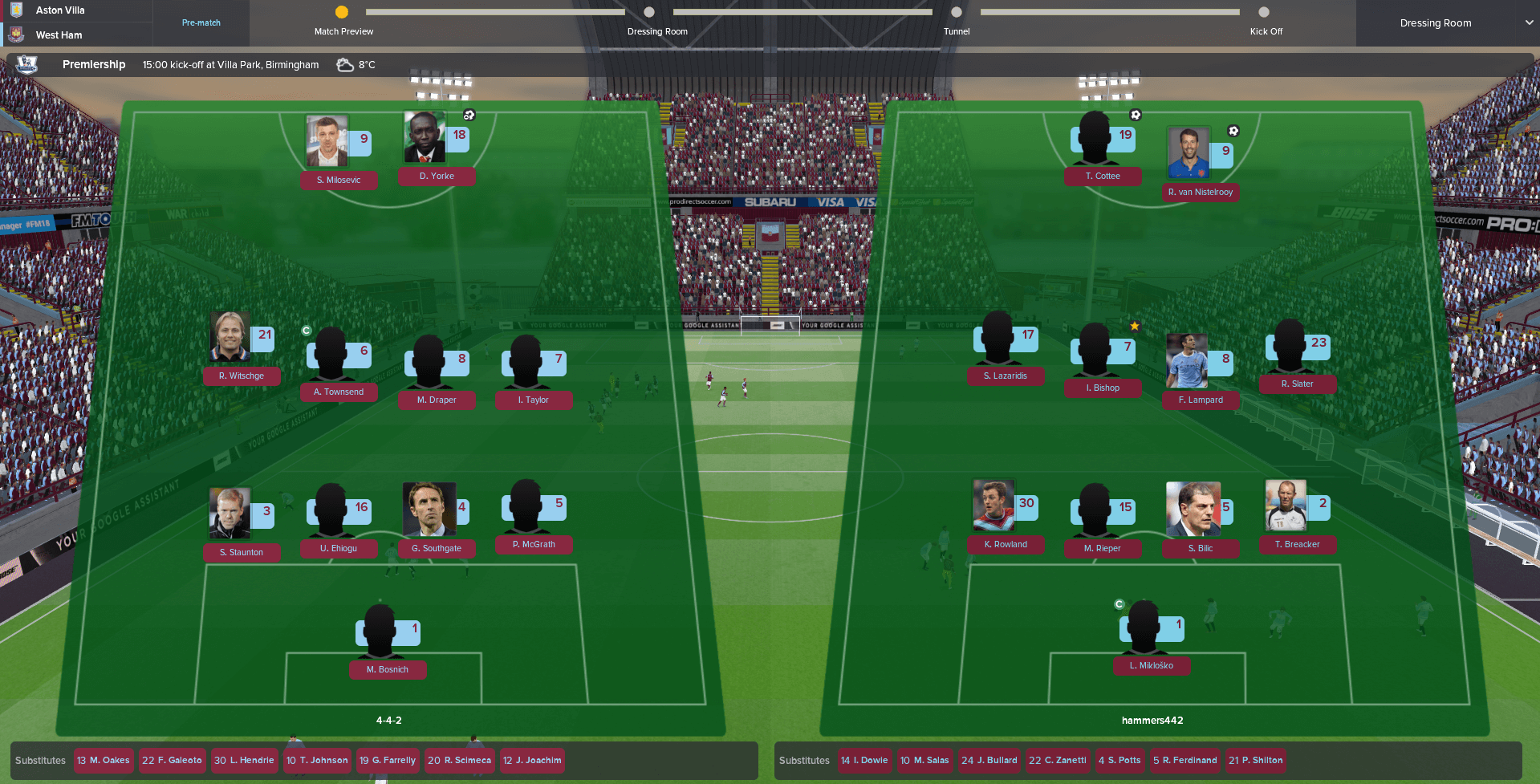 I remember being very excited when Villa signed Milosevic. I am less excited now. He bossed our back four in a way I've not seen on FM for a while. Dwight Yorke as well, what a player.

Still, a mere 10 games gone and we are where we should be – midtable. Keep this up and I'll be happy. That said, I am still not a massive fan of the style of football we are churning out (yet).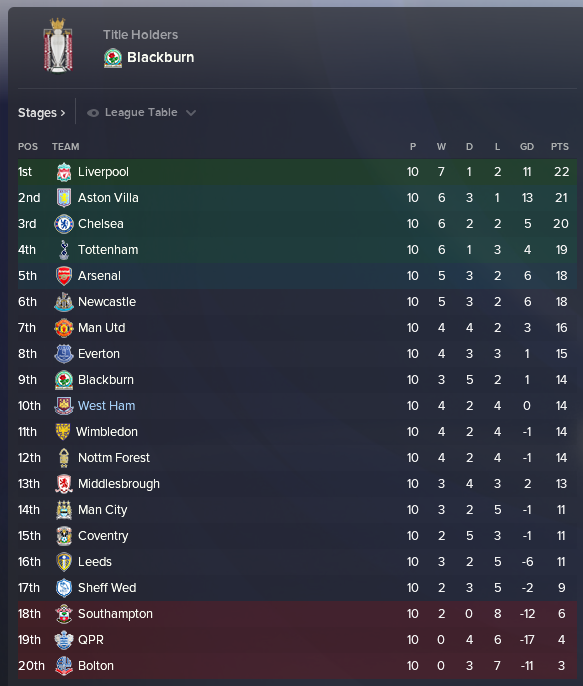 Manchester City next. Alan Ball. He won a World Cup. And loves a flat cap. Two things we really do not have in common.
No Kinkladze, though. That's a bonus. And I reckon we should be a bit better than Nigel Clough in the centre of midfield. He should be off the front man, not battling in the middle.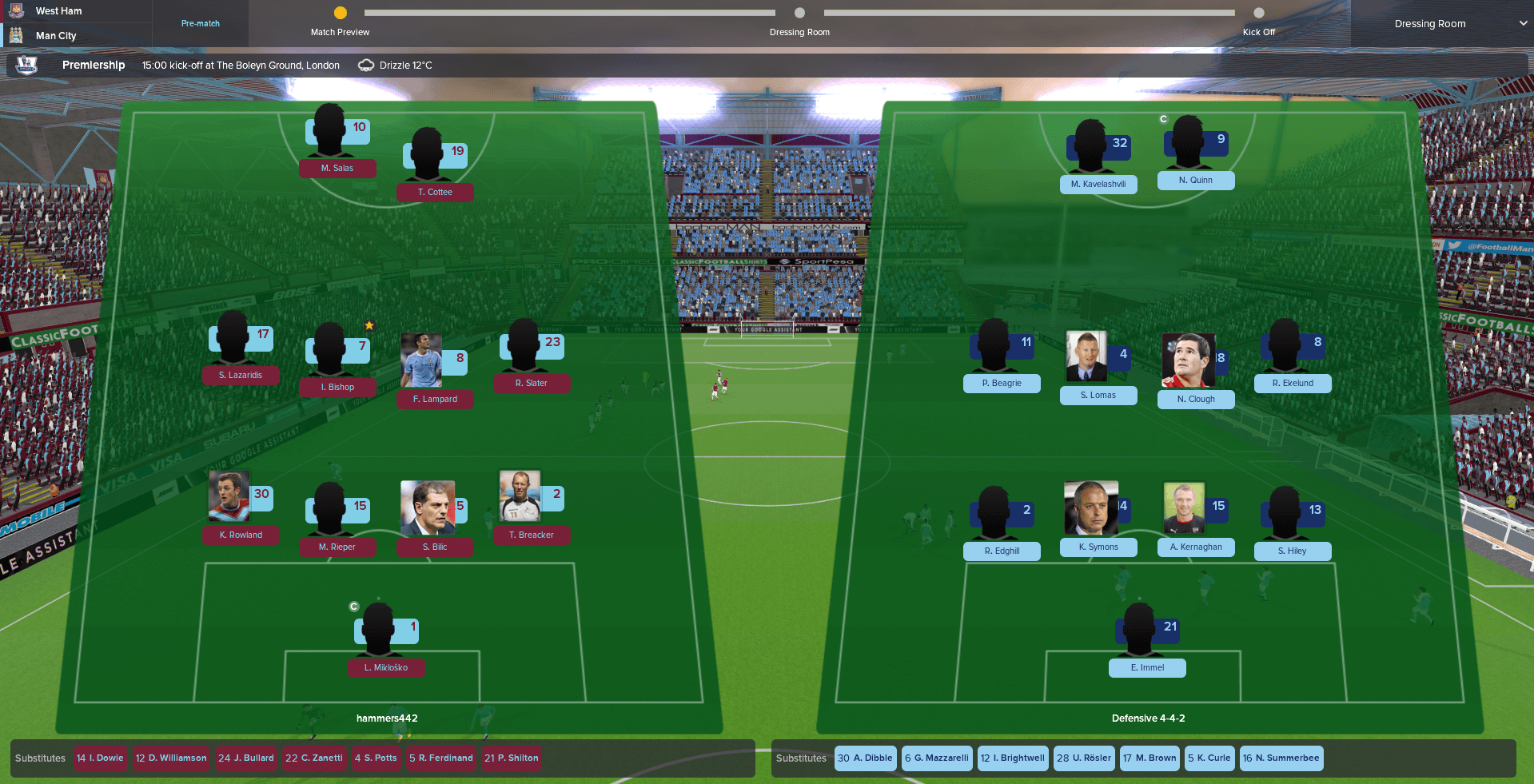 It was 0-0. It was dull. I forgot to take a screenshot. It's another international break.
I've decided to take this time to reflect on whether we are making the progress I want. The shape we are playing, this 4-4-2, is not going to get the best out of the likes of Carrick, Bullard, Lampard, Joe Cole etc when they are ready to step up. I need to have a bit more of a think, I think.
West Ham is supposed to equal good football, but we don't want to get relegated – obviously. We have an absolutely brilliant crop of young, exciting, attack-minded players coming through and they are also going to be supplemented by some incredibly good signings. We need to get out of this 4-4-2 mentality – almost every team in the Premiership is playing this way so surely we can come up with a better style of football that will ask questions of the way they play?
The question is, how. Actually, the question is how and what?
Bring it on QPR!
Dammit, forgot to take a screen of the two teams. Errrr, we look better than they do? Well, they are 20th.
Maybe the new kit will help us play with a bit more style? (Thanks to @FMFutbolManager)
I'll be doing a post on the 95/96 kit pack that Oliver Jensen has kindly put together, but there might be a couple of reveals in the next few matches.
Like QPR for example.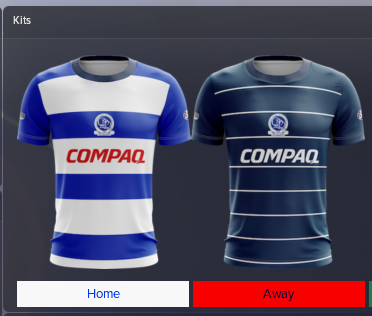 Sadly for me in FM18, it looks like many roads lead back to a 4-1-4-1 so that is what we are rocking at Loftus Road.
And rock it, we did. Get in. West Ham winning easily at away from home against the bottom of the table. That is not very West Ham at all. Suddenly it feels like we have a system.

That even classes as another London derby victory. That's good, because we play Tottenham next and I am not convinced we will win that one at White Hart Lane.
Ruudy is out for 12 days, meaning he won't get to battle it out with Sol Campell and Gary Mabbutt. They will be relieved, no doubt.
So, 6th placed Spurs will be wearing this.
Very nice too.
More importantly, what are the teams?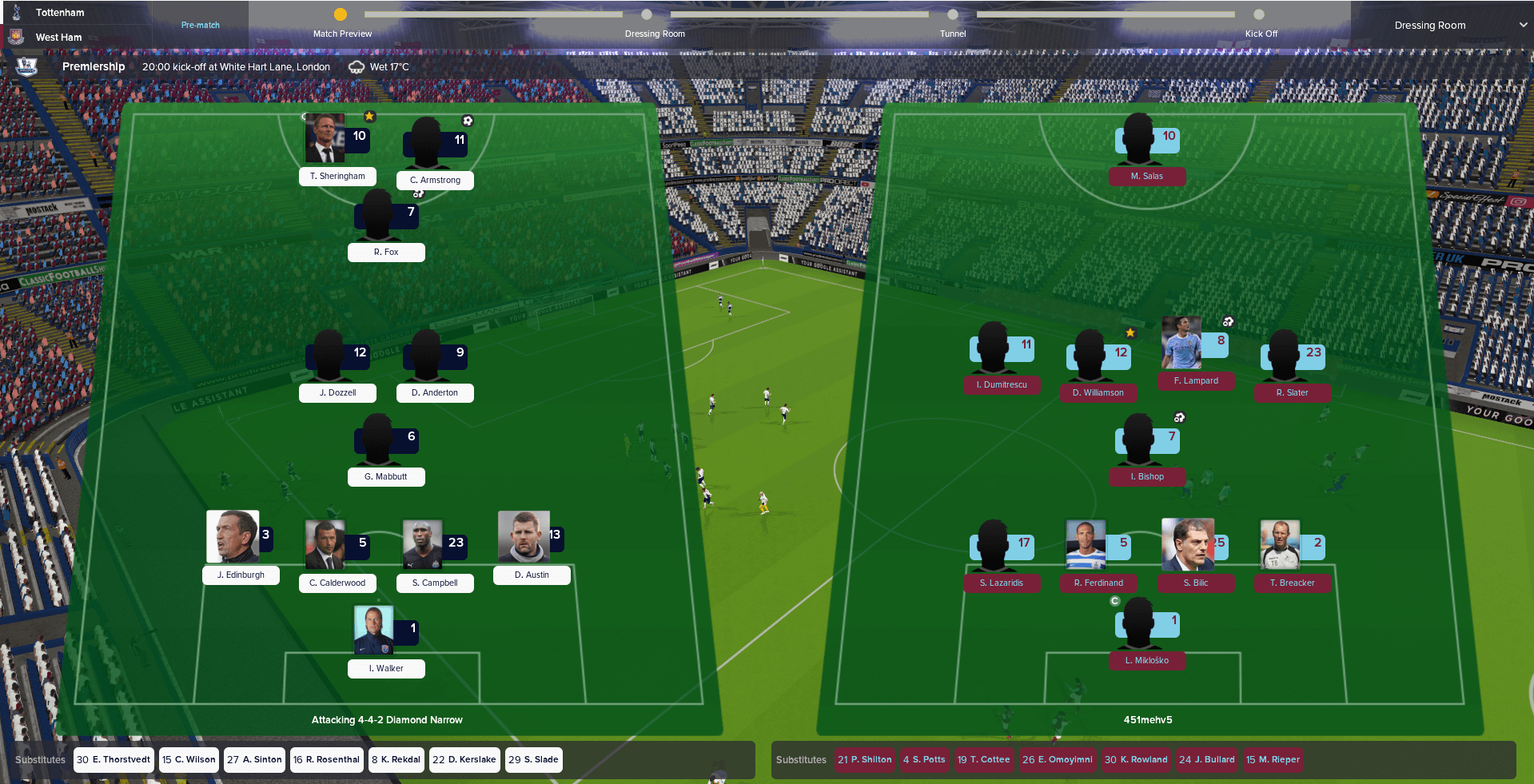 Ah, that diamond thing that was becoming fashionable – though I though Spurs gave it up under Ossie when he crowbarred 5 strikers into it.
Well, I wasn't expecting this.
That means, even if it might be until the games level out, this is what the league table looks like as we end today's piece.
Not bad, not bad. Even the West Ham public must be getting used to me by now.
And my word, do I have some January signings lined up.
Watch this space and, er, COYI.