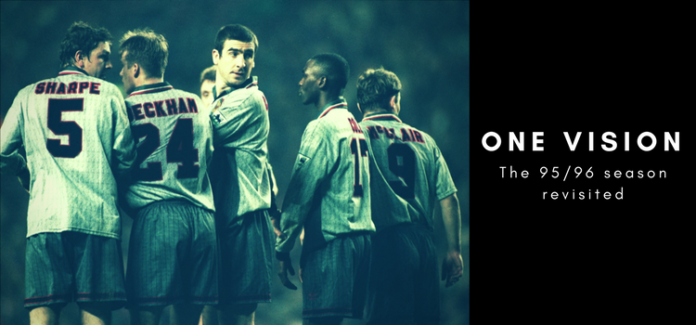 We have stepped into an alternative reality where it is actually 1995 and all things Premier League are looking a little bit retro. Join @tenpotatoesfm as he goes back in time to a world where everything was a little simpler, football was played on the pitch and not just the TV and Wayne Rooney was still a mere twinkle in his uncle's eye. Catch up on the first two parts here and devour them as you would listen to an early Oasis CD.
*
So, I have survived pre-season and Billy Bonds has to be a distant memory in the minds of the Hammers fans. And, as a kindness, in the alternative reality, 'Arry and Bonzo are still best mates rather than Bonds believing that Redknapp stabbed him in the back and nicked the Upton Park hot-seat from him. That's nice.
As well as repairing old friendships, I am actually here with a view to seeing what I can do with West Ham United FC, still very much a yo-yo club in the 1990s. And when you still have a 45-year-old Peter Shilton on your books and Iain Dowie is on the payroll you can understand why.
But, there is a little salvation – I've managed to snap up an 18-year-old Ruud van Nistelrooy and a 20-year-old Marcelo Salas and it looks like they might play in a three with club legend Tony Cottee.
We can get away with a 343 in the FA Carling Premiership, can't we?
First up is a trip to Highfield Road which, of course, is the home to top-flight stalwarts Coventry City who are managed by the perma-tanned Ron Atkinson.
Our first few fixtures are these.

I could have done without United, Chelsea, Arsenal and the current champions, Blackburn in my first 7 league games if truth be known. And it looks like we are at home to Coventry, not away, so we might at least start the season with a win.
Will I still be gaffer come Forest at the Boleyn? I wouldn't bet on it.
The teams are in, and for some reason Big Ron things Gordo has the legs to play as an out-and-out right winger. We shall see.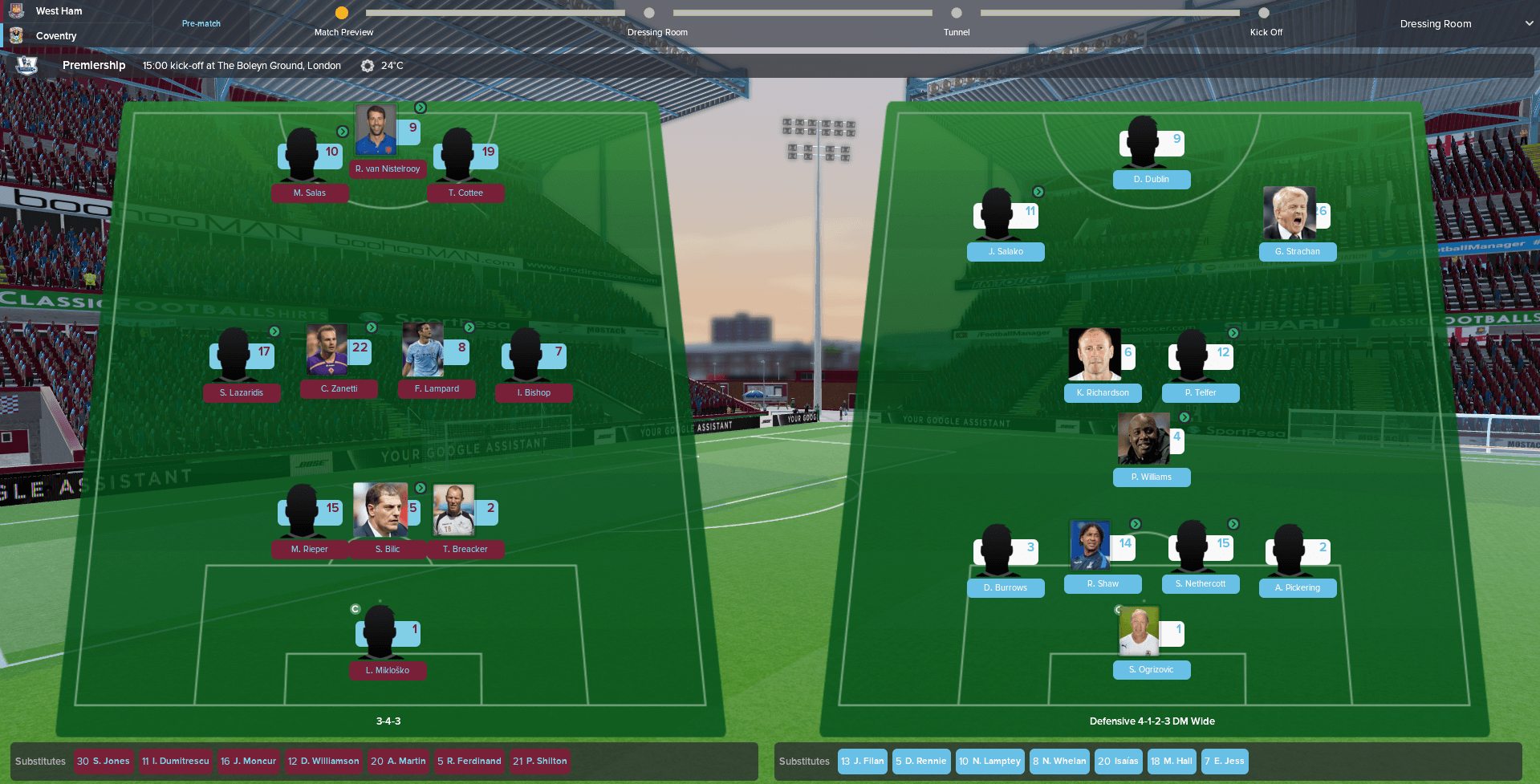 I think we can safely say we have adopted the 'West Ham Way'.
2-0 up and cruising, we let Coventry back into it and their equaliser was scored by Nii Lamptey who is possibly my favourite Ghanaian footballer of all time. Big Ron obviously liked him as he took from Villa to Coventry. Anyway, I digress. We switched to 4-4-2 and Dumi crossed for Salas to head home. Happy days. Bubbles everywhere!

I'm sure we'll be fine if we play like that at Old Trafford, right?
The results from the first weekend, and read them out in the way that they used to be read out on the radio – before Jeff Stelling even thought about being involved in football.


Shall we all take a second to laugh at Spurs? They were awful in the mid-90s. Wimbledon might be in for a long season and god knows what happened at Bolton. Still, I'm glad we've got three points on the board before a Friday 13th trip to Sir Alex's house.
Oh, bloody hell.
Well, I was thinking 5-3-2 might be sensible at Old Trafford so…
Slightly foolhardy to pitch Bish against Giggsy? Probably. Just look at that team. We have no hope. Keane is on the bench for crying out loud!
Not many teams will score twice at Old Trafford this season and if TC had not hit the bar after three minutes who knows what might have happened? (we'd have probably still lost).

The biggest takeaways from the match were 1) Ryan Giggs is fecking rapid on this, 2) Andy Cole plays just like Andy Cole and 3) I think United might dominate the next decade.
Bah.
And the dressing room wasn't best pleased when I said they played alright. Trust me, they'd have reacted worse if I'd said they'd been cack. They don't like me. I can tell.
Southend United in the Coca-Cola Cup next – this is the kind of match West Ham always used to lose.
Before that though, Saturday's results.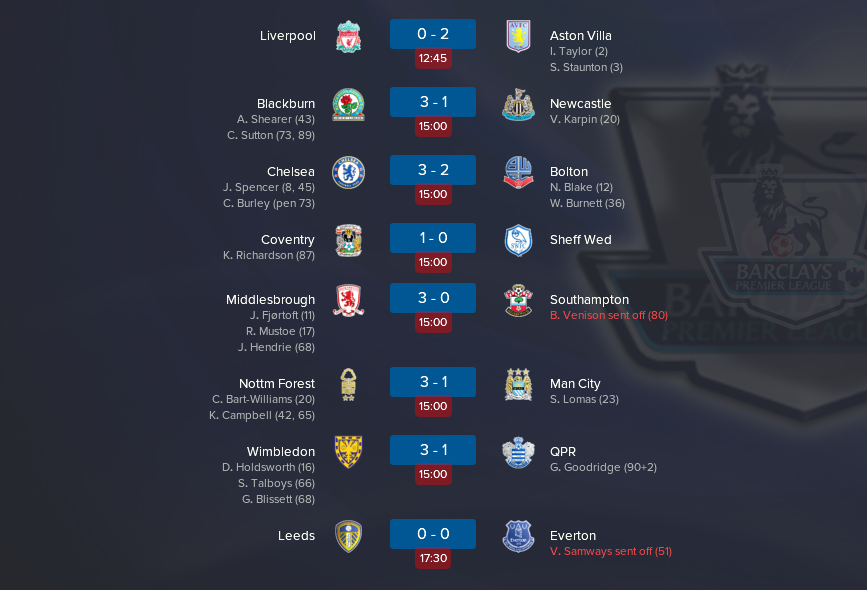 Chelsea have started well, Manchester City look as perfectly inconsistent as they could ever be and Wimbledon bounced back pretty well. Losing 2-0 at home to Villa won't bolster belief that the Spice Boys can win the title though.
Oh, Tottenham.

I guess we could have lost this game, so I'll be happy with the win. We weren't very good at all though.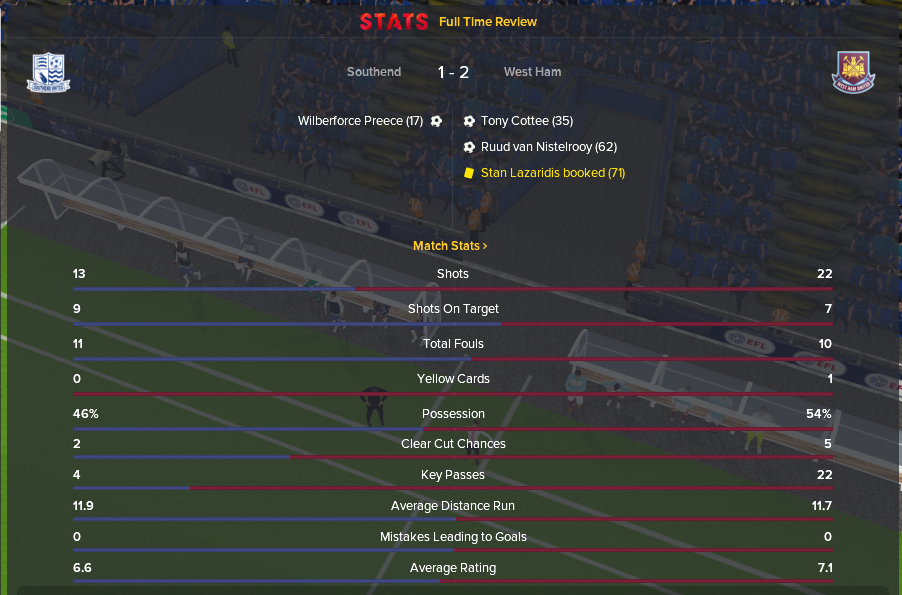 Onwards. Chelsea on Sunday.
And what a team they have. Hoddle. Gullit. Hughes. And lovely Mark Stein. We are going to get battered, but we will get battered playing 4-4-2 and a bunch of kids.
Yikes. This will buy me some time I reckon.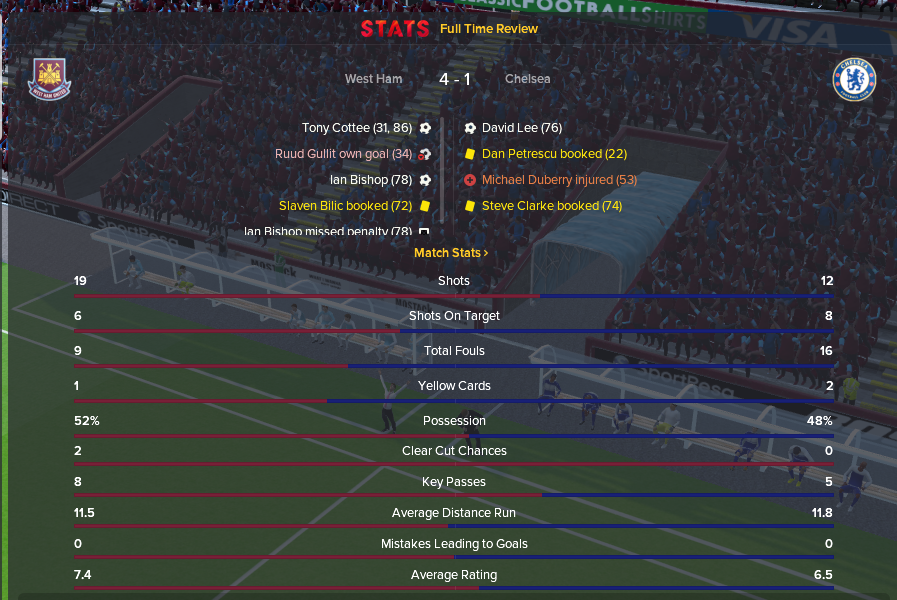 TC was on fire, reminding me of Peter Beardsley in all the right ways. Considering Ruudy was a bit crap, we were still excellent going forward. Dumi caused them all kinds of problems down the left and Bish was class on the right. They might have had 8 shots, but none of them were great chances, even the one they scored.
This gives me something to smile about whilst the first international break rocks around!
We'll end today with some Deadline Day Deals. This is where 'Arry would be in his element and I am floundering like the Premiership novice I clearly am.

I have no idea who the guy at the bottom is that United have signed. I am more impressed by Dunga.
It really wasn't worth the pre-Jim version of Jim putting a yellow tie on.
And with that, I am off to work out how I can get a result at Highbury. That Ian Wright is a bit good.