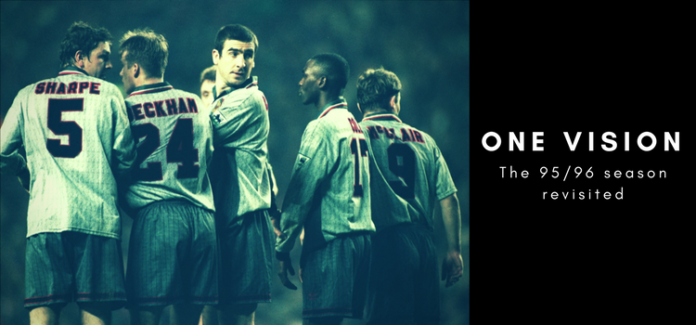 The Premiership. The 90s. Real football. Class kits. Liverpool fans who can still remember when they last won the title. David Beckham only sponsored by Brylcream and yet to meet Posh Spice. Liam and Noel still talking to each other. And, of course, West Ham United at the Boleyn. Enjoy!
*
Wanna see the league table to set the scene as we enter 1996?
It's alright, I'll take that. January is going to be very exciting as we have lots of players leaving and lots of players joining.
One of the kids is doing well though.
Is becoming really good is Lamps. Just needs to add more goals.
The transfer window is in and it looks like most of my activity has gone under the radar!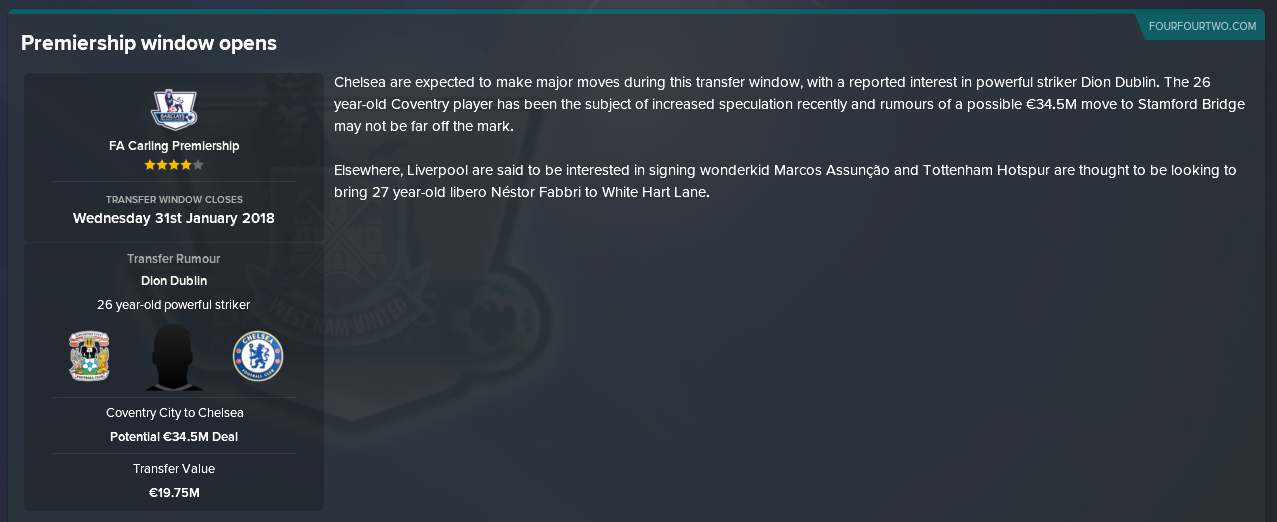 Big Dion to Chelsea though, not a very Glenn Hoddle signing but hey.
Firstly, the players I have flogged…

Dicks to Dortmund for £7.5m still makes me laugh, plus Mautone for Anderlecht and I still have no idea who he is. Actually, Hutch to Ajax is pretty funny too.
Have I replaced them? Of course, I have!
That is some decent transfer business right there, I am telling you. Flo? Solsjkaer? Solbakken? For peanuts? I am a genius. And I need to be because we are playing Manchester United on the same day as they all rocked up and at least one of them will need to start!
I love this United kit. Mind you, I like our second kit too.

I can't lie, I am pleased to see Eric on the bench but that is still one hell of a United line-up. They are starting to motor after a slow start to the season.
Solsjkaer making his debut against United isn't weird at all.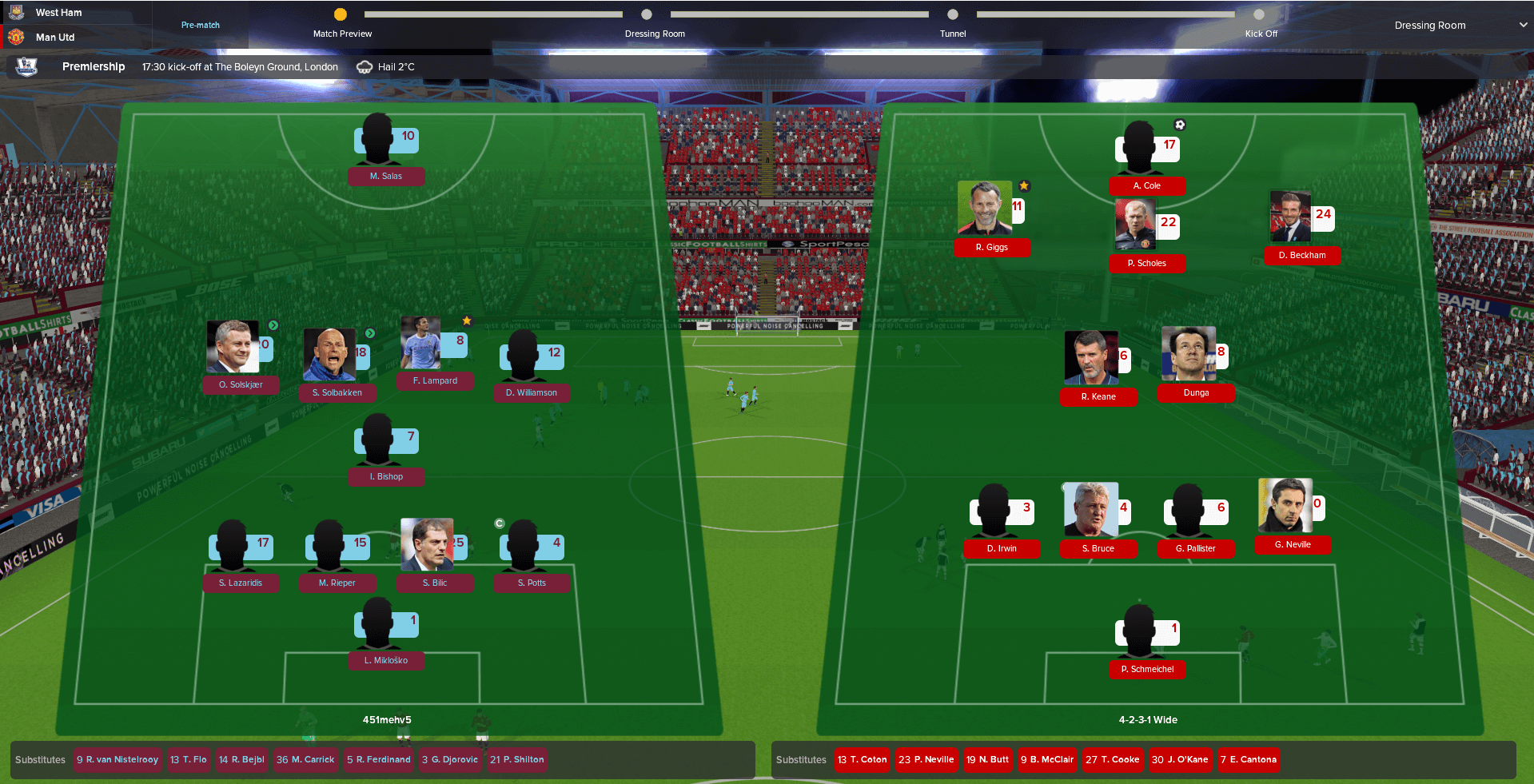 We played them off the park, but United being United found a way not to lose. Still, a cracking point for us.
Tranmere in the FA Cup next, the kind of match that West Ham normally crumble in. Surely we can beat them?
There's some names in their team though. John Aldridge. Pat Nevin. Alan Rogers. Paul Cook. We can not take this lightly at all.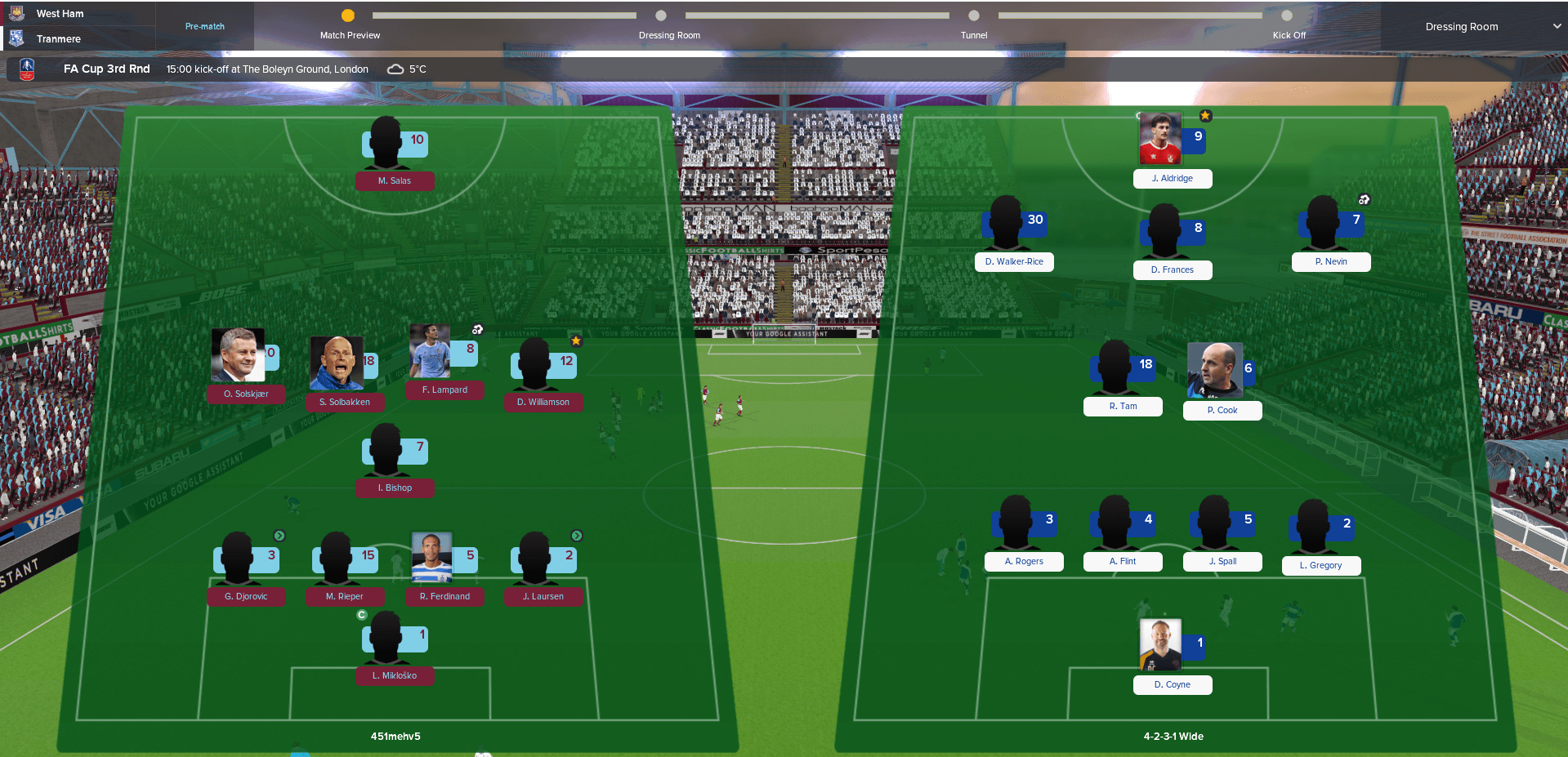 In the end, it could have only been better if Ole had scored his penalty. Tore Andre Flo off the bench with a brace on debut, Ruudy sulking as he can't get a game.
It was quite a dull 3rd Round in the end – no major shocks at all.
8 days until Arsenal now, which is 8 days to flog Slaven Bilic (has been terrible) and Steve Potts who has been pretty dire too.
Crazily, I will probably raise about £20m for them both. Madness.

Bilic, done.
I wonder if we still listened to the 4th Round draw on the radio back in 1996? I actually cannot remember. Anyway, we got Rotherham.
£8m for Steve bloody Potts!

Crazy scenes at the Boleyn when he left, I can tell you.
There's a reason I haven't shown you any of the other January window transfers from other Premiership clubs – there haven't really been any, unless you count Arsenal's Steve Morrow heading off to Celtic on loan. I don't count that, incidentally.
And it's Arsenal, less Morrow, we have next AND LOOK AT THAT KIT!
Dumi is back, probably with a light calf strain.
I've brought in some of the new boys as well, even though Ole Gunnar doesn't make the squad.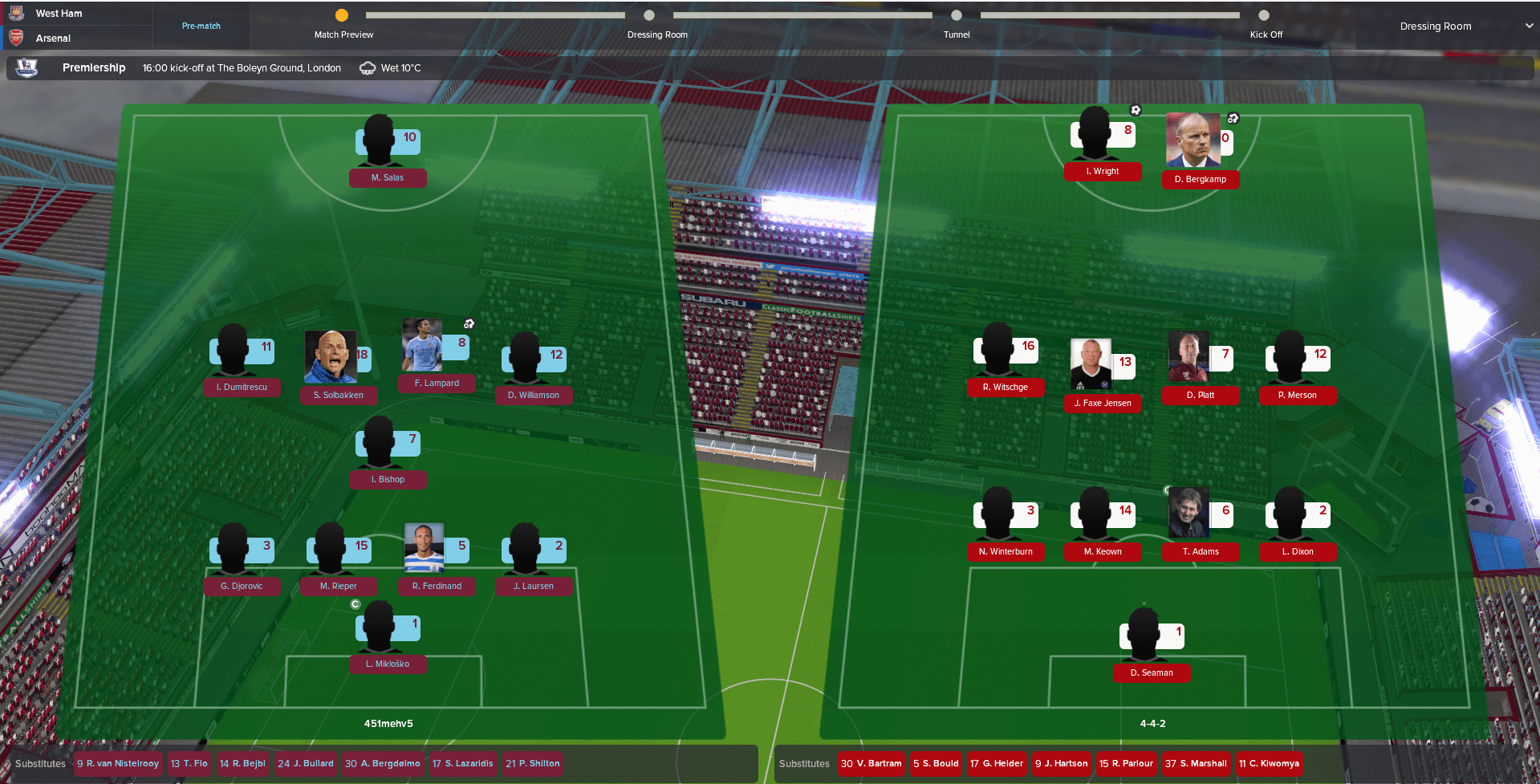 I don't recall West Ham beating Arsenal too often.
Well, I did say Lamps needed to add goals…

That's a massive win. I mean, a really massive win. OK, Rio didn't have a good day (Wrighty made him look silly for his goal and then he pulled down Bergkamp for the pen) but we are getting better each week for sure.
Time for some revenge against the Crazy Gang?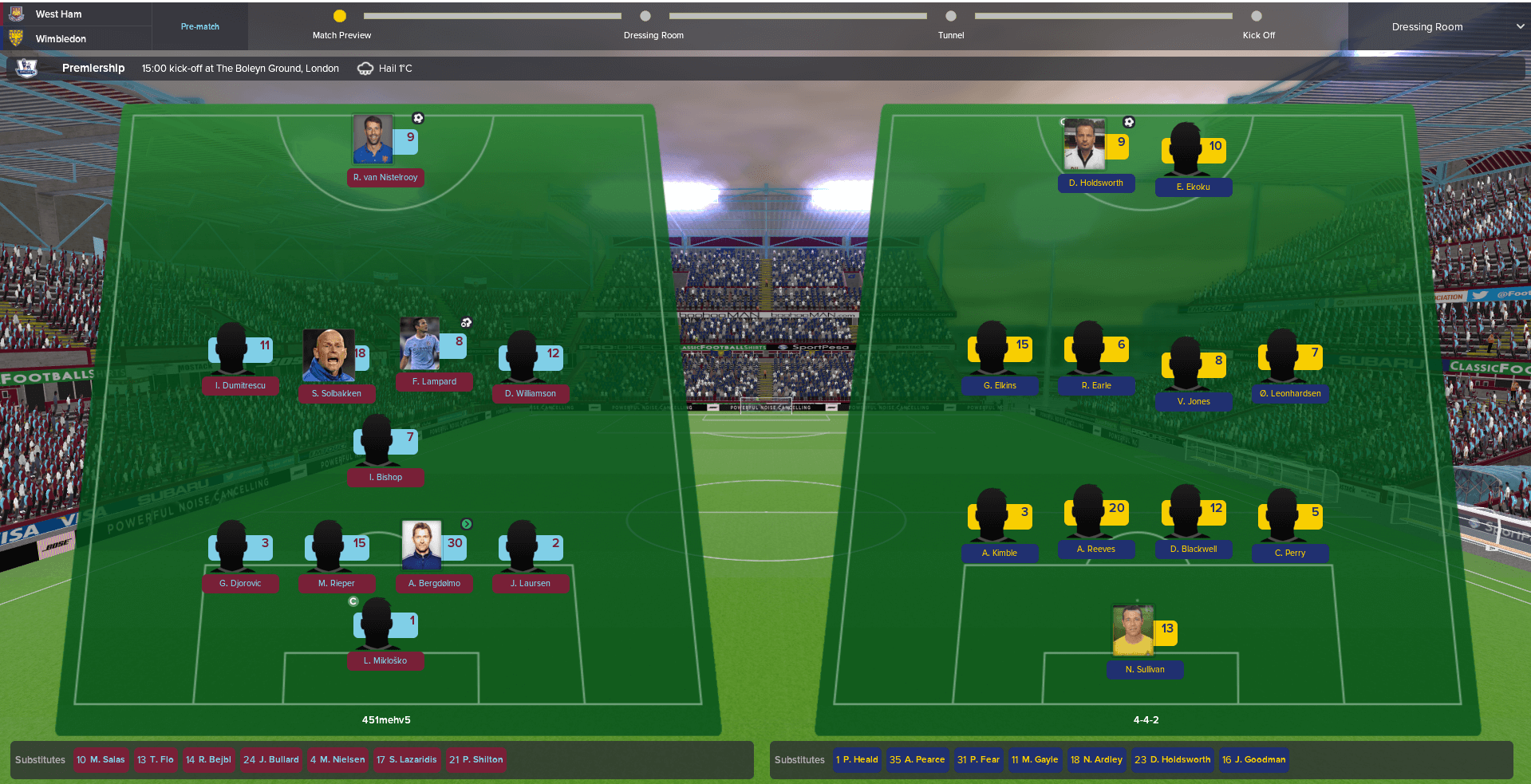 Let me tell you about Andre Bergdolmo's debut. 14 minutes gone, let Dean Holdsworth go free to score. 21 minutes, scores an own goal. 25 minutes, carried off injured. Cult hero already.

I really want to win the FA Cup, so Rotherham will be taken seriously.
Just got to stop Shaun Goater, don't feed him!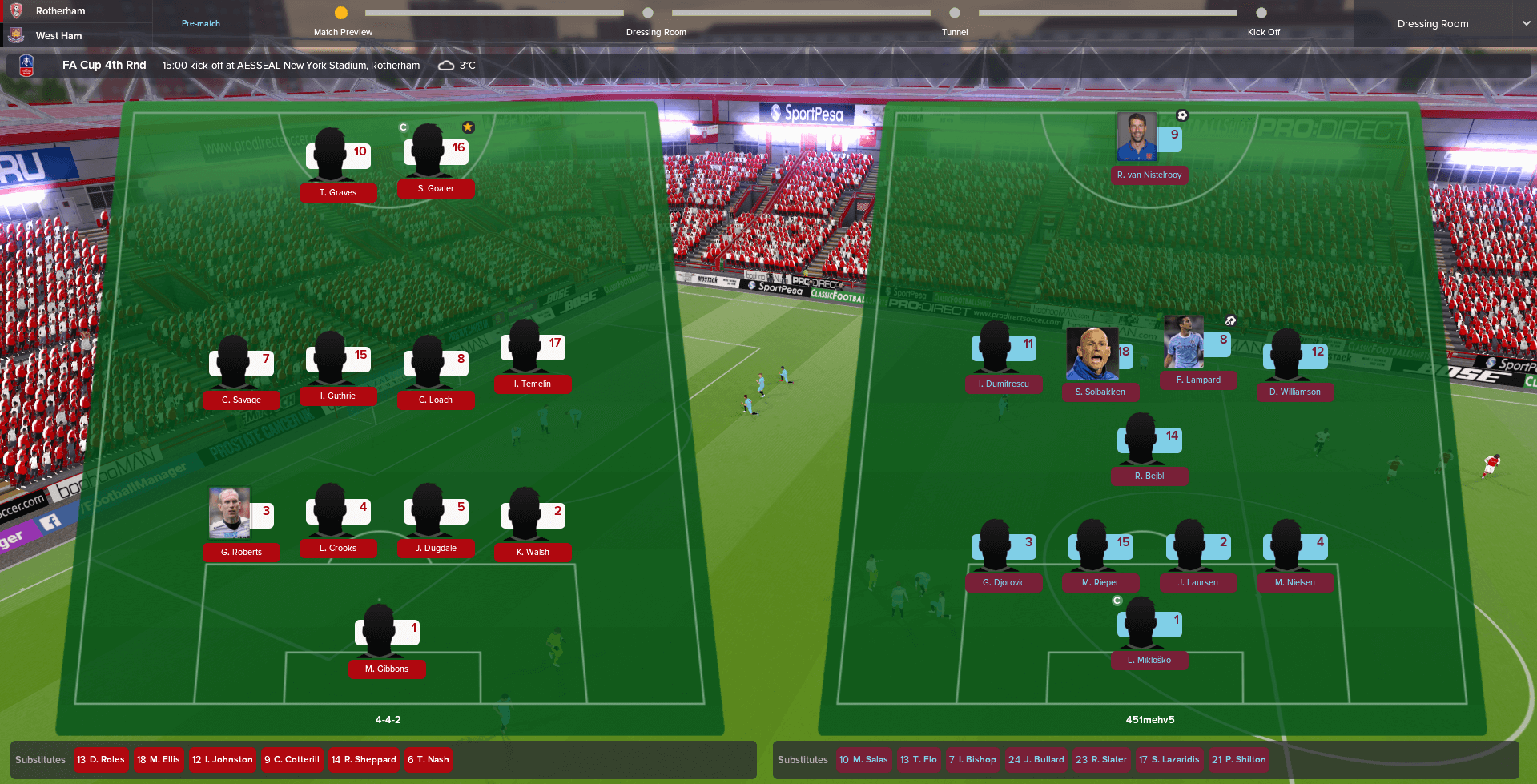 He went hungry, and we've reached the 5th Round. Come on!

And a draw against Bradford makes me happy.
Blackburn Rovers have not defended their title very well as they sit fractionally above us in the table. But, they have Sutton and Shearer and that, frankly, worries me. Bobby Mimms plays for them this time around though which is better for us than if it were Tim Flowers.
Of course, that comment meant Mimmsy was amazing against us and it looked like we'd fail to get past him. That was until I sent on Tore Andre Flo, went three at the back and smashed it forward at every attempt. Get in!
The table is starting to look pretty cool as well.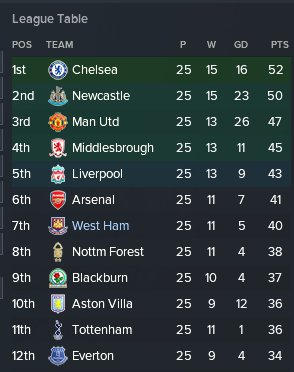 UEFA Cup spot, maybe?
Forest decided to play both Jason Lee and Andrea Silenzi against us this time. Really? Come on Frank, you are a better manager than that.

Yeah, alright Frank. You win. God, we were bad. Maybe I shouldn't have rested Lamps and Willo, muppet.
Roy Evans is under pressure at Liverpool, mainly because his team are sitting in 6th at the time of writing. A win for us gets us right back in the UEFA Cup chase and, I have mentioned these things before, I LOVE this kit.

Rio, Lamps and Willo all returned – great news for the Academy.
Before kick-off, I heard that Tottenham had finally given up on Gerry Francis. I can't blame them. I mean, think of that hair.
For ten minutes, Ruudy looked like a world beater!
I'm not sure whether this win, beating Arsenal or beating Chelsea is my moment of the season so far. Either way, this felt good! It moves up to 7th.
Ruudy also picked up a twisted knee and is out for 8 days. The FA Cup match against Bradford is in, you guessed it, 8 days.
Anyway, he played but Lamps did the business.
I know it is only Bradford City, but Lamps is becoming a star man. He is really, really good. And not fat at all, unlike his real-life spell at the Hammers.
The last game in this little post will be Southampton and it will launch us into the run-in as it is the 28th game of the Premiership season. Southampton are struggling, despite the genius of Matt Le Tiss.
Over in Spain, Andres Iniesta has just scored his first ever Barcelona goal.
The FA Cup Quarter Final draw has happened…
Am I mad for thinking we could win the cup? The actual FA Cup? Mind you, the Quarter Finals is the time you start dreaming about doing such things.
The first bit of silverware of the season has been lifted by…
Brian Little!

You'd always bet on Gary Charles to score winners at Wembley.
Southampton!
Ouch!
What an utterly crap performance. Their first two goals were laughable. It's nice to see that we are still very much West Ham in essence. It's the hope that kills you.
And with that hope, we will be heading into the final 10 Premiership matches and an FA Cup Quarter Final in the next update.
Tarah!