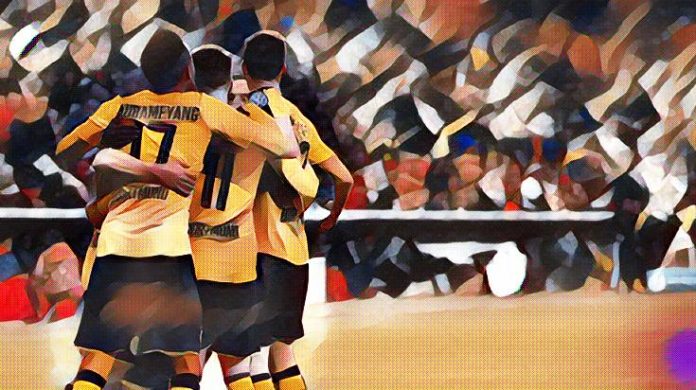 So folks, today we play "using the crystal ball to mould a team for the new season".
Oh yes, I may as well put names in a hat and go from there. Preseason is underway and I haven't got a scooby who will be with me come the first 3.Liga match against Kiel in a few weeks time.
How can this B? See what I did there? Yeah, welcome to B team management to the still uninitiated.
It would probably be wise to go back over the previous parts of this series to understand the crazy conditions in which I decided to work.
Read Part I, II, III, IV, V, VI, VII and VIII.
So, to recap – players can be bought, sold, moved up, moved down, loaned in, loaned out, released or shot all without my say so. I have ZERO control over any of that, short of keeping my fingers and toes crossed.
And a fat lot of good that did me after the last update…
Not on that list (no idea why) and also released were Emre Aydinel, Luca Kilian and Marius von Cyseweski . Now, none of these boys are completely against the idea of rejoining us so Emre, von C, Frtizy and Reckert are on my shortlist as I am allowed to sign free agents – I reckon if I can get those four back in the squad then we might have a good chance. Good chance? What am I saying, a good chance depends on a million other factors.
Now, returned from loan are Burnic, Beste, Karazor, Schwermann, Kopacz and Emre Mor. You'd be right in thinking they'd be great replacements for the ones I have had kicked out by Tommy T. Yeah they would be, if there was any guarantee that they'd be available come the first league match. Emre Mor categorically won't be around by the start of the season, so why should I include him in preseason matches? Burnic has already been loaned out, which kind of proves my point. But the others, well they might be here. Equally, they might not be. So how do I actually plan?
One argument is just to assume all of them will still be here. That's foolish and will leave me with players not used to playing together when everyone disappears the day before the season starts. The other way of doing would be to assume that none of them will be with me, so have them on the bench for all of preseason and build a team on the assumption that they won't play for me this season. Then, if they don't get loaned out, it will be like a new signing and I can throw them in straight away and hope their class means they can get away with it until they are match fit. It's a gamble, but it's the way I am going to have to go.
Now, the problem I have with bringing the four lads back to the club is that I am being given bugger all wage budget – probably because Emre Mor is currently on my squad list and he is on £22k a week. Hopefully he'll get moved on quickly.
As I've been typing it Beste has received five loan offers, so he'll be off.
So if this is my process, and assuming I won't be able to bring back any of my four outcasts, what the hell does this season's team look like. Oh, I forgot to mention – some of the lads that did well last season and weren't released could well be on Tommy T's "loan them out for experience" list. Yes, even the bit I might be able to plan I cannot really plan.
Anyway, who are the players in that tiny part of the venn diagram that might not be loaned out?
Well, our keeper Ortag should be OK for the season. That's a start, right? I can't see Dieckman or Wanner being loaned out, so they will be the first choice full backs with the U19 graduates Ambrosius (didn't we all love that rice pudding as kids?) and Ali Taylan as back-ups. Taylan will play for Germany one day I believe. Wimmer is unlikely to be sent anywhere, so I can rely on him to play as the regista. Raschl could get a loan move, but if not he is the first choice roaming playmaker. Serra was injured in preseason, a cunning tactic. He won't be back for the first couple of games, so there is a chance that the transfer window may slam shut with him still here. That would be good. Kosicek will be with us as well, I am sure. I cannot see him nailing down a starting place just yet, but he's very much on my development list.
My concerns – assuming most of the guys I am expecting to leave us on loan do get sent away, the squad looks pretty light. I'm able to offer €375 only to free agents, which has been enough to persuade Reckert, Emre and Kilian back to the club. I do think I need another strong centre back, another clever attacking midfielder and, possibly, another option for centre midfield. Karakan, Emre Mor, Kopacz et al will only be bench players until the window slams shut – if they are still with me then I will use them as regulars. Sounds a bit daft, but I'd rather have a weaker XI that I know is my XI than have better players float around the pitch not knowing whether they are sticking around or not. It's just me I guess.
B team management is full of challenges, and that is why we like it.
I'll report back once the season is underway!
Oh, check out our new podcasts – Episode One here and Episode Two here. Enjoy!