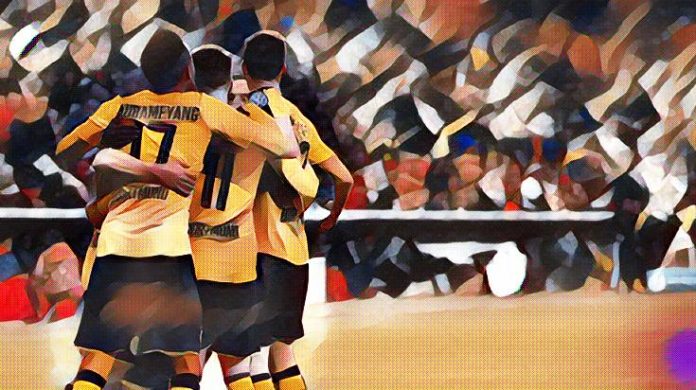 Oh, we've been here before. We have certainly been here before. And, for some crazy reason, I fancy another stab at this. I made my mistakes in Bilbao, I really did. Equally, I wasn't treated particularly well by Paco or Rafa, the caniving bastards. But I am back, and I am ready to use that experience to make it happen this time.
Yes, I am going to manage a B team and eventually get the first team job.
The sharper tools in the Tempo readership box will have guessed which club I am doing it at – Borussia Dortmund. A club known for buying all the best young players on the planet currently, as well as developing a few themselves. I'm expected to lead their young charges to Regionalliga West glory at the first attempt, otherwise this challenge may be a tad on the short side.
Why have I chosen Dortmund? Well, admittedly it makes the first part a little easier, I would hope. And by the first part, I mean building a B team that is dominant at its level. Equally, with the first team being so damn strong I am naively hoping that not too many of the young talents get moved into the first team squad. The second part might be a little more difficult. Getting the first team gig. Dortmund are a super club, who would attract a super manager. Could I leave to come back? Not this time. That is what killed the Bilbao save for me, this time I am staying put.
Thomas Tuchel may end up being Dortmund's Arsene Wenger, or Sir Alex Ferguson for all I know. But I will do my best to make Dortmund II a very successful 3.Liga outfit and hope I catch the eye of the board. Impossible, many would say. You might be right.
You may well need a reminder on what I can and cannot do as manager of a B team. What I can do is pick my team and tactics. I can train them how I want to train them. What I cannot do is sign anyone, sack anyone, transfer anyone or negotiate any contracts whatsoever. That is all managed at a level above me. Plus, I will categorically have players moved up, down, in, out and from side to side as the months go on – if it is anything like Bilbao the side I have for the second half of the season will probably not bare any great resemblance to the side that started the season.
Why would I put myself through this again, some of you might be wondering? I'll tell you now, I have barely in post more than a few weeks and already the usual tomfoolery is kicking off. The reasons are simple. I love a challenge, I screwed it up last time, and I actually want to know if it is possible because (and I appreciate Zidane and Pep have slightly bigger names in the world of football than I) it has been done in the real world.
It'll be fun, and I will be tearing my hair out.
Just to be clear on the challenge itself – manage Dortmund II for as long as it takes to, eventually and hopefully, become manager of the first team. How? Win whatever I can win, improve my reputation through developing players, winning matches and gaining qualifications. Is it possible? I actually don't know. I mean, never forget that Miles said you cannot manage a reserve team….
I do hope you will join my journey on BoB v2.