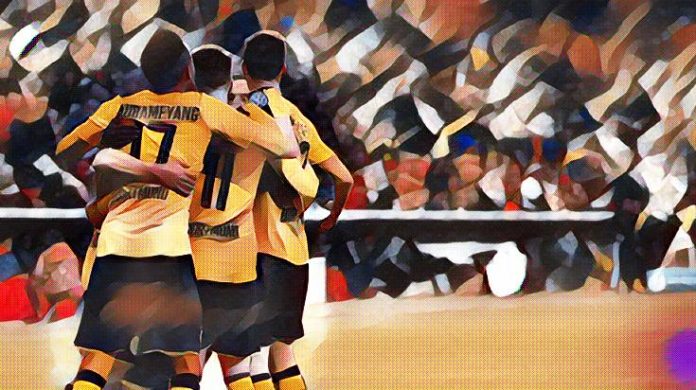 'You are doing what? You utter bastard. You don't even have a game. Yes, I do want your effing job one day. But I don't think you really need to try sabotage, do you? Oh eff off, why does anyone need three goalkeepers training in a squad when you lot are all pissing off on holiday? Prick.'
And with that, I hung up on my daily catch up with Tommy T. What a f***nut.
I should probably fill you in.
We, at Dortmund II, very much did our bit when it came down to winning the Regionalliga West title. Oh yes, siree. Karazor and Bruun Larsen scored the goals in a comfortable 2-0 win and Aachen fell at Essen, meaning we'd have been top of the tree no matter what. Our reward? A playoff final where victory over two legs would see us in the national 3.Liga.
We drew Unterhaching, who had topped Regionalliga Bayern. Now, anyone who thinks I have taken an easy road managing Dortmund's second string please take note. Bayern II's finished third in their division. Yes, third. You see, these Regionalliga leagues have some pretty experienced sides in them. I don't reckon you could put, say, Liverpool's U23 side in League Two and expect them to walk it. They'd be up against experienced, knarlled up opponents who would take great pride in bringing down some Academy kids. And it is the same here. Unterhaching had lost only twice all season, had a far better record than us and had a player I knew very well from FM15 in their ranks – ex-Carl Zeiss Jena striker Vitalij Lux.
We welcomed them to our little ground in the first leg and, as well as we played, fell to a 1-0 defeat. It was the first goal we had conceded in five and it stung. Dietz, an ever present for me, had a stinker and was hooked at half time, along with Karazor who had played every single minute up until that point. Both were dropped, in the fashion of Jim Leighton (ask your mothers), for the second leg with Zimmerman and someone else who I forget now coming in to replace them.
We had it all to play for in the second leg. Although I had not told the team this, obviously as I am never pleasant in pre-match, half time or post-match team talks unless we have won, we had more than matched Unterhaching and their wily, experienced ways. Still, we would need everyone to be on top form in the return leg at their place.
And that was when Tommy T dropped his bombshell. Despite the first team's season being over (second in the table, out of all cups early) he felt that Bonmann was needed to report for the first team. On the day of the effing match. The biggest game of our season. Yes, he took our ever present goalkeeper off me. What a tool.

So Jan Reckhert was chucked the shirt and some gloves and, fortunately, sitting on the subs bench all season meant he had an idea about this playing in-between the sticks lark. Karazor and Dietz sulked on the bench as we set about doing the impossible. Unterhaching were unbeaten at home in their regular season.
65 minutes in, and with us only really seeing a sight of goal from a distance, using a telescope, it was not looking good. I summoned Karazor. Yeah, you know it. 4 minutes later he is 1v1 in the box and slams home the goal that rocked them more than AJ's right hand sent Vladimir packing at the weekend. Extra time, thank you very much.
Now, I have been fortunate enough to get me a new laptop in recent weeks, and Spanish houses typically have tiled flooring – none of that soft landing a carpet gives you. When Sauerland scored from a cunningly (thank you Blackadder, Baldrick whoever you are) devised corner routine the brand new laptop nearly came to a very premature death. Fortunately, the leap off the chair turned into a two handed diving catch Joe Root would have been delighted with and no harm was done other than to Unterhaching's dream of playing in 3.Liga. Take that Tommy T. You can try and hurt us, but we are a strong group.
So, er, yeah. Promotion achieved. And, considering all I do is pick a team and organise the coaching, I don't have a great deal to do between now and the start of the new season other than keep fingers and toes crossed that an element of common sense kicks in when it comes to my squad over the summer.
As you can see, we have ten players over a 7.25 average. That's one hell of a lot. That's the kind of average that is likely to see potential suitors knocking at doors. I cannot see many of them making the Dortmund first team squad next season, maybe Bruun Larsen at a push, but I can see many a 2.Bundesliga side casting admiring looks in some of their directions. So, the summer will be a complete lottery. I have no idea what will happen.
Of course, one way to entertain myself is by getting to know some of the new U19's.
I won't bore you with them now, but there's some talent in there. Young talent, admittedly, anything from 14 to 16 years old. Actually, that reminds me. Does Germany still have the "you must be 17 to play" rule?
Rubbish.
Oh well, let's see what August brings…