THE OBJECTIVE: TO MANAGE MY HOME TOWN CLUB, DOVER ATHLETIC, IN THE NATIONAL LEAGUE. DOVER HAVE NEVER PLAYED LEAGUE FOOTBALL. I AM GOING TO TRY AND CHANGE THAT.
PRE-SEASON ( cont )
Sitting in my office, i use the term office loosely seeing as its a portacabin in the corner of a field which is supposed to be our training pitch, the smell of freshly cut grass whafts in through the open window. The groundsman has been on the phone to let me know that the pitch at Crabble is in pristine condition, ready for the visit of West Ham, a week Tuesday. A chance to bring in some much needed money and give the locals a chance to see the new man at the helm. Looking at my planner on the wall I notice that we are due to play Harlow FC on the Monday before the season starts, this is duly cancelled, and so the lads don't miss out on their match fitness, games against local side Sittingbourne, and another away at MK Dons are added to the schedule.
The next few days are spent interviewing applicants for my vacant back room staff positions. Some cracking candidates. In total over 40 bodies had sold their services to me over a strong tea, I had no milk, and were soon whittled down to six. My scouting division of Head Scout and Scout are George Rooney and Peter Mead, respectively. Nick Dawes comes in as Physio, Peter Williams Goalkeeping coach and Dan Micciche as First Team coach. All bring something different to the set up. Lots of experience among the scouts, hopefully they can unearth a diamond in the rough.


Wayne Evans has been brought in as Head of Youth Development. A jovial Welshman who seems to know his way around an academy or two, he's in for a shock here as we have to clear up dog pooh, off the Under 18's council pitch. His role will be to look after the younger boys and make sure they all develop, hopefully playing in the First Team. The phones red hot. Both scouts are pinging over emails, texts and whatsapp messages, with players and reports for me to look at. As it stands, I'm pretty threadbare in the centre of the park. "Need some cover incase we get some injuries", I scribble on a post it.
I decide to take a few players on trial for pre season, see if they can earn a contract. Dale Jennings, Jake Warburton and Sofiane El Bekri. Jennings is trying to find his feet after a whirlwind start to his career saw him move from Tranmere to Bayern Munich. He was later released and spent much of last season at Barnsley. Jack Warburton was released from Brentford without even playing a match. Having spent a few seasons in the lower leagues in the USA, this central midfielder may have a point to prove. El Bekri was at Millwall, until he fell out with the reserves coach. Ill be keeping my eye on him as it seems his attitude is a little questionable to say the least.
Jake phones me very excited. " Boss turn the tv on" and so I do, the bookies have made our very own Ricky Miller, favourite, at 5/1, to be the leagues top scorer. As betting is not allowed in the football industry, I tell anyone who will listen that its "like printing money" if you back Miller. No pressure then Ricky.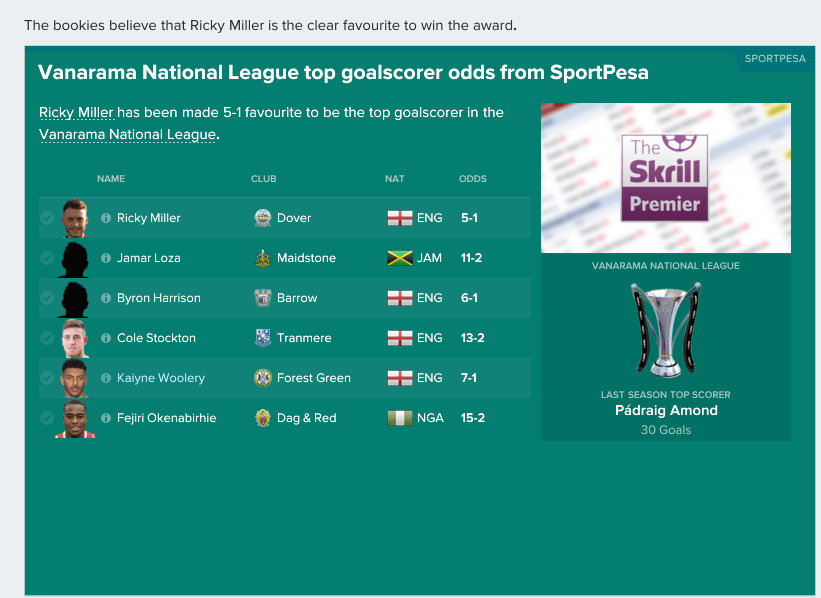 Lunch with the Chairman today was an interesting affair. His phone goes off as much as mine! Turns out that Jim has forged an alliance with League One club, Peterborough United. In a nutshell this means we can loan their players without paying any wages and play a Home friendly, in which we get to keep all the gate receipts. The icing on the cake is that Boro, have to pay us 15k a season for the privilege. Win, win Jimbo. We also have one with lower league, Whitstable Town, but this may get cancelled if it doesn't bear any fruit.
After training, the lads are called into the meeting room, a small dark stinking room at the back of the portacabin, which reminds me I really need to buy some febreeze, and are made aware that the Captain and Vice Captain for the season will be last season's Jamie Grimes and Sam Magri. Magri is a Malta International so I'm hoping he can bring a bit of Maltese flair to Crabble.
Another day, another phone call from Jake. Im sure he has a gambling problem! The bookmakers have us down at 36/1 to be promoted and 30/1 to go down. Mid table prediction incoming then.

Bosh! Our first signing. Having spent the last couple of weeks going through various reports and Youtube clips, we finally get our first signing through the door. Christian Toonga, 18 year old released from AFC Wimbledon and been through the academy at Arsenal. I phone my mate, Carl Laraman, Arsenal academy coach, and his reference was interesting. Intelligent, skilful player. Just needs an arm around the shoulder and nurtured. Boom! Like London busses, we get one through the door and then three come along at once. Experienced central midfielder, Matt Richards, has played for Ipswich, Brighton and Walsall. Following him across the red carpet into the portacabin is striker Ollie Cole. Another youngster with plenty to prove after his contract was terminated at Norwich City.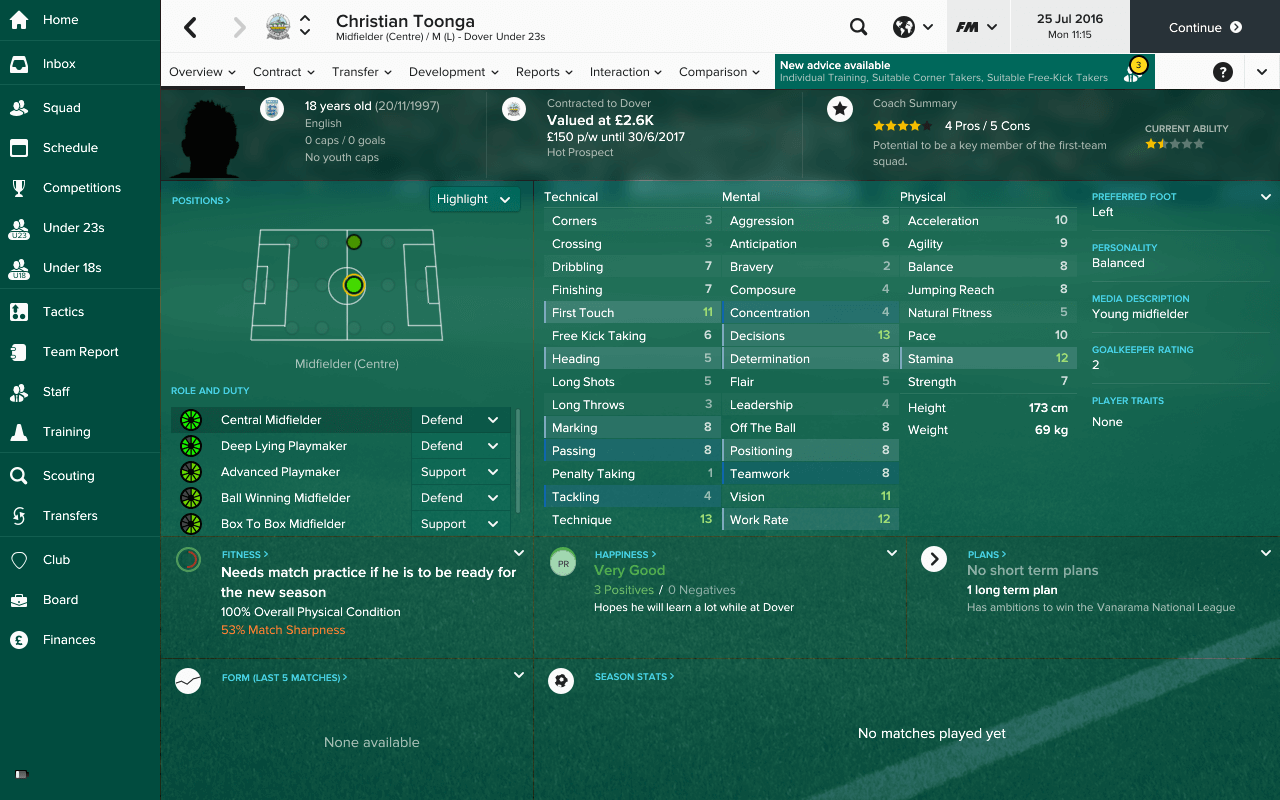 Pre season friendlies are used as a tool to aid match fitness, team cohesion and try out formations. Seven matches were played in a bid to blow off the cobwebs. Three wins, three defeats and a draw. Not spectacular, but not a disaster either. Some of the football played at times was breathtaking, Ricky Miller's four goal haul against Sittingbourne for example. Other times the football was a lot to be desired. The 0-4 drubbing at Home to West Ham the stand out low, albeit it against a team who fielded six Premier League regulars.

The end of pre season is now upon us. Its time to knuckle down and begin our league campaign. We travel to Wrexham next week to kick off the season. Jake pins the planner on the wall for August. Seven matches inside the first month, seven! Two of the weeks we will only be able to train one day as we have games either side, and Jose Mourinho thinks he has it tough! Dale Jennings knocks on my door for a chat. He's had his head turned by Stevenage. I try to persuade him to stay by offering him a very lucrative bonus package on his wages. Unfortunately for us he wants League football so I wish him all the best and shake his hand. Sofiane has had a fine pre season and is offered a contract of £100 per week. He snatches my hand off and signs on the dotted line. Jack Warburton wasn't for us, we wish him well.
Three days before the opening game and Jim wants to see me in his office. This will be my first visit since I got the job as my job interview was held in his business office. There are Jammy Dodgers on the side, I take a few when he isn't looking, and sit down at his big leather desk. He hands me the monthly balance sheet, already losing money, although I paid out around 20k in severance deals for the previous staff.

The clock strikes midnight on the eve of the game. We decide to travel down on the morning of the match to save the club money on hotels. My heads spinning with ideas, should I play one up front? should Richards make his debut? Will I get a good reception from the crowd? Did I turn off the light in the portacabin? One thing is for sure, its going to be a rollercoaster of a season. COYW