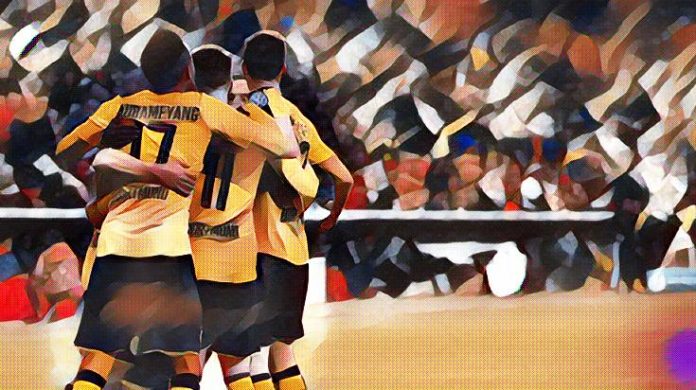 What, no made up conversation with someone else to kick this update off? No, not today. Today we are dealing with FACTS.
Read Part I, II, III, IV, V, VI and VII.
My second season in charge of Dortmund II has come to an end and, on reflection, has been a decent season all in all. Sure, no fireworks, no dramas and very little shouting down the phone after Tommy T has hung up, but a solid season.
We finished 8th.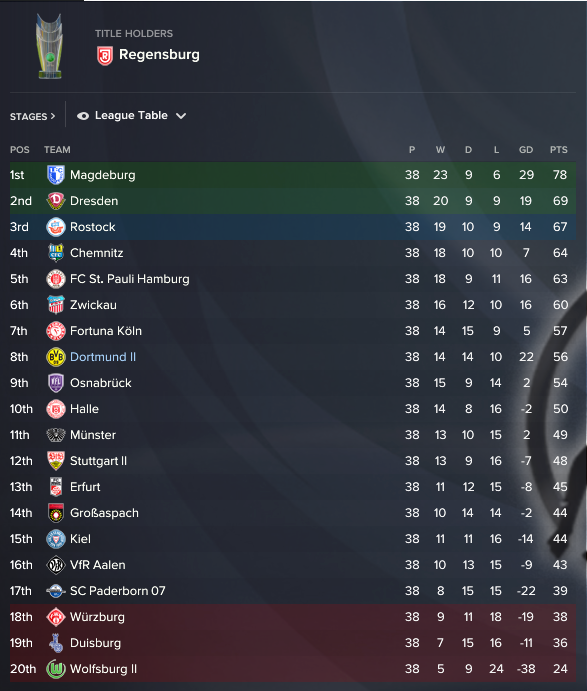 8th isn't bad. 8th is good. We were predicted 11th, so that's three places higher.
Here's the kicker though.

Yeah we scored the third most goals in the league. We must have conceded loads to finish 8th then, right?

Uh-uh. We ended up with the 2nd best goal difference in the league.
So how the hell did we finish 8th?
You can see the trends I was talking about. Win, lose or draw in equal measure then we went on a brilliant end of season run. We only lost by more than one goal or season. We won by more than one goal quite a few times. The end of season run was a complete mystery to me. I was forced to move Wimmer back into the DM3 and this meant Serra was given a run as the CM/A, which I had been slowly introducing him to as he'd been awful as an attacking midfielder. It clicked, and we played some good football with Emre Aydinel learning how to score regularly. His injury coincided with the Fortuna Koln defeat, and although Arweiler netted a hat-trick against Wolfsburg he was far from a consistent shadow striker. The back-to-back 0-0's summed up many points in our season really. Still, a last minute winner in the last match was a nice way to end the season.
They were the top performers. Strong at the back, as you can see.
As ever, next season depends on what I have available.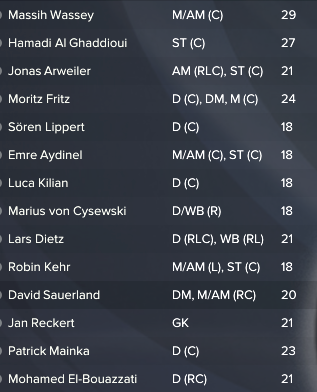 You tell me who we will retain, because I cannot guess. This always feels like a complete lottery. I mean, common sense tells me Wass, Al Ghaddioui (who I have never picked), Fritz, Dietz, Sauerland, Mainka, Reckert and El-Bouazzati will be released as they are all over 20 and surely, if they were going to be, would be first team squad members by now. But you never know, Tommy T might look at all of them and go "no thank you". My concern is that if I were to pick a side right now, six of that list are starting. It would be madness to let Kilian, Emre Aydinel and von Cysewski go as they've been great and they are still young.
Let's not forget the boys out on loan.
I have seven guys returning.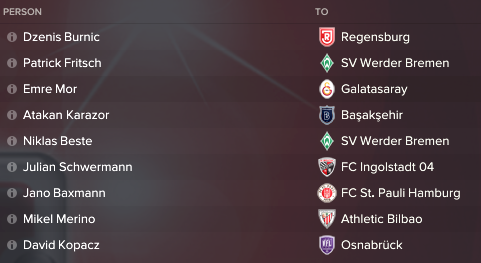 Of that group, only Kopacz has a contract expiring. But, I guess each of them could be up for grabs on loan again or, more likely, put up for sale as none of them have really thrilled anyone when away from the club. However, each and everyone would strengthen my side.
Those that know how I play – balancing the books, pouring over the statistical performances and making decisions based on data – will know how difficult this is for me. I am a manager that likes a plan for every eventuality, but how the hell do I plan?
I mean, I could draw up a list of those that I am 95% certain will be here next season. But where will that get me? Not very far, because I could have anything between 0 and 15 other names to add to that list, all of which likely to be starters in my XI.
Now I know that I can sign free agents, I might go and form some kind of shortlist just in case I have gaps to fill, but that could be a futile exercise as well.
Tommy T might drop some down to my squad. The might be listed, but they might not get bought. Who? Your guess is as good as mine.
Plus, until the season starts I won't know which of this year's U19 squad is old enough to be registered. Madness.
So yeah, plan away!
The thing is, I don't reckon we are too far away from being a top five side in this division. All I need is a false-front-two that can get 15 each and, if, Serra stays and plays centre midfield he'll get double figures too. That will be enough to get us right up there.
There's been no further news on Tommy T staying or going, so it's nice to see everyone knows exactly where they're at for the 2018/19 season.
Onwards!