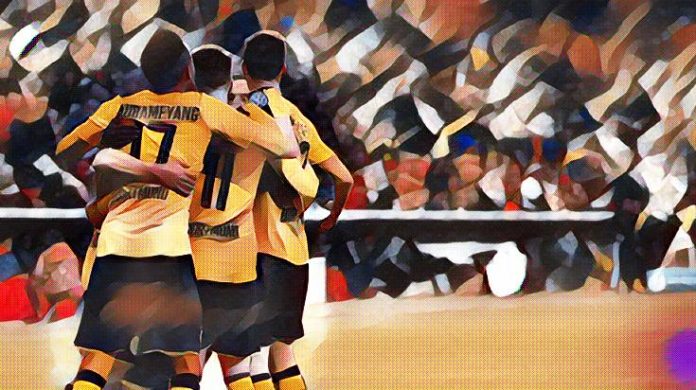 'One game Blackadder, it all comes down to one game. Got any cunning plans?' Edmund looked slightly confused by this comedic reference, but at least he was too confused to correct me on the fact that it was Baldrick that had the cunning plans, not Blackadder. And, being the manager I am supposed to have the cunning plans which, in a weird twist, seems to make me Baldrick in this little skit. That was certainly not where I meant to go with all this.
But yeah, one game. One massive game. Dortmund II sit top of Regionalliga West going into the final round of matches. We are level on points with Aachen, having chased them down, lost to them, slipped behind and then chased them down again. We have a ten goal more positive goal difference than they, which means we can match their result to lift the title and head into the promotion playoff. Nerves? Always.
Welcome back to my return to hell. If you were too busy over the bank holiday weekend to realise that I've decided to recreate my B-team challenge and do it properly this time, then you'd be wise to read [Part I] and [Part II].
When we last spoke a few days ago (and you can tell this is a new save as I am full of writing eagerness and commitment) we were in the winter break and I was hiding all my players at various locations in Dortmund hoping that Tommy T would give up looking for them and not send them out on loan or, worse, promote them to sit on the first team bench.

The bastard found Isak hiding under the physio's table. Probably not the best place to tell him to hide, admittedly. So, our star man was unavailable to me for anything between a week and the rest of the season. It turned out to be for the rest of the season.
This led to much rotation in the shadow striker role in the old #ArgSt17. Mangala, who showed himself to be more like Yaya Toure than I first expected by sulking for half the season after a stunning start, Bruun Larsen and Wassey took turns and they managed to get a few goals between them.
So, Isak moved up after the defeat to Aachen and it was after this match I flicked the #ArgSt17 from "control" to "attacking" and we went into overdrive! At the time of writing we have scored 64 and conceded 20 in the 33 matches. We've had 6 clean sheets since the change, which is incredible, 4 in a row heading into the final match (not as good as our 9 and a bit at the start of the season, but hey).
Our last match is against Oberhausen. This is no easy stroll to lift a title. We drew with them earlier in the season, 1-1. They sit 4th, whereas Aachen's opponents, Essen, sit 5th. It is bound to be a very nervous 90 minutes.
The first team have two matches remaining and are sitting 2nd in the Bundesliga, Bayern having already wrapped up the title. They were shocked in the 3rd round of the cup, being beaten by Ingolstadt and had a Champions League shocker, failing to get out of a group including Tottenham. They didn't exactly make amends in the Europa League either, losing over two legs to Ajax. Is Tommy T in trouble already? It won't make much difference to me at this very early stage, and I am very much focusing on getting promotion to 3.Liga! We'll be doing it without Mangala however, who'd rather play for the Belgian U21's. I'm glad he is only on loan.
In the meantime, #LosGehtsDortmund