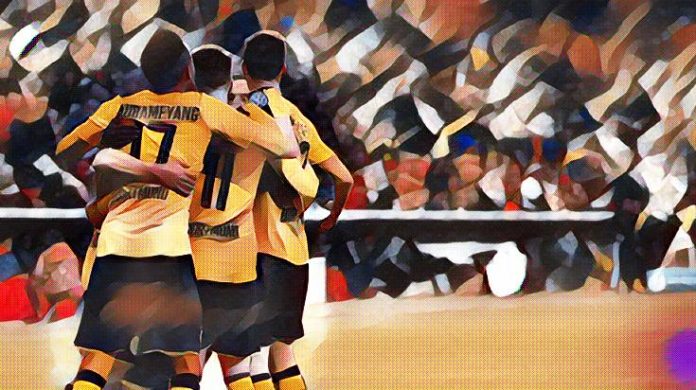 "Not a bad start that, eh Blackadder?" I yelled over at Edmund. We were six games into the Regionalliga West season and my Dortmund II side had won all six without conceding a goal. It was the start dreams were made of, I was sure it would not be long until the Dortmund board saw that I was a much better long-term option than that Tommy Tuchel and they'd promote me. I mean, has Tuchel ever won six on the bounce without conceding in the 4th tier? Precisely. The job is mine, and it is only a matter of time.
Yeah, or not.
But we did storm out of the blocks in the most convincing of fashion.

Mangala was playing like a young Yaya Toure, dominating everything in his path and scoring goals for fun from the centre of midfield. Young Alexander Isak (Newt, short for Newton as of now) was quickly moving from a centre forward to a shadow striker and scoring goals. Marco Hober was also excelling as the enganche and the three of them were forming quite the attack. At the back the relative experience of the 23-year-old Zimmerman alongside the 19-year-old Lars Dietz was forming a bedrock from which we could build. Add in three defensive midfielders strolling around making pretty patterns with their passing and a couple of wing backs with the ability to cross the ball for fun and it was all very easy viewing at this early stage.
Six became seven, and my young Dortmund II side were clear at the top and, incredibly, young Bonmann in goal had only had to make eight saves in his first seven games. The eighth game saw the winning streak come to an end sadly, as we drew with the bottom club. It was 0-0 though, and that was eight clean sheets on the bounce. Having never started a season with ten clean sheets on the bounce, I was getting excited.
We drew the ninth match 0-0. We battered Dusseldorf II's but failed to score, whilst at the other end Bonmann actually had to get his gloves dirty making several fine saves. The tenth match was to be away to second placed Essen. What a way to potentially get double figures.
Nine games and 37 minutes. That's how long it lasted. A speculative pot shot from the edge of the area slipped in. It was a disappointing goal to concede, but we almost needed to concede it so we could move on. Sadly, once Ngankam realised it was possible to score against us, he went and did it again meaning we'd lost our run of clean sheets and, more importantly, the unbeaten record. Ten games gone, a single point separating us and Essen at the top. Worryingly, it was three games without a win.
That became one win in six games, before we turned the form around.
"Fuck's sake Newton, stop playing so well. Tommy Tuchel will have you sitting on the first team bench in no time if you keep this up, and we don't want that".
As the winter break arrived, there was no doubt who was our star man.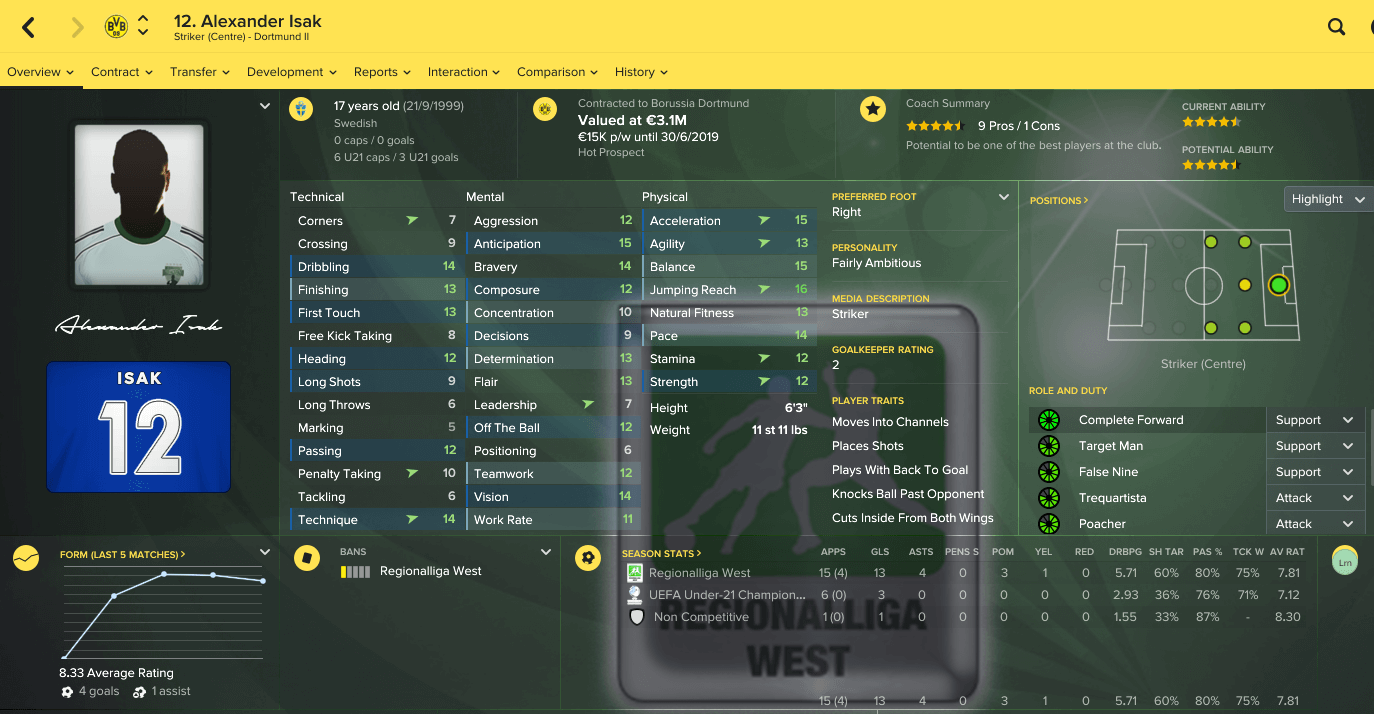 13 goals from a shadow striker – I've not had that at the half way point too often. The kid can do everything. He can dribble, he can pass. He is quick, he can cross. He is strong, he is tall. And boy, can he finish. I was only half joking when I had that chat with him in my head, if he keeps this up then I can kiss goodbye to him in the second half of the season.
As the first half of the season went on, I shuffled the pack a little to try and regain some form. Mangala, who looked like a world-beater at the start, lost his form and is now sitting next to me on the bench. Hober, who also looked pretty decent, is sitting the other side of me as Larsen now owns the enganche position.
His return of 7 in 9 is very decent as well, including his first senior hat-trick.
The return to form sees us sit in second place.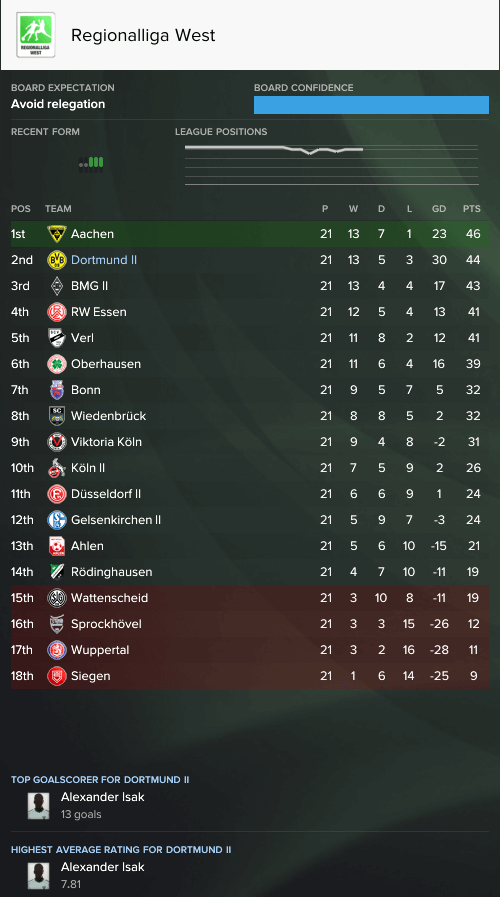 So much depends on what happens over the winter break, and so much of it will be out of my hands. The first team have recovered from their slow start and sit in second place as well, eight points behind Bayern. Therefore, I am hoping, they won't want to blood the likes of Isak and Larsen too soon. That is one evil we can probably avoid. However, the bigger risk to me is Tommy T deciding to give some of my squad some "senior" experience by allowing them out on loan. Isak, Larsen, Camoglu, Zimmerman, Dietz and, possibly, Sauerland could easily hold their own in 2.Bundesliga so there is every chance that they might complete their seasons at that level. That would leave me right in the lurch.
It's been a great first half of our season though. The board are very happy, especially as they only wanted me to avoid relegation. I have completed my first coaching badge, which will help my reputation, and I am studying for the Continental B license. Blackadder is on the same course as me. He won't ever be a manager though, you can't have a head team coach called Edmund.
So, 13 games left of this first season. I am flying through it. But, experience tells me this is when the fun and games starts, and they will run all the way through the summer. I have one aim, which I achieved with Bilbao B in my first season. Promotion.
It'll be tough to catch Aachen. We beat them 2-0, and those two goals are two of the eight they have conceded all season. We have conceded 13 in 21 games, which is decent in itself with such a young back line. The big match is our second game after the winter break, so everything is still to play for.
#LosGehtsDortmund