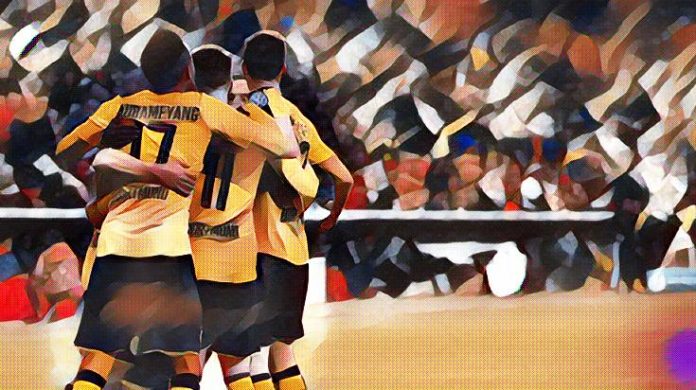 "I don't care if he is likely to leave in the summer, this is not a good thing for me. There is no way they will give me the job yet, no way at all. My best hope is that they don't find someone that might stick around for the next decade. This isn't how it was supposed to be. Tommy T manages the first team for the next five years, gets the Germany job and I take over. That was the plan. This is not cool, not cool at all Mum".
Read Part I, II, III, IV, V and VI.

Mums, eh? I mean it isn't even confirmed that Tommy T is moving on and already she is expecting a bigger Christmas present than last year. There are a couple of minor stumbling blocks to my plan to be Dortmund 1st XI manager anytime soon. Namely, I've done nothing of real note yet – one promotion from the Regionalliga to 3.Liga does not make me the next Pep Guardiola when we sit frustratingly inconsistently in mid-table with eight games to go. Also, none of the players I have been cultivating have gone on to be the next Leo Messi, Andres Iniesta or even the next Bojan Krkic. So, if he does leave at the end of his contract, I cannot see me getting the call.
As I write we have eight 3.Liga matches remaining. It's been a funny old season. In the last update I talked about all the players, like my entire squad, that had been shipped out on loan or released. This might sound very samey to what happened at Bilbao, but there was a slight difference. In Bilbao, I would often start the season with my preferred squad only for it to get ripped to shreds come January. Here, they ripped my squad to shreds at the start of the season so at least I knew what I had to work with for the rest of the campaign. It could have been worse. We sit 12th, having bobbed between 15th and 8th most of the season. We win a few, we lose a few, we draw a few. We don't get battered, we rarely batter anyone.
Heading into the winter break, we had a young Polish lad who looked like he could start scoring the goals we were missing.

Standard.
One interesting thing that did happen earlier in the season when we were on a 5 game losing streak was that I asked my new assistant to pick the team. When I saw he had moved Jacob Bruun Larsen from shadow striker to right back I wasn't massively impressed but went with it. Result? 6-0, four assists from Larsen at right back. I'll get my coat.
I did learn that I can sign free agents, so went out and got me a goalkeeper as cover and another central midfielder on one year deals. They'll probably get released in the summer, but I think having a few more experienced heads next season will help us.
So, it's a bit of a wishy washy update this one – not much is happening. We won't go down, I won't get the job if it comes up and we'll probably see a load more people shipped out.
Until next time!