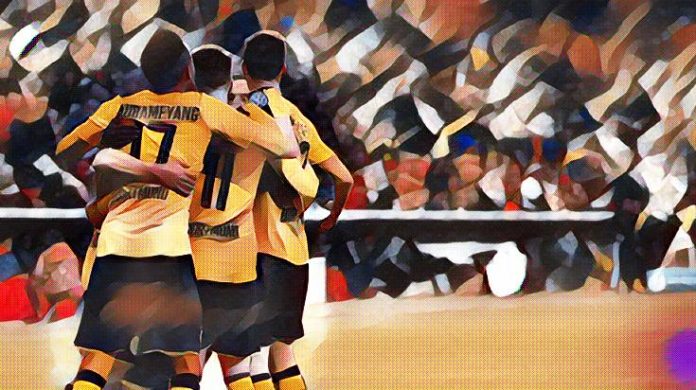 So, we're back. The board were so happy with me they gave me a new two-year deal. Not that that means much in modern football, right? That said, if Moyes can keep his job after that season at Sunderland I am not going anywhere.
One thing I do enjoy as much as I hate about being a B-team manager is the fact that there is sweet FA for me to do over the summer. Contracts? Not me guv. Preseason friendlies? Nuh-uh. Selling players? Don't bother me, that's his job. Bringing new faces in? Piss off mate, I am trying to enjoy my summer holiday here.
I got to spend this summer on my virtual sun lounger wondering who would still be there when I got back. Two that were likely to be gone, though we never really know, were Mangala and Hober who's respective loan deals were due to end the day before our first friendly.
You might think I sound a little blasé about the whole affair. Maybe I am being. But why bother planning anything when everything could change in a moment? For example, I am still bitter that my goalkeeper got nabbed hours before we were due to take the field in the playoff second leg. Has he been replaced? Do you need to ask? I have one goalkeeper eligible to play this season, if I peek through my fingers with one-eye open scared to look properly. The other one in the squad, well he's 14 so should really still be at school for crying out loud. Education aside, he is still three years off being allowed to play with grownups.
At this point I like to have a giggle at the season preview option we all get. Many a time my club has been 5000-1 for promotion, only for us to run away with it. Today however, well Dortmund II are a respectable (and boring) 29-1 for the title which has us finishing in 11th place apparently. It's a bit of a graveyard division with Hansa Rostock, Dynamo Dresden, Magdeburg, Chemnitz and, toughest of all, St Pauli in the 3.Liga. We'll do well to finish 11th, I can tell you.
As I rocked up to the office on the first day back the mobile went and it was Blackadder.
"Gaffer, they've released ten. Yes, ten!" He repeated it another couple of times in both English and German, just to really make the point.
"Oh jesus," I responded. "Who?" It felt a little bit like I'd been told half the squad had been in a coach accident or something.
Tommy T, and the T was quickly starting to stand for Twathead, had released Solga, Zimmerman, Burak Camloglu and Till Schumacher from my regular XI last season, as well as three other more than capable squad players.
"Brilliant. Just brilliant".
"There's just one more thing boss, before you go. They've released me as well!"
Yep, Blackadder was no more. And I was just starting to like him.
I had feared something like this happening, so it wasn't a huge shock. A mild irritant, yes, but a huge shock, no. Zimmerman had found himself on the bench towards the end of the season, so I reckon we could get away with his loss. Right backs tend to be ten a penny, so we can cover Burak's departure. Solga, well he was our leader. He was Dortmund II. The oldest player ever, the most appearances ever. Absolute madness to let him go. Schumacher, well we do have a couple of other lads.
I had a feeling it wasn't ending there though.
One plus was the initial site of Dzenis Burnic back in the squad. He won't be there at the start of the season, I can guarantee that.
Rainer Ulrich was appointed my new assistant manager. 68, very experienced and without a name I could really make fun of. These updates might need a new stooge.
Anyway, in their infinite wisdom them's above me decided we only needed two preseason matches, which we won with ease. It was hardly enough to work out who my new stars were though. Plus we still had the issue of one goalkeeper.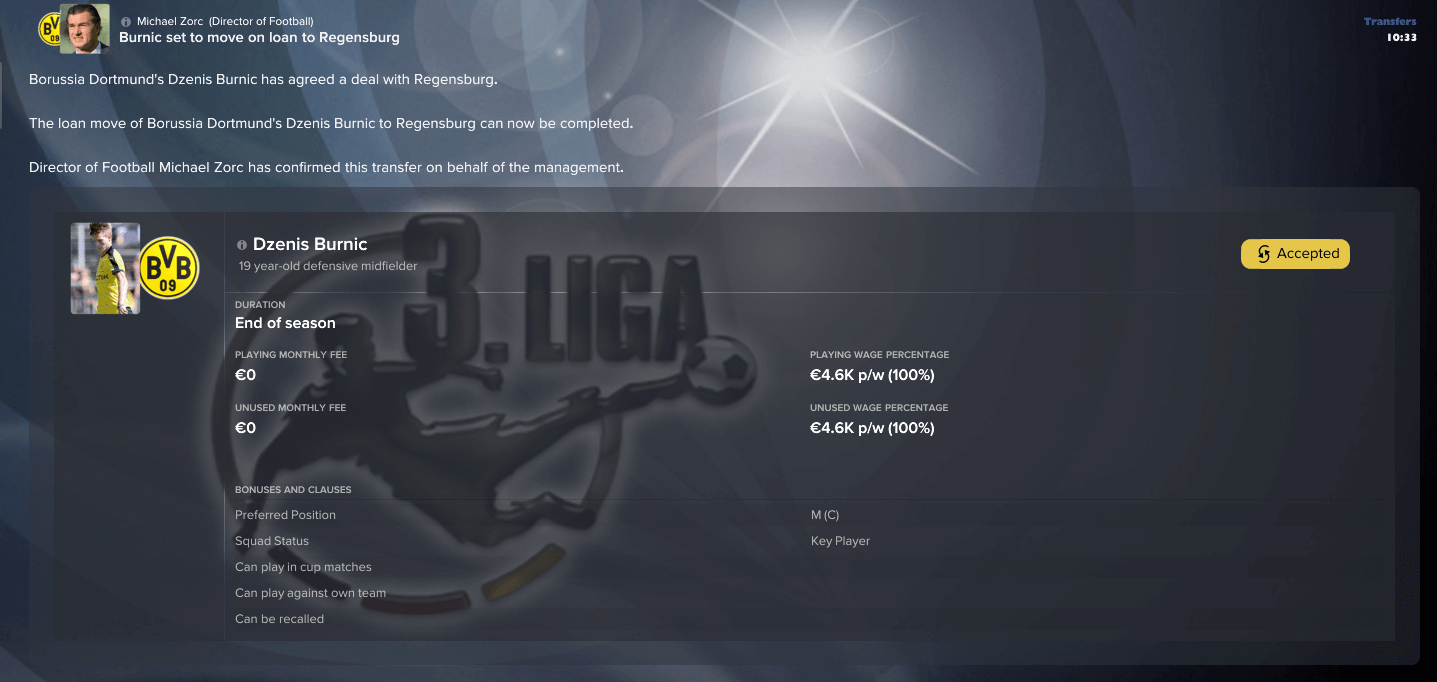 Told you.
Naturally, he wouldn't be the only one. Bruun Larsen caught the eye of Darmstadt and Kaiserslauten and they both put in loan offers. Six days to go until the season kicks off, plenty of time to adjust this time, right?
Hang on, what's this?
I've been here before folks, these gifts get given but it is always wise to keep the receipt. They'll be back with the first team before I know it, and the biggest mistake I can make is drop regulars to accommodate them. If they are still with me after the first game, I might consider it.
Mind you, Isak is transfer listed so he might be here for a bit. Mor would be a tasty attacking midfield option. I'd be a fool to turn down Nev's experience and Mo is a decent centre back. Maybe this is an olive branch from Tommy T?
Yeah, of course it was.
Manchester United, Chelsea and Fiorentina all had bids accepted for Isak and Stenzel looked like he was off to Leverkusen. Fantastic.
Emre Mor, having come off the bench to secure us a 2-2 opening day draw went off to Galatasary on loan, Isak chose Hertha, obviously, Fritsch was loaned out to Werder Bremen and Durm, naturally, was moved back into the first team squad.
Yeah, told you.
You think that's it? You know nothing! Karazor was sent off on loan to Turkey and Beste was sent to Bremen. Schwermann, someone I thought I'd be building around went to Ingolstadt in the Bundesliga . One plus point was that the senior staff decided to keep Bruun Larsen here. Woo.
This, ladies and gentlemen, is why I love a B team save.
Tommy T, bring it on. The second season is where the real work always starts!
#hejabvb