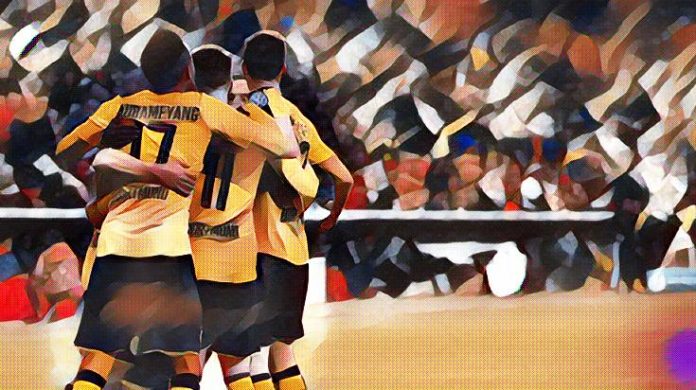 I seriously must be mad to take this on again. I mean, seriously? Manage a team where other fools, bigger fools than I if that is possible, move players around, send them out on loan, give me replacements, take those replacements away, sack my staff, recruit my staff and basically make my life hell? Why would I do all that again?
The reason, my friend, is because I like pain and, as Daniel Gear said on Slack the other day, the tears I cried when at Bilbao were real tears of pain. And I want revenge this time. I screwed it up at Bilbao by leaving, in the hope that one day they would ask me to return. Did they bollocks. Hierro came in and did a good enough job for me to remain in Italian exile for longer than I cared.
So I am back, and I am going to nail this bad boy this time. If Pep can do it, so can I and I am going to achieve it before I go bald. So there Pep. Take that.
You might think I have chosen easy street taking over at Dortmund II. All those young German talents to help me along the way? Yeah, maybe I have initially. But remember this, you doubting Thomas. Dortmund II can never play higher than the 3.Liga, and let us be honest, how many managers would go from, say, Chesterfield to, say, Burnley in one jump let alone from Chesterfield to a club on a par with at least Arsenal. Not many. So sure, I might enjoy the first season or so but if and when Dortmund look for an upgrade on Tuchel, they will have a very long line of managers all too happy to take the Dortmund dollar. And I may well not be very high up the queue.
The squad is, as expected, rich with talent. I shall not bore you with all of them, but here are a few highlights.
Dzenis Burnic – this lad looks like someone I can build a midfield around. Tall, left footed, great on the ball, dictates the play from deep. If I decide to go #ArgSt17 he will excel.
Jacob Bruun Larsen – people are raving about this boy, he was right up the top of the players to watch out for list. With my inkling towards which tactic I want to employ, he doesn't fit in immediately, but his versatility tells me I can retrain him.
Alexander Isak – he's alright, no? I found him hanging out in the U19 squad, so thought it only polite to move him up to the II's. Definite shadow striker there, if I decide to go that way (alright, alright I am 99% certain I am going that way!)
Orel Mangala – well, it was very nice of my superiors to go out and get me this boy from Anderlecht on loan! He looks like he might go on to be a beast, another one that a team could be built around.
Trust me, there are more but I don't want to bore you with a profile on every single player.
As you've probably guessed, I am going to start with the #ArgSt17 because I have the squad for it and my best players will, by the looks of it, be able to play in their strongest positions by using that shape.
I tell you what, it is nice to select this tactic and have some greens on the pitch, rather than players who wouldn't know what a regista was if it made a pass at them at the Christmas do.
In terms of my staff, I decided not to get too close to them too soon, just in case the powers that be changed it all around. But, it appears that 31-year-old Edmund Riemer will be my assistant. We've never heard of each other, and he is called Edmund. Therefore, I will be calling him Blackadder as of now.
So, preseason. As expected, the fun and games started. Remember Dzenis, the lad who was going to be one of the mainstays? He was superb in the first preseason game and then…
Wunderbar, I think they might say in German.
It's OK though, we did alright in preseason.
Not the longest preseason, admittedly, but long enough for some of the key players to get used to the style of play. One key player is Park Joo-Ho, the 29-year-old South Korean international who will be my new roaming playmaker since Dzenis was farmed out.

Yeah, love that. 48 hours before the league season starts!
It's OK though, Tuchel sent me a replacement down.
Great. And so it begins…
I'll be back very soon as the season kicks off!