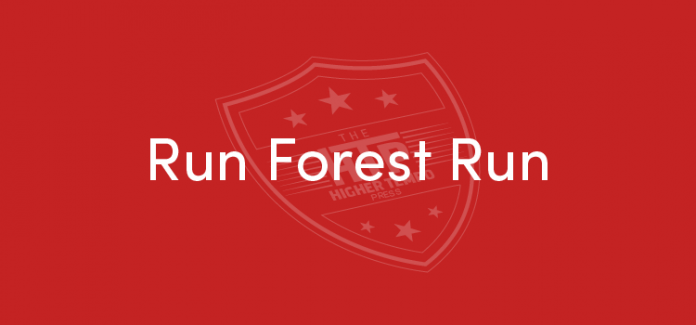 There are only four months remaining. Four months to secure a place in the promotion playoffs. For that to happen, we need to be more consistent than we have been thus far. Since we ended our unbeaten run at the end of November, we have only won 4 out of 13 matches. The only reason we are still relatively high on the table are our good perfomances in Sept-Nov. It's high time to build on that and give ourselves a decent shot at promotion.
The first hurdle in this endeavour is Aston Villa. The Villans are in a bad shape. They are currently 21st on the table and only out of the relegation zone on goal difference. It is hard to imagine seeing this great club descend into the wilderness that is called League One. But we can't concern ourselves with their predicament. We can only focus on our side and we need the three points. Lansbury is suffering from a damaged heel and will be replaced by new boy Walker. Despite his low morale, Assombalonga starts instead of Fryatt, who has been underwhelming as of late.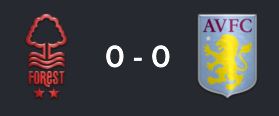 This is very frustrating. Aston Villa was definitely the weaker side and we should have won here. We had 60% possession and 5 shots on target against their 2.But, as is the case too often this season, we fail to convert our chances. The Villans are happy to soak up the pressure and let us do all the hard work. The simple fact that Jack Hobbs was Man of the Match says enough about the match. With Birmingham City drawing with Fulham elsewhere, we could have overtaken them and return to promotion playoff contention.
In other news, Matt Mills wants to talk to me about a lack of playing time. I agree. The only reason I refused an offer for him during the January transfer window, was because I still might need him this season. But with the arrival Browning, he's now my fourth choice as centre back. Besides, with the very talented Iacovitti and Ahmedhozic coming through, he has no future at the club. Fulham FC takes the bait and buys him for £375,000. This way, he'll be guaranteed a move elsewhere at the end of the season and still can play a role here if called upon in the meantime.
Next up are Norwich City, who currently reside at the top of the table. They have had a very busy mid-season transfer window, with no less than 6 new players coming in. This includes Swansea City cult hero Michu, who cost The Canaries a hefty £5,750,000. I choose a defensive approach and do the same to them as Aston Villa did to us. Lansbury and Kasami have recovered from their respective injuries and return to the starting lineup, with Kerschbaumer and Williams returning to the bench.
Our plan to is seemingly blown to smithereens by a powerful long distance strike by Robbie Brady in the 6th minute. The whole point of going defensive, soaking up the pressure is not conceding. Otherwise, the're won't be a lot of pressure. At this point I'm mentally preparing for a routing, which would see us slipping down the table. Further away from the promised land of promotion playoff places. But, it is man of the hour Henri Lansbury who salvages a draw with a beautifully taken strike within the penalty area. It's his 13th of the season and he is very much the cork on which my promotion playoff hopes float. A very unexpected point at Carrow Road sees us still only one point away from the top six.
The next two matches are going to be very important. They'll allow us to widen the gap between the top seven and the rest. It now stands at 5 points, but if we manage to beat 8th placed Fulham FC today it will grow to 8. And after that, we face Sheffield Wednesday, who are 9th at a 6 point distance. The Cottagers have a strong team, including the likes of Cauley Woodrow (10 goals), Stefan Johansen and Chelsea loanee Tomas Kalas (7.10 average rating). We need to be at our best to beat them in their own home. The previous match against Norwich City has taken its toll, however, and we'll go without the tired Kasami, Hobbs, and Osborn. They will be replaced by Lam, Mancienne, and Kerschbaumer. The inclusion of Lam might be a surprise, but considering the two uninjured regular defensive midfielders are loanees and will depart at the end of the season, I need to look ahead and give Lam the opportunity to impress me.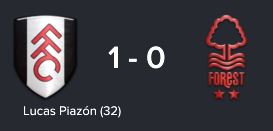 Well, this is disappointing. We did not create any real chances and ended a very dour match with a 1-0 loss. We had the most of the possession, but were not able to create anything. Meanwhile, Birmingham City also lost, so we mist another opportunity to enter the top six. It's like we're contagious of the playoff promotion places, as if we develop a very annoying sneeze when we're six or higher. Furthermore, this narrows the gap with Fulham FC to a mere two points.
If we could not win the first of two important matches, let's at least win the second. Sheffield Wednesday visit the City Ground after a 2-0 win over Blackburn Rovers and should therefore be in high spirits. With a 9th place, they are having a decent season. Last time we met we won thanks to a very unlikely comeback. I expect a less stressful afternoon this time around. Kasami, Hobbs and Osborn return to the side after sitting the Fulham match out.
Now, that's more like it! A good, solid win. Just what the doctor ordered. When Assombalonga missed two one-on-ones with the Sheff Wed 'keeper, I thought I knew which way the wind was blowing. This was going to be one of those afternoons. But it was new boy Jamie Walker who showed the Congolese international how to do it with a fine strike in the far corner. And just ten minutes later, Chelsea loanee Solanke put the game beyond any doubt by putting a fine Pinillos cross behind Keiren Westwood. Talking about Pinillos, he has been showing fine form replacing the ineffective Fox and I've decided this merits a contract renewal.
More importantly, this win takes us back into play-off places. We're a top six side again! Yay! And now it's our job to solidify our new position and an away trip to 15th placed Wigan Athletic could be just what we need. We haven't been very good away from home, but I have a feeling that could change. Based on the match against Sheffield Wednesday, I make a few changes. Assombalonga loses his pot in the centre of attack, because of his many misses. He'll be our right winger today. In his spot is Dominic Solanke, who impressed me greatly against The Owls.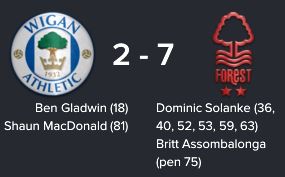 Let no one ever tell you that I don't know what I'm doing. That my changing of formations is willy-nilly, that I make decisions on a whim or swap players whenever I feel like it. Putting Solanke as striker was a masterstroke. The Chelsea youngster put six (a new Nottingham Forest record!) behind poor 'keeper Bogdán. This resulted in a 2-7 rout for the poor Latics, who played a bit part in the highest scoring league game in Championship history. With Assombalonga also doing great as a winger on the right, I may have found a winning combination to take us into the play offs. The display against Wigan hands Solanke the Championship Young Player of the Month award.
Unfortunately, Birmingham City has played one game less, which they win against QPR midweeks. This still puts us 7th and out of the playoff places. Even though we played some of our best football against Sheffield Wednesday and Wigan Athletic, we still remain without reward. But if we keep playing like this, there's no reason to believe we will be in the top six when March ends. However, fortune can be a fickle mistress and we'll have to be at our best against mid table sides Brighton, Brentford, and relegation battlers Burton before we host our arch rivals Derby County.