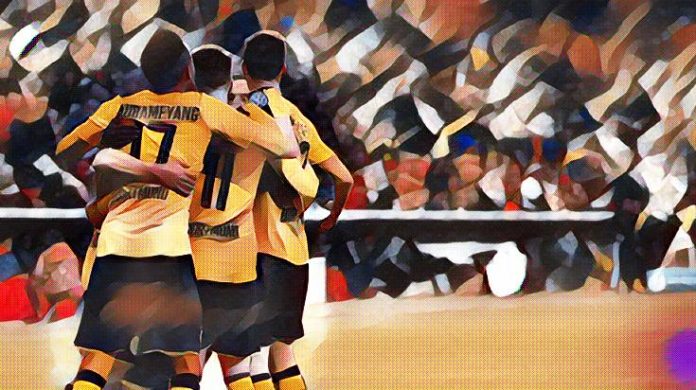 Welcome back to this glorious adventure. Let's have a little recap, shall we?
I, in my wisdom, decided to have another crack at managing a B-Team, with the solemn promise not to leave until they give me the first team job. I learned a lot in the Boys of Bilbao and I also learned where it went wrong. Leaving. So this time, no leaving.
We won the Regionalliga at the first attempt and were promoted via the playoff final which, hopefully, Lee Scott will be analysing any day now.
The second season saw a decent top half finish in 3.Liga and then last season, well last season. Unbeaten. Champions. General fame and fortune. OK, not the last bit but we did good. We stormed it, records tumbled and I was also offered the Wolfsburg gig in BuLi which I rejected. Tommy T, start looking over that shoulder of yours…
Read Part I, II, III, IV, V, VI, VII, VIII, IX, X and XI here.
So, champions. Well, that was last season. Time to forget that and time to go again, as they say.
Except, I'll be going without these boys who were released by the senior management.

As I mentioned in the last post, this isn't a real surprise and I had already planned not to replace them.
However, the sales of these boys did leave me a little short.



Granted, all bar Karazor were out on loan last season but I had hoped that at least one more of them would have been kept. Karazor is a big loss though, he was the roaming playmaker in the DM3 and with Wimmer going too I am suddenly down two of my three.
Loans wise, these boys have gone too.

Bruun Larsen had to be expected, and he'll be playing top flight football at Leipzig. Raschl was to be expected as well, but that was another DM gone. And, to top it all off, Schels was loaned out. Why has that annoyed me? Because I only fucking signed him last week! I decided he was a good guy to bring in to play the anchor role and he's off to play Regionalliga even though he'd have started every week for me. Madness.
Now, I am updating you after one 3.Liga match of the new season and with two weeks left of the window being open. This could still get ugly, and if it does I will obviously update you. However, let's have a little look at the runners and riders I do have because it would be a good time to introduce some of the academy kids that have come up.
Oh, before I do that…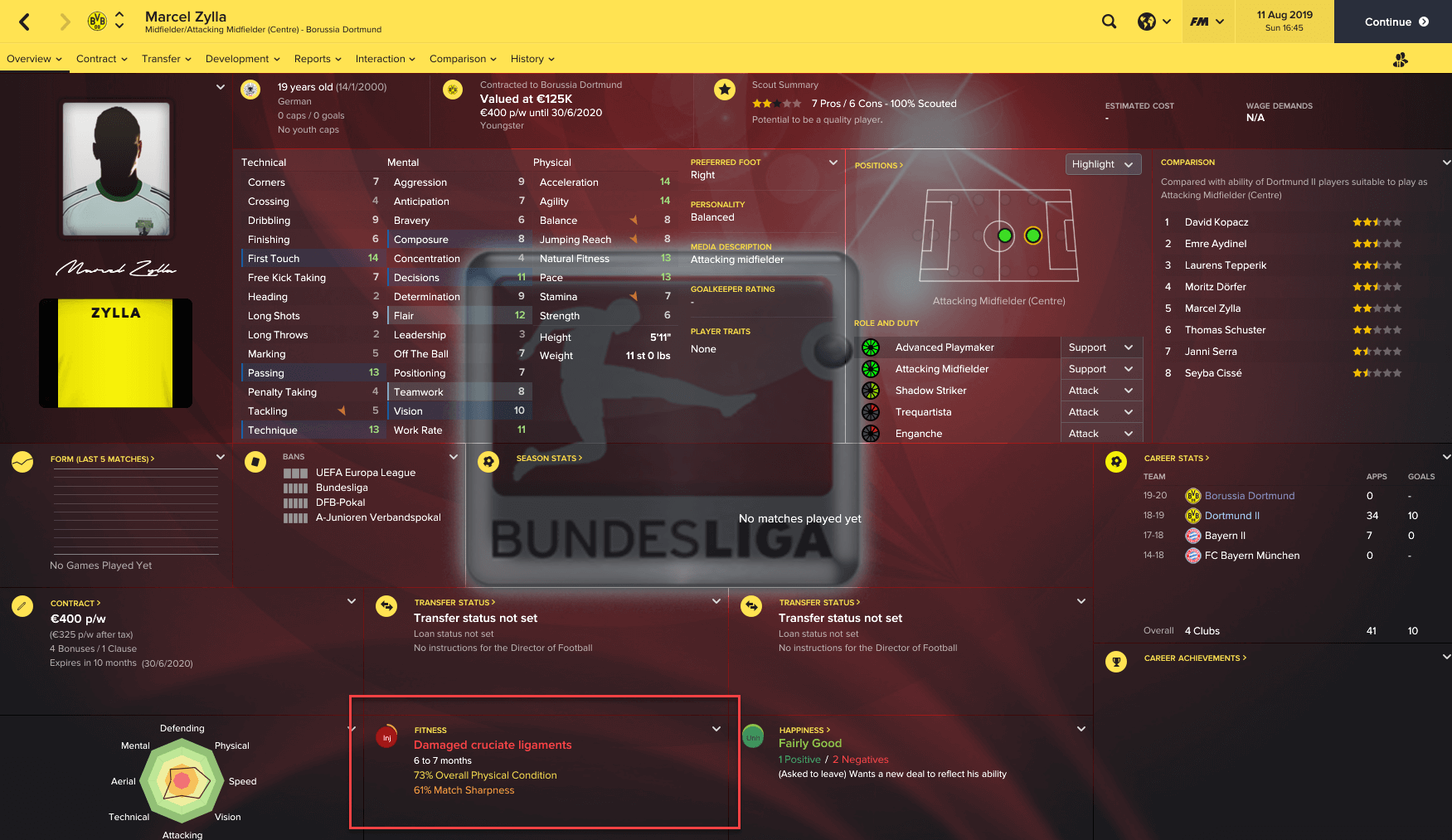 I know. After I bigged him up as my Peter Beardsley.
Anyway, who do we have to look forward to?

Call me a bit crazy, but I am going to make Gabby a brilliant right back. Yes sir. With Durm being moved back to the first team squad as expected, two other full backs being released and Tobias from the academy not being physically quite there yet I think Gabby's physicals are worth the gamble as he will spend, hopefully, more time in the final third than in ours.
I didn't really talk about Lukas much last season, but he is very highly rated and expected to be in the first team squad in the not too distant future. Bayern were sniffing round, so the senior management have given him a new deal. He is our regista, and with our lack of DM quality, he is now vital to the cause.

Dorf is a German U20 international and will, hopefully, mean we don't miss Zylla too much. He's going to slot into the enganche role. Great attributes, I have high hopes for this lad.

Teppers is a Dutch U20 international who will quite possibly end up playing as the enganche if Dorf doesn't grab the bull by the horns. Dorf could play as the shadow striker as well, so there is a chance Teppers could play alongside him too. He is another talented boy from the Academy.

This lad is Serra's understudy right now. He will get some game time over the coming weeks and will no doubt push Serra for his shirt pretty quickly.

The obvious thing to do with Seyba would be play him as a shadow striker. But, we don't have the luxury of many DM's right now so I am going to retrain him to play as a roaming playmaker DM. Obviously. It might work, it might not.
I am convinced one of Kilian or Lippert will get moved somewhere before the window shuts which means Kampo could become very important to us. He's a cracking prospect as well, I think he will play CB for Germany one day.

Finally, this boy. Marcel Schmelzer has been dropped to my squad and is now tutoring Ali who will get plenty of game time. I am not convinced Schmelzer will be with me for long, so Ali will take over at left back as soon as that moment comes.
So, in summary, these are the reasons why I don't think we will defend our title. We have some top new talent here, but I don't think they alone will win us the league. We don't have enough experience in the squad this season, and there isn't any quality available on a free to sign. This year will be a bedding in season, the kids will play here and there and then, hopefully, next season they will still be with me and we will win the title again.
We shall see, eh?
Anyway, we drew the first match 1-1 so we are still unbeaten. The window closes in a fortnight and everything might change, yet again!
Back soon.