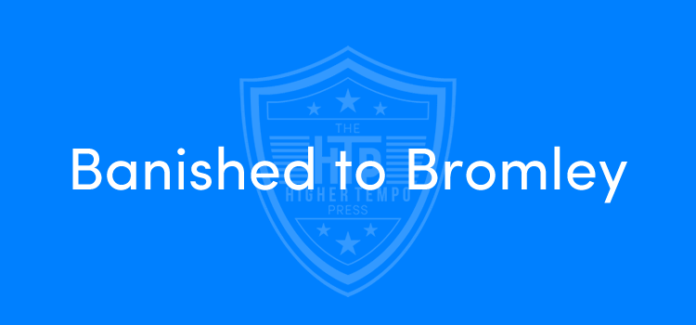 To pick up where we left off I'm currently looking to guide Bromley to a top half finish in the Vanarama National League, but after picking up just 4 points from my first 3 league games I'll need an improvement in form to achieve that.
Today we face Aldershot Town who had the exact same record as us going into the game with 1 win and a draw after losing their first game of the season so going into this one it was looking to be quite a tight game. And a tight game it proved to be as after trading blows the first half ending goalless.
It wasn't until just after the hour mark when the deadlock was finally broken. But seeing as I kicked a water bottle down the touchline Arsene Wenger style you can probably tell it wasn't by Bromley. A goal from Kanu (no not that one) flew by Flitney in goal. Thankfully though that finishing training over the last few days paid off as Cemal Ramadan found Elford-Alliyu with a great first time pass before he neatly curved the ball round the Aldershot keeper, bagging his first competitive goal for the club as well as his first player of the match award.
In an attempt to add some more experience to the side another quick dip into the transfer market was needed. This time the player who was brought in on a free was Canadian Elliot Godrey from Wealdstone. Having spent most of his career in non-league football the 33 year old must have something to offer right?
With the signing announced just days before our next home game hopefully this would get some more bums in seats in what frankly is a must win game in order to stay near the top half of the table.
We took on Gateshead who won their last game against York 3-2. Assertive team talks seem to be doing the business for me at the moment as right from the off we were 1-0 up. Turgott headed home at the back stick after just 1 minute and 41 seconds, what a start! But the lead only lasted 9 minutes as Gastehead's Yasin Ben El Mhanni bent a first time effort into the top corner to level the scores. Ben El Mhanni was proving to be hard to contain, just after his goal he added an assist to his name, playing in Burrow who calmly slotted the ball past Flitney. It was then the turn of Jack Holland to land a header in the back of the Gateshead net after half an hour to make it 2-2 from O'Connor's deep cross. With an eventful first half coming to a close there was still time for Elford-Alliyu to score his 2nd goal in as many games, finishing off what turned into Connor Dymond's 3rd assist of the season and what was eventually the match winning goal. I wonder if another 5 goal thriller could be on the cards in the future, I'd prefer we didn't concede twice though!
Back in my office in the week after that dramatic win, with a bit more time on my hands I've just remembered about my first friendly as Bromley manager against the Under 23's and one name has popped into my head. George Bradford. I wonder how he's been doing…
The midfielder seems to be progressing well assisting 3 times and scoring once in 5 games as well as making 18 interceptions. But as I go to move him into the first team I see he can't be offered a professional contract yet so I'll just have to be patient.
A week later and it's time to head up to Guiseley for another league game. Another game that made me wish the frames of the goals were just inches wider after Chorley's header smacked against the post after meeting Turgott's whipped free kick in what turned out to be the only big chance in the first half. It was then in the 64th minute when we found ourselves 1-0 down after an admittedly unsaveable free kick but it only took 5 minutes for us to hit back through Ramadan for his first Bromley goal, sadly though those were the only goals in the game which confirmed our 3rd draw in 6 games.
Looking into our youth team again there was another name that stood out to me, an attacking midfielder called Anthony O'Connor, Thomas' brother? Maybe but football manager hasn't told me. Anyway, the Bromley-born the player has potential of at least 4 stars and will be eligible to play in just over a month so he'll be another youth player, along with Bradford, that I'm eagerly anticipating to break into the first team later in the season.
Still left in mid table we'll need to pick up the pace in 2 days in our next game against Eastleigh, so I'll see you then.