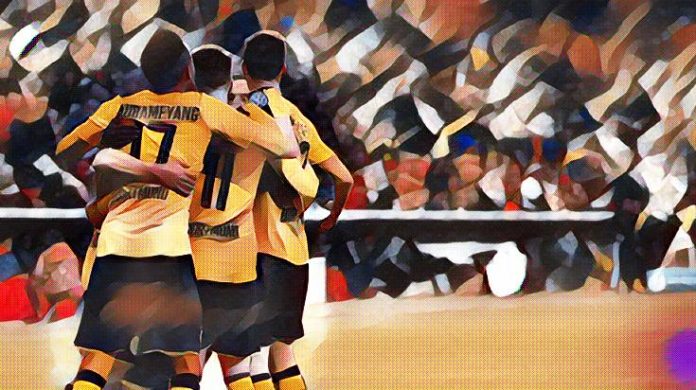 Wow, ten parts already? That's pretty quick for me. Though, as Mrs Tempo tells me, speed isn't everything. Anyway, strap yourselves in as we have a blockbuster of an update today.
Read Part I, II, III, IV, V, VI, VII, VIII and IX.
We have reached the half way point of the third season in Germany. Time is flying, as are we. When we last spoke I was still pretty much in the dark about who I would have available to me. Players had been released, some of which were shortlisted to make a surprise return and players were being loaned out left, right and centre. With a matter of days before the start of the 3.Liga season I was still unsure what my squad looked like, a feeling that didn't really go away until the transfer window slammed shut.
But, I did make the most of the new bit of knowledge I picked up at the end of last season – I can bring free agents to the club. Oh yes, oh yes I can. Stick that in your pipe Tommy T, or Mr Zorc, whoever is actually running this show.
Ignore Castro, but that was six players I wanted in the squad shipped out. Kaufmann stuck in my throat a bit as I had signed him!
For some unknown reason, when managing a B team you don't have a transfers screen of your own, so I am unable to show you who I have brought in in one long list. So we will do it this way.
Firstly, Luca Kilian agreed to return. He was last season's best player, so to say I was pleased was an understatement. He's already rocking a 7.43 average rating this season as well. I persuaded the ex-Bayern youth team player Marcel Zylla to come onboard. Zylla is one of those attacking midfielders who doesn't score, doesn't assist but when he plays we win, and when he doesn't we don't. It's hard to explain – his KPI's don't exactly tell the story either. A good luck charm is how I tend to look at these players. Emre Aydinel also came home, and has scored six for me so far. Another former Bayern starlet joined by the name of Tobias Heiland, and he is providing squad depth in the DM roles. Koln released a lad called Walczak who can play centre back, so he is in the squad as back-up and, finally, I convinced Reckert to come back and try his luck once more.
Probably more important than these signings were the boys who have not been loaned out in the first half of the season. Tommy T sent Erik Durm, Hendrik Bonmann and Jacob Bruun Larsen back to the B squad. I expected all of them to be sold or at least loaned out, but once the window shut they became regulars in the XI. I was delighted to see the window close and still be able to call on the services of Karazor, Kopacz and Serra all of whom could well disappear in the winter break.
So, at the half way point what is happening?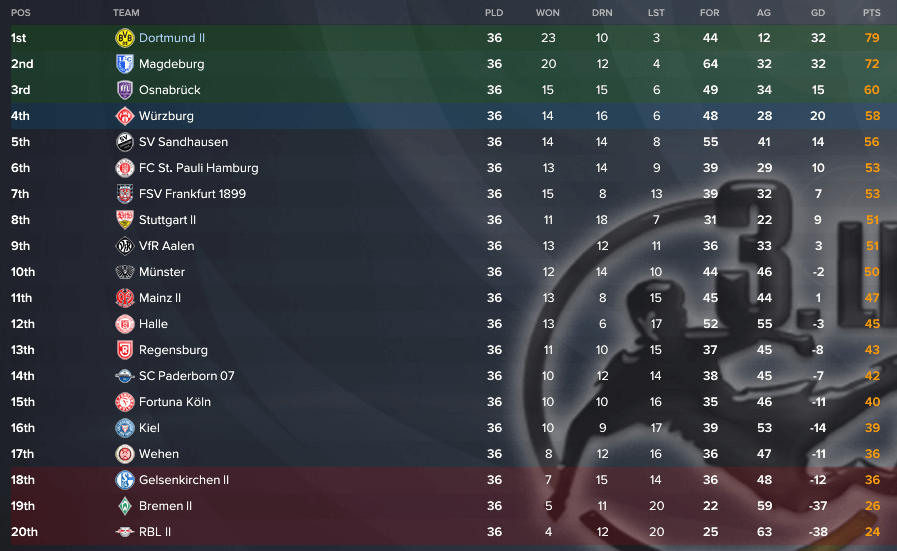 Yeah baby, how do you like them apples? Top, unbeaten with a 3.Liga record thrown in and a beautiful single digit number of goals conceded in 21 games. I'll take that, I will. Of course, it could all fall apart very quickly if my assets get stripped, but I will worry about that another time.
We are playing some decent stuff at times, although we have drawn way too many for my liking. Kilian and Lippert have formed a decent pairing at the back and, hopefully, that will see us get the top five finish I was aiming for this season. Going forward, the mix of Serra, Kopacz, Emre and Zylla seem to be creating enough. As ever in this game, it all comes down to what happens in the transfer window.
There aren't any free agents that I am that interested in bringing in as replacements, so I will be keeping all my fingers crossed yet again.
My reputation is currently 2.5 stars, and my Continental Pro License should be completed come the end of the season. I'll be interested to see what it leaps to if we finished top three and fully qualified. Not that Tommy T is going anywhere.
Well, I say that.
Dortmund sit 8th. Yes, 8th. They won their CL group, and face Inter. So, he could be in trouble at some point. I've just got to keep doing what I am doing.
So 17 games to create a little bit of Dortmund history. Exciting times. Can we do it?