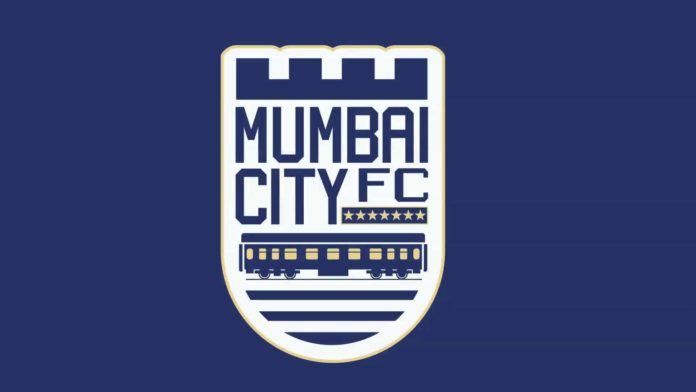 Welcome to Mumbai, the mad city that never, ever sleeps. When we last spoke (and if you haven't caught up on the Indian leg of the journey then have a look above) Mumbai City FC were guaranteed a playoff spot for the end of the season. Result. Since getting sacked in the first few months at Brescia, I have recovered with a title at Skive IK in Denmark and have now led Mumbai to the semi-finals at the very least. That's not a bad turnaround.
So, strap yourselves in because I am going to take you through to the end of our season in today's update.
We closed out the final two matches fairly comfortably to claim top spot!
Incredibly, Bengaluru FC seemed to be doing all they could to avoid being in the semi-finals as they had a shocking run of form at the end of the season. They were still the team I feared most though, the team I wanted to avoid.
Due to fact I was on database duty, I know there are errors – one of which could well have been who gets the prize money at the end of the season. Well, I appear to have got it right as the top place side in the regular season got this little windfall…
Having even told Bonnie, Joey and Buddy who I wanted to avoid in the semi-final (my dogs, I don't have real friends) it was obvious who was coming out of the hat.

Shit. They did us 4-0 recently, and we were pretty lucky to beat them 2-1 far earlier in the season.
Still, I believed.
With it being two weeks until the first leg, I thought it would be a good time to get Melbourne Victory over for the friendly that was part of the deal to sell them the Romanian lad, Goian.
I did not realise they were managed by this guy.
Kevin Muscat, one of the craziest players ever to grace the game. Maybe this wasn't such a good idea?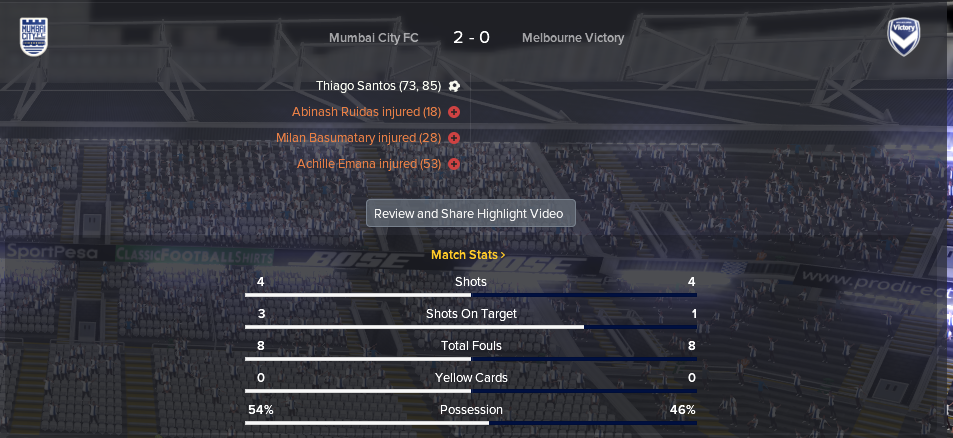 Yeah, definitely not a good idea.
Emana has now played his last game of football for Mumbai City, which is a shame.

And young Milan, one of our surprise stars, is struggling to be back in time.

Then, on the day of the first leg, THIS.
Awesome. Absolutely awesome.
But, never forget – we have Everton Santos. Others do not. What a player he has been for us, and to think he wasn't in my original XI when I started putting the jigsaw together.
The first leg also saw the birth of the 16-year-old-closest-thing-to-a-wonderkid we have: Dawson Dias.
Everton darted down the right on the half hour and floated the perfect cross to the back stick for Ruidas to be unable to miss. 1-0.
The game was hardcore, competitive and Bengaluru FC were in it all the way through. Then I gave the kid the last 15 minutes.
Some of us will remember Glenn Hoddle. Younger folk will think Pirlo, some others Steven Gerrard (though they are just weird). Dias pinged a 60-yard pass straight on to the toe of Everton Santos when there were minutes remaining and the Brazilian gave us the buffer we needed. 2-0!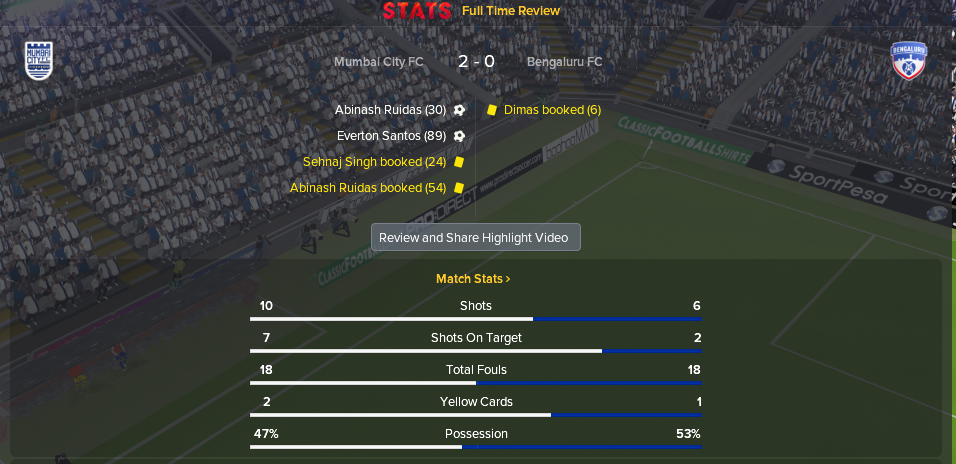 It was a massive win for us, obviously the most important since I'd been in India but in the back of my mind was the 4-0 drubbing last time we went to their gaff.
I need not have worried, as the boys were incredible. Thiago Santos went very close after five minutes, hitting the post and it was the just the beginning.
Everton Santos fired home the first, Thiago Santos doubled it minutes later. 4-0 on aggregate and we started to enjoy ourselves.
We were in the final, and I fancied us to go all the way.

FC Pune City would be our opponents, and we waved goodbye to Rene Muelensteen.

I was trying hard not to be overconfident. I knew the title was ours to lose. Pune were nothing compared to us. Our front line of Everton Santos and Ruidas coming in narrow off the wings and Thiago Santos working tirelessly through the middle could score goals for fun now and our backline was pretty watertight. Surely nothing could go wrong, surely?
Don't worry, I am not setting us up for a big disappointment!
I almost was though. 2-0 became 2-2 and I was getting worried! But once more, Everton Santos and Thiago Santos were top, top quality. We would take a decent advantage back to Mumbai for the second leg.
We did have a slight problem though. The Greek lad Nathan was banned, along with the Brazilian Gerson at the back. Plus, our reliable right back was injured. I was going to have to go in with an all-Indian back four for only the second time this season.
We came in 1-0 down at halftime. No need to panic, no need to panic.
Pune battered us at the start of the second half. Don't panic. Don't panic.
I threw the 16-year-old-closest-thing-we-have-to-a-wonderkid on.
Two raking diagonal passes later and the Santos boys Everton and Thiago had scored the goals to turn the game around.
MUMBAI CITY FC: ISL CHAMPIONS 2017/18!
Speechless. I genuinely thought we might crash in the semi-final to Bengaluru. After such a rotten start at Brescia the last two seasons have given me my FM mojo back and, as crazy as it sounds, I fully believe I can make Mumbai City a footballing superpower.
We got this little-unexpected bonus too – good money in winning this league!

The finances look pretty good now, meaning we can start to build for the future.
We will be in next season's AFC Champions League, where part two of the attempt at World Domination kicks in.

It's worth remembering that we haven't just rocked up at the best side in India and done the obvious. Oh no. We were 6th favourites to win this, and our odds were 7-1.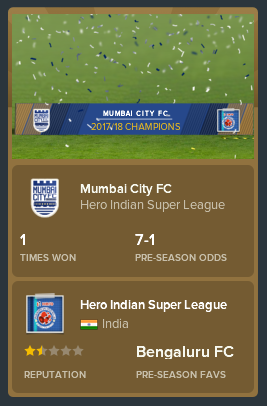 Next up will be the Federation Cup – can we do the double?
---
Putting the cup to one side for one moment, what about next season? With a transfer budget of €11m and a wage budget that is more than healthy, it could be tempting to go mad and just sign, sign, sign. I don't feel we need to.
I want the club to grow sensibly, with the focus on the best young Indian players we can have at the club. We've just won the ISL, I don't need to reinvent the squad. We will have a crack at the AFC CL as best we can, so I can get a feel for what we need to do in the future.
The key thing will be retaining the players I want to retain, and they are:
Everton Santos who has hopefully just agreed a new one-year deal.
Raju Gaikwad the Indian centre back who has done pretty well all season.
Abinash Ruidas our left midfielder. He is nothing to look at on paper, but he is a vital part of our attack.
Kimkima the solid left back. Earned his place last year.
The likes of Thiago Santos, Sehnaj Singh, Arminder Singh, Gustavo, Gerson and Nathan all have at least another year to run on their deals – though I will see if I can increase the length at some point.
It will be goodbye to Achille Emana, Rafa Jorda, Wadoo and Balwant Singh as I feel that they can free up space for some of the younger lads who deserve a squad place to have a go.
In this round of contract renewals, I have also tried to remove all appearance fees and bonuses where possible. I've gone a bit George Graham on it all, making it clear that they should just be proud to wear the Mumbai kit.
Another thing on the to-do list is to check out the rules for the AFC Champions League, I have been stung in the past.
As we are financially very healthy now, I also upgrade our scouting packages and hopefully kick start the process that means we can start picking up the very best players out there early. This is how we will grow long term.
The quick maths suggest that I will need about five new players in the first team squad next season. If I look to have six foreign players in the squad (rather than seven this year) I can go and get one top drawer addition. The other new faces will probably be some of the young players we have out on loan, though I will continue to monitor the Indian talent out there.
As usual, I will hammer the board for improvements left right and centre – we already have the new training facilities on the way and we have taken on another club, SC Goa, that I can loan players too.
Exciting times in Mumbai!