Ciao. Yeah, still doing that as I fancy another stab at Italy at some point.
Anyway, yesterday I told you that we were heading into the last match of the season pretty certain we were getting promoted but with a teeny, tiny slim chance of nicking the title from Avarta.
To do that we needed to win (obviously) and they needed to slip up at home to Middlefart who were languishing at the bottom end of the Promotion Stage. BUT! This the Promotion Stage, so all the twelve sides are pretty decent as they'd finished in the top four of their respective groups in the first half of the season.
Half time in our match with B93. 0-0. We are playing terribly. Passes are going anywhere but to one of our own, it is looking like being one of those days. I gamble. I take the left back off and throw on another striker. Middlefart are winning 2-0(!) and we have a chance to win the sodding league. We leave our left flank wide open to attack, but we don't care. We need a win now. Overload and get it in the mixer boys, create havoc.
70 minutes have gone, and I can feel that the game is turning our way. We've pinned B93 back for about ten minutes, but nothing has really gone on target yet. We get a corner. Naturally, we sling it into the far post. There's a scramble. It falls to the edge of the area. Michael Baidoo is lurking and he smacks it on the half volley. The ball screams into the net, we leap off the bench. As it stands, we have won the 2. Division! But, is it ever that simple?
Of course it is never that simple. Six minutes later we are reduced to ten men at the same time Avarta pull one back against Middlefart. 14 minutes was a bit too far out to start shutting up shop for my liking, but it was my only option. We threw some barricades up and hoped for the best in our game and the one at Avarte. Fortunately, we get lucky. B93 had no real intention of getting back into the game, despite seven minutes injury time, and we held on. But were we champions….?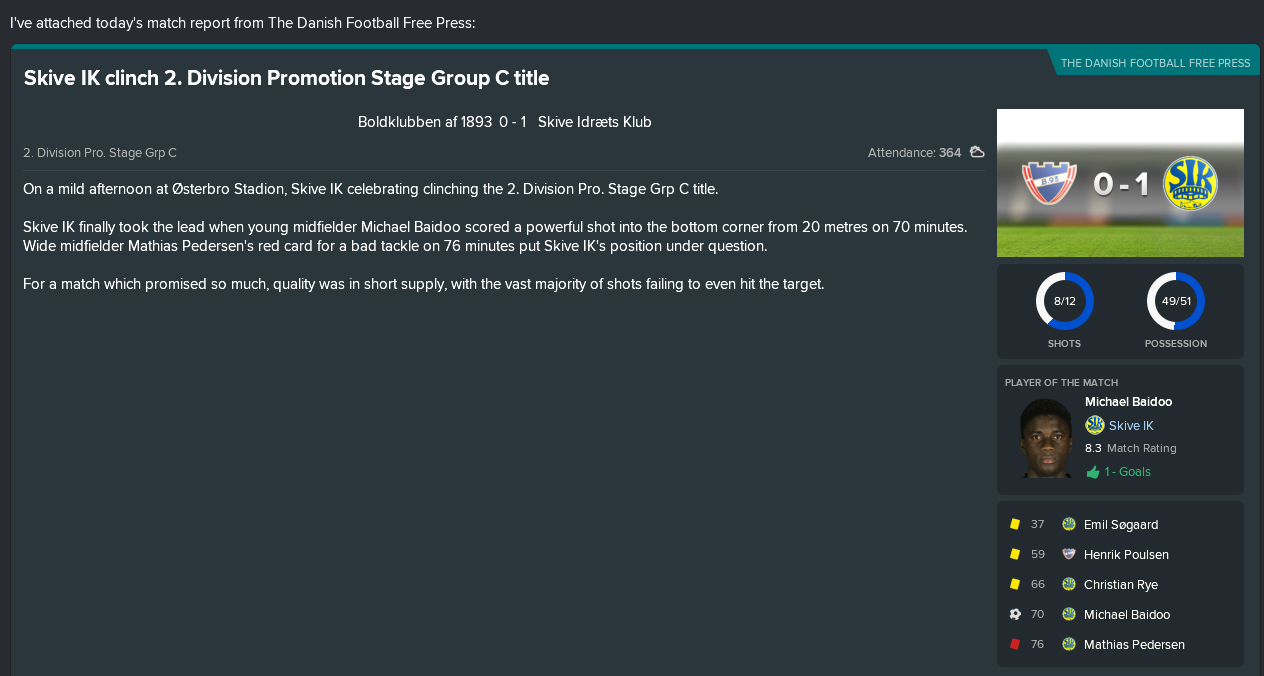 Hell yeah. Middlefart, stupid name and all, did us a huge favour and we took full advantage!
What a season, what a turnaround from the low of being binned by Brescia. It's quite nice to make a board happy.

Acumen, you say?
I'll end today's piece with some nice bits around team of the year and such like, but first a few moans and groans – some might be to do with the game, some might be to do with the real world aspect of the game.
First, this.

A week off before preseason starts? Does that actually happen in Denmark?
The first league game of the next season is on Sunday 4th August, so we do only get one week rest then a five week preseason. Why on earth have four months off mid-season if that is the case? I have to rebuild a squad for next season in 10 days now.
Ah, speaking of which. Scouting and player recruitment on FM18. What the hell have they done to it? I spent an hour last night trying to draw up some kind of shortlist of players I would like to sign and it was like pulling teeth. I really like the idea of including faux-Wyscout packages in there, but the whole scouting centre feels like a shower of shit right now. Sure, it will grow on me as I get used to it but I'm never going to get that hour back from last night.
Which leads me on to the cost of scouting. Bare in mind as a club we have 50% of our players as amateur. We do not pay them, they did not cost us a penny. We are a small club.
So how the hell did we end up spending 92,000€ on scouting last season?
Our budget, according to the scouting centre, was 5,500€. I have two amateur scouts. Denmark is a small country. They have filed 47 scout reports from being on assignment. That equates to about 2,000€ per report, and guess what? I DON'T WANT ANY OF THE PLAYERS.
Can I control this outgoing? Well, I am going to have to bloody well try as that is the main reason I am in the red. No scouts will be on assignment now, I will send them to look at players I want to know more about. Will they sit there doing nothing most of the time? Most probably, but they shouldn't then be costing me money as they are volunteers! It's an absolute joke.
And don't even get me started on "non-football costs" and "other". Seriously, if I filed that to my boss I would get sacked.
Yet, on the complete flipside FM18 might have a better grasp of the wage budget (although the experience above makes me wonder if that is more luck than judgement).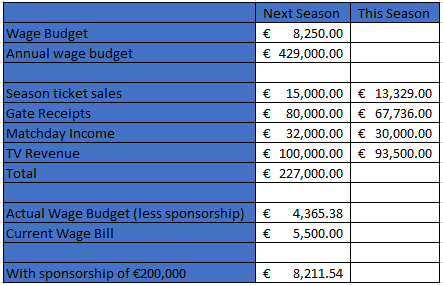 That right there is my rough scribblings. The board has set me an 8,250€ per week wage budget, which equates to 429,000€ for the year.
On the right we have what we made this season.
I've worst case scenario predicted what income we should make this season, meaning we should bring in 227,000€ from that kind of stuff. If we then add in 200,000€ of sponsorship (a slight drop on this season's number as that did seem a lot of money for such a small club) then the actual wage budget given to me is 40€ a week over our real wage budget. They can't have sorted that out, can they? Either way, I pretty much know where I stand in terms of player recruitment, if I can force myself to go back into the forest that is the scouting system.
What is more likely is that I will go and speak to the boys at FC Midtjylland and see what group of kids they'd like to send me. They won't cost me a penny and could well be better than anything else I can find.
I closed the season off by extracting all the player data from the season and whacking it in an excel sheet. Eventually, if I can free up a whole day, I'd like to get deeper into the Scouting Centre and see if I can use my usual stats based approach to find some hidden gems.
Until then, I'll just abuse the loan system.
Anyway, I'd better leave it there because in the time it has taken to type all this preseason has started without me – what with only having half-an-hour off after the final whistle celebrations and all.
Ciao!