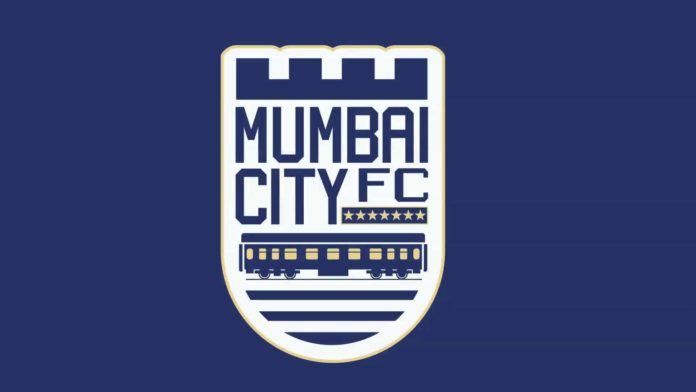 Hey hey. Welcome back to India. The ISL is finally in full swing and boy do I have a lot to update you on.
I think you will be reading this on Tuesday, but it was written off the back of a weekend's worth of game time so quite a lot of in-game time has elapsed, which is cool. That preseason was just a bit too long for my liking.
Today we will cover our progress, and a couple of things that I have started to focus on with a view to Mumbai City FC eventually taking over the world.
In fact, let's start there as it is relevant.
Affiliate Club: Mumbai FC

One fairly significant point in my long term aim to make Mumbai City FC bigger than Real Madrid is that we don't have a B team or Academy sides. So, how am I going to develop my younger players?
Quite frankly, right now, I don't have a great plan in place but this feels like something we should try.
I've set up a local partnership with the I-League 2 side, Mumbai FC. The was to sign some young Indian lads with potential, but who won't be ready for us for a while, and then loan them out to Mumbai to get some senior experience. Yes, I know that they won't be getting trained in "our ways" but we don't really have a way yet.
That's how they are getting on performance wise, it's a bit of a mixed bag. But, we have nothing to lose really. Sign up young players for free, loan them out and see how they do. Those that do OK, retain and train. Those that don't, release. It's got to be better for them than Academy football. Longer term, we might get an affiliate club in I-League 1 so that we can have those that are ready for the next level have a step up.
I think that makes sense in my head!
---
The ISL 2017/18
As I mentioned, we have raced ahead into the league season now. In fact, apologies, we are 9 games into the season and it is nearing the end of January.
Just before the season kicked off, we were dealt this massive blow.
Leo Costa, our most important midfielder in the roaming playmaker role.

4 to 5 months is normally worth hanging around for, but that is the entire ISL season and his contract would be up at the end of it. Being 31, I decided to release him immediately to free up some space. Harsh, yes, but it was the trigger to a change in philosophy a little sooner than expected.
Most ISL sides have spent the first three competitions trying to win the title by bringing in ageing foreign stars to lift the standard and give the fans someone to identify with. When I looked at our foreign contingent, none were really players anybody would know. We certainly didn't have a Robbie Keane, Dimitar Berbatov or a Wes Brown. Achille, he is a very experienced international player but hardly the type to bring the crowds flocking to the ground. And anyway, we would likely sell out our 20,000 seat stadium with the squad we had. My players were all "experienced" and, cover your ears Diego Mendoza and FM Grasshopper, I don't really major on los veteranos. The future Mumbai City will be based on young, hungry players that want to use us to further their careers, but we get the benefit of them at the start and then make money off them in future, enabling us to grow. So, rather than go out and sign another veteran player to replace Leo, I went for this lad.

Nath is a current Greek U21 international, and that is where I see us going quickly with our foreign player recruitment.
As a result of this shift in my thinking a few of the lads that were in mind to be starters found their younger understudies in their place from the get go. Rafa Jorda suffered from a tactical tweak from TM/S to DF/S and saw Thiago Santos take the lone role in his stride, leading to me making the 22-year-old forward a permanent signing rather than just on loan. Gerson, a former Brazil U21 international, has been preferred to the experienced Romanian Lucian Goian, and Lucian has just left the club to join Melbourne Victory. The left back Marcio Rozario was number six when I can only pick five foreign players and has barely featured. Everton Santos and Achille Emana have both been excellent, and even with the fact they are well over 30 are justifying their selections. But, our average is now 26 where it was likely to be 31.
Has the switch worked?
The opening day of the ISL was a very tense affair. In all honesty, I'd have taken a 0-0 away to Pune City first up, but we got a deep into injury time penalty which Thiago Santos slotted away. We were off and running, and next up was a home game with ISL favourites Bengaluru. Winning that was incredible, and made me wonder whether we could over achieve on the midtable prediction.
Never have those thoughts too early, eh?
A 0-0 with Steve Coppell's Jamshedpur was dire, and then we welcomed Rene Muelensteen's Kerala Blasters to Mumbai. The Blasters had not won, Berbatov was injured and I reckoned we could take them. Wes Brown had other ideas. Somehow the ex-United defender managed to score both in a 2-0 defeat for us. Both were identical. Free kick, wonderful save by Singh in goal, Brown reacts quicker than us and scrambles home. However, as you can see, it was a wake up call. We have reeled off five wins on the bounce now, including a stunning 5-0 win against John Gregory's Chennaiyin FC, who were top at the time. Thiago Santos netted four and it stunned everyone.
So we are at the half way point of my first season out here. 9 games, 9 finals are left and we could finish in top spot that would be financially excellent, qualify us for continental competition next season and see us move into the playoffs as favourites to lift the trophy.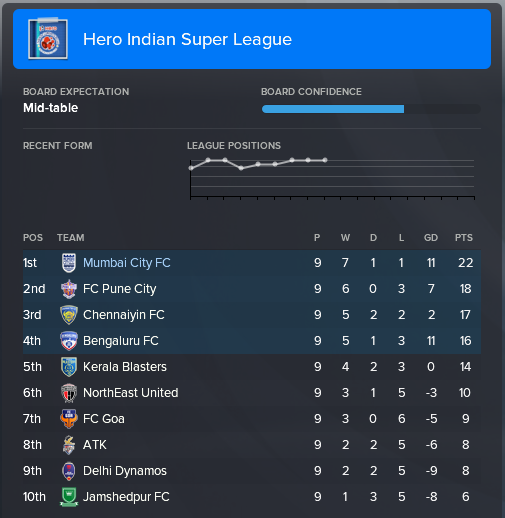 We play second place FC Pune City next, as we begin the second round of fixtures. I don't know if we will do as well on the back nine, but I am delighted with where we are at right now.

How have we done this? Well, in the image above I have marked out the corner stones of our first half success.
Gerson has been superb in the left side central defence role. As you can see, he has way more interceptions per 90 than anyone, and wins a good number of aerial duels per game. His average rating is pleasing.
Achille Emana, our Cameroonian ex-international has excelled. He normally plays in the RPM role (right side of the two central midfield spots) and he is the heartbeat of the team, even if his legs are going a bit.
The next kid, what a wildcard he has been in the last few games!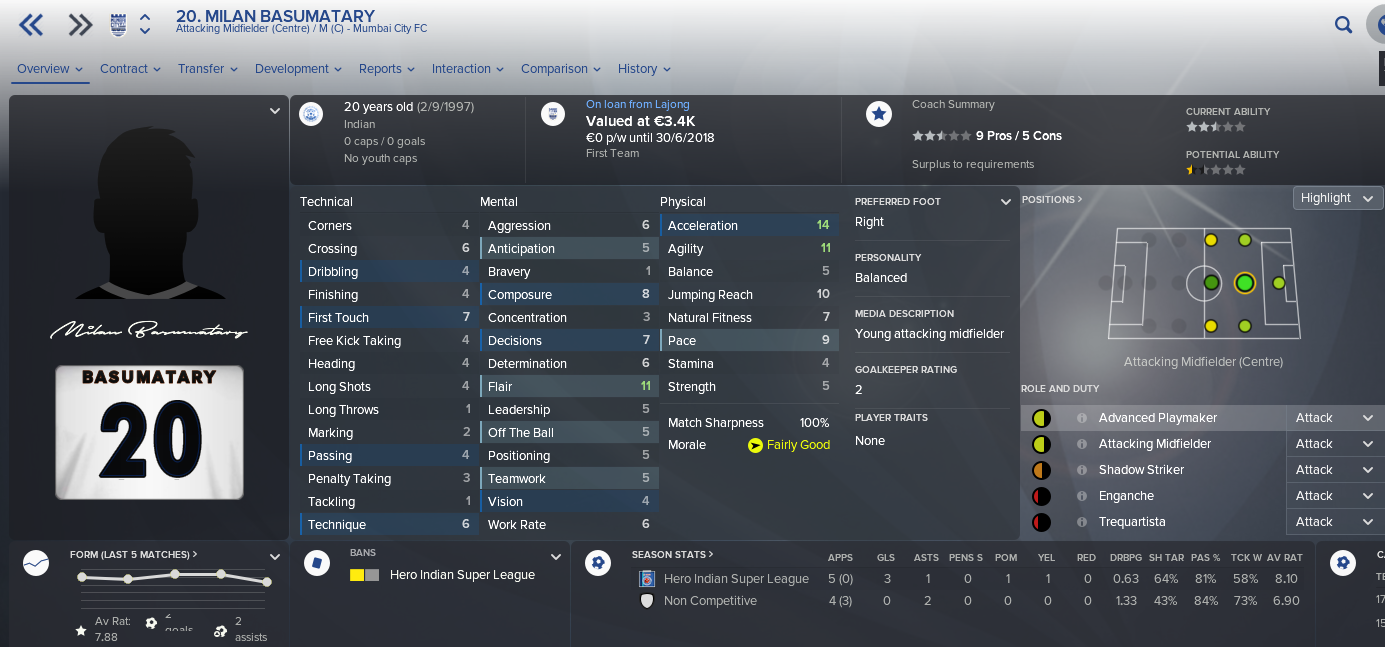 I'm sure we would all agree there is absolutely nothing to get excited about there, right?
Well, check these bananas out.
How on earth do those three finishes correlate to his attributes? No idea.
How do they correlate to the fact he has 1.5 star potential? Not too sure about that either.
We brought him in on loan as the kid was highly rated by a scout and I wanted to have a look before we decided if we would buy him or not.
Either way, I am impressed and if we can buy him for next to nothing then we don't have a great deal to lose at this stage.
Finally, Thiago Santos is doing a fine job as the lone striker.
---
As I said, nine matches to go. Can we go all the way? I really have no idea, but the foundations are being laid down for something long term here. I am excited by it, and wouldn't it be cool if we won it first time out? Hell yeah.