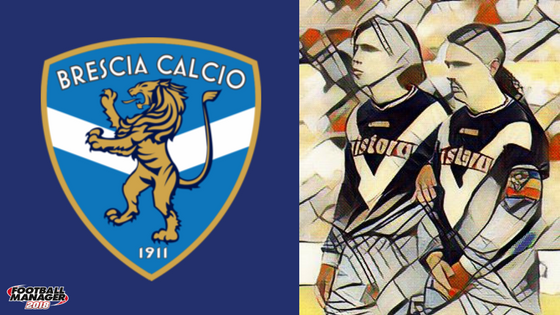 Ciao.
"Sacked in the morning, you're getting sacked in the morning" went the chant in my head as Foggia scored their 5th without reply. This was the virtual morning of course, not my actual morning as there was no way I'd be holding on to my job until then. I knew it was over, my players had decided it was over for me before we even kicked off. For the first, and probably last time in my brief FM18 managerial career I knew what it was like to be Claudio Ranieri, fucked by your own players and assistant. Actually, I have no idea whether my assistant was in on it.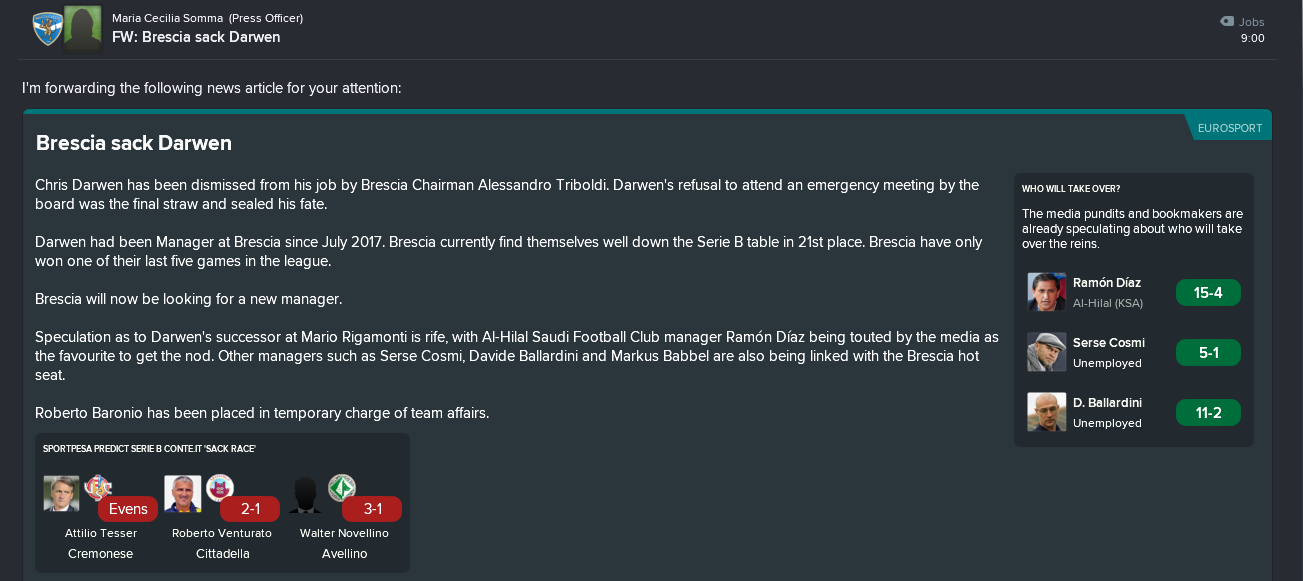 There was actually a sense of relief when I knew I didn't have to turn up to the meeting. Sure, I knew I was going to get fired but it meant the pain would be over.
I am SO glad I spent all that time yesterday waxing lyrical about the revamped Argentine Strikerless, it was time really well spent, eh?
I knew things were not likely to be going my way 62 seconds into the season opener against Novara. Our right back, whose name escapes me which is probably good for the safety of him and his family, went into a challenge knee high and got a straight red. We dominated the game with 65% possession yet lost 3-0, all three goals from corners and I don't believe I conceded three goals from corners in an entire season on FM17, let alone in a match.
When an own goal meant we lost the second game, I had a sneaky suspicion I might not be at Brescia by the time Everton let in their third in the Europa League.
A win and a draw provided very brief respite, but in the last fortnight I had more meetings with unhappy footballers than I did shots on target.
The 5-0 drubbing by Foggia was pretty much self inflicted. We were 2-0 down at half time with nothing to lose other than my job, so we went to a back two and tried to find a way into the game. That went as well as everything else I have tried on BETA so far.
I feel like Superman with kryptonite being waved under his nose.
Players hate me.
We concede from corners.
Everything that used to work no longer works.
Has football changed and nobody has told me?
The only saving grace out of all this is many a top level manager (mainly in Italy) has suffered humiliation in his first job. Even Antonio Conte looked like a prat in his first attempt at Atalanta.
Surely some club would see that is was just bad luck and give me a crack, even in the Lega Pro?
Five interviews, including four with a side at the bottom of the table at that moment in time, suggest that my name in Italy is absolute merda.
So what next on this journey of disaster?
The rest of the season has passed us by and I am still without a single sniff of a job offer.
My ideal scenario would be to get another job in this save and have another crack, probably using it more of a testing ground to learn as I go. Therefore I've added in Austria, Denmark, Greece and Hungary in the hope that someone, somewhere will give me a chance.
I will holiday another couple of months applying for anything that comes up.
If I fail to get employed by then, it is back to the drawing board.
Ciao Brescia. Ciao Pirlo. Ciao Baggio. And ciao Cellino, you impatient bastardo.