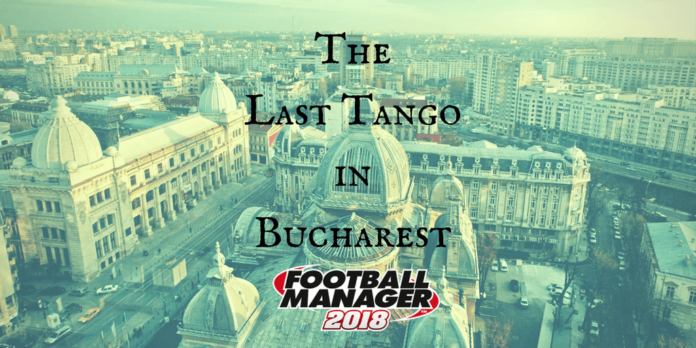 A Tactical Sweep
THE MISSION: Enter the unforgiving world of Football Manager 2018, beat your bitter sibling rival to claim prestige in Romania and earn the honour of being named the Last Tango in Bucharest.
THE SNAG: The Rivalità Tra Fratelli series on Football Manager 2017 raised more questions than answers in Tango Towers. Is Charlie Tango just a cup specialist? Will Mike Tango be afforded so much time to gain the glory he craves again? The smart money seems be on Dan Petrescu's CFR Cluj winning everything.
Episode 1, Episode 2, Episode 3, Episode 4, Episode 5, Episode 6, Episode 7
CHARLIE: I've been looking forward to this so much. Getting stuck into some tactical analysis is my idea of heaven and Mike's idea of hell. I should also point out for charity at this point that transfers have been disabled for the opening window and attribute masking is on. We'll have to deal with what we have for now and for me at least, that means slim pickings. I kind of now understand why the English speaking supporters account from Dinamo was so ready to give me the manager's job…
Regardless, let's plough on. What I really want to do here is impart a 3-5-2 on the Dinamo squad but that's already showing signs of problems. Firstly, other than Palermo in Serie B on Football Manager 2017 I don't recall a time when I've made a 3-5-2 work. Even in testing with Arsenal on the beta for this new game, I couldn't get the balance right. I'm aware at this point that you'll be thinking that Arsenal actually play a 3-4-2-1 but it's not that far off. I used Lacazette with Sanchez as a deep-lying forward but much like real life Arsenal, the three attackers (Ozil was in behind) become too disjointed so we were picked off by sheer numbers and momentum particularly in the half spaces.
Arsenal's defence in this new formation goes against conventional three-man defence philosophy because instead of having the single central defender as the passer, Arsenal allow their two wider centre backs (usually Monreal and Koscielny) to step up and link play, especially with their respective wing-backs. This is insanely hard to replicate on Football Manager but I digress. The three-man defence I envisage for Dinamo is two stoppers either side of a cover central defender. This is supported by playing a slightly higher line.
The second problem I have is that the personnel, particularly in forward areas, don't have the correct roles aligned. Senior strikers Jeremy Bokila (on loan from Turkish side Akhisarspor) and Adam Nemec are target men, when I need at least one of them to be an advanced forward as the focal point of attacks.
This is going to mean the use of one of them as an advanced forward with perhaps burdening young Brazilian attacking midfielder/striker Rivaldinho as his supporting deep-lying forward. My first real challenge of by Dinamo career is to leave out some heavy hitters from my first choice lineup. We only have two players worth over £1 million but Diogo Salomao is a winger by trade, a position I have no use for. I could shoehorn him in as a box-to-box midfielder but the likes of May Mahlangu and Filipe Nascimento are better fits. I've compromised on the two wing-backs not being exactly comfortable in their roles and Romera, a Spanish right-back by all accounts, I've selected as the right-side centre-half because his stats look good.
My philosophy as discussed last week is to pair young players with their more experienced counterparts. 22-year-old Rivaldinho up front alongside 28-year-old Jeremy Bokila is a good example of this. The tactical approach is to retain possession, short passes at a low tempo. We might not be entertaining but by God will we hold the ball. This means a defensive mentality but defensive doesn't mean defensive in this situation, it means patient.
MIKE: I have never read so much guff in all my life. I'm almost regretting giving him Dinamo Bucharest because every time he makes a tactical decision that pays off, it'll be shouted from the rooftops as even more amazing with such a weak squad. I say 'almost' because I'm looking over Steaua's squad and liking what I'm seeing.
I'm going to start the season by letting the dogs off the leash. Remember kids, Football Manager does not need to be difficult. If Marko Momcilovic enjoys playing as a wing-back, let him. This is actually a win-win situation because if it all goes badly, it's their fault for not playing well in their designated role and if it goes well, I'm the genius who allowed them to.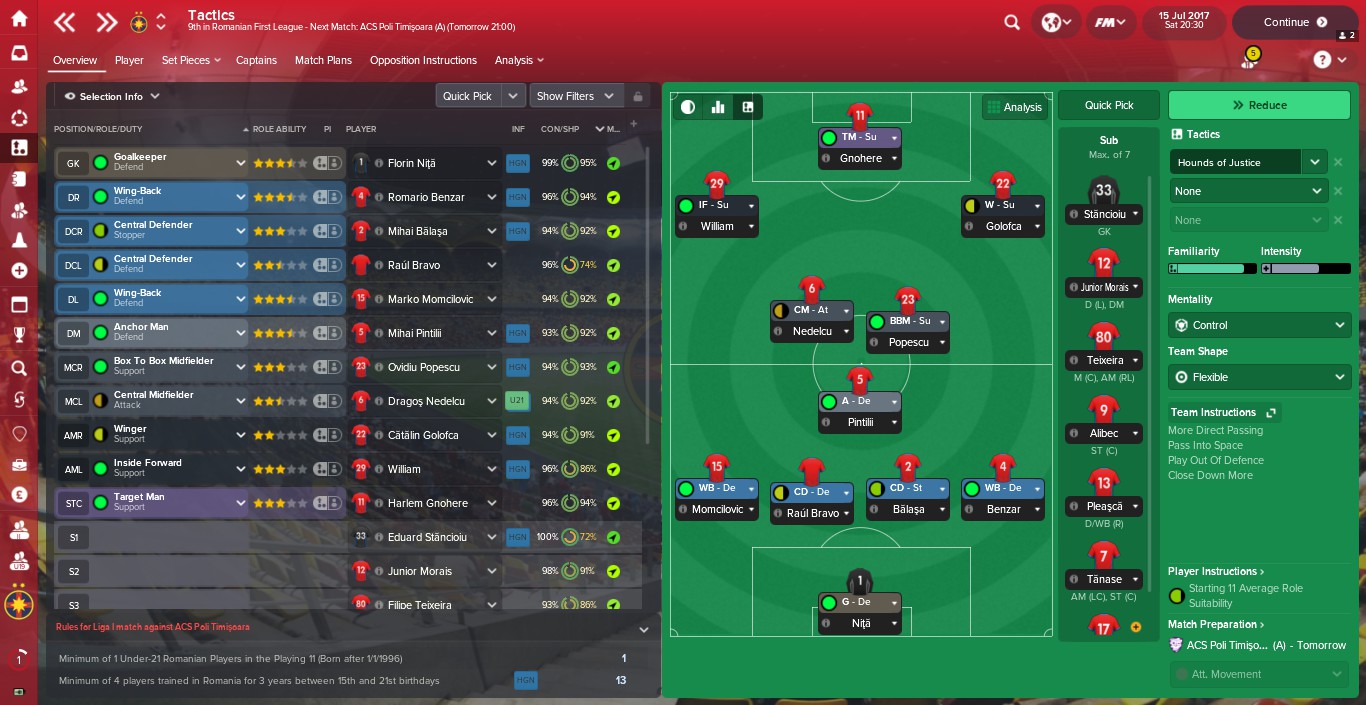 CHARLIE: Because Mike refuses to take friendly games, I have free reign to discuss mine and I've set up a couple of doozies including against our namesakes Dinamo (Zagreb), Julian Nagelsmann's Hoffenheim, Manchester United's opponent on Tuesday – CSKA Moscow – and Iain Macintosh's Everton.
We begin with Dinamo and the system is set, the 3-5-2 in full force and what's more, despite the general nature of the player's lack of respect for me, they agree in the team talk that we do need to adjust as a whole to the new shape.
We didn't dominate possession as much as I'd have liked but two goals and a clean sheet is nothing to shirk. The first goal was a peach of a cross from a free-kick from Nascimento and headed in amongst the crowd of players attacking the six-yard box early on by Bokila, only 13 minutes on the clock.
The second was before half-time, Hanka on the left finds Bokila already sprinting to get behind his man, taking advantage of the space between full-back and centre-back. Bokila crosses for Rivaldinho and the little Brazillian makes no mistake with his header. Two headers and despite a lot of shots from our opposition (25), only four were on target. That highlights to me just how much we restricted them to long shots and half-chances with the three-man backline.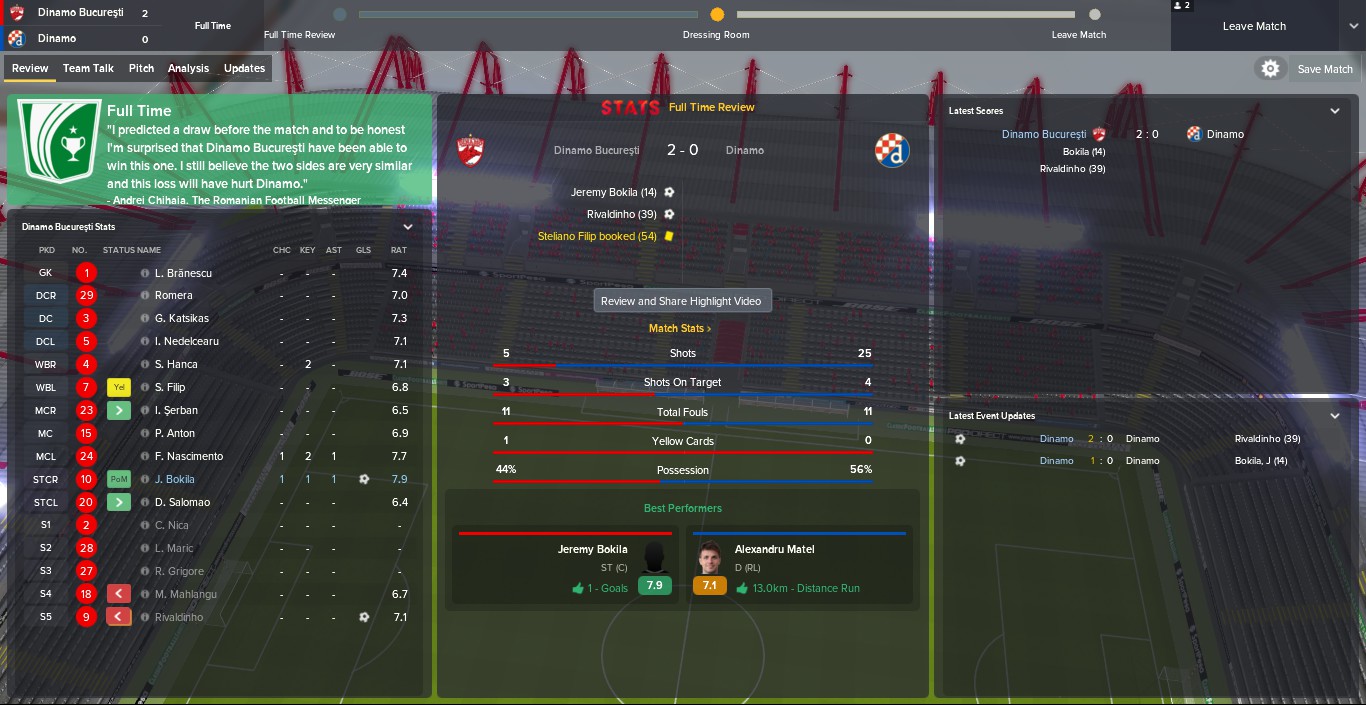 What followed was a 3 – 1 loss to a Mark Uth-inspired Hoffenheim but there were positive signs with more possession and an even number of shots before earning a credible 0 – 0 draw with CSKA on the same night as Mike's Steaua demolished Slavia Prague 4 – 0, we then had a 3 – 0 victory over Bratstvo with youngster Liviu Gheorghe scoring a screamer.
The marquee friendly was surely against Everton, who by the time this is published will have hired Sam Allardyce as manager. In my game former Barcelona and Argentina boss Gerardo Martino is in charge and he has Everton set up in a simple 4-3-3 with Sandro and Mirallas starting out wide.
It was epic, make no mistake. The final score was 3 – 2 to the Toffees but there was so much more. Two red cards in a friendly says it all, both for shocking tackles from behind. Everton's Besic and Dinamo's Nedelcearu took an early shower. Nemec opened the scoring with a header from a Rivaldinho cross before Lennon equalised from a corner. Our second was a beautifully simple goal, a goal kick headed on by Nemec for Bokila to run onto, sort his feet out and lash home.
Everton rebounded after the two dismissals with a Luke Garbutt free-kick that our goalkeeper should have done better with before Niasse settled matters with a half-volley from a Lookman pass but Garbutt was again involved in the build-up.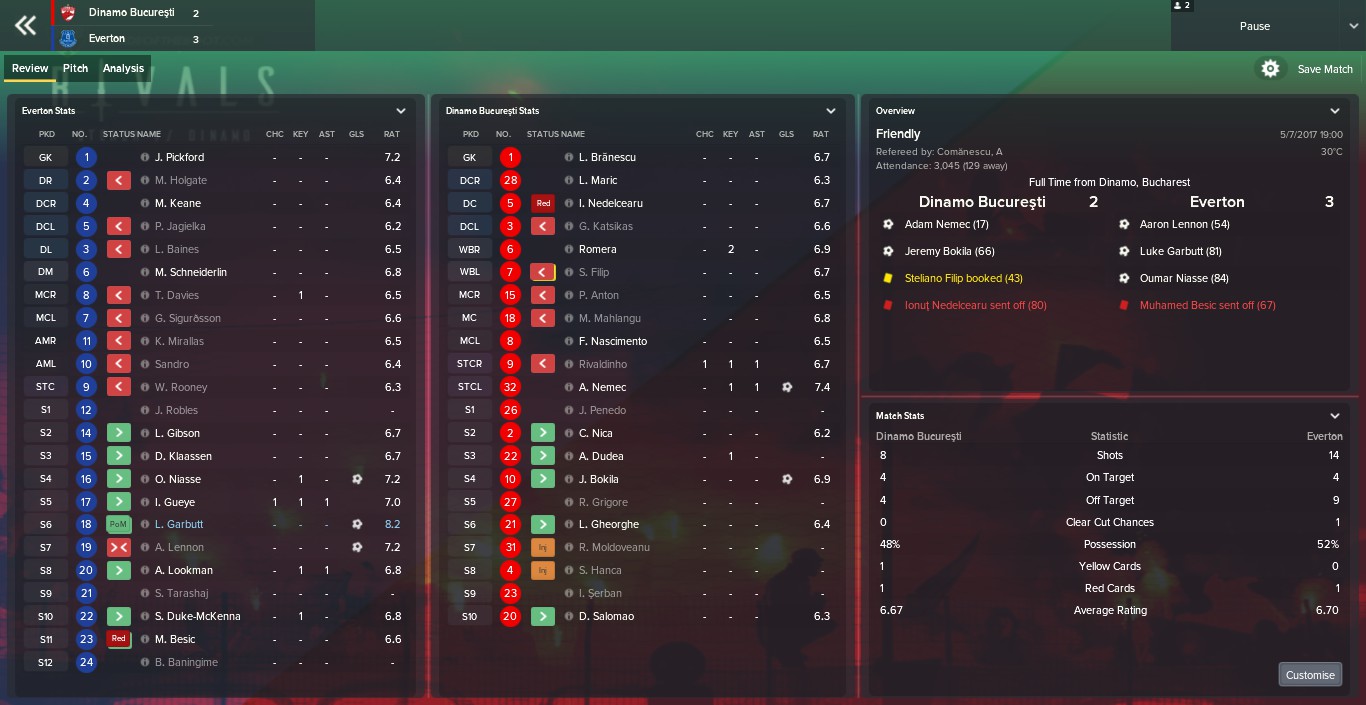 It was a good performance overall and we matched the Premier League side with our lesser players. Brănescu in goal didn't cover himself in glory but he's only our back up. I feel like we're in good shape as we approach the first league game of the season.
MIKE: Pre-season is not only an annoyance in real life, it's a waste of time in Football Manager. Seriously, ask yourself how many times your performances or results in pre-season have even the slightest effect on how the season begins? Oh, but there was that one, wasn't there? That great pre-season with West Brom where you beat Bayern and held Real Madrid to a draw at the Hawthorns… then your first three league fixtures were Arsenal, Manchester United and Chelsea, everything went to shit, didn't it?
While Charlie has been fannying around across Europe playing random teams, I've let my assistant Viorel Tănase do the heavy lifting and here are his results.

Even though my hands have been tied by the evil tyrant (you can print that) who translates my words into written form, I've found a way around his shackles. I've signed two players on free transfers. One is a French right winger to cover for Constantin Budescu, the French winger in question then went on to get injured for exactly as long as Budescu is out. The second is a Spanish defender who played for one of the biggest teams in the world. Raul Bravo might not be the biggest name to come out of Spain but he's won eight trophies over his career and represented his county 14 times. Stop looking at me like that. What have you done?

Everything was going swimmingly, our top man Denis Alibec has just about recovered from injury and there's the small matter of the Champion's League third qualifier draw to be made. How hard can it be against some minnows from Cyprus or Linfield of Northern Ireland?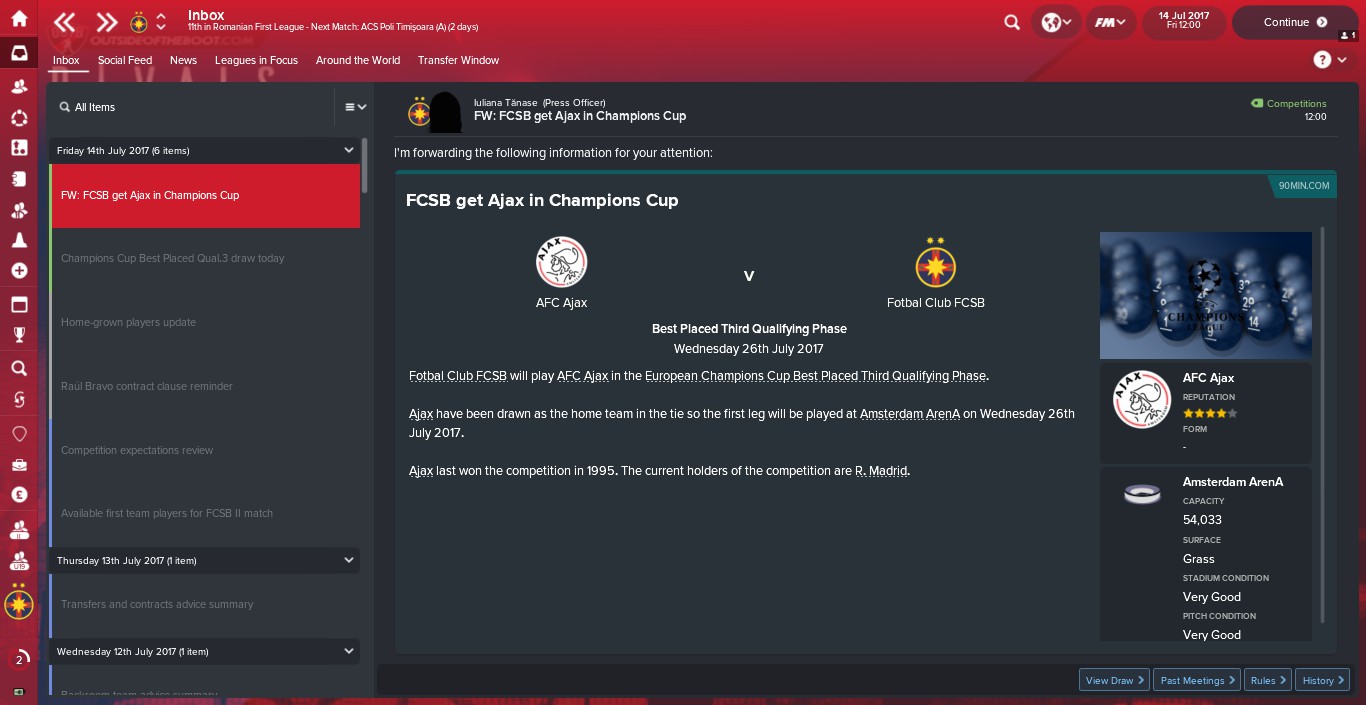 Shit.
Thank you for reading, join us on twitter at @FM18Challenge, @CharlieTangoFM & @MikeTangoFM for exclusive comments, developments prior to episodes and reaction afterwards. Continued thanks to Chris, Luke, Mike and everyone at Tempo for the opportunity to share this with the readers.
If you'd like to replicate this challenge, we're using the large release day database with the following leagues made active: Romania (Liga I & Liga Liga II), England (Premier League, Championship, League One & League Two), Italy (Serie A & Serie B), Spain (La Liga & Segunda División), France (Ligue 1 & Ligue 2) and Germany (Bundesliga & 2. Bundesliga).