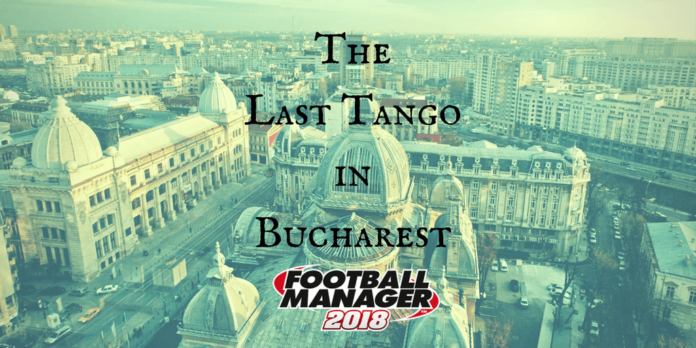 Rivalry Intensifies
THE MISSION: Enter the unforgiving world of Football Manager 2018, beat your bitter sibling rival to claim prestige in Romania and earn the honour of being named the Last Tango in Bucharest.
THE SNAG: The Rivalità Tra Fratelli series on Football Manager 2017 raised more questions than answers in Tango Towers. Is Charlie Tango just a cup specialist? Will Mike Tango be afforded so much time to gain the glory he craves again? The smart money seems be on Dan Petrescu's CFR Cluj winning everything.
Episode 1, Episode 2, Episode 3, Episode 4, Episode 5, Episode 6, Episode 7
CHARLIE: We begin this episode with news of trouble at t'mill. Tango Towers is awash with real life sibling rivalry, not just the Football Manager variety, following incidents over the Christmas break. First of all there was the Dinamo vs. Steaua game that ended in a Dinamo victory and led to an appropriate level of gloating over Christmas lunch, then as revenge I was later performing some minor tweaks to my Fantasy Premier League team in the presence of my rival and made a comment that I was feeling rather good about Harry Kane's chances of scoring the next day, this being just before his hat trick performance against Southampton and made him my Triple Captain.
What I later discovered is that I mistakenly didn't save the change and left my Triple Captain as Lukaku, who of course did the square root of bugger all against Burnley as Manchester United toiled. The most galling aspect of all this is that my loving brother was FULLY AWARE that I had not saved the change and thus was missing out on a haul of potential points. He then chose to only inform me of this after the deadline for changes had passed. Hence, problems have arisen.
This episode has been re-written because of the in-game schedule, we have a league game, then a first leg qualifier in Europe, then a league game and the second leg in Europe. As a result, we'll focus on league matters this week and then the two European ties next week. Due to what I'm putting down to Christmas chaos, we find ourselves in a position where I forgot our league table last time, so here it is to bring us all up to speed:
MIKE: Steaua are on first and all I want my players to do is set the record straight. I can't stomach the loss against Dinamo but three points over Juventus… Bucharest… shit, there's another Bucharest club? Christ, there's more here than in Greater Manchester. Just get me three points you feckless arseholes.
On 26 minutes Alibec clears a corner from inside our box and it goes over to Golofca. He's charging towards their penalty box but he's got two defenders and the goalkeeper in front of him. I'm screaming at him to hold it up because three of our lads are racing to get up in support. What does he do? He skies it… no he doesn't, he finds the bottom corner. Shit. What a goal! Take a bow, my son. I've never seen my teams do that. Never.
More action sees us hit the side netting and then the post, before Nita makes a fantastic one-on-one save. Popescu has the ball in midfield, he lofts it over the entire Juventus defence and William slots it in. Scintillating doesn't even come close to describing it but that does beg one tiny question… WHERE THE FUCK WAS THIS PLAY LAST WEEK????
Before half time it's three-nil after Teixeira stands outside the box and lashes it home. I mean, it's great football but it's a day late and a dollar short. Second half and Popescu adds another long-distance strike. What's happening here? It's the destruction of a team we've been threatening to do but why couldn't it have been last week? Dinamo were nothing special. That's what hurts. I stopped watching at four.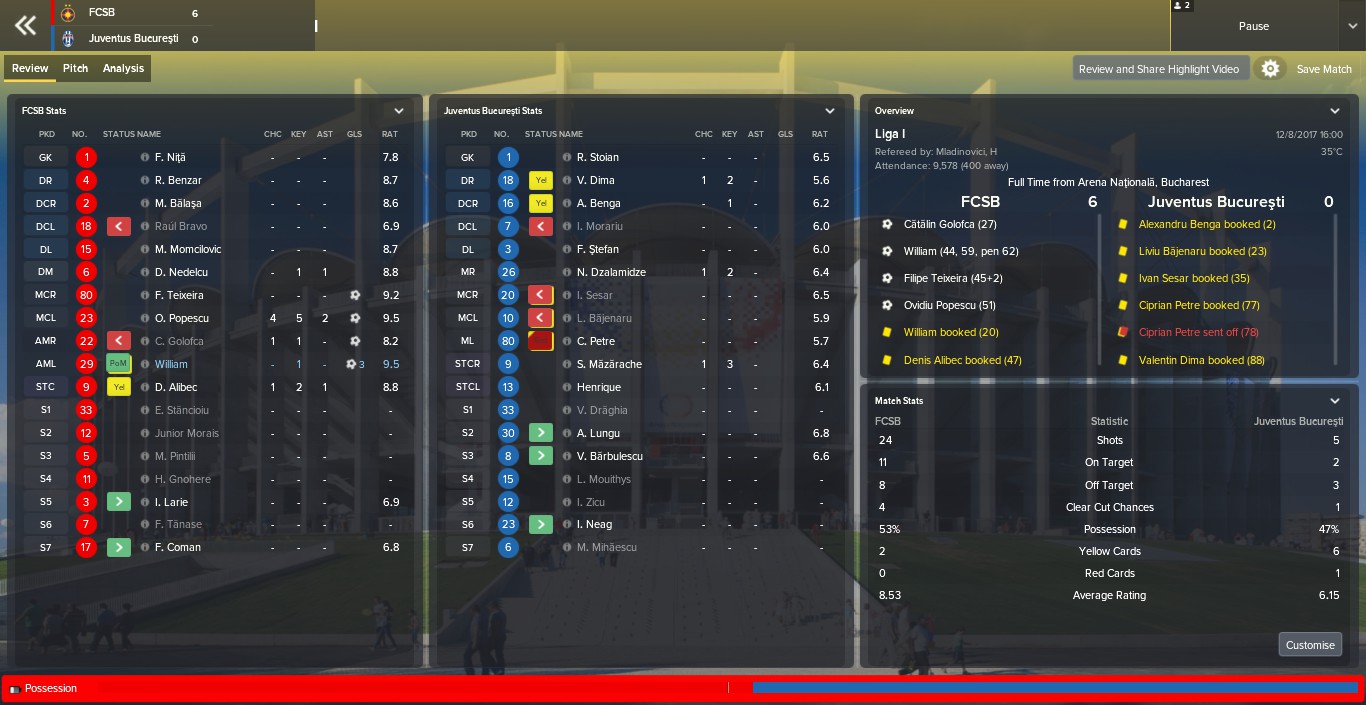 CHARLIE: Six-Nil. I can't tell you how delightful it is to see his nose rubbed in it. It's a big score but on the back of the loss to my Dinamo, it's left a 'what might have been' sort of feeling. But the fact is, he's laid down the gauntlet. In my league match, I take on FC Viitorul, whose only point of the season came against Steaua in that 1 – 1 draw.
In team news, Jeremy Bokila is slightly injured. He could play but I get the feeling I'm going to need him for Everton. Adam Nemec is his replacement as I give Bokila a complete rest, he didn't even travel with the squad.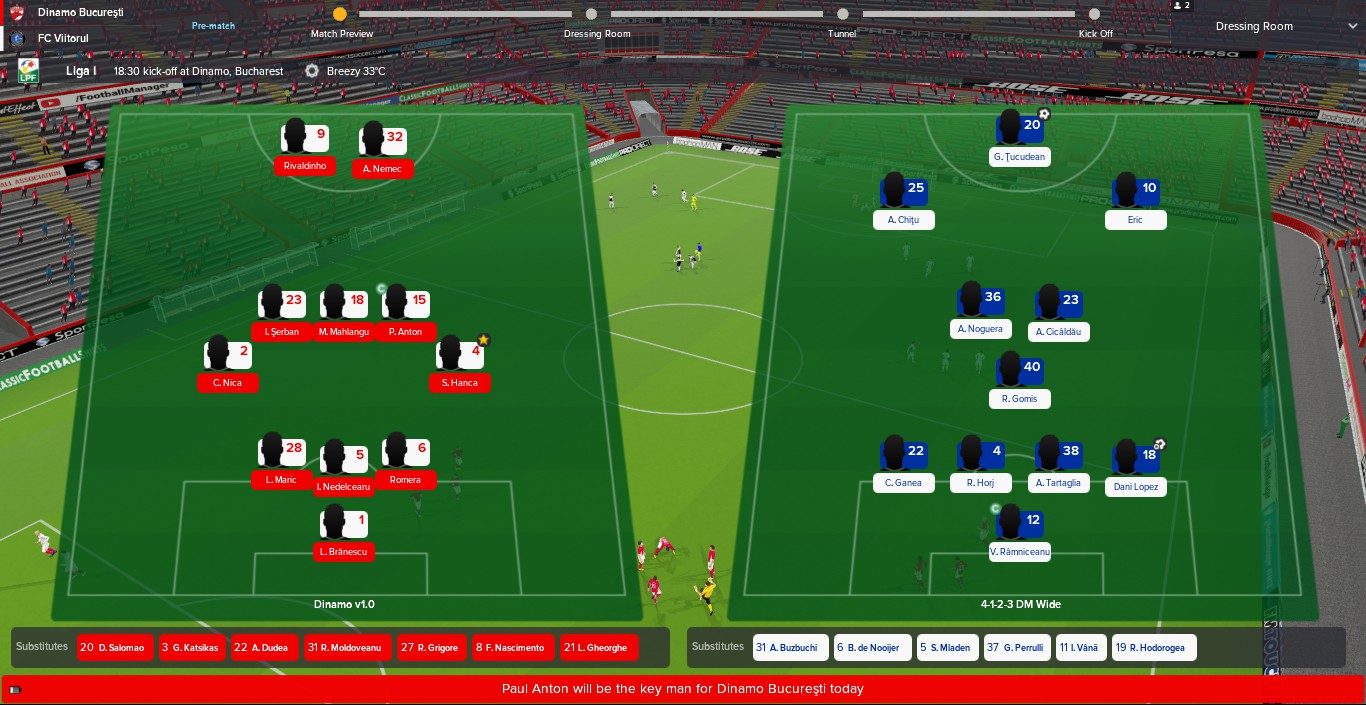 Nothing to write home about in the first half, especially if you like goal-mouth action. A lot of attritional play and a lot of 'nearly' attacks. The ones where the full back gets forward but his attempted cross is blocked behind for a corner or a pass in the final third goes astray but unerringly ends up at the feet of the central defender.
A penalty converted by the confident Romera and Serban's big long-range effort, which the goalkeeper should have saved in all truth, made the game secure in the second half as Viitorul offered little going forward. They even ended with only 10 on the pitch after an injury to Gomis, unfortunately they'd already made their three subs.
I did try a more attacking style in the second half, which might be important against Everton in Europe if we go behind particularly in the second leg.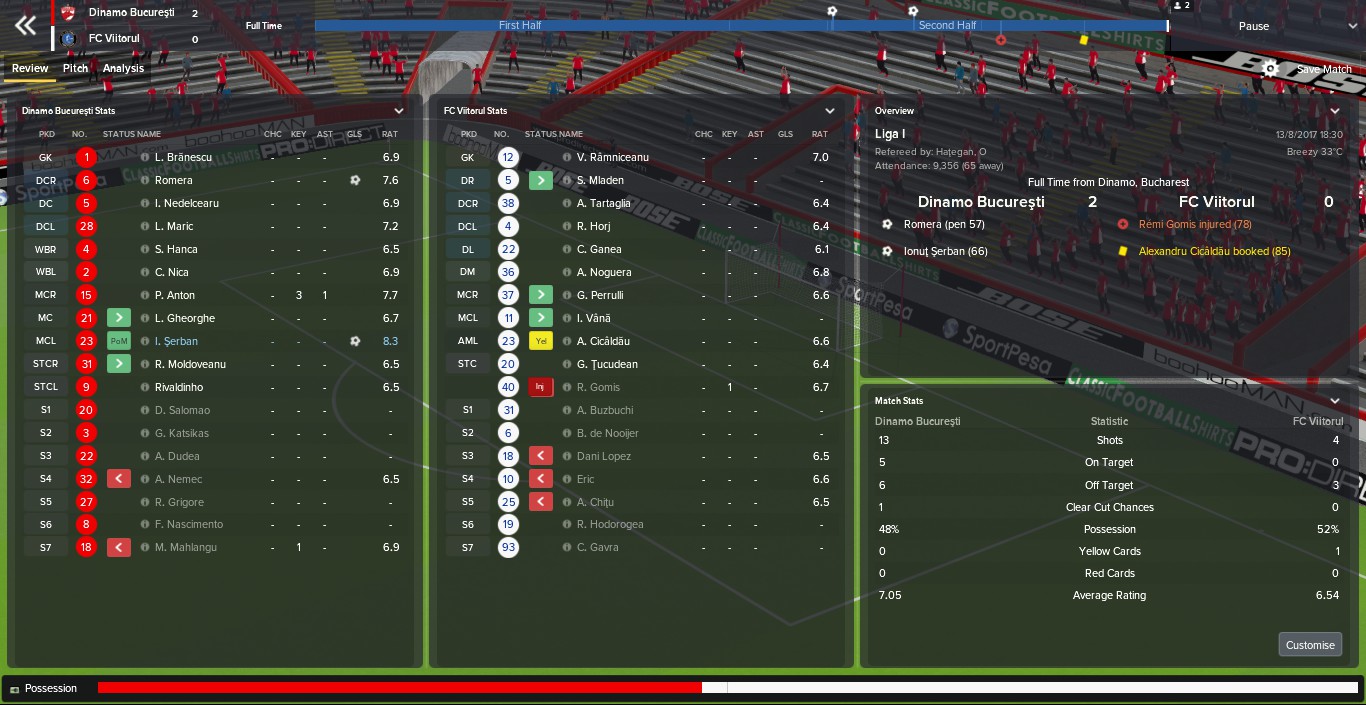 I have also noted down the name of their goalkeeper, Victor Râmniceanu, he played well and if we ever are in the market for a goalie, he could be the man. At this point we've switched over to a European game, which will be reported on next week. For now, it's over to Mike and Steaua for the next league match.
MIKE: I don't know what Denis Alibec gets up to in the evenings but he's picked up another minor injury. I'm considering employing a team of city enforcers like Sir Alex to ensure he's not slipping on the dancefloor or something inside one of Romania's fashionable nightclubs. Or perhaps he tripped on the stairs trying to escape a brothel raid in a more shady part of town. Or while participating in a drugs deal he got booted by one of his dealers henchmen. I'm probably exaggerating. Maybe he just dropped the iron on himself. But, Denis, if that is the case then for fuck's sake get the wife to do the ironing from now on.
As this is the game before we go to Sevilla there are SWEEPING CHANGES. Pleasca, Larie, Junior Morais, Tanase and Coman all make their first start.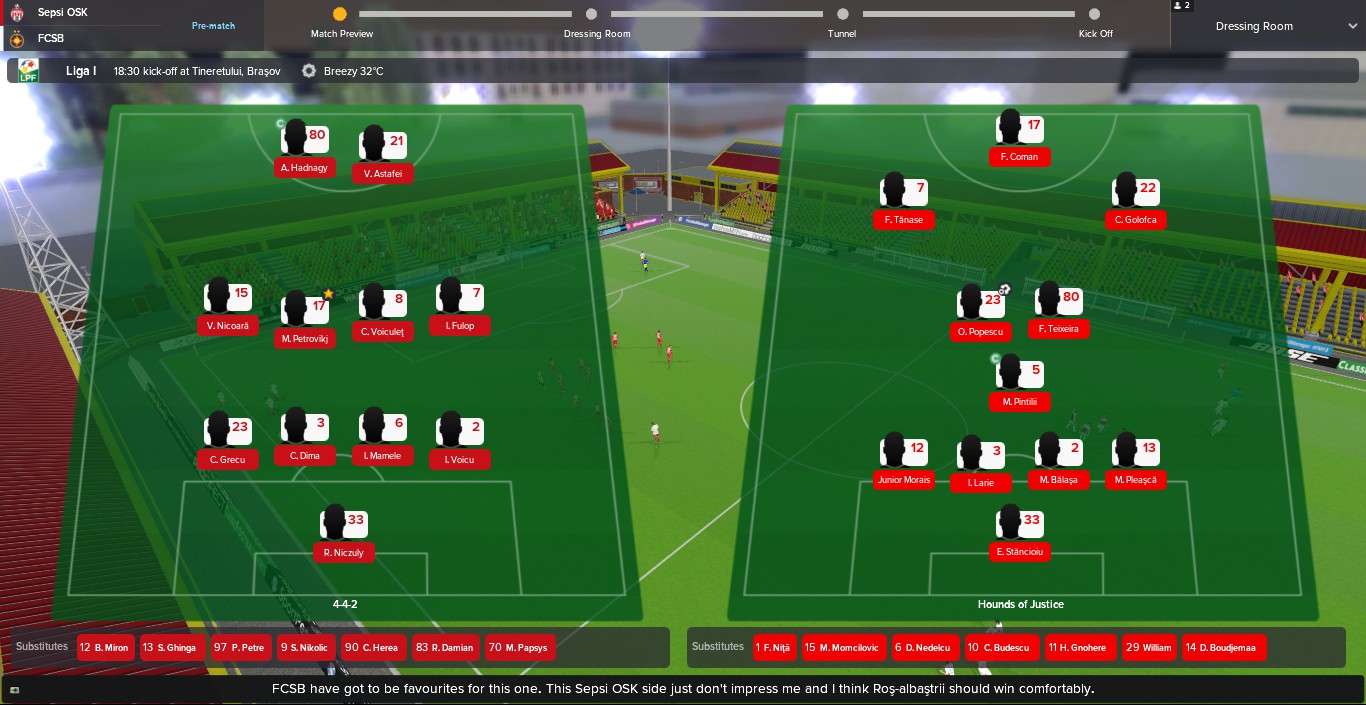 Decent start, we then take the lead through Popescu on the half hour and everything in the Steaua garden is blooming. The layoff inside by Coman was good too. Then we can't press home our advantage, we run into blind alleys until Sepsi get back on level terms from Voicu cross and the shot by Astafei wrongfoots our back up 'keeper Stancioiu to beat him at his near post.
It's another two points dropped but the majority of our team for Sevilla was unharmed. I even brought on Boudjemaa for his debut after all his injury problems. We better win against Sevilla after I practically sacrificed this game.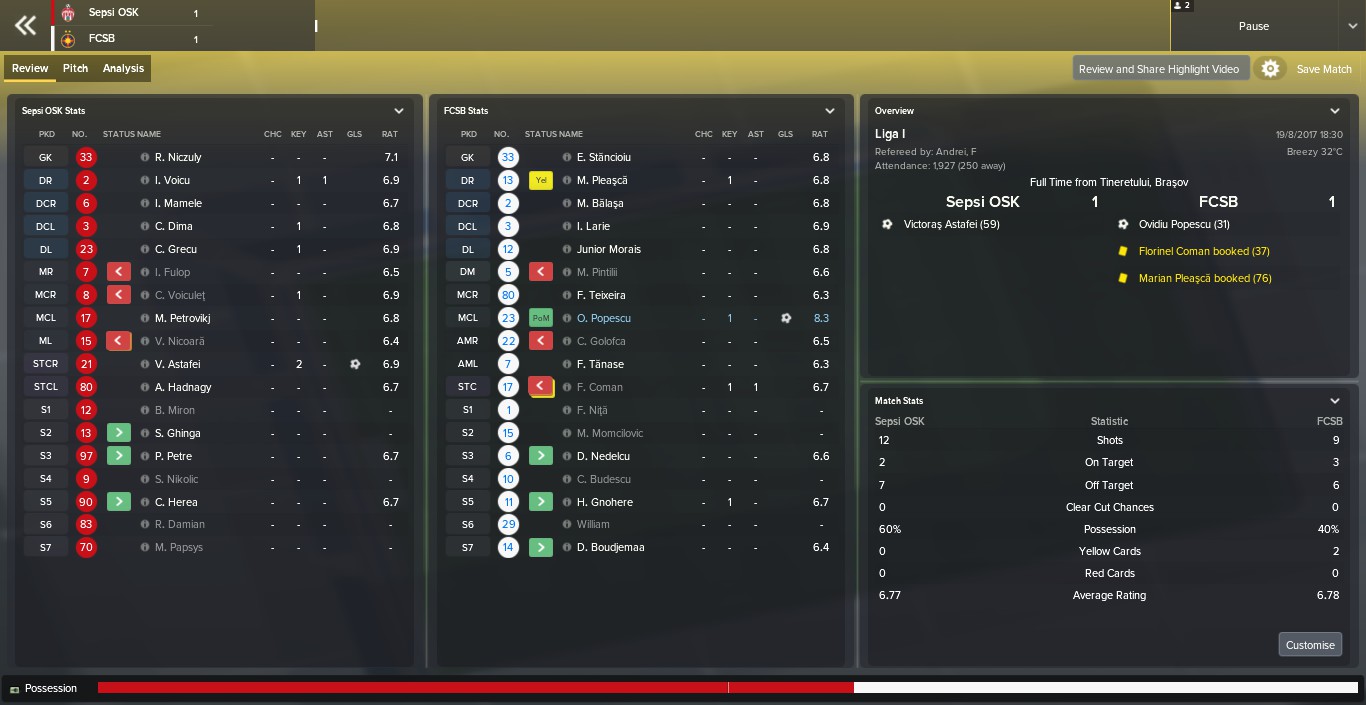 CHARLIE: We visit Juventus Bucharest, who are still smarting after that 6 – 0 hammering doled out by Steaua. The press are keen to point out how fragile they will be but you know what it's like, they'll want to set the record straight. Look at Southampton this past weekend, they were destroyed by Spurs the week before 5 – 0 but came back to earn a credible draw with Manchester United.
Having had the benefit of seeing how Mike's Steaua did without so many first choices, I've only made a couple of changes. Moldoveanu starts in place of Rivaldinho beside Bokila, Richardo Grigore comes in for Nedelcearu at the back and Nica takes a break for actual left-back Oliva.
I had an inkling this game wasn't going to be as easy as made out and I was proved right. As the clock ticked over to 5 minutes, Simon Mazarache played a good ball through our defence for Henrique to finish and from a couple of yards out he was never going to miss. We equalised through Moldoveanu, turning on the ball in the box and swinging with his right beyond the goalkeeper's dive with only 15 minutes played.
I knew Juventus would be motivated to gain some respect back and they went back into the lead less than 5 minutes later as a brilliant cross by Stefan from the left saw Mazarache rise highest at the back post to head back into the far bottom corner of the goal. Branescu looked like he got a hand to it but couldn't keep it out.
It took us all the way to the 86th minute, when Mahlangu took over from Serban and hit a peach of a ball over the top of the Juventus defence. Adam Nemec, on a sub for the disappointing Bokila, outpaced the defence and put it to the left of the goalkeeper. Thankfully for us it bounced in off the post.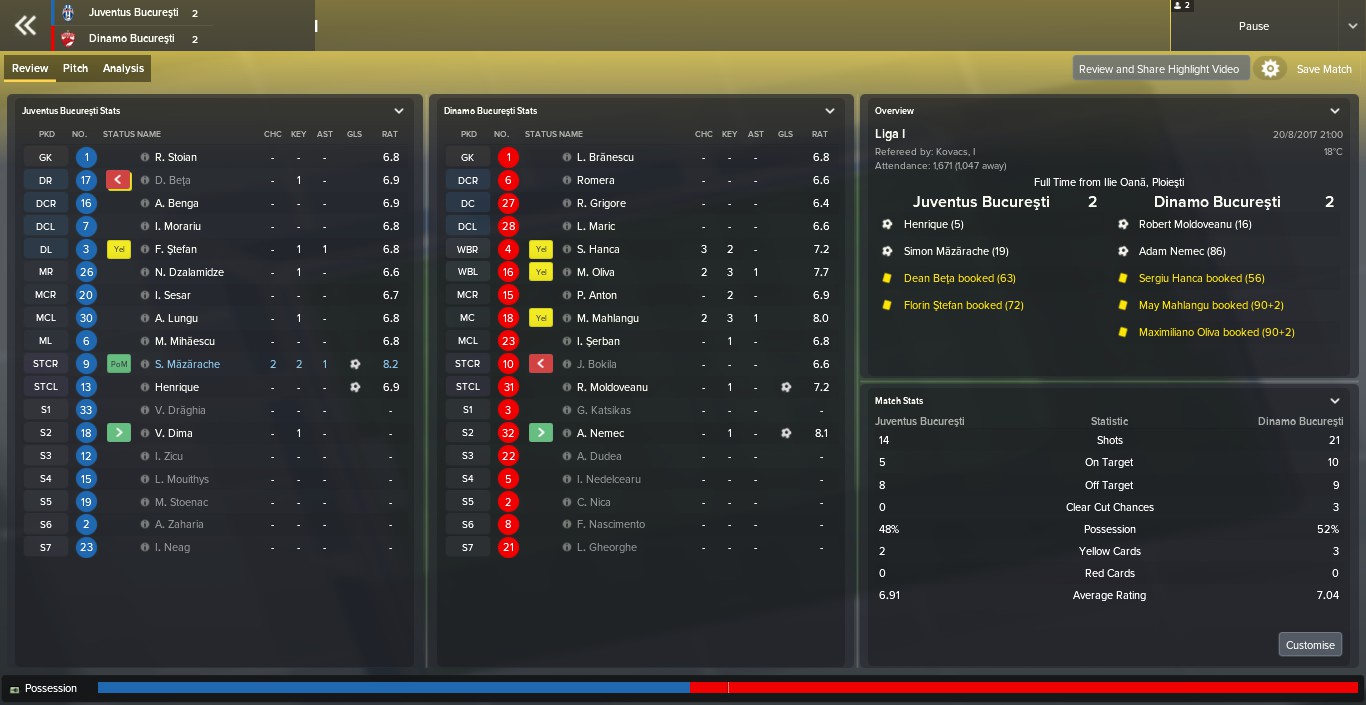 A draw but we retain our lead at the top of the Romanian league. I've been very careful to avoid all mention of how we did in Europe so tune in next week and find out how both Dinamo and Steaua did in their respective qualifiers and if passports will be required in the coming season. Here's a look at the league table now, having played six games each.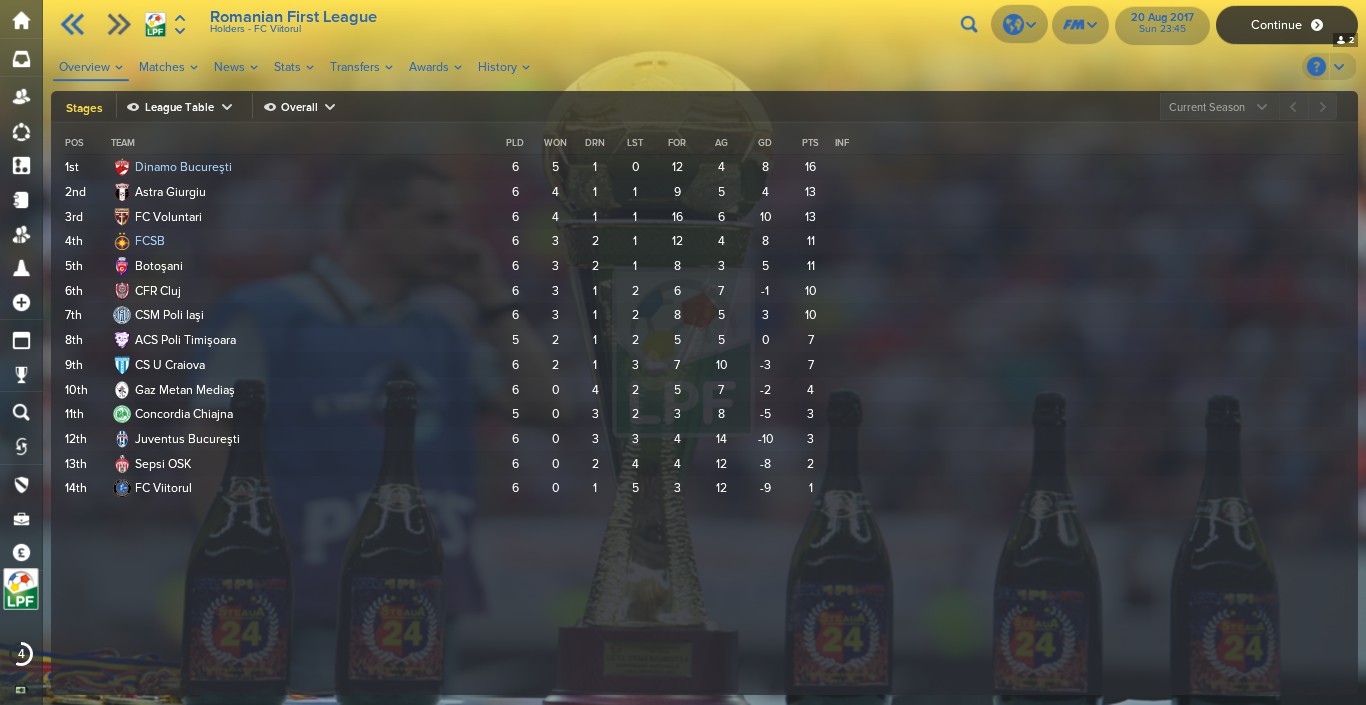 Thank you for reading, join us on twitter at @FM18Challenge, @CharlieTangoFM & @MikeTangoFM for exclusive comments, developments prior to episodes and reaction afterwards. Continued thanks to Chris, Luke, Mike and everyone at Tempo for the opportunity to share this with the readers.
If you'd like to replicate this challenge, we're using the large release day database with the following leagues made active: Romania (Liga I & Liga Liga II), England (Premier League, Championship, League One & League Two), Italy (Serie A & Serie B), Spain (La Liga & Segunda División), France (Ligue 1 & Ligue 2) and Germany (Bundesliga & 2. Bundesliga).