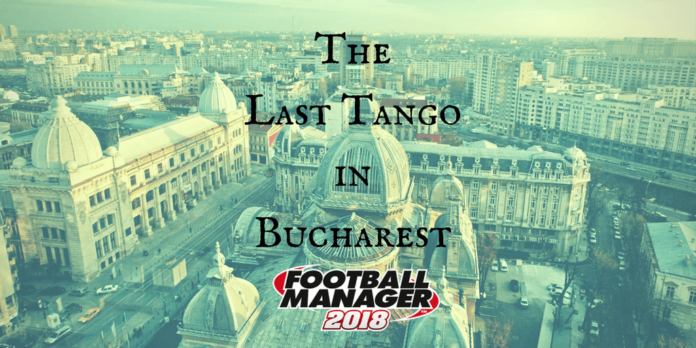 Opening Day Drama
THE MISSION: Enter the unforgiving world of Football Manager 2018, beat your bitter sibling rival to claim prestige in Romania and earn the honour of being named the Last Tango in Bucharest.
THE SNAG: The Rivalità Tra Fratelli series on Football Manager 2017 raised more questions than answers in Tango Towers. Is Charlie Tango just a cup specialist? Will Mike Tango be afforded so much time to gain the glory he craves again? The smart money seems be on Dan Petrescu's CFR Cluj winning everything.
Episode 1, Episode 2, Episode 3, Episode 4, Episode 5, Episode 6, Episode 7
CHARLIE: As Mike ponders just how badly Steaua are going to do in their Champion's League qualifier against an Ajax side now under the stewardship of Marcel Keizer and of course he is assisted by the legend that is Dennis Bergkamp, it is my honour to take the first league match of the Last Tango in Bucharest series.
I'm already nervous, if I'm totally honest. It's a while since I've started a season with as weak a squad as Dinamo. It's a long time since MK Dons or Lewes on Football Manager 2007 and Stockport County on Championship Manager 97/98. What makes all this more concerning is that because Romania have dropped two places in the UEFA coefficient rankings, there's only one Champion's League place up for grabs this coming season. The league champions get into a qualifier, but that's all. This is pressure.
I am slightly cheered to see Adam Nemec named as a 16-1 shot for the Romanian Top Player award but then I remember that he's starting on the bench in our first game and Steaua have the two players with the shortest odds. Both are currently injured as far as I know but Constantin Budescu and Denis Alibec will slot back into Mike's side seamlessly.
Can't put it off any longer. I don't know how we'll do but I do know that I'll be watching it from behind the sofa with my fingers hard pressed against my eyes.
Not even 12 minutes in and a corner comes in from Mendes of CSM Poli Iași. At the near post, Andrei Crista nods down for Platini to sweep home. We're one down and my fears are being realised. After another 20 minutes of nothing happening for us, I'm already giving up the defensive aspect of our tactical plan. That's out of the window as I switch to counter, hoping that our possession-based strategy still works.
Just as I'm planning a rousing half-time speech, Paul Anton swings the ball across the pitch to Hanca on the charge. If you're a keen follower of football, especially in real life live, there are certain signs. You see the ball going out and your eyes automatically scan to just outside the penalty area where your striker is getting a run on his defender. One cross later and the 'keeper is stranded as the striker heads home. Our equaliser wasn't like that. Hanca swings in a deep cross and the CSM Poli goalkeeper fumbled it into Bokila's path to prod in.
Another change already at half-time, which either shows create courage and tactical awareness or a complete lack of faith in pre-season results to set up ourselves to 'look for overlap'. That was the change and would you know it, it bloody worked! On the hour Mahlangu picks up the ball from a marauding Rivaldinho to feed Hanca on the right… in fact, it was like the goal I described before. Bokila's positioning was superb to get in front of his man and we have the lead.
Our third was the product of some neat passing triangles on the left side of the pitch between Anton, Mahlangu and Steliano Filip. The kind you see from Bellerin, Ozil and Ramsey. They found Hanca free on the right, he got the by-line and pulled back for Bokila to complete his hat-trick.
A 3 – 1 away win. A hat-trick. Where's the comedown?
After that rollercoaster of a game get ready to laugh your ears off because Mike, without any preparation in pre-season whatsoever is about to take his first game as Steaua Bucharest manager.
MIKE: I knew it. One or two tactical tweaks and he's suddenly Jose Mourinho.
I wanted to make changes, Filipe Teixeira was due to come in as part of a midfield shuffle to take up an advanced playmaker role (before it was central midfielder). He's 36 and probably wouldn't end the game but I'd rather not lose this. Apparently, there's some madcap rule in Romania that at least one under-21 player must be in the starting eleven so time for some new changes. The centre midfielders are now and inverted triangle with Dragoş Nedelcu a Segundo Volante. I'm sure somebody wrote an article on that new position…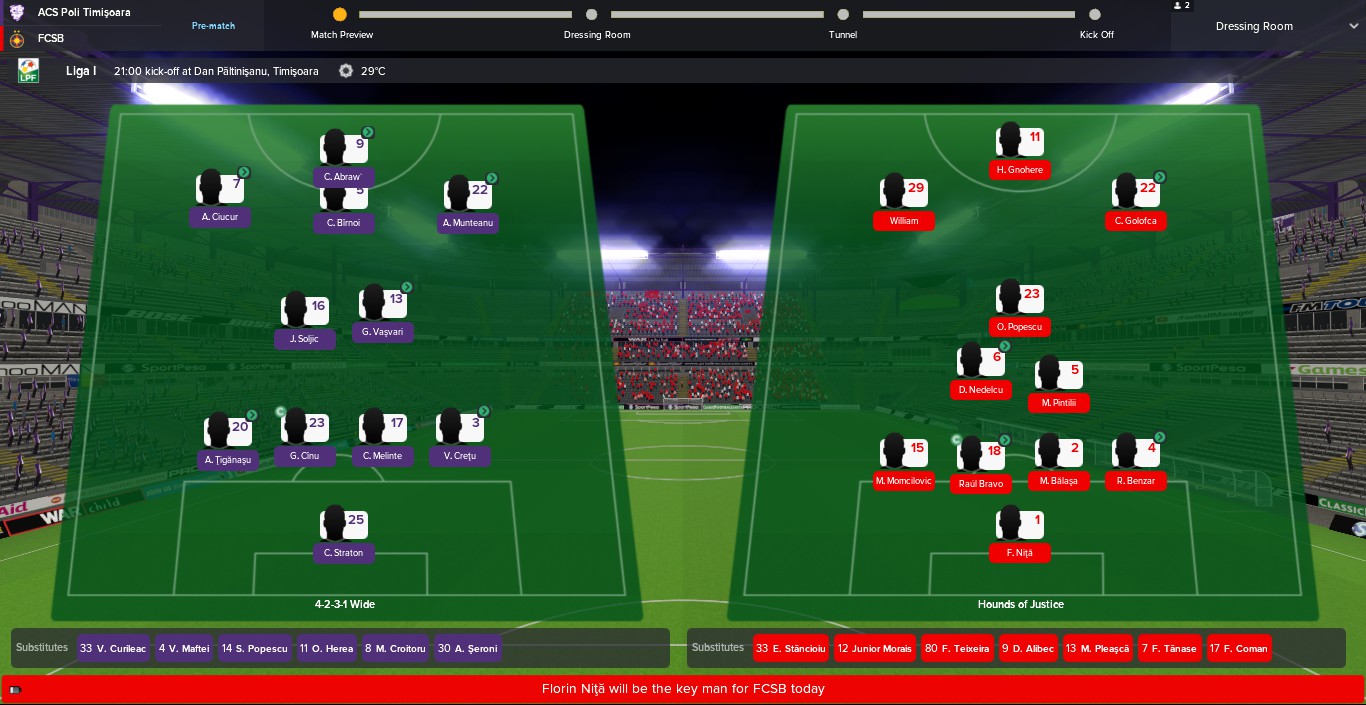 If every game is like this, I think I'll enjoy this little trip to Romania. If that sounds smug, so it should.
A William (not Willian) free-kick is floated over but Pintilli was wrestled to the floor as if he was part of a WWE Royal Rumble. Gnohere steps up and sends the goalie the wrong way. In the second-half, the game was made secure by man of the match Mihai Bălaşa from Junior Morais' corner.
I don't really want to start the season so understated but there really wasn't a lot to shout about. Denis Alibec came on as a sub and that is a big positive. Meh.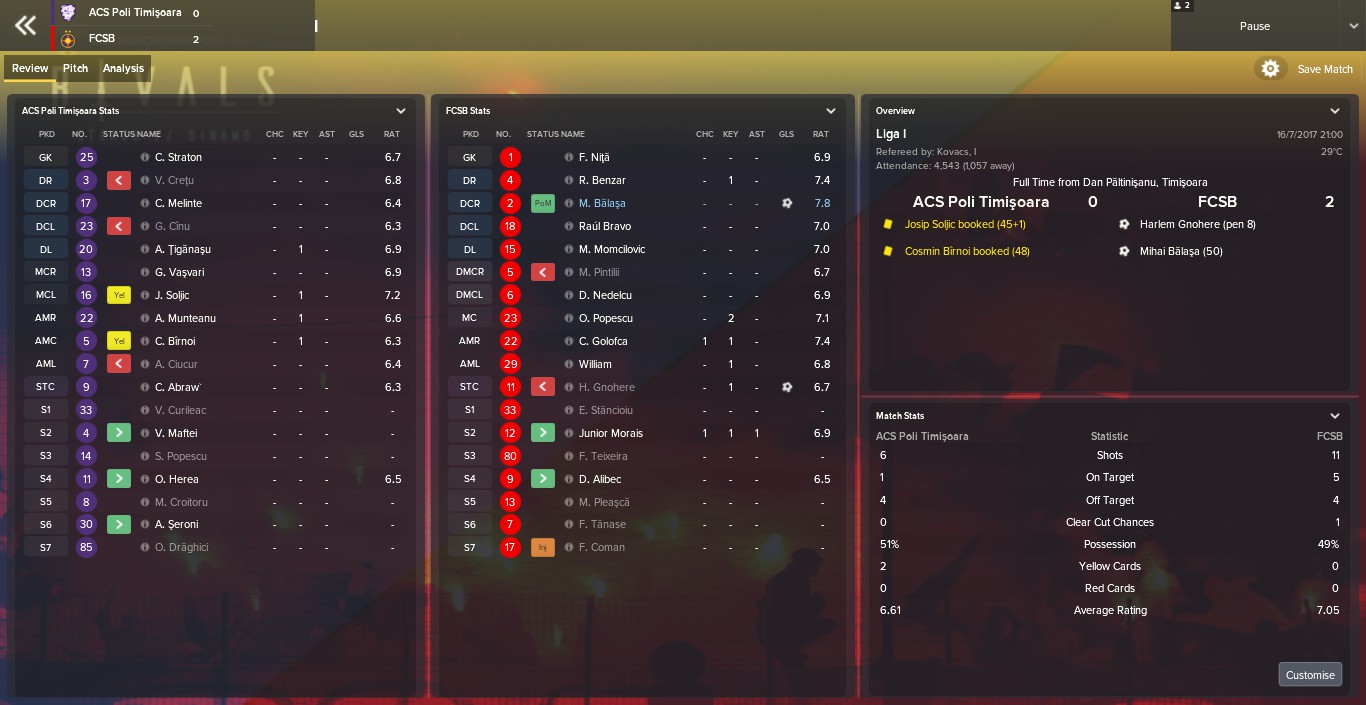 In the press conference after I'm being asked about Raul Bravo's debut, it was a clean sheet and he's bloody won the Champion's League. Let's not lose our heads. Oh, and I'm back…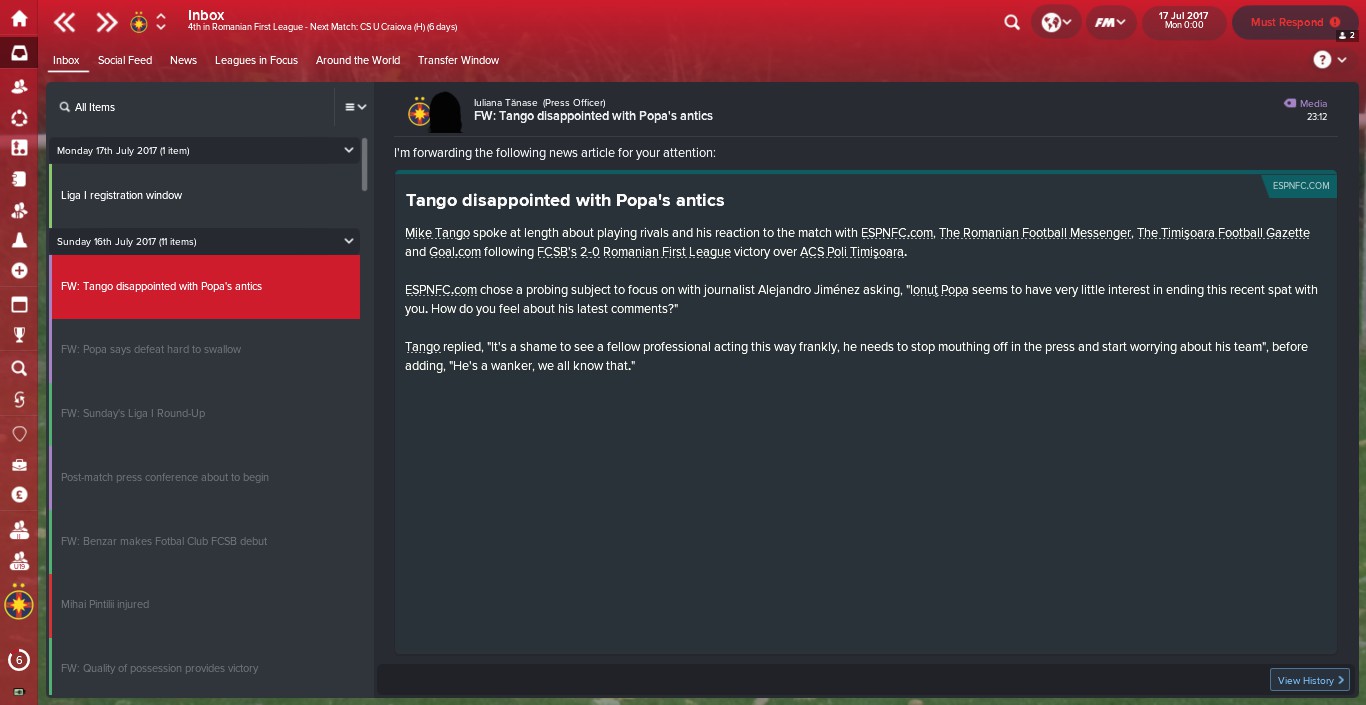 CHARLIE: Our first home game is a tasty one against ACS Poli Timişoara, who lost against Steaua in the first fixture. It's a 6:30 evening kick off, which must be catering to the after-work crowd. A Slight change in defence but it really is a Fisherman Friend start to the season (that means suck-it-and-see) for now.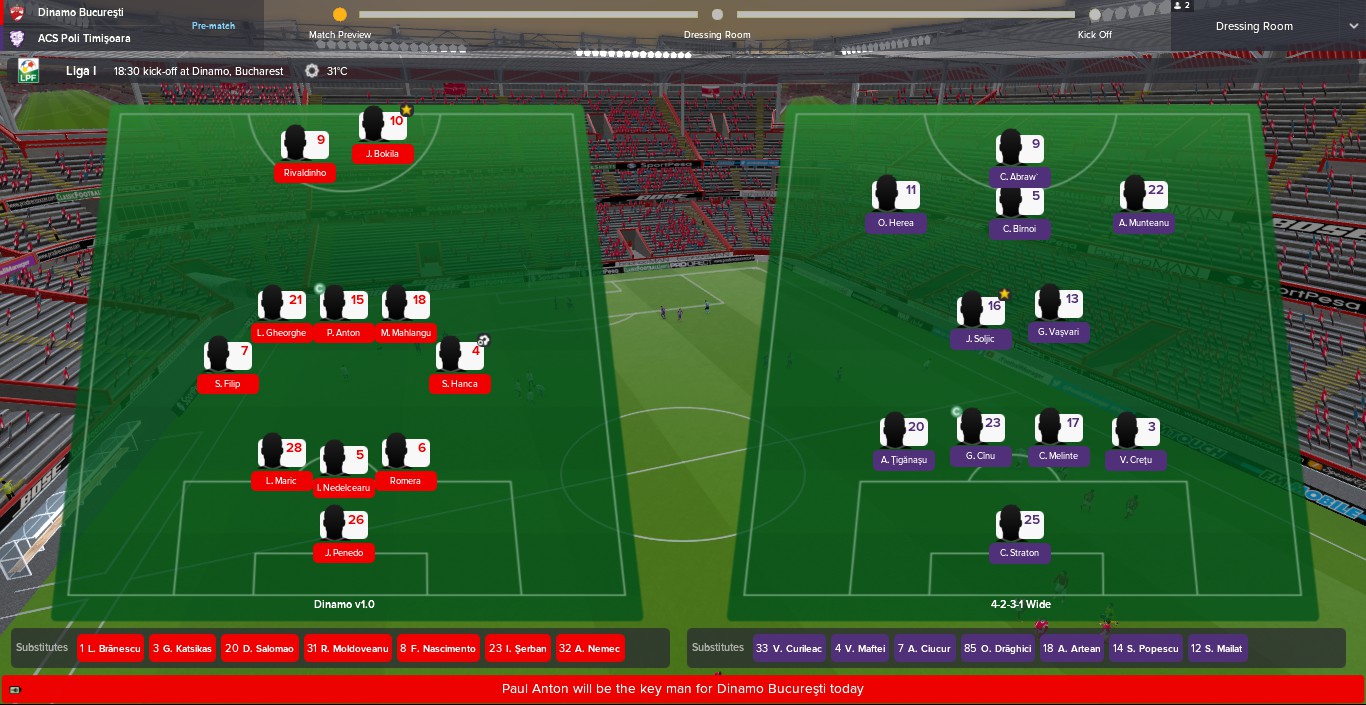 For a brief glorious moment, it looked as if we had made the perfect start. Gheorghe dribbled into the box but was tripped, leading to a period where the ACS Poli players surrounded the referee. The delay was all that needed for Jeremy Bokila, who scored a hat-trick in the first game, to send a tame penalty into the goalkeeper's arms.
Bokila recovers the situation ten minutes into the second half with the only goal of the game. In midfield, Liviu Gheorghe won a 50-50 and passed to Filip on the left. He scampered up the wing to cross for Bokila to divert the ball into the net with his left foot but both he and Rivaldinho were queuing up.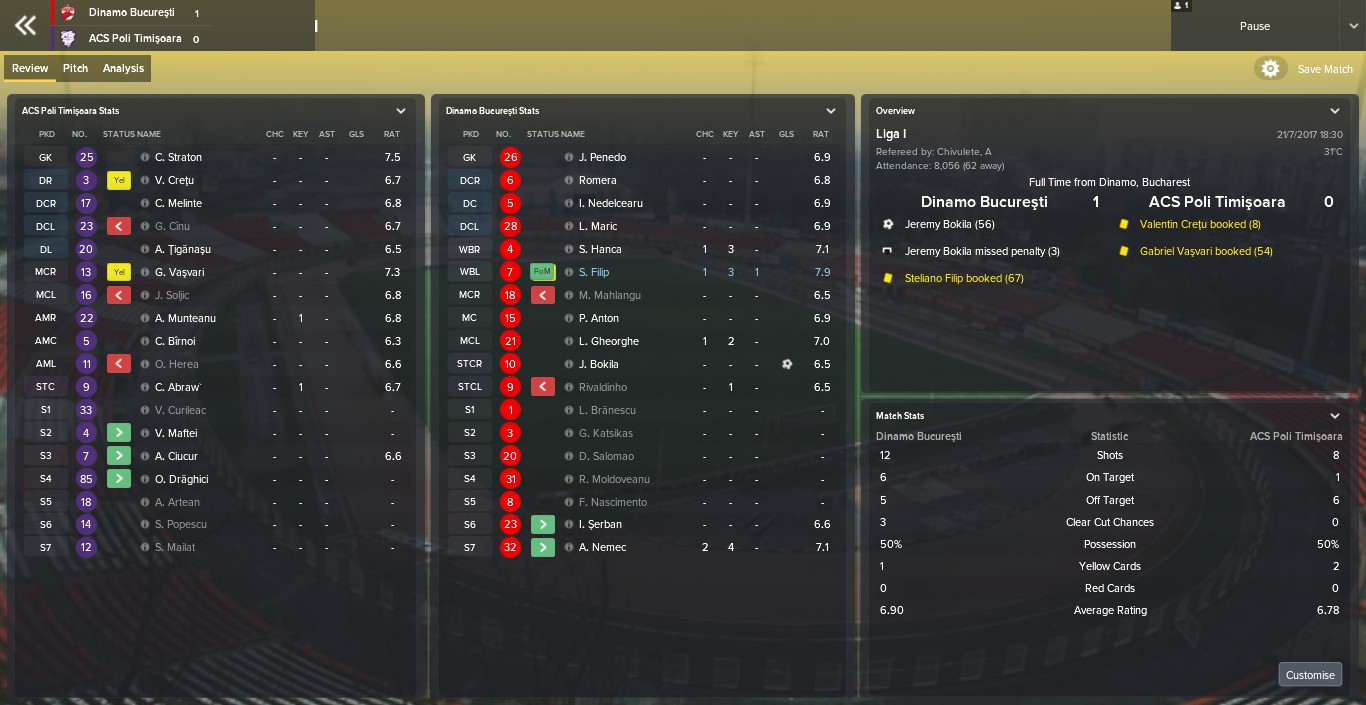 That's six points out of six, that's the start of a winning run right there. I'm properly pleased with that start. What's more, I've thrown down the gauntlet.
MIKE: That's annoying. I was hoping he'd have at least dropped points by now. Something else annoying me is that I've only just noticed we have no scouts. Not one and he's always sleeping on the job. Zero. Scouts. What are SI playing at? Are you seriously telling me that Steaua Bucharest, who started the season in the Champions League have zero scouts? Don't give me that.
No matter, I will take my frustrations out on our next opponents, the next lambs led to slaughter.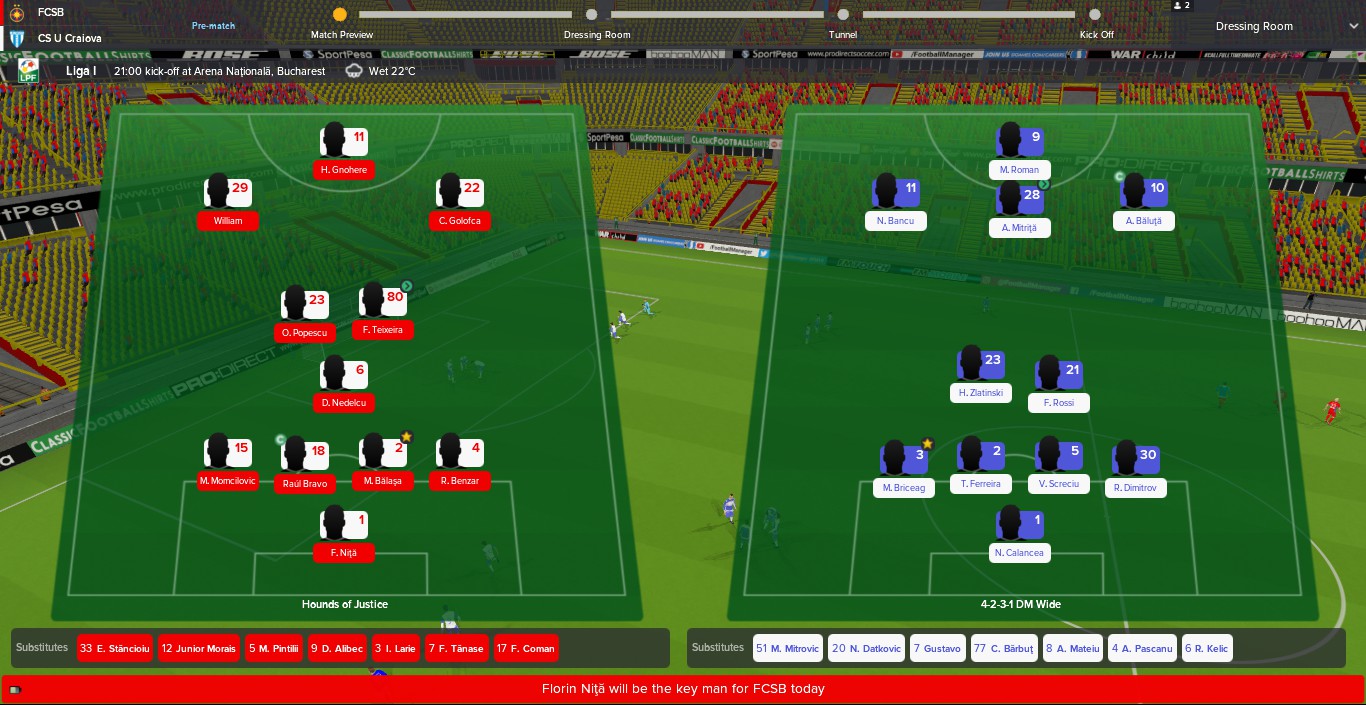 Conceding goals is a sign of weakness and the blame for Craiova's opening goal lies squarely at the feet of Benzar, who allows his man at a corner to get a yard on him, arch his neck and divert the ball into the net. I read something from Timmy Sherwood this week about coaches wanting zonal marking to avoid blaming somebody for a conceded goal, complete and utter bollocks. I want to know exactly who was to blame so I can string them up by the nutsack as an example to MARK YOUR F*****G MAN PROPERLY.
I left Gnohere in for this one because Alibec still isn't fully fit, which was another great decision as he equalised from a low cross by Golofca. Obviously signing an injured replacement for him has fired him up. If I learnt nothing else from FM17, it's that low crosses work better than high ones.
Second-half and it's 2 -1. Another Golofca crosses causes panic, Craiova's Screclu makes an absolute hash of his clearance and William volleys it into an unguarded half of the goal. It even hit the post on the way in. A red card follows for Craiova, who petered out to very little second-half threat. Clearly, they were intimidated by my presence on the touchline.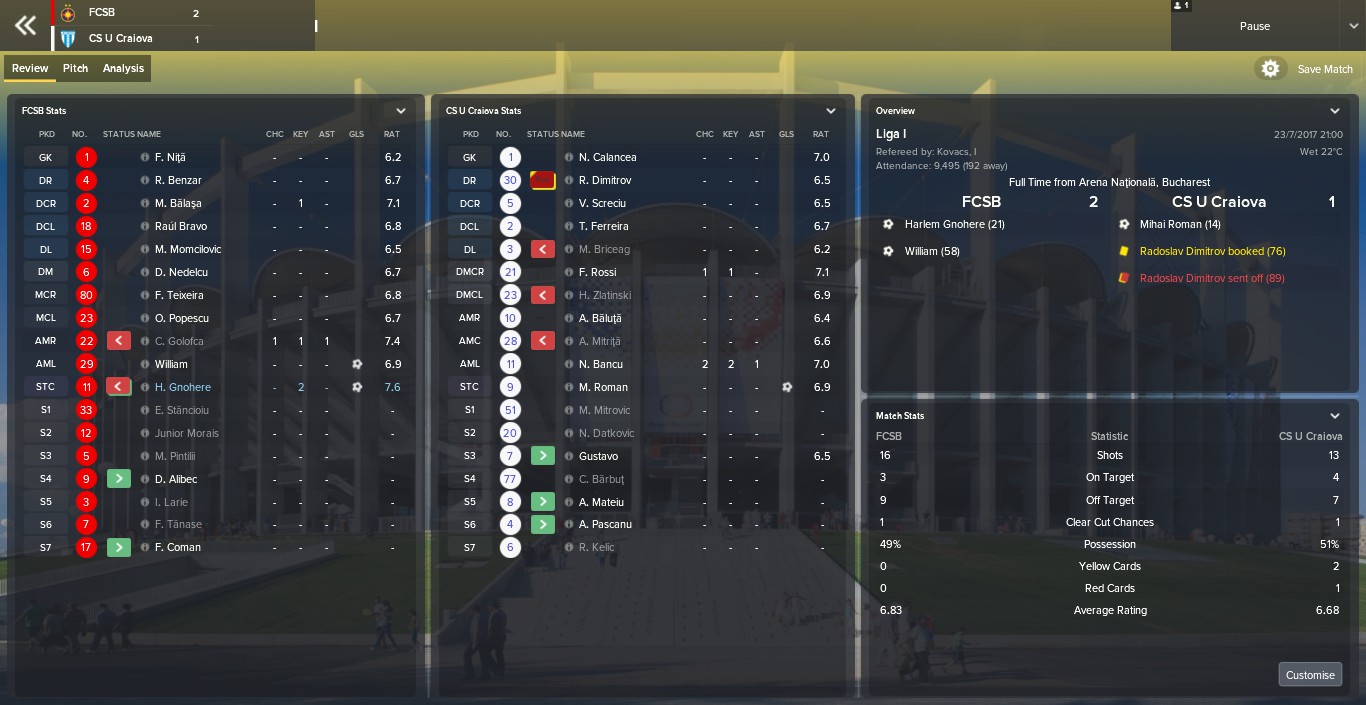 CHARLIE: Four games, four wins. Only Astra and CFR Cluj can match us. If it weren't for the going behind and having to make tactical changes in the first game of the season, this would be quite the successful episode. As it stands, I think we were both a bit lucky.
Next week will be a little different, both Steaua and Dinamo have European qualifiers so we're going to dedicate episode five to those. If we play league games between, they will be reported on the following week. That doesn't even make sense to me but I'm sure it'll all play out.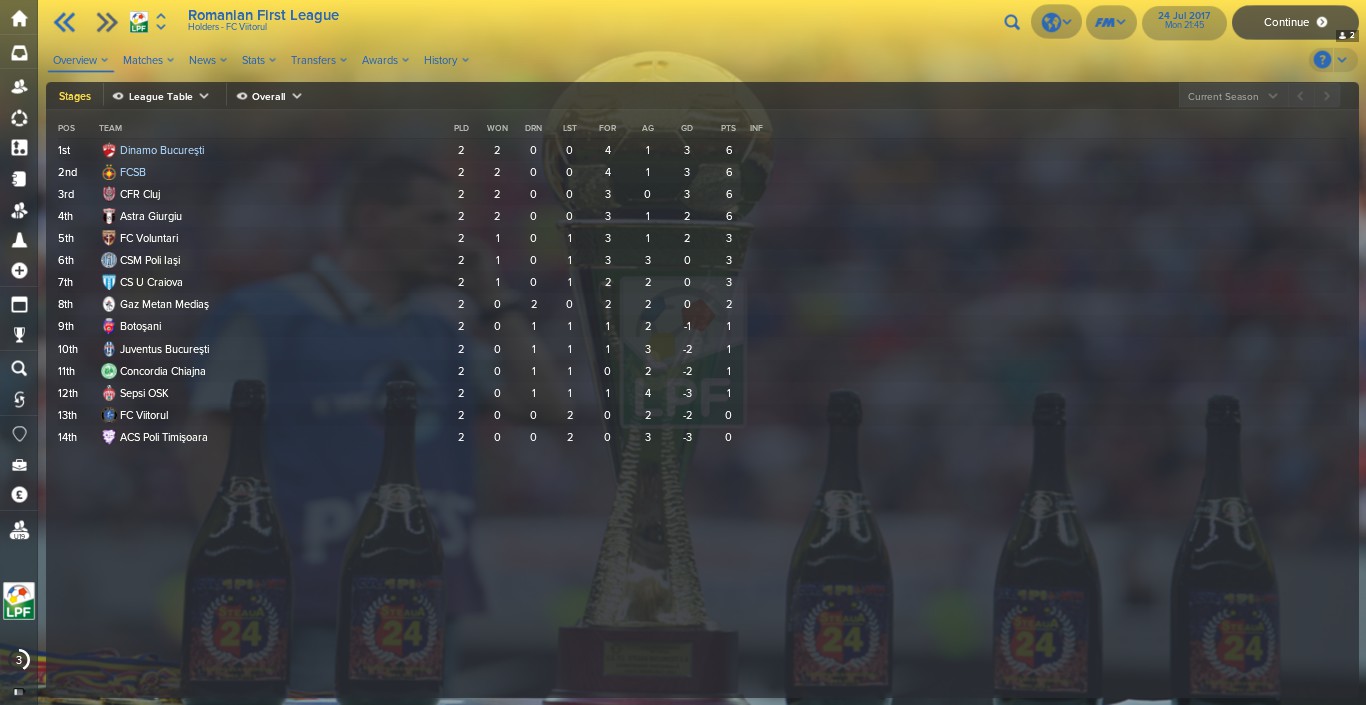 Thank you for reading, join us on twitter at @FM18Challenge, @CharlieTangoFM & @MikeTangoFM for exclusive comments, developments prior to episodes and reaction afterwards. Continued thanks to Chris, Luke, Mike and everyone at Tempo for the opportunity to share this with the readers.
If you'd like to replicate this challenge, we're using the large release day database with the following leagues made active: Romania (Liga I & Liga Liga II), England (Premier League, Championship, League One & League Two), Italy (Serie A & Serie B), Spain (La Liga & Segunda División), France (Ligue 1 & Ligue 2) and Germany (Bundesliga & 2. Bundesliga).