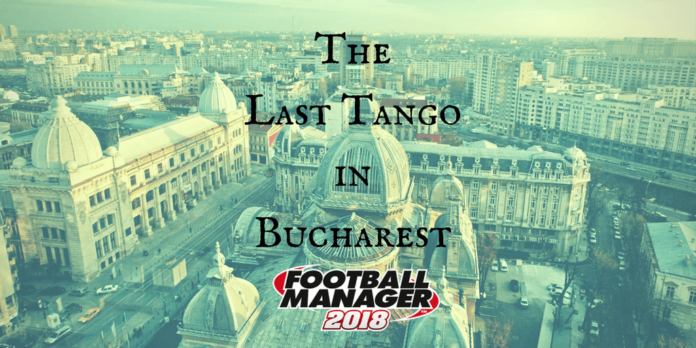 A New Beginning
CHARLIE: Welcome to a new beginning, the start of the second series to be featured on the Higher Tempo Press emanating from Tango Towers. We're very proud of the Rivalità Tra Fratelli series, even if it did lose its way towards the end, and now that the Champions League has been won on Football Manager 2017, we move onto the new game.
Episode 1, Episode 2, Episode 3, Episode 4, Episode 5, Episode 6, Episode 7
There's so much great stuff happening on the Higher Tempo Press for you to enjoy; we've seen the start of Letou Decide with Stuart Reid winning the vote (@From_The_Wing on twitter), the writer behind Chalk and Cheese: The Rivals, named the Swansea City boss for a real time save with daily updates and prizes on offer throughout the season, @KeysiRensie has been working fastidiously behind the scenes to bring us all the Football Manager 2018 version of the Tempo Skin and the rejuvenated weekly Tempo 10 podcast features a duo to rival Clough and Taylor… or at least Pulis and Megson; @accordingtofm and @OffThePitchFM. I'm privileged to have been invited on last week's edition so if you do want to kill 20 minutes listening to some blokes talk FM, it's there for you on Soundcloud and the Tempo website.
After Mike's exploits over the last few weeks, finally achieving that Champions League winner's medal he wanted so badly, I've made the decision to give him the week off for this preview edition. I'm not arrogant enough to think that every reader should be aware of the RTF series so this is more of a welcome, a quick recap, and a reset as we head into our new challenge.
The Tango boys are off to the picturesque city of Bucharest, where amongst the Arcul de Triumf, the Palace of the Parliament and the statue of Ion Luca Caragiale, lies a city awash with football. Rapid Bucharest may be a spent force seeking to regain their footing following financial disaster as Academia Rapid but in the ominous spectre of a city on the banks of the Dâmbovița River, there still lies two football clubs steeped in heritage and tradition. You know the drill, one city, two brothers, a sibling rivalry. We're taking over Steaua and Dinamo.
You're well within your rights at this stage to ponder which of us is managing which club and that's a question I've asked myself several times, in a moment which I have come to describe as foolish I gave Mike the opportunity for first pick and he's yet to answer. In his world, a week off is a week off and I can swivel if I think I'm going to get a head start.
The Managers
Charlie Tango is a former professional footballer at a local level, most likely spent his career around Lancashire and Greater Manchester, appearing for Bolton Wanderers, Preston North End, Stockport County and Blackpool. A central midfielder, a bit of a utility man. Didn't make lots of appearances, often found himself on the bench, meaning he had plenty of time to pick up on managerial nuances from the likes of Nigel Worthington and Dave Jones. His favourite club is Stockport County, with whom he played in a League Cup Semi-Final against the likes of Juninho and Ravanelli at the Riverside. As a manager, he has a Continental Pro License after his exploits with Inter Milan in Football Manager 2017 and is designated as a 'tactician'. His strengths are tactics, mental, motivation and player knowledge.
In Football Manager 2017, Charlie took over at Inter Milan and immediately earned a reputation as a cup specialist by winning both the Europa League and Italian Cup in the first season of the Rivalità Tra Fratelli challenge. When the save was split, he took Inter Milan to Serie A glory before dropping down to Serie B in order to revive Palermo and gain promotion. After briefly assisting his brother at Juventus, he voluntarily departed Italy to save hometown club Preston North End from relegation into League One. Not only did he achieve that goal, he also took them to the most unlikely of FA Cup finals, where they were defeated 3 – 1 after extra time by local rivals Manchester City.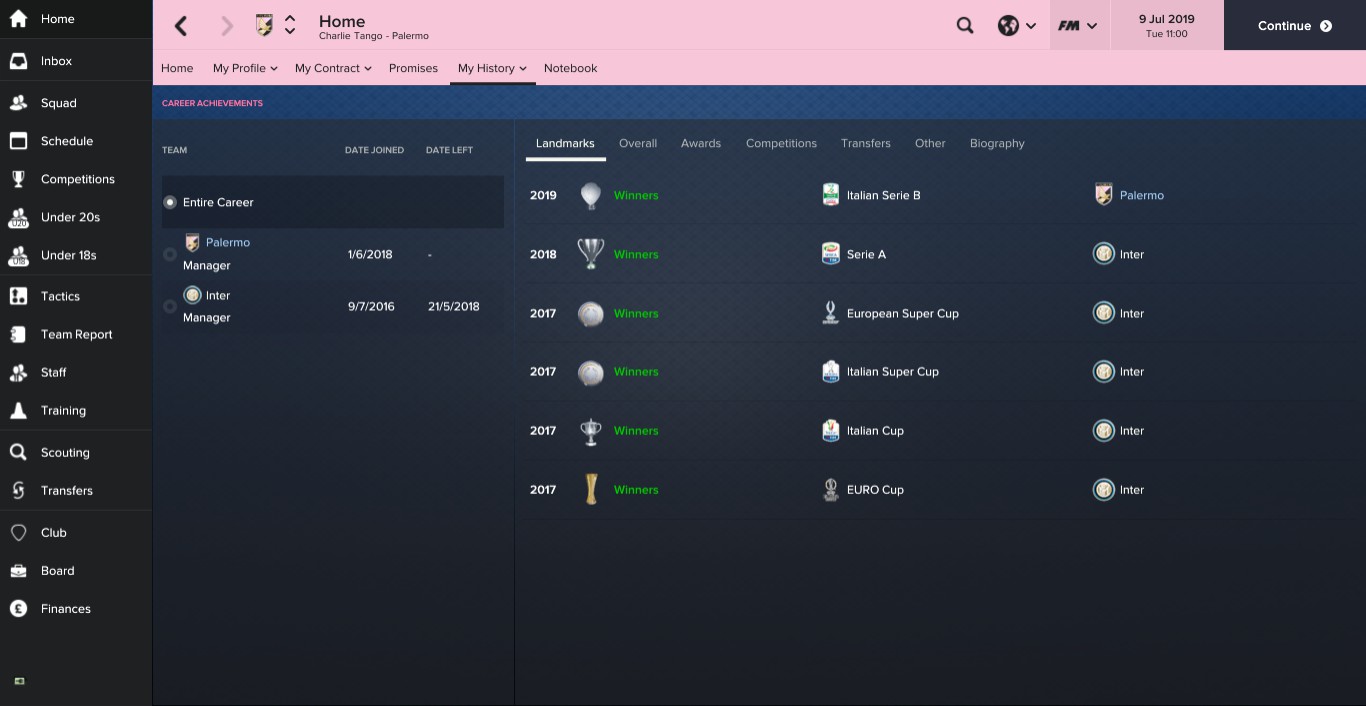 Mike Tango is a former international footballer, appearing for Wales via somewhat strained qualification through a grandparent despite being born as his older brother was, in Lancashire's market town of Chorley. His career was spent in England's top division but unlike his sibling, he experienced the bright continental lights of Celtic, Marseille, Sampdoria, and Porto. In fact, he ended his playing career as a substitute in José Mourinho's 2004 Champions League final victory. A Manchester United supporter, he is a motivator, the master of the avuncular arm-around-the-shoulder approach. His strengths are defending (as you'd expect), mental, determination, man-management and above all else – discipline.
Mike's journey in Football Manager 2017 was all about winning the Champion's League, something he managed to do in the fifth season of the Rivalità Tra Fratelli save with PSG. Initially, he was AC Milan manager and won Serie A ahead of Charlie Tango's Inter Milan before heading to rivals Juventus in order to claim Europe's most coveted club prize. After two lost finals and even after a failed alliance with his sibling, Mike moved to PSG and finally earned the right to progress to FM2018.
The Clubs
This whole venture started with a tweet by @Emishor, so blame him.

Despite, it has to be said, a late attempt from Mike to shoehorn us into Turkey. I suspect this was purely so he had a reason to hang out of a window and set the waste paper bin on fire to set the right atmosphere.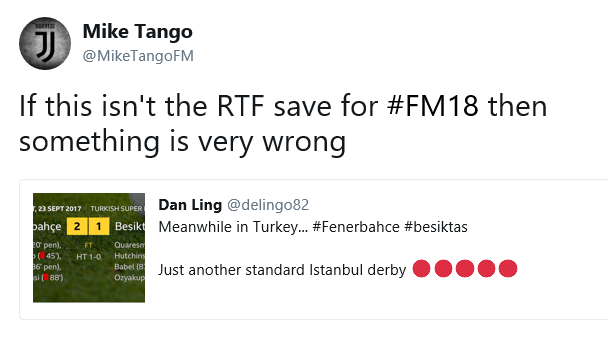 Steaua and Dinamo are the two most successful football teams in Romania but despite this, neither won the league title in 2016/17. Viitorul Constanța were crowned champions for the first time in their history. In their hour of the need, the two Bucharest clubs turned to the brothers Tango. Both will have European football to contend with in the coming season, Steaua in the Champion's League and Dinamo in the Europa. Steaua play their home games at Arena Națională, they wear red shirts with blue shorts and socks. Dinamo wear red and white striped shirts, red shorts and share the Arena Națională with their local rivals. This sounds familiar.
The Rivalry
When we were in Milan, it was the Derby Della Madonnina, now we're hitting Bucharest the game between Steaua and Dinamo is known as the Eternal Derby. They have met 171 times, both sides have won 59 games. The rivalry stems from when Romania was a communist country. Steaua represented the ministry of the interior, or as they are more commonly known the Secret Police, with Dinamo representing the Romanian army, the Romanian Ministry of Defence. With their communist founders backing, the two clubs were able to attract the finest players in the country to play for their respective sides both clubs were offering the promise of no national service and free foreign travel to further entice players and a power struggle for dominance of Romanian football emerged.
The events are regularly marred by instances of hooliganism and frequent outbreaks of violence between rival fan groups, the ultras. There are two main areas where Football Manager cannot replicate the real-life world of football. The first is what we're talking about here, the rivalries, the derbies. A few press conference questions about sending the fans into work with their heads held high and players who have the rival club as disliked doesn't really cut it. There's no passion, no energy, no violence. It's just another game, even if there are flares being let off in the crowd. The second aspect Football Manager can't replicate is the pressure on managers. Thinking about Arsene Wenger last season, he led his team to the FA Cup but more impressive to me was how Arsene retained his cool for all everyone said about him. The interview he did prior to that FA Cup final just enhanced my respect for him as he spoke about the difference between criticism and disrespect.
The Challenge
There are rules this time. No stealing tactics from the internet, no looking up lists of wonderkids, nobody being marginalised as an assistant manager and definitely no Radja Nainggolan. We're not in Italy anymore, now the Tango boys are in Romania and this time it's personal. It's last man standing, the Last Tango in Bucharest wins this challenge no matter how long it takes.
Join us next week for our first look Romania and something of a league preview.
Thank you for reading, join us on twitter at @FM18Challenge (updated from FM17), @CharlieTangoFM & @MikeTangoFM for exclusive comments, developments prior to episodes and reaction afterward. Continued thanks to Chris, Mike and everyone at Tempo for the opportunity to share this with the readers.
If you'd like to replicate this challenge, we're using the large release day database with the following leagues made active: Romania (Liga I & Liga Liga II), England (Premier League, Championship, League One & League Two), Italy (Serie A & Serie B), Spain (La Liga & Segunda División), France (Ligue 1 & Ligue 2) and Germany (Bundesliga & 2. Bundesliga).