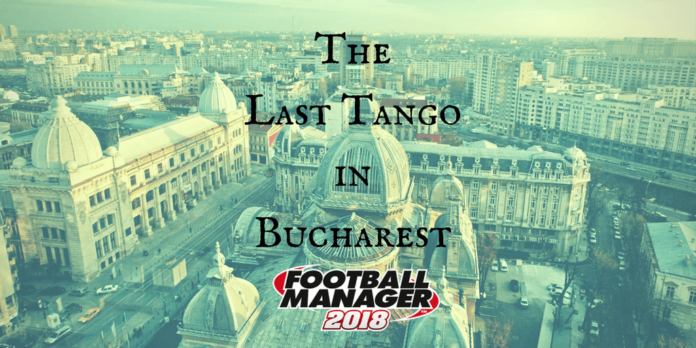 European Dreams
THE MISSION: Enter the unforgiving world of Football Manager 2018, beat your bitter sibling rival to claim prestige in Romania and earn the honour of being named the Last Tango in Bucharest.
THE SNAG: The Rivalità Tra Fratelli series on Football Manager 2017 raised more questions than answers in Tango Towers. Is Charlie Tango just a cup specialist? Will Mike Tango be afforded so much time to gain the glory he craves again? The smart money seems be on Dan Petrescu's CFR Cluj winning everything.
Episode 1, Episode 2, Episode 3, Episode 4, Episode 5, Episode 6, Episode 7
CHARLIE: This episode focuses solely on our respective European qualifiers. I have one for the Europa League thanks to Dinamo's third place finish last season and Mike leads Steaua into a Champions League Third Round qualifier against the mighty Ajax, who were European Champions in 1995.
I do have a small confession to make, which is that when I started putting this episode together I assumed that both clubs have one qualifier round to make it through and then we're in the group stage. Sadly I now realise that I was mistaken.
Up first, we have Steaua's visit to Amsterdam.
MIKE: Last week Charlie didn't want to click the continue button to kick off the season, I feel the same this week with Ajax. We all know it's not going to go well, how can it? If somehow we can snatch a draw we're in with a shout. Denis Alibec is back as close to fitness as he's been since I parachuted in so he can start.
It's not so much the first team that scares me, but the bench does. Ajax have Jordan Kluivert, Klaas-Jan Huntelaar and Siem de Jong all ready to come on. Every one of those would be a first choice for me. Let's do this.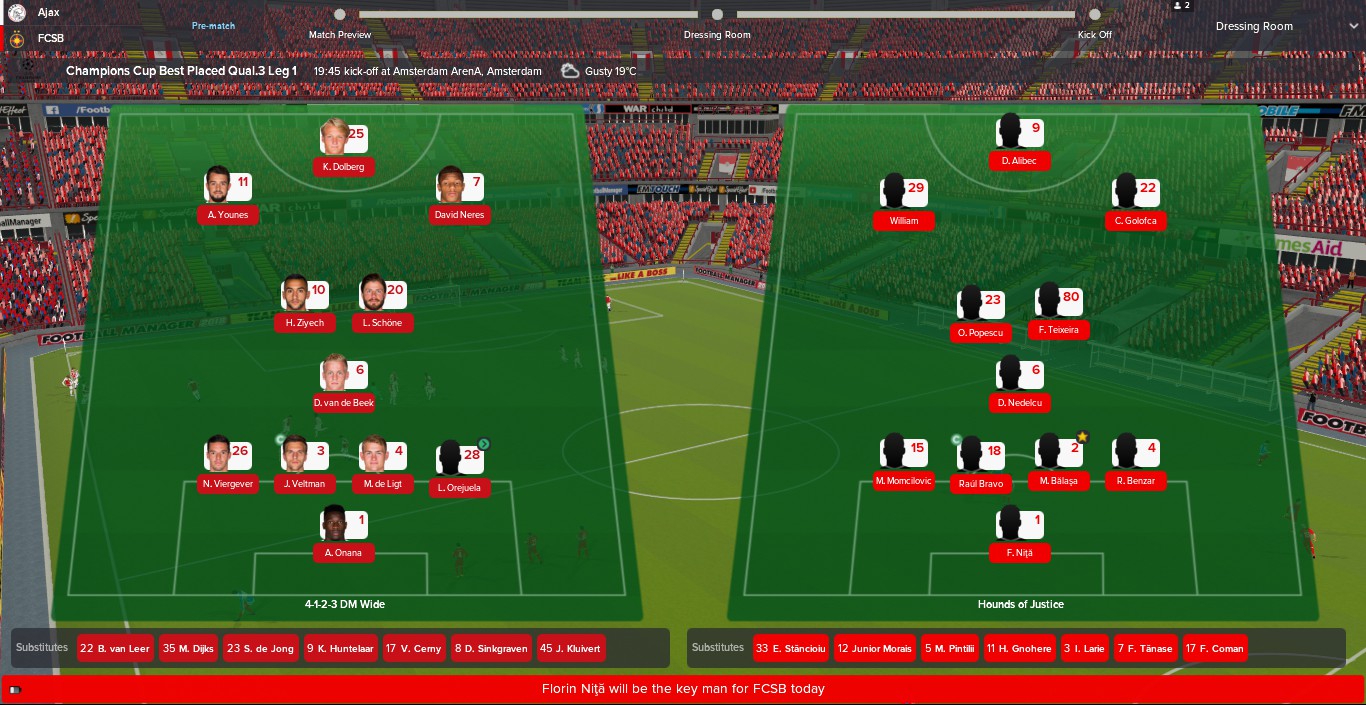 True to form we're not far into the first-half when Ziyech floats a ball over from a corner and there's widespread panic. It's like an early scene from Watership Down when a violent human destruction of Sandleford Warren takes place and the rabbits scatter. Dolberg is completely unmarked and heads a looping ball back over everybody for David Neres to head in from an acute angle.
Not long later and with plenty of time remaining in the first half, we make a rare attack. Teixeira sweeps the ball into the left channel for Alibec to run onto. Orejuela is horribly exposed and De Ligt looks to cover but Alibec gets the ball through him to William. The inside forward lofts a ball to the far post and Golofca beautifully runs onto it to volley in the equaliser! That's how it's done!
I'm hoping for no more highlights but there's no chance of that. Teixeira plays in a corner kick and Balasa rises above Van de Beek but he can merely deflect the ball to Raul Bravo, the Spaniard takes it down with his left and smashes it into the goal with his right! This is amazing! His first goal for FCSB and it's a vital one!
I watch and I wait for the inevitable equaliser. 2 – 2 would still be a great result but even though Ajax attack in the second-half, it never comes. We prevail. Never in doubt!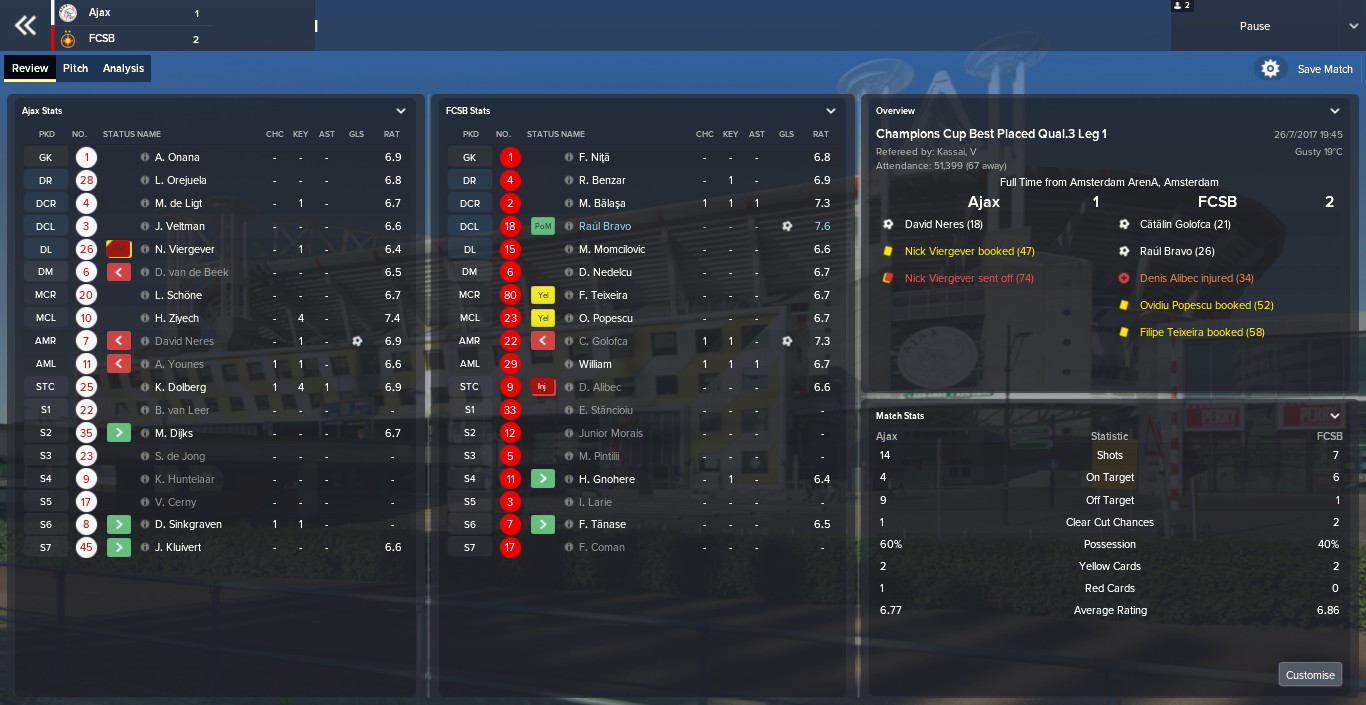 CHARLIE: If there wasn't enough pressure on this game, Steaua's unlikely win over Ajax ramps it up. I've made a couple of personnel changes including Branescu getting a start between the sticks and Adam Nemec coming in up front. Jeremy Bokila has scored four goals so far in the league so it's fair to say he's earned a rest.
Like Steaua, our first leg is away from home so we need to just keep it tight and keep Panionios at arm's reach.
Paul Anton is our captain and our leader on the pitch, he opens the scoring from a corner kick as Hanca's cross is cleared and it falls just outside the box to Anton. His strike is as straight as a dart into the top corner.
Only a minute into the second-half and the ball is won in our defensive third before it's hoisted upfield for Rivaldinho to chase. He beats his defender and gets into position to cross, he pulls it back and Hanca runs onto it to slam the ball into the roof of the net. Another dead-eye dick finish.
Toni Calvo gets one back for Panionios from a penalty before we get one of our own and Romera hits the crossbar. The game is put to bed on 86 minutes as two substitutes combine. Filipe Nascimento gets a yard of space and feeds a through ball for Moldoveanu to shoot first time narrowly beating the goalkeeper at the near post.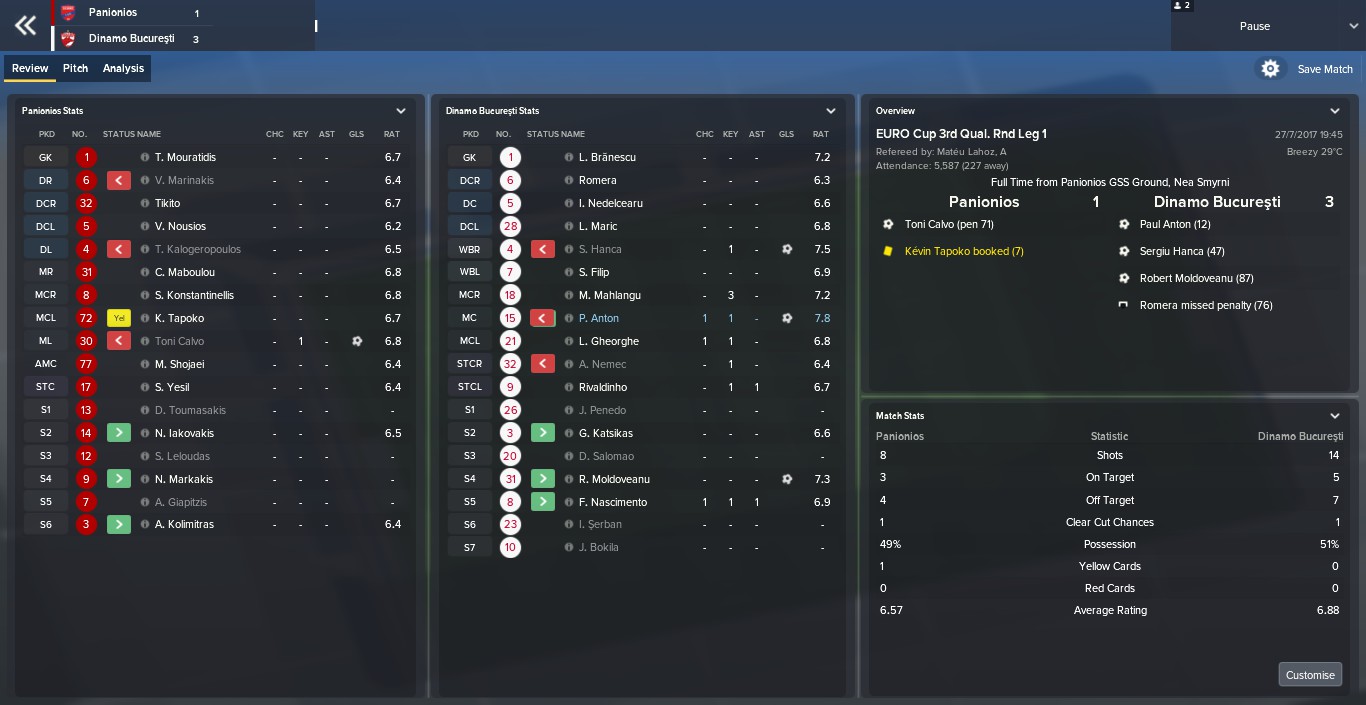 MIKE: All we have to do is not lose. Or lose 1 – 0. I think. Who cares about away goals? We can't lose. That's the message. Between the last Ajax game and this one, we drew in the league against a rank average side (Ed – Spoiler Alert) so we're not in great form either.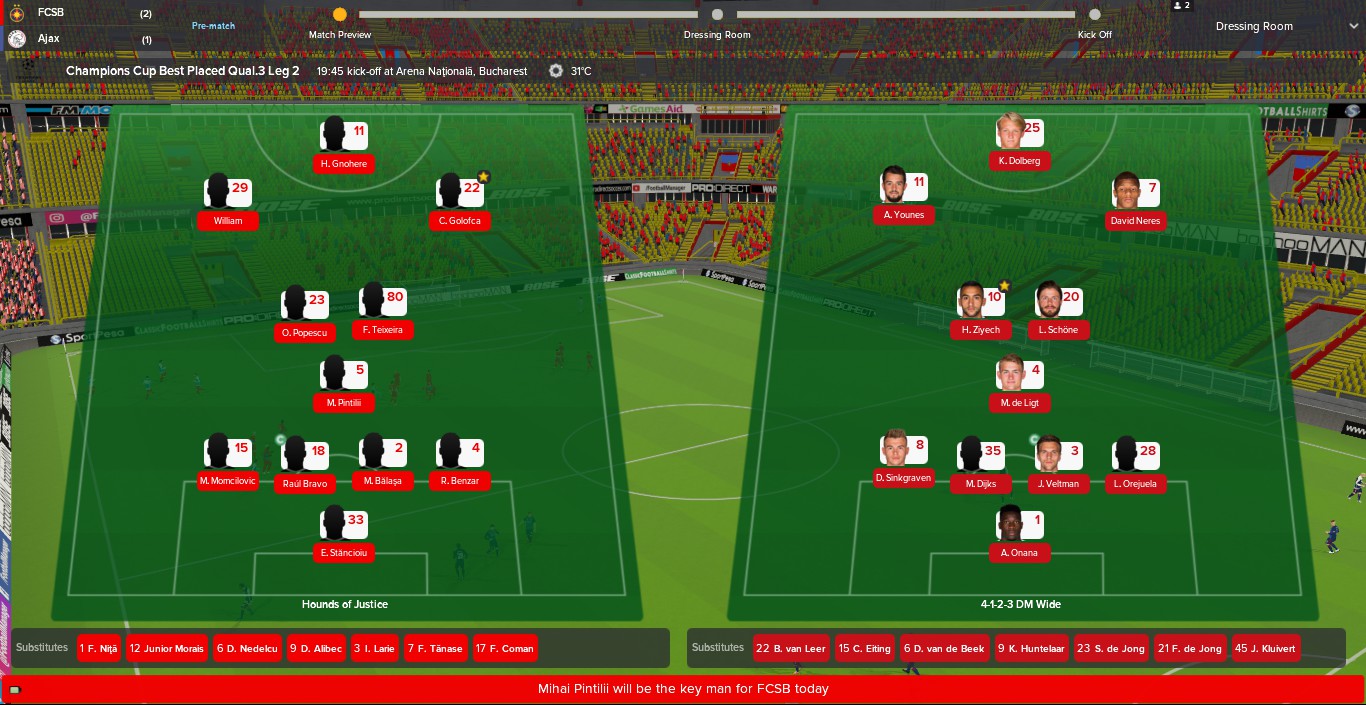 A drab match but I like drab matches. Apparently, Ajax played the better football and had more chances but I saw the highlights and I wasn't concerned. There were few chances for ourselves but all that matters is the end result. Both teams played so many passes that never arrived at their destination Charlie suggested that Network Rail is interfering with our play.
Ajax's Younes is awarded Player of the Match but come off it, Raul Bravo bossed things at the back and Pintilli held station in front of his defenders.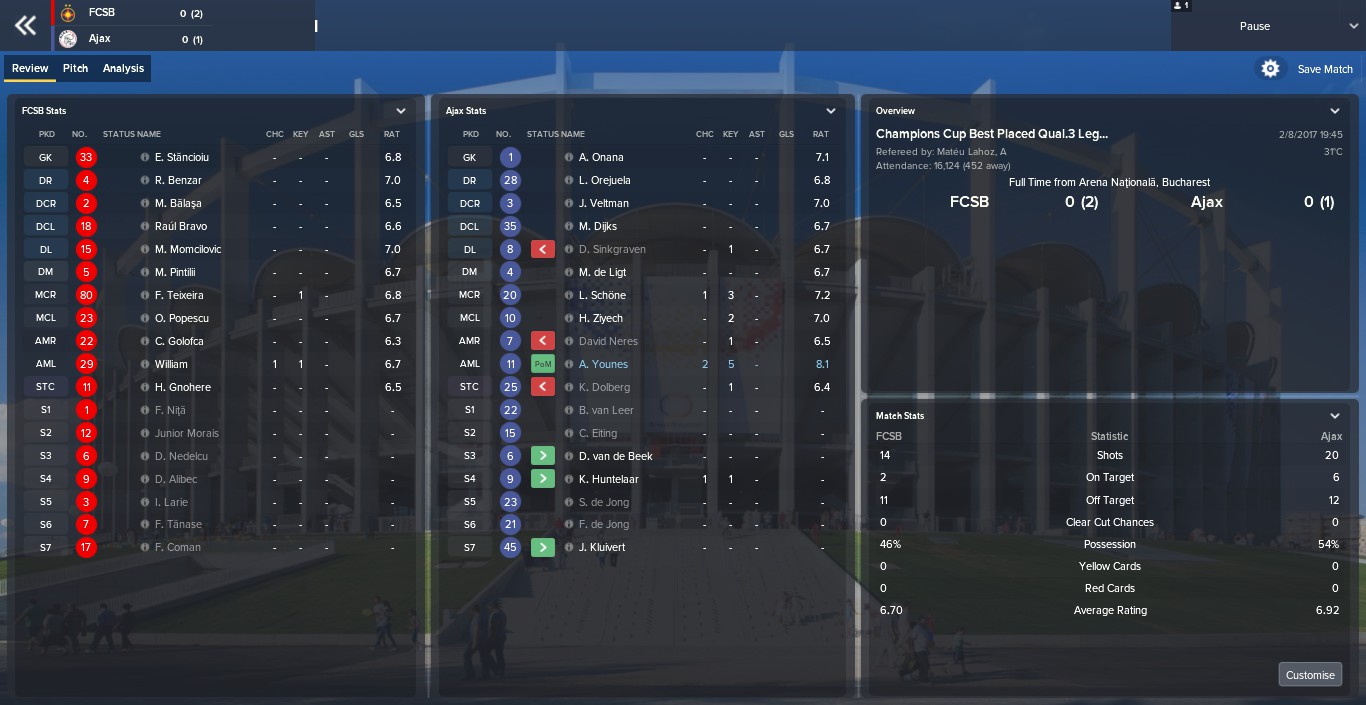 We're into the next round, which is all that matters. I got what I wanted.
CHARLIE: It's a complete change for me in terms of lineup as we welcome the Greek side Panionios back to the National Stadium. Constantin Nica makes his first appearance following a period out injured and the forward line is Moldoveanu alongside Nemec. Romera remains as he's still learning his trade at centre back.
If this is 0 – 0 like the Steaua game was, I'll be happy.
The game is fairly quiet, until it sparks into life with a challenge by Samed Yesil on Steliano Felip, which leaves both players injured and needing to be replaced. It should have been a straight red for their player, the tackle was so late that it arrived when I was back at work the next day.
In times of chaos comes opportunity as Serban steps up to lash a long-range finish past the goalkeeper 10 minutes later.
Panionios' Markakis throws himself to the ground to earn a dubious penalty and rubbing salt in the wounds he himself steps up to dispatch the penalty and I swear I saw him gesture towards me that it was a dive.
It ends 1 – 1, which guarantees us safe passage to the next round.
We both sit down together for our respective draws. As it turns out, both of us have got problems.
Thank you for reading, join us on twitter at @FM18Challenge, @CharlieTangoFM & @MikeTangoFM for exclusive comments, developments prior to episodes and reaction afterwards. Continued thanks to Chris, Luke, Mike and everyone at Tempo for the opportunity to share this with the readers.
If you'd like to replicate this challenge, we're using the large release day database with the following leagues made active: Romania (Liga I & Liga Liga II), England (Premier League, Championship, League One & League Two), Italy (Serie A & Serie B), Spain (La Liga & Segunda División), France (Ligue 1 & Ligue 2) and Germany (Bundesliga & 2. Bundesliga).