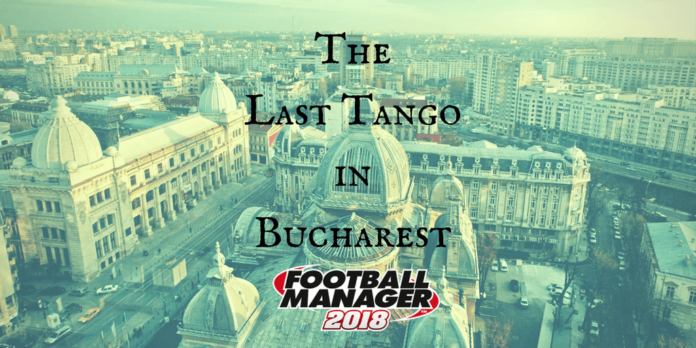 Welcome to Romania
THE MISSION: Enter the unforgiving world of Football Manager 2018, beat your bitter sibling rival to claim prestige in Romania and earn the honour of being named the Last Tango in Bucharest.
THE SNAG: The Rivalità Tra Fratelli series on Football Manager 2017 raised more questions than answers in Tango Towers. Is Charlie Tango just a cup specialist? Will Mike Tango be afforded so much time to gain the glory he craves again? The smart money seems to be on Dan Petrescu's CFR Cluj winning everything.
Episode 1, Episode 2, Episode 3, Episode 4, Episode 5, Episode 6, Episode 7
CHARLIE: We've arrived in Romania and the news is not good. As mentioned in last week's opening episode, I generously gave Mike the opportunity for first pick at the teams after his Champions League success with PSG in the finale of Rivalità Tra Fratelli and after three days of indecision, he has chosen to lead Steaua Bucharest, known as FCSB, in our Football Manager 2018 save, and left me with the underdogs; Dinamo.
It began on Monday with a message that simply said; "You're having Dinamo". That was fine, I could deal with that. Then on Tuesday there was a voicemail that said amongst other things (what he wants for Christmas, not what I want) that he'd changed to wanting Dinamo to show the – and I quote – 'fascist' regime of Steaua what for, before Wednesday brought with it a simple scrawled note posted through my door along with a cold Burger King cheeseburger posted some hours ago that said; "Had a look at Dinamo while listening to your little podcast. 20 mins of my life I'll never get back. I'll take Steaua". He did spell Steaua wrong and will do I assume he will do the same for the rest of the series, but this did invoke the ancient idiom that a fascist regime is no longer a fascist regime when one is employed by them.
Just to clear something up from last week's episode, the Red Dogs home stadium is actually the Stadionul Dinamo but that is currently being renovated for Euro 2020, hence we're sharing with Steaua. In truth, Dinamo are a sleeping giant but there are issues behind the headlines. The club ended 2016/17 in third place in Liga I but that was only after a really good end to the campaign. In the regular season, Dinamo only sneaked into the Championship Round by two points above Gaz Metan Mediaș. A good end to the season masking a poor start in effect.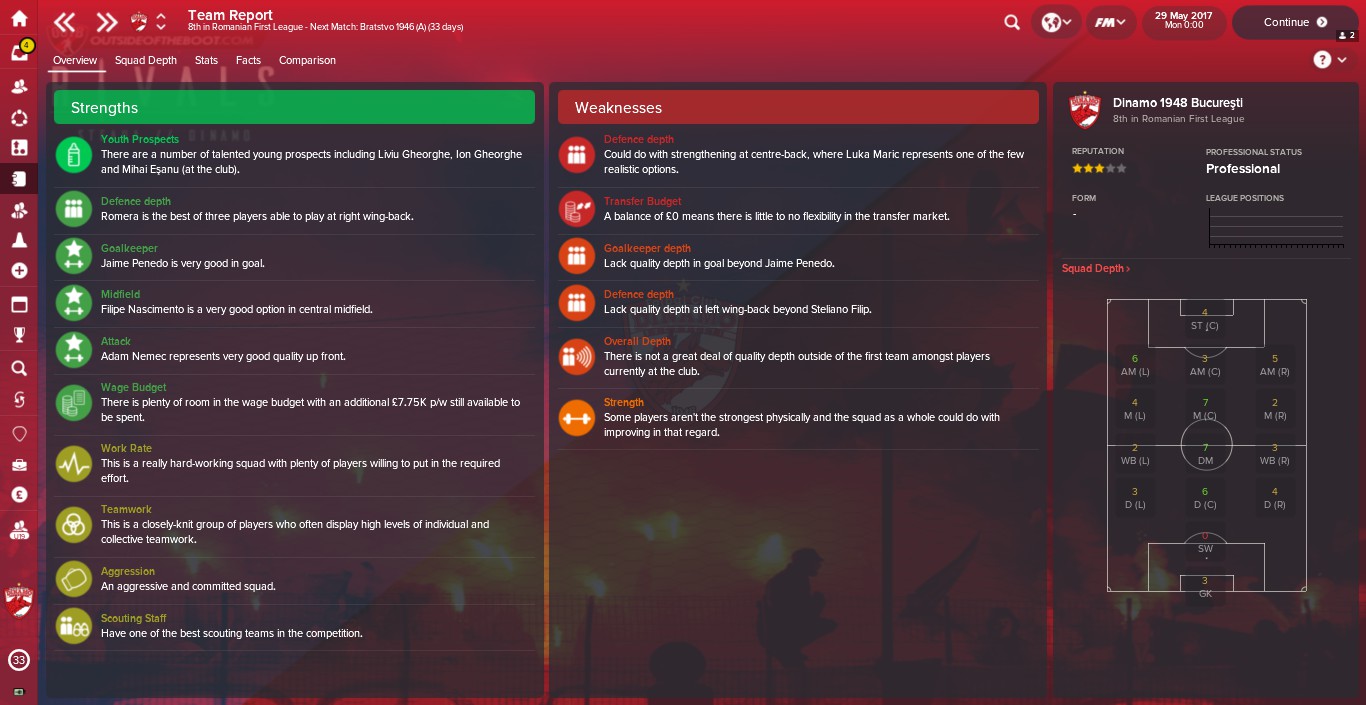 And herein lies the problem. When we were in Italy, AC Milan and Inter Milan are two institutions. They are famous all over the world. Their players are recognised internationals, some of the very best in world football. There are very few Romanian household names. The player with the most international caps is Panama's Jaime Penedo, the most expensive players are Steliano Filip and Diogo Salomao, my inherited Captain is Paul Anton.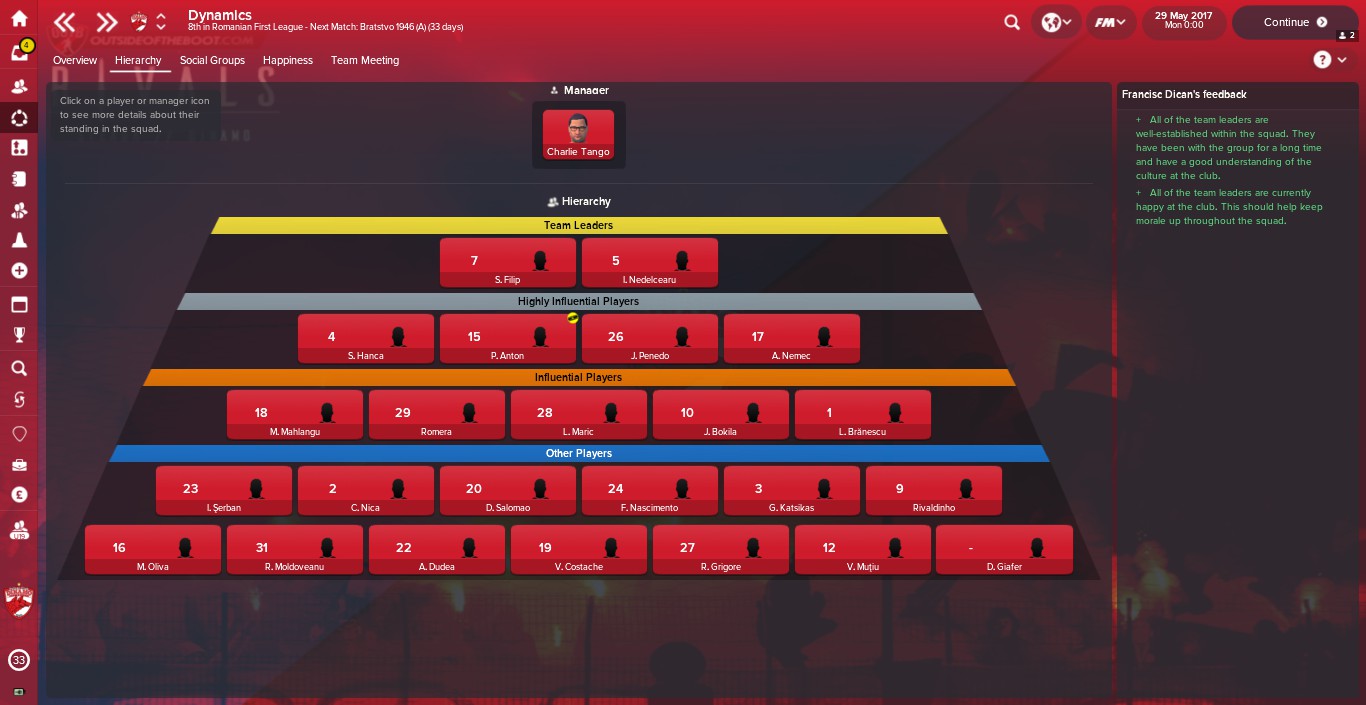 Loans in are goalkeeper Laurenţiu Brănescu from Mike's old stomping ground Juventus, Constantin Nica is temporarily with us from Atalanta and Jeremy Bokila has been lent to us by Turkish side Akhisarspor. What's interesting about them is that they are all 23+, which means they have some games under their belts before. Currently housed in the medical centre is Maximiliano Oliva for a total of 2-3 months with a pulled back muscle.
My philosophy for this save will be to mix youth and experience, taking a real 'Class of 92' take on things. I have to say at this point that I do acknowledge the term 'Class of 92' is inaccurate. Across the two legs of the youth cup final in 1992 three (of six) played in the first game and four in the second. Paul Scholes and Phil Neville weren't even involved until a year later and by then Ryan Giggs was a first-team regular – Giggs actually made 51 appearances for the first team in 1991/92. Regardless, this is the type of operation I want to impart mixing youngsters coming through with the old guard. That, and my RTF policy of 'Return On Investment'. The only significant player to reduce in value while I managed him was the ageing Yaya Toure but his presence was more about his qualities as a leader and this did prove invaluable in Europe.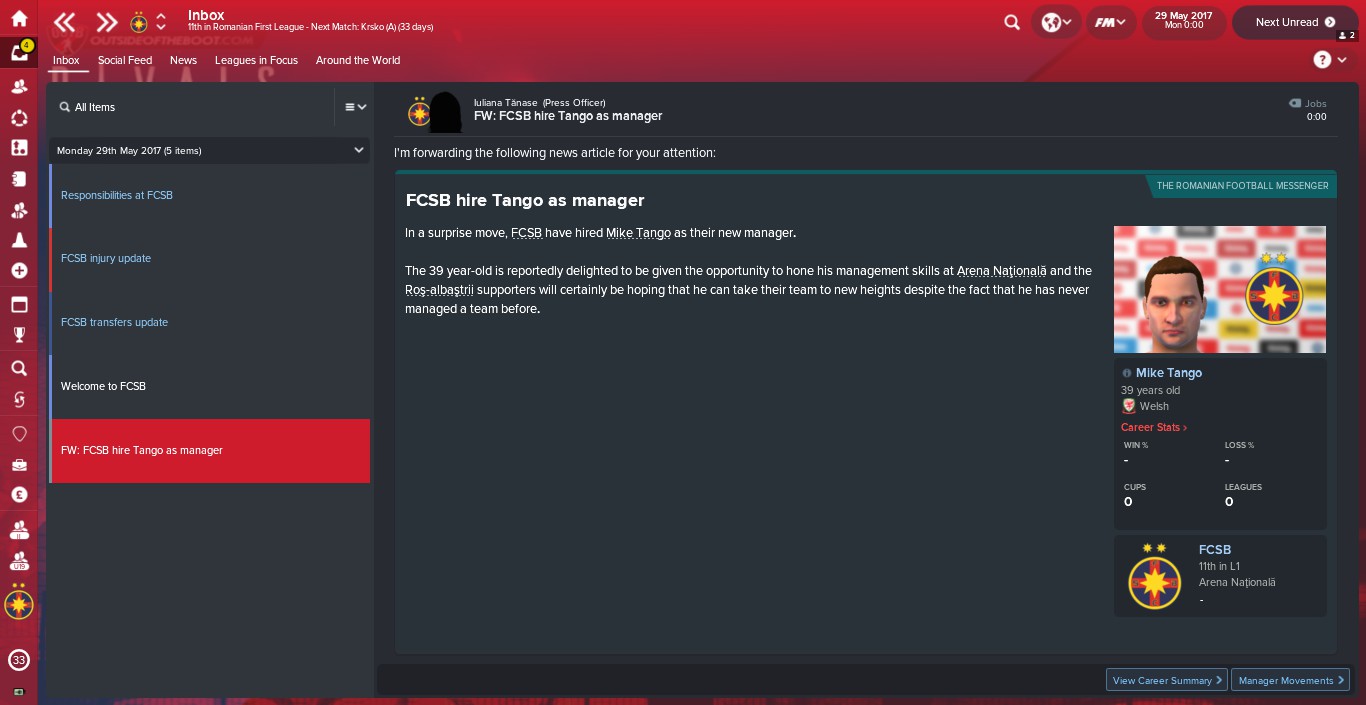 MIKE: Back in the saddle. It might have been forgotten I did win the first season of RTF by winning Serie A. It just that hasn't really been mentioned much and I'd like it to be celebrated more. It's just another example of the ego-fuelled self-righteousness of Football Manager 'content creators' littered around the dark, sordid little corners of the internet. As you can tell, no more Mr Nice Guy. No more weakness, no more messing about, the flip-flop between which Bucharest club I wanted to take over aside. I'm not proud of mulling it over some more, nor am I ashamed.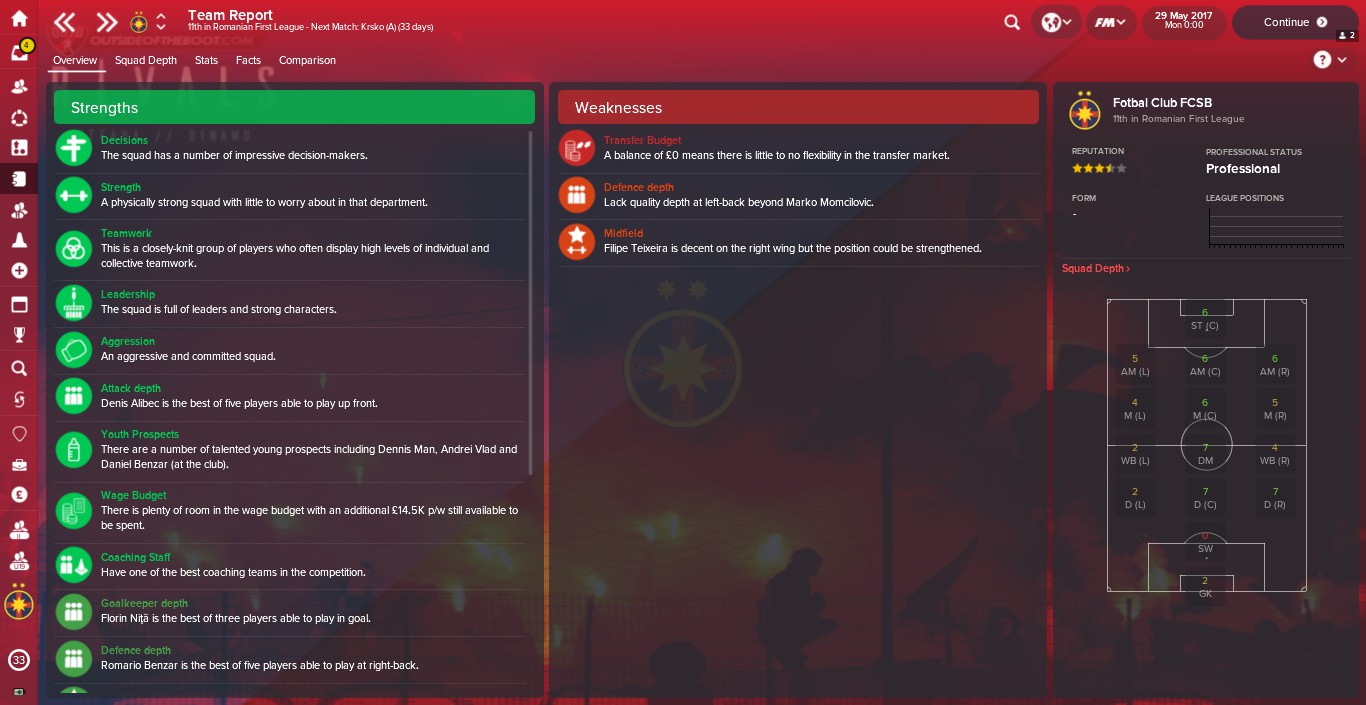 Steaua have the strongest squad in the league, you only need to look at the league preview to see that ten of the media dream eleven are from Steaua. I don't know anything about Romania or Romanian players, but (and this is the important part) neither does Charlie. He might have spent weekends watching the two Milan clubs on television last season for insider tips but he'll have a job to do that this time. I will run him out of town with his tail tucked firmly between his legs.
One lad is in on loan, Artur Jorge is from Braga for the season but the injured reserve reads like a who's who of my squad. Constantin Budescu has a pulled calf (2-4 months), Denis Alibec has a hamstring strain (5-8 weeks), Florinel Coman also has a pulled calf (1-2 months) and Dragoş Nedelcu will spend just a day on the sidelines with damaged cruciate ligaments. For the first time, I'm questioning my decision. Budescu is the man I planned to build my whole system around and Denis Alibec is clearly first choice striker. Balls.
Romanian League Preview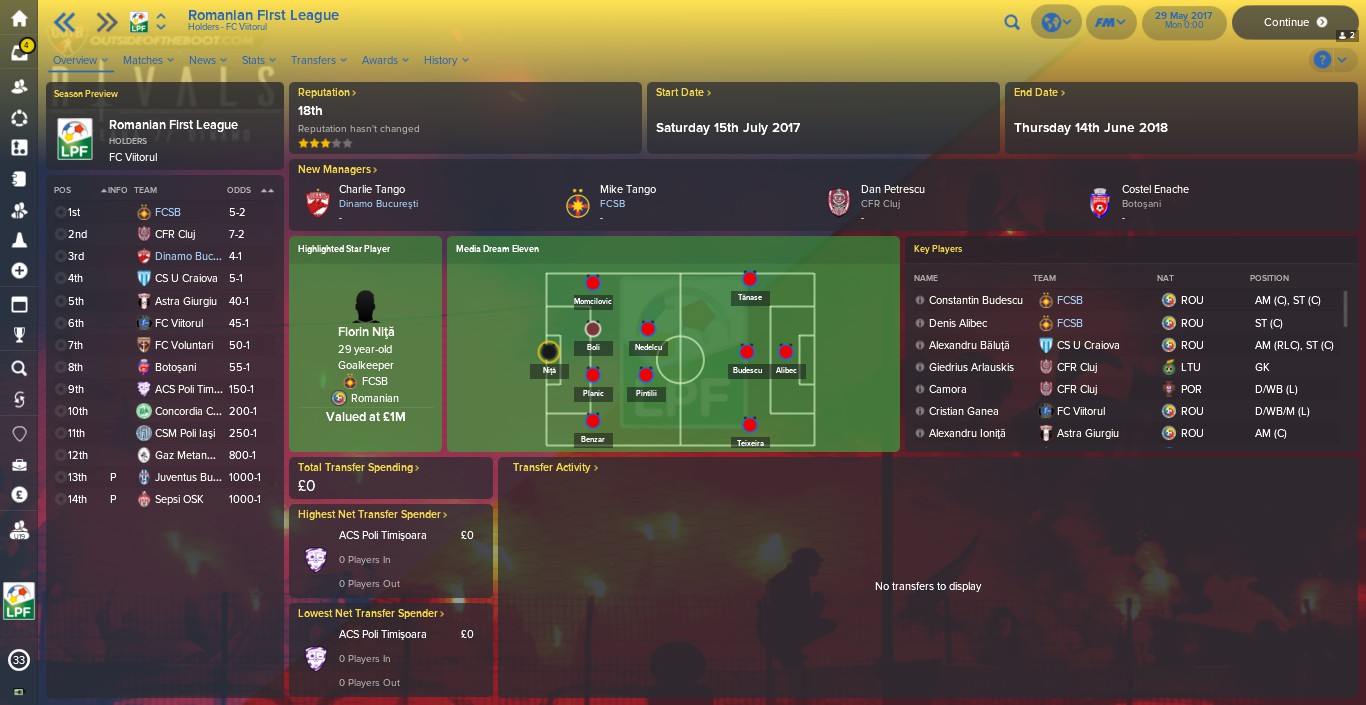 CHARLIE: As we get settled into our squads, I wanted to take the time out to do a mini-preview of the Romanian league. I hope the other league guides have been useful. Liga I actually looks interesting, more for the personalities than anything else including Former Chelsea star Dan Petrescu managing CFR Cluj and seven-time Romanian Footballer of the Year Gheorghe Hagi as both manager and owner of Viitorul Constanța. As a player he appeared with multiple honours for Steaua and Galatasaray, he is one of the few to appear for both Barcelona and Real Madrid so it is safe to assume he is no stranger to controversy.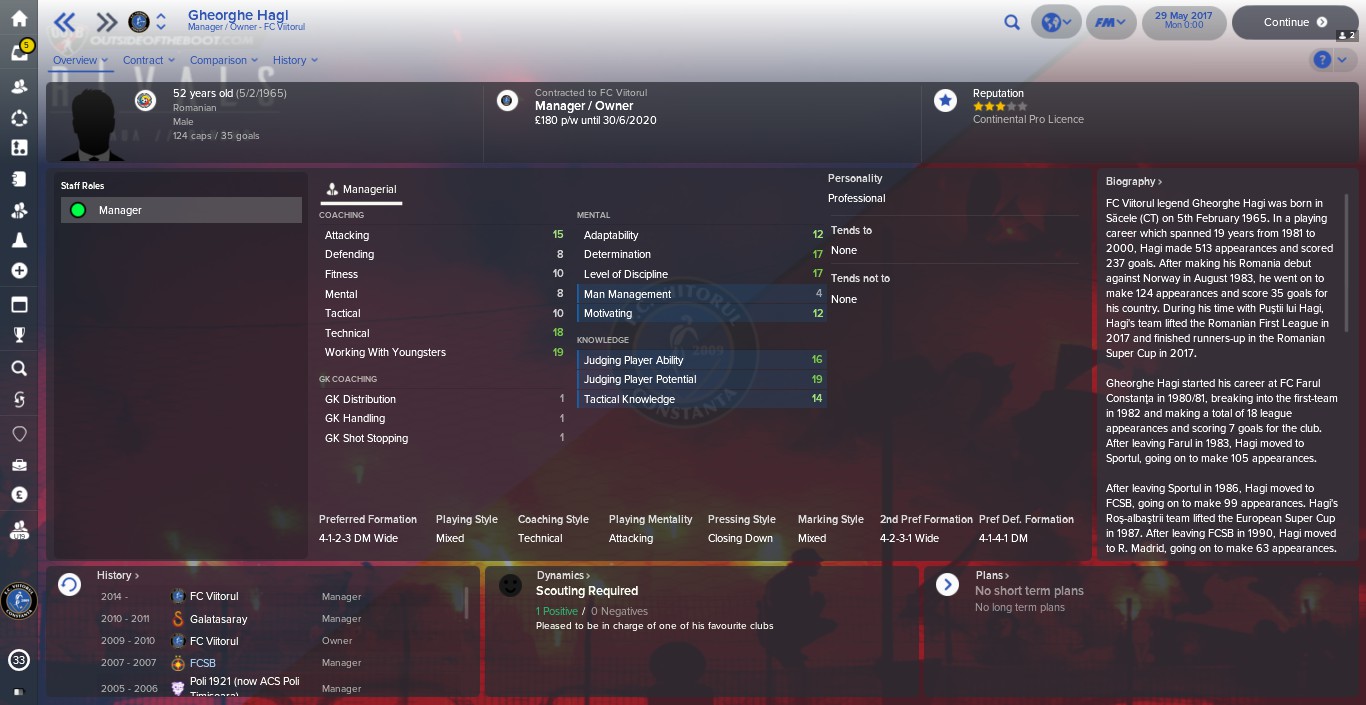 In terms of players other than our own, Alexandru Mitriţă at CS U Craiova on loan from Pescara looks like a decent player, along with Cameroon's Anatole Abang on loan from those Red Bulls of New York to AFC Astra. At Petrescu's CFR Cluj, there are two highly rated talents in Portugal's Camara and Romanian international Ciprian Deac.
I've done a simulation of the league without either of our inputs and I have to say I was surprised. In the regular season, Concordia Chiajna predicted to finish tenth, were leaders at the top narrowly over Dinamo, Steaua and FC Voluntari. Dan Petrescu was sacked as CFR Cluj boss in November but returned in March as manager of CS U Craiova. The manager Mike has replaced, Nicolae Dică, was sacked late in February by a ruthless Steaua board. When it came down to the Championship group, Steaua did prevail under the leadership of new boss Cesare Prandelli, Dinamo second. It was only a four-point gap, that's all I have to make up.
Just before I sign off on behalf of both of us at Tango Towers, a special thank you goes to @KeysiRensie for the release of the Tempo FM18 Skin. It clearly has been worked very hard on, it looks fantastic and all 'Last Tango in Bucharest' screenshots will feature it. To anybody who hasn't downloaded it yet (there must only be a couple), whack your email address in and get the link sent over to you.
Join us next week for tactics and pre-season gets underway.
Thank you for reading, join us on twitter at @FM18Challenge, @CharlieTangoFM & @MikeTangoFM for exclusive comments, developments prior to episodes and reaction afterwards. Continued thanks to Chris, Luke, Mike and everyone at Tempo for the opportunity to share this with the readers.
If you'd like to replicate this challenge, we're using the large release day database with the following leagues made active: Romania (Liga I & Liga Liga II), England (Premier League, Championship, League One & League Two), Italy (Serie A & Serie B), Spain (La Liga & Segunda División), France (Ligue 1 & Ligue 2) and Germany (Bundesliga & 2. Bundesliga).