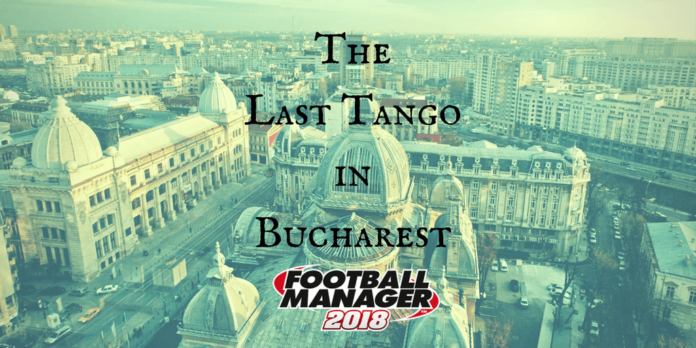 The Great Derby
THE MISSION: Enter the unforgiving world of Football Manager 2018, beat your bitter sibling rival to claim prestige in Romania and earn the honour of being named the Last Tango in Bucharest.
THE SNAG: The Rivalità Tra Fratelli series on Football Manager 2017 raised more questions than answers in Tango Towers. Is Charlie Tango just a cup specialist? Will Mike Tango be afforded so much time to gain the glory he craves again? The smart money seems be on Dan Petrescu's CFR Cluj winning everything.
Episode 1, Episode 2, Episode 3, Episode 4, Episode 5, Episode 6, Episode 7
CHARLIE: Confession time. Actually, it seems every episode I start by making a confession. Um… confession… I once lied to a primary teacher that I'd seen a watch another pupil had lost in the sports hall to get out of an exam in Year 3. She took me to the Hall and I spent a good 20 minutes feigning how baffled I was and blaming them for moving the piano. Oh, Football Manager confession? I started a game recently with the Australian national team and changed Isaías's second nationality to Australian so I could select him for the World Cup.
So yes, confession. Although now I think about it, I'm sure I mentioned it before. During the two European qualifiers we both played, there was a league game round and we played it probably about three weeks ago so I need us to refresh ourselves.
Dinamo's game was with CS U Craiova, who previously lost to Mike's Steaua 2 – 1. Of course, as usual, any questions about formation or tactics they might employ were met with a stern refusal.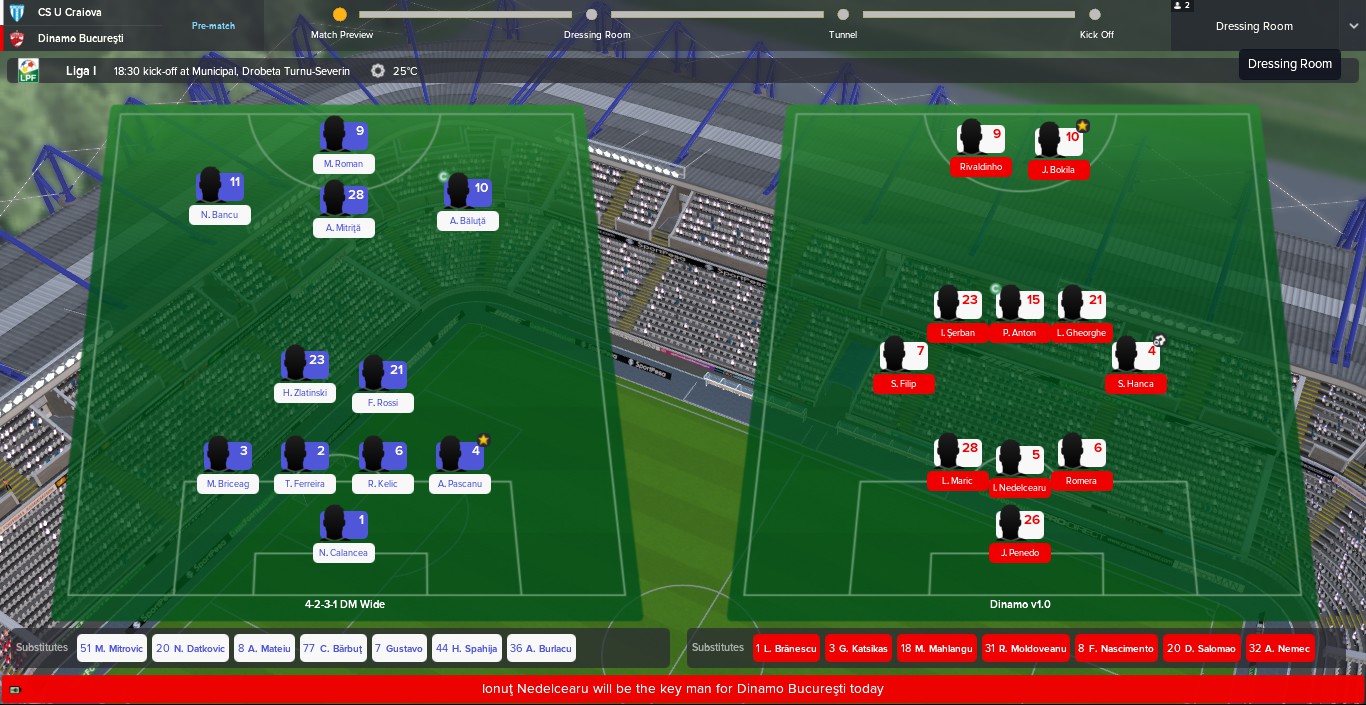 Jeremy Bokila has scored more goals on my game already than he has in several more in real life and he adds to his tally in the early going with a really simple strike from inside the box. Basically, he was passed the ball, had time to turn and place it all without a challenge. No wonder he's doing well for me and not in real life, I doubt any striker gets that amount of time on the ball in the opposition area.
The lead doesn't last, as is often the case, even with three at the back. A quick throw in finds our defence asleep and a big hoofed ball over to the back post finds Alexandru Băluţă in about the same space Bokila had but his finish is a sweet one, first time, back of the net.
So 1 – 1 at seventeen minutes turns into 2 – 1 in our favour after half time as a corner is headed back across goal by Nedelcearu and Romera nods in despite Craiova having a man firmly positioned on either post.
Despite Craiova pushing forward and a sending off for Diogo Salomao, who was on a substitute, we seal the three points with a nice move down the right. Romera plays a give-and-go with Anton before putting Rivaldinho clean through on goal, the Brazilian doesn't miss and he slots the ball underneath a stranded goalkeeper who I have to say was doing a masterful job of keeping his knees together.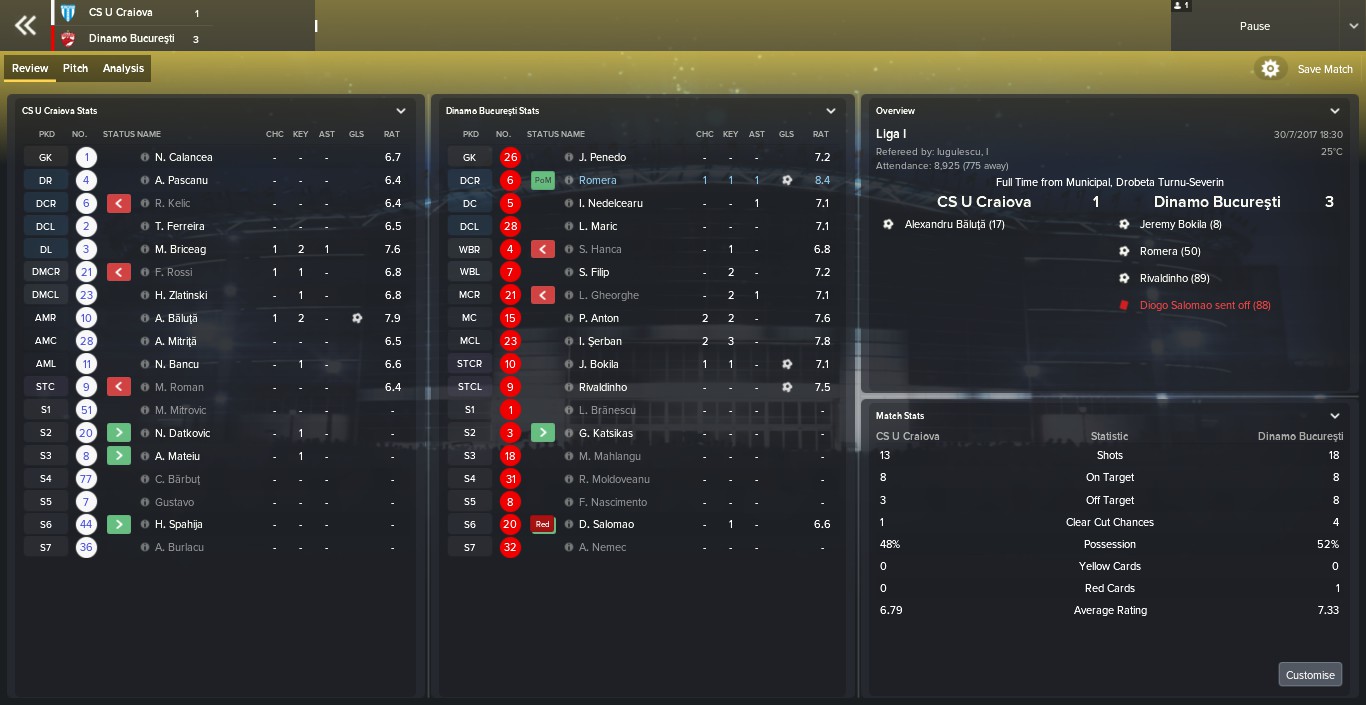 A third win on the bounce in the league but Salomao's sending off was fully deserved, the in-game commentary says it was an appalling challenge and could have caused serious injury. It's hard to argue, he slid in and missed the ball completely, that was practically out of shot by the he crunched in on their winger.
Now I'm going to turn things over to Mike, who I asked for his thoughts on a match he can't remember so we fired up the highlights and what I got was his ramblings as he watched it. Here goes nothing.
MIKE: Apparently I played a game between the two Ajax games, which were the games I cared about. It was against FC Viitorul and they had lost their opening two games… so it says here.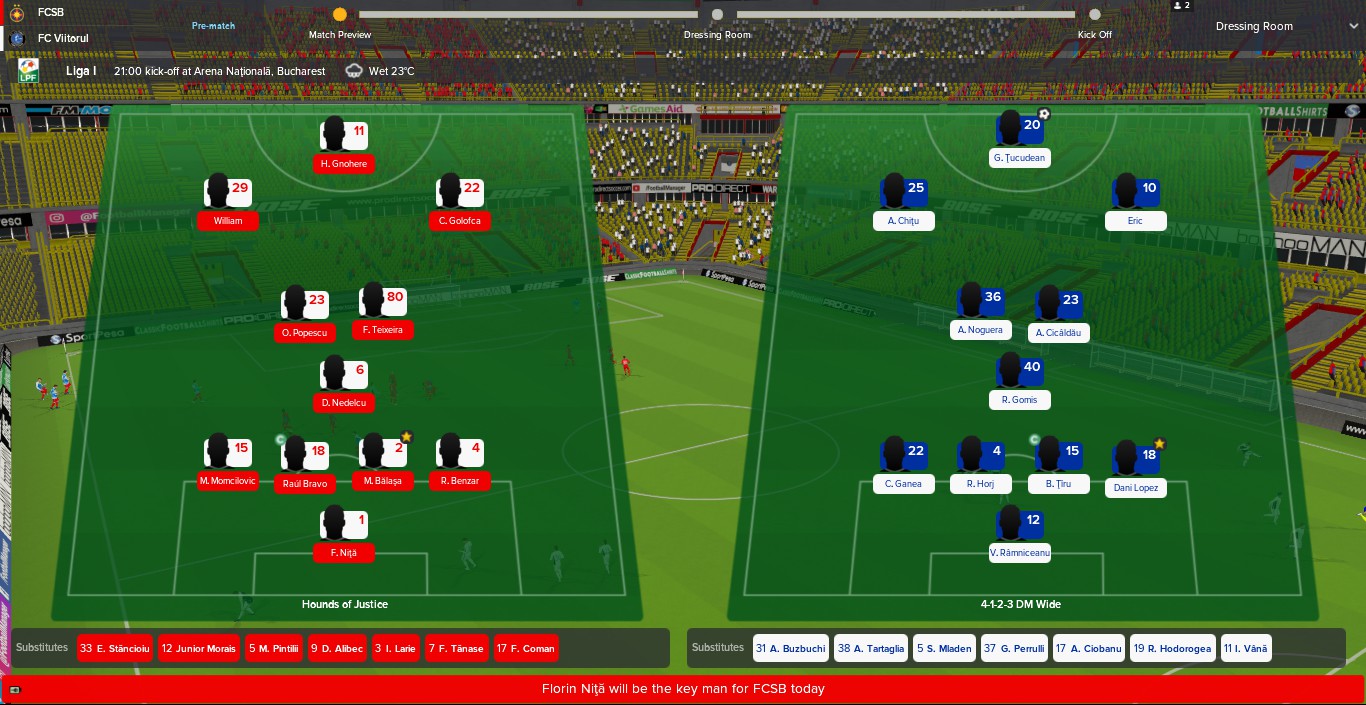 After some tappy stuff at the back, the ball goes forward to Noguera (he's not one of mine). They really are just passing around us like cocky bastards. Are Viitorul the Barcelona of Romania? Is Pep the coach? My team can't get anywhere near them. It goes Noguera to Cicaldau's feet, he swings it out right in front of Eric and he plays it back to Gomis in midfield. He lays it off to Dani Lopez, what the fuck is going on? Where are the tackles? Where's the press?
Lopez skips around William like he's not even there, back to Noguera's feet, he passes to Cicaldau and he just calmly drops it back to Noguera for the long ball. Chitu heads it over both the centre backs for Tucudean to just swagger onto it and smash past the goalkeeper. What the actual fuck is going on? They're all in white, are they Real Madrid in disguise?
Oh, he scored against his old team, well good on him. Whoop-de-fucking-do.
Right, this must be our goal. Popescu plays a one-two with William from the left, he feeds a through ball for Coman to run onto and thank God he's only three yards out and can't miss. What are they celebrating for? Get that fucking ball and get it on the middle of the pitch! I can't believe Coman is making such a song and dance about it like it was a 45-yard screamer, it was a tap in! GET THAT FUCKING BALL BACK YOU WANKER.
And there's no more goals. That's it, game over.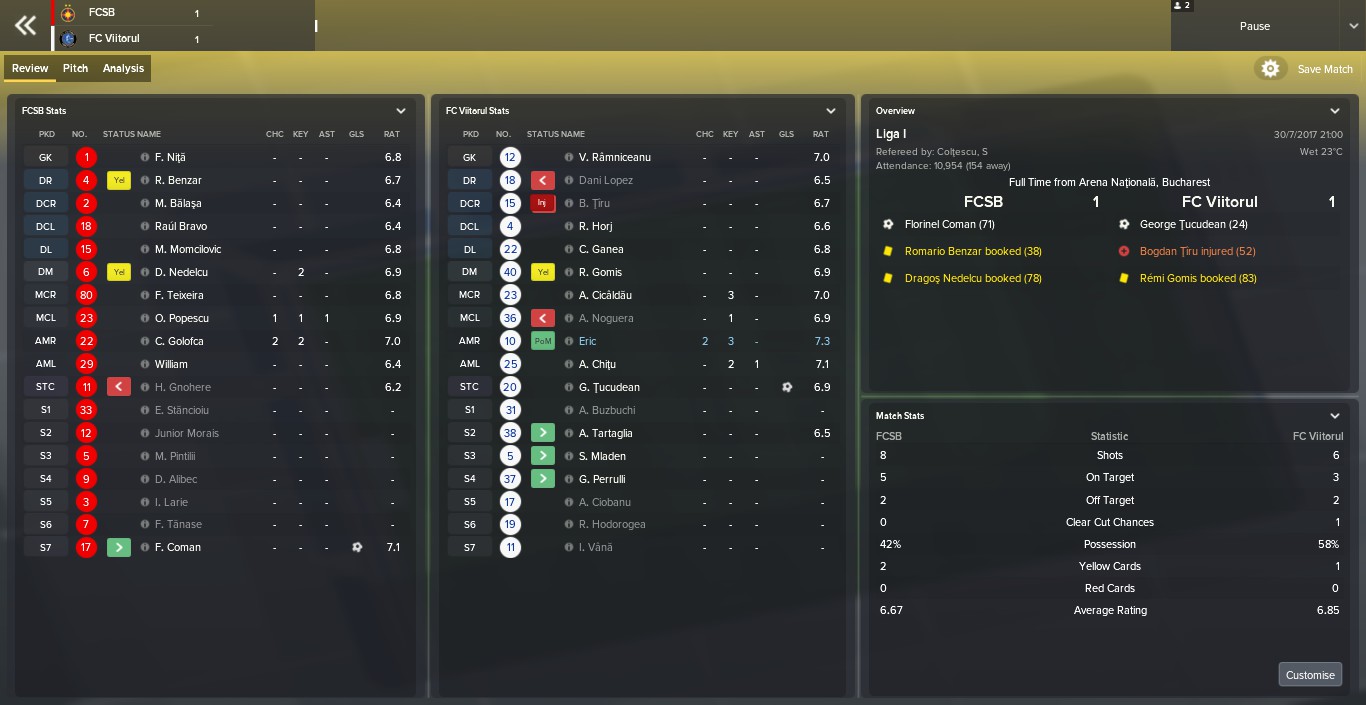 A 1 – 1 draw. Now I remember. We went off to play Ajax in Amsterdam on the back of a 1 – 1 draw. I've just seen a 6.2 rating for Gnohere, who lost the ball more time than Charlie does playing five-a-side on a Friday after work.
The word inept doesn't begin to cover this shambles. Do we want to win the league or not? Because I do. Alibec does. He's been working his bollocks off to get fit again. Look at Budescu, chomping at the bit to get back off that orange injured token next to his name. Some of those players need to think about what they've done here, what little effort they've put in because Viitorul have got a point out of us at our gaff for sheer effort alone and that's bollocks.
CHARLIE: Told you it wasn't pretty.
The upshot of it all is, we come to the present day, which is the Great Derby. Steaua v Dinamo. Dinamo at home. I've watched documentaries on this game, the ultras, the violence, and it's one of the reasons why we're here. So often the negative is focused on, fans getting into fights and dangerous situations with flares or flames but this is only about the football.
Looking back at our Rivalità Tra Fratelli history, in games against each other I had the upper hand. In two league meetings my Inter side won 2 – 1 at home and drew 2 – 2 away. We the met in the Italian Cup semi final and after a scoreless draw in the first leg, I absolutely trounced Mike's AC Milan 6 – 0, which included an Antonio Candreva hat-trick. It says a lot that despite those results, especially in the league, Mike did win Serie A that year.
MIKE: Looking back is a waste of time, it's a new season, new teams and a new country. I want this win, I want three points to move back ahead of Dinamo and establish dominance. I never beat him with AC Milan but now I'm Steaua, this should be a doddle.
CHARLIE: Just before we get down to business, there's the small matter of Player of the Month and Manager of the Month for July. There's no other way of saying this, I won both. Jeremy Bokila with his five goals is the best player in the league and I, with three wins out of three, am the best manager.
There is an added pressure on this match, this is the last Football Manager we'll play on this save before Christmas Day… when we'll eat together at another brother's house. Bragging rights doesn't even come close to describing how smug one of us will be as we pass the parsnips and brussels over the table.
We do have injuries and suspensions; Salomao is suspended, Steliano Filip and Jaime Penedo are injured but this isn't the time for excuses. I've made the decision to put this out real time, so I'm really hoping for a positive result. Let's do this.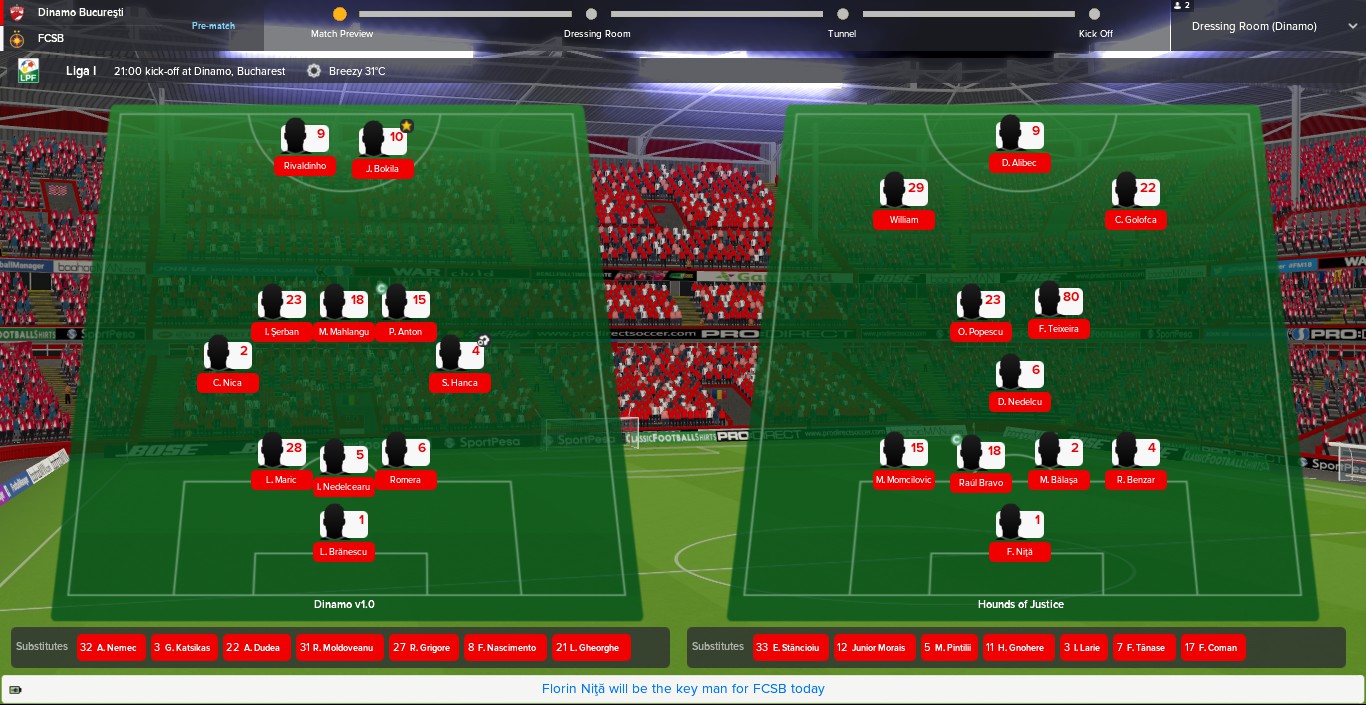 It's a nervy opening. Both teams having long shots and trying to establish themselves in the centre of the pitch. It's actually not a brilliant game until just after the half hour when Mahlangu gets on the ball in the Steaua box but there's a heart-stopping moment as Nedelcu's desperate sliding tackle is well-timed. Benzar's scrambled clearance just comes back but Hanca's cross is deflected behind for a corner. Raul Bravo swings in the corner, nobody can get it clear for Steaua and it eventually goes out to Mahlangu again patrolling outside the area. He passes short for Serban to loft in a high ball first time and Rivaldinho heads into the path of Anton, who unleashed a left foot volley hard into the goal! Dinamo take the lead!
What happens after is that Steaua were fairly blunt, everything was dealt with competently and I was hardly ever worried, and I'm a worrier. I worry about leaving work because there'll be traffic. I worry about staying in work because my FM minutes are dwindling down.
MIKE: I don't know how they sleep at night, my 'players' and I use those inverted commas because they are barely deserving of the name. When they sit around the dinner table and their children ask them what they do for a living, I wonder if they're honest? Do they take a deep breath and confess that they are STEALING a living at my football club? Because make no mistake on the strength of this display they are picking up a wage which they do not deserve.
Nobody has been told to take long shots yet they reign down on the Dinamo goal like snow in the north of England. We made some good chances but we always do that. What would be more impressive would be if we actually tonked a team that deserve it. Dinamo aren't anything special, come on. We beat Ajax over two legs! My team's performance was as welcome as the knock from a Jehovah's Witness at the door on Christmas Eve.
We would have put up more of a fight had I stabbed eleven scarecrows into the National Arena pitch and slung Steaua shirts on them. At least they'd have held a decent defensive line. It was hard to tell for sure but Jeremy Bokila may as well have had his player of the month trophy tucked under his arm as he kept hold of the ball ahead of our centre backs. We were a fitful, lethargic, heartless disgrace and I'd rather spend Christmas not in the company of these losers.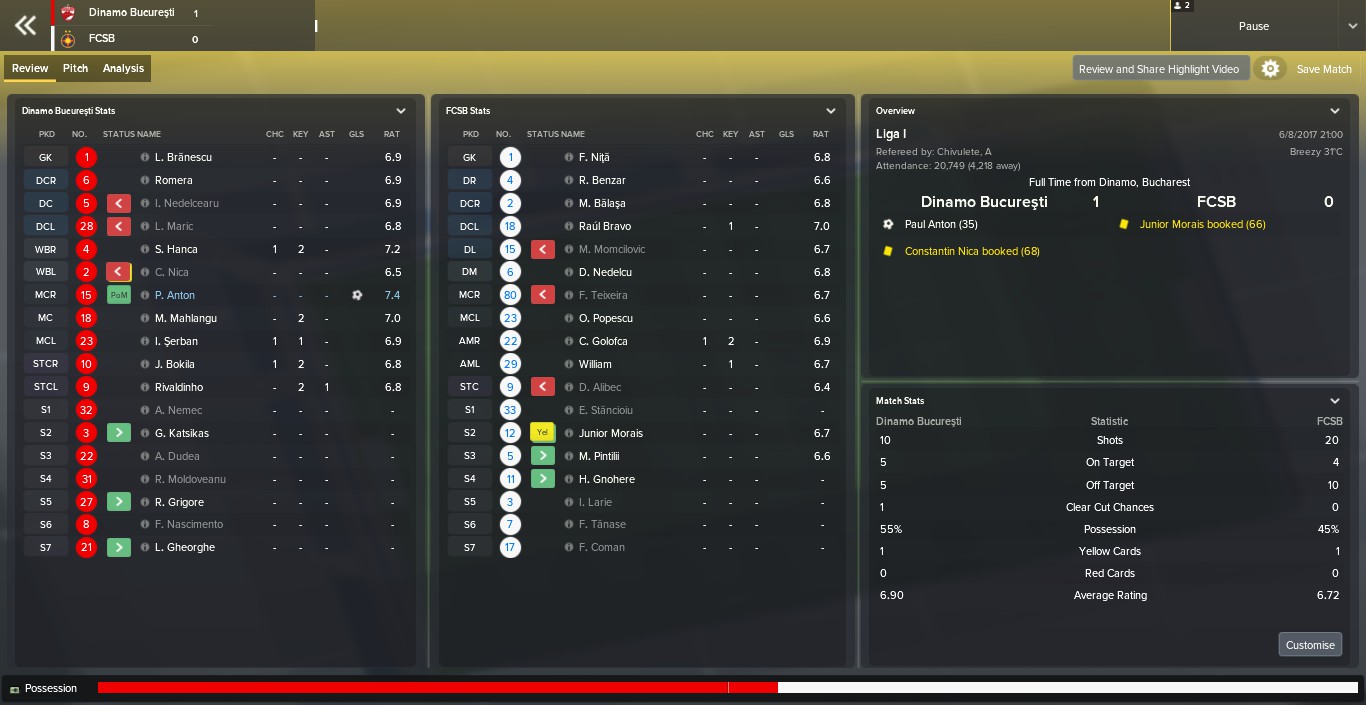 CHARLIE: Not that I like to rub this sort of thing in…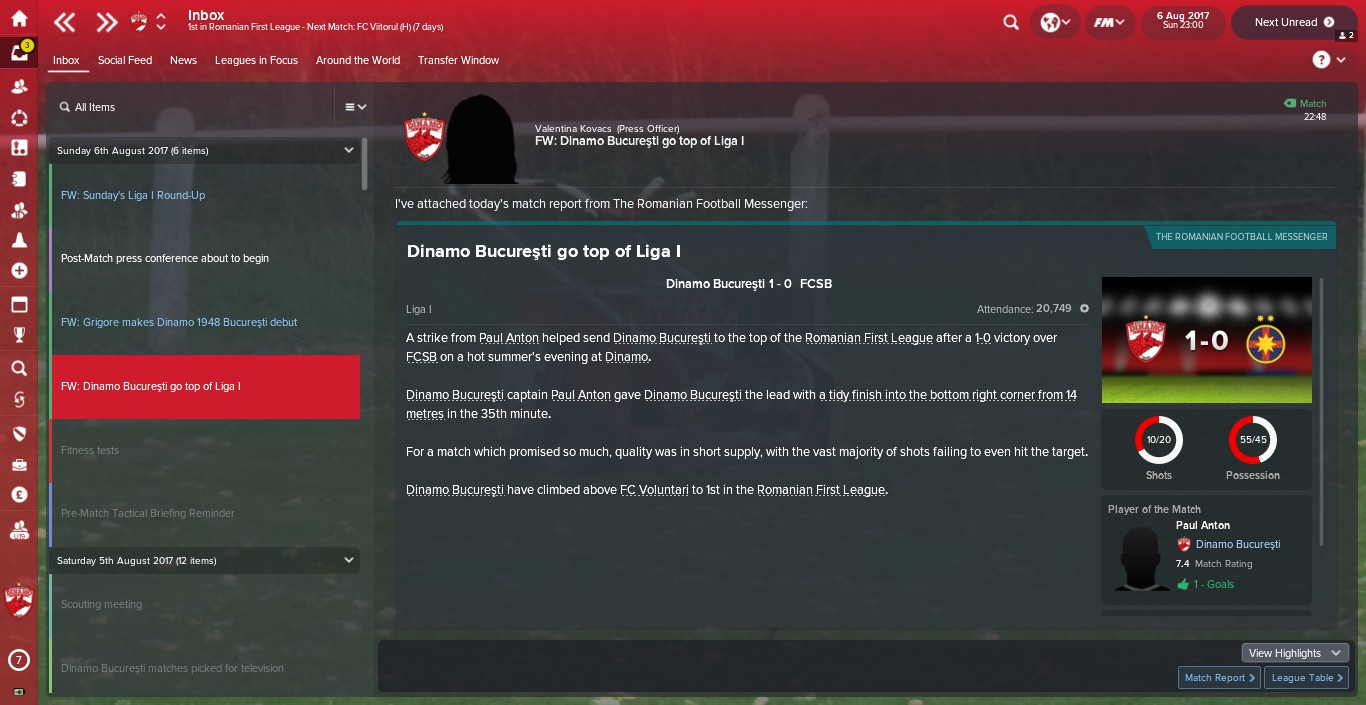 Merry Christmas & a Happy New Year to one and all.
Thank you for reading, join us on twitter at @FM18Challenge, @CharlieTangoFM & @MikeTangoFM for excusive comments, developments prior to episodes and reaction afterwards. Continued thanks to Chris, Luke, Mike and everyone at Tempo for the opportunity to share this with the readers.
If you'd like to replicate this challenge, we're using the large release day database with the following leagues made active: Romania (Liga I & Liga Liga II), England (Premier League, Championship, League One & League Two), Italy (Serie A & Serie B), Spain (La Liga & Segunda División), France (Ligue 1 & Ligue 2) and Germany (Bundesliga & 2. Bundesliga).