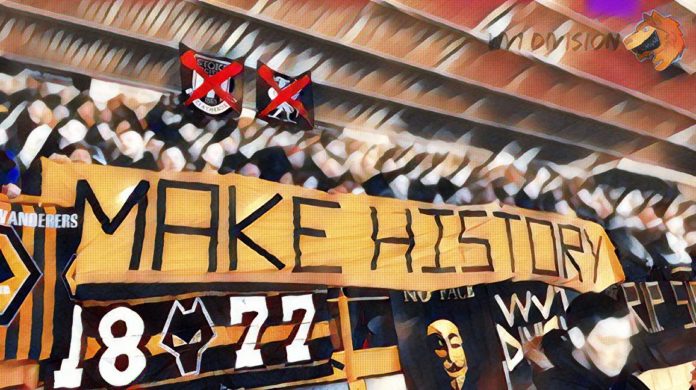 Football is a funny old game, isn't it? Sometimes it can kick you in the bollocks when you're already down and other times it can be the shining light you need which keeps you going. I'll level with you, neither of those things happened in the month of September in my quest to beat Nuno, but it's nice to be dramatic every once in a while. As you'll recall, the opening to the season brought some good results, some bad and some indifferent, if I wasn't up against Nuno, I'd be content with the start, however, Nuno beat me in August and it's not something I'm going to let him make a habit of.
In the prologue for this book (yeah, I'm going with book) I mentioned a weird transfer situation where I bought Milan Djuric off Bristol City, realised he was shite, so I swapped him for Derby's Mason Bennett plus a bit of cash. Bennett made his debut against Millwall; bear in mind, Nuno won this game 1-0, courtesy of an early Diogo Jota goal.
August finished with a bump of a dip as we lost to Brentford 4-3, so this was the perfect remedy. The players were undoubtedly refreshed by the extra week off due to the international break and that put Millwall to the sword. What was particularly pleasing about the result was that the formation change I made paid off.
Against Brentford, we were 4-1-2-1-2 and ultimately it didn't work. This time, I went bold and put young Connor Ronan in the middle of the park to support Neves and chucked Bennett in the deep end to partner Bonatini. 4-2-2-2 worked like a charm, but how long would it work for?
A second home game in four days presented itself as Bristol City came to town and it also presented an opportunity to make some ground on Nuno as he drew 3-3 after twice leading before, eventually, getting a late equaliser. "Never change a winning team" was the mantra that I followed, keeping the XI and the formation exactly the same, despite the short amount of time between the two games; that yielded this result…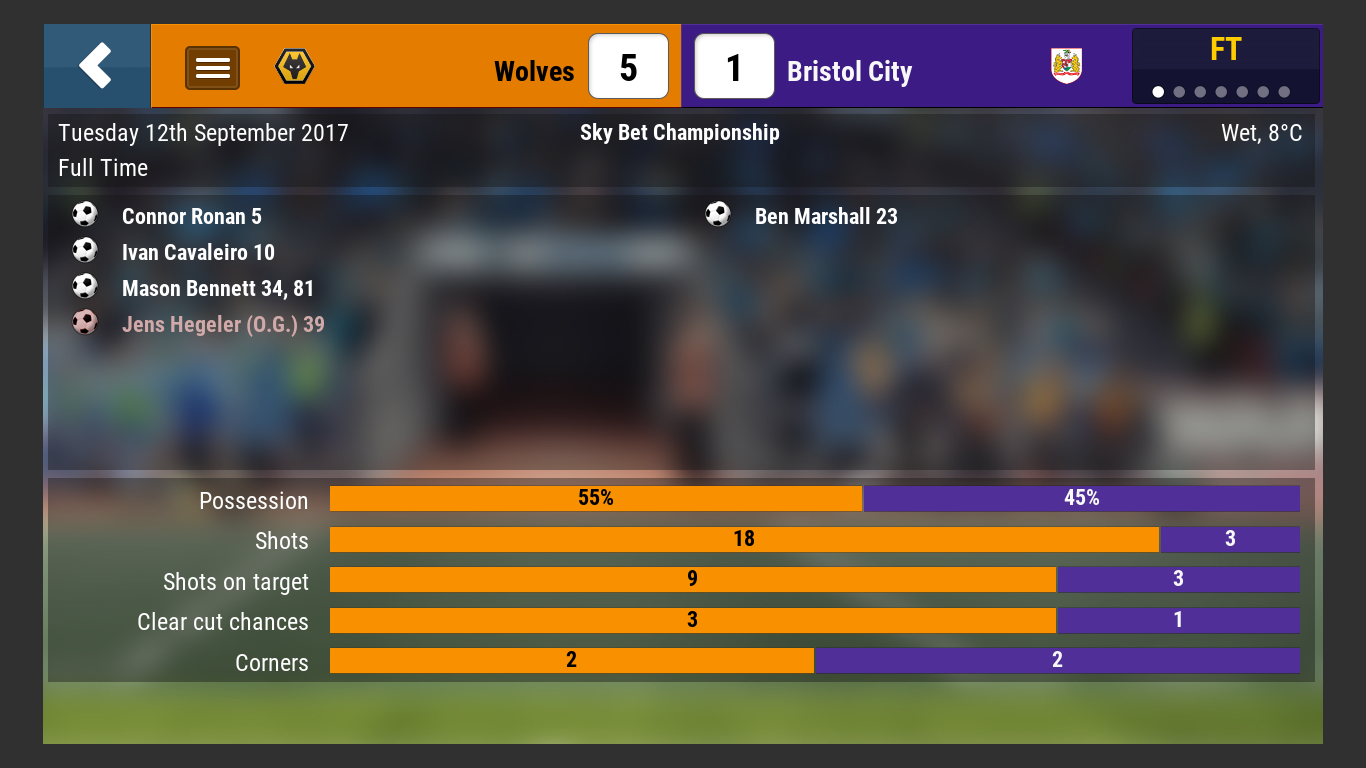 We were getting somewhere now. The two goals in the first ten minutes were key here, although, Bennett's first of the afternoon was arguably the most crucial due to the fact that it restored the two-goal cushion before the interval. Hegeler's own goal finished it as a contest before the referee had chance to blow the half time whistle which meant that I could rest, some would say, the most integral players. Neves, Jota and Bonatini were given a timely break before we went to the City Ground on Saturday to face Nottingham Forest.
Nuno was never going to let his side get away with dropping points two games on the spin and Diogo Jota made sure that Nuno won 2-1 in Nottingham which meant that the ball was firmly back in my court. Cavaleiro was carrying a slight knock, so in came Morgan Gibbs-White to take his place, while Cavaleiro waited in the wings. That change aside, it was the same team that swept aside Bristol City with relative ease, surely the feat couldn't be repeated?
Turns out it could. We even tried to give Forest a chance by gifting them a penalty inside five minutes and to be fair to Daryl Murphy, he took it, nevertheless, he couldn't've predicted what was coming next. I could, though.
Irreplaceable Ronan
Three minutes to equalise and then it was never in doubt from there. Ronan got a 10/10 rating as he hit the brace and set another up. He was really finding his own in the starting XI and whereas Nuno would opt for Saiss alongside Neves, Ronan was becoming undroppable.
It now gets a little bit unfair. It was Carabao Cup time. Now, the league fixtures are the same which is one of the reasons why I'm doing this, the one that isn't though, is the cup draw. Nuno got Bristol Rovers at home. We got Chelsea away.
Talk about opposite ends of the spectrum. Saying that, we were going into the game on the back of scoring fourteen goals in three games, so maybe we had a chance…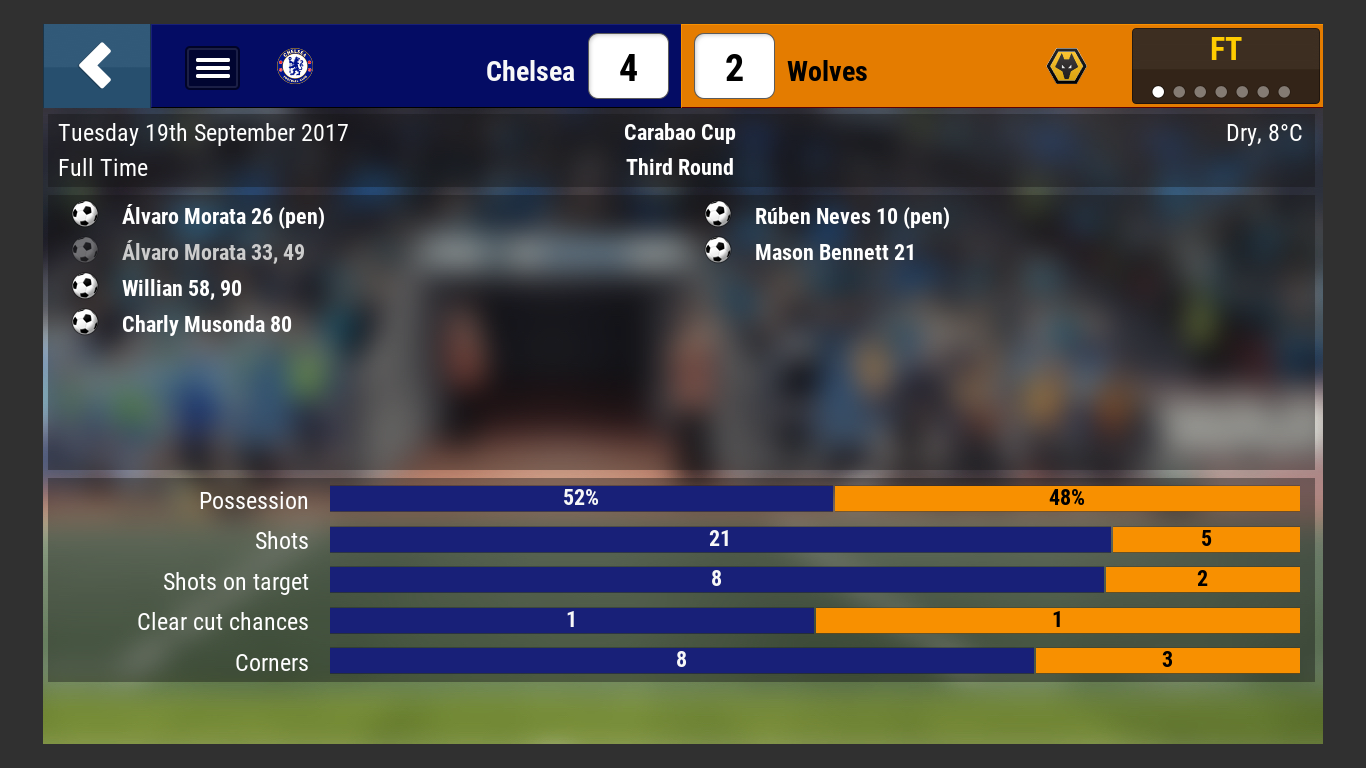 Nuno's side progressed to the next round with a 1-0 win, on the other hand, I was left kicking myself. In the previous two rounds, I had made wholesale changes and trusted the reserves to do a job. I didn't this time. I wanted the glory of beating Chelsea and truth be told, I didn't think my reserves had it in them so I blended the reserves and first team together.
Barnsley Beaten
As the story goes, it didn't matter what team I put out, we lost.. On a brighter note, it took two goals in the last ten minutes for the reigning English champions to beat me, so maybe there were some positives to take away after all.
The Tykes of Barnsley came to Molineux the Saturday after the 'what might have been' game at Stamford Bridge and instead of me having a fully fit squad to use from like usual after a cup game, there were some tired legs out there.
I stuck to my guns and fielded pretty much the same side that trounced Forest bar the odd change and I thought I was going to be in luck when Nuno's Wolves conceded in the 91st minute against Barnsley, but no, in the 93rd minute, Nuno's Wolves scored. Nuno 2-1 Barnsley. I'd be lying if I said I confident going into this, after all, what are Barnsley compared to Forest and Bristol City?
It turns out they're a bit more astute at the back in comparison to the aforementioned sides. We didn't create as many clear-cut chances as we had done in recent weeks, but that's trying to find criticism where none is really required as we were still unbeaten in the month of September. More of the same please, lads.
A lifeline was chucked my way as Nuno's side succumbed to defeat for the first time away from home at the hands of a Leon Clarke inspired Sheffield United. Nuno lost 2-0, although, one could ask if Neves' penalty had gone in, what might've been? Who cares! It meant that we had an opening and we needed to take it.
Seeing as Neves missed the penalty in real life, he didn't start for me. Yes, he was carrying a knock on the game, but it sounds more dramatic, don't you think? Jack Price deputised for him as he slotted in next to Ronan. Price and Ronan meant that our midfield was very lightweight, we are Wolves though, we'll be alright.
Bloody hell. Only just. After twenty minutes I was questioning my managerial skills. What had I done? I knew the midfield was lightweight but I went for it regardless. When Bonatini's strike was disallowed I was ready to delete the game. However, when Price popped up just before halftime, I had a bit more optimism. Then, when Bonatini got the equaliser seven minutes into the second half, I was well up for it.
Stick Or Twist? Bleach Or Bourbon?
As the game approached 'stick or twist' territory, I had an interesting debate with myself. Do we settle for the point and get one up on Nuno or go for the win and risk losing? Of course, I did the latter. We went from 4-2-2-2 to 3-2-2-3 as I chucked on Enobakhare and Zyro for Hause and Bennett, it was do or die. As Bonatini was prepping to take the penalty, I had two glasses in front of me, one of bleach and one of bourbon. Thankfully, I got to drink the bourbon.
September ended in Staffordshire against Burton. In fear of repeating myself, Nuno doesn't drop points two games on the bounce and he stayed true to his motto as he comfortably beat Burton 4-0. Goals from Jota, Vinagre, Saiss and Bonatini set the bar high. Forever the tinkerman that I am, I had to mix things up.
Why I did, I don't know. It's in the blood. 4-2-2-2 had won me every game in September. So I changed it. Brilliant. I went 3-2-3-2, which is an old favourite from when I was a Fifa nut, the two in front of the back three being holding midfield players as opposed to wing-backs. So, how did they changing go?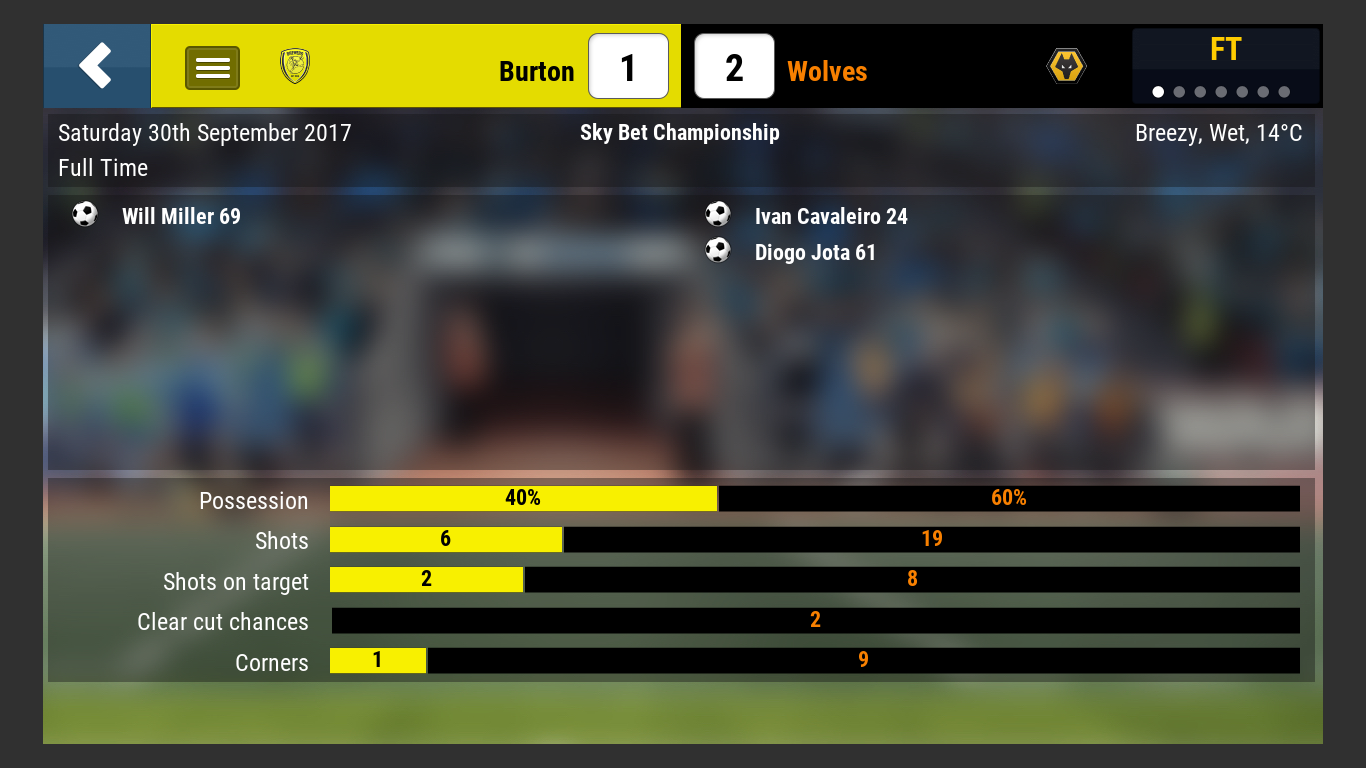 Job done. It's fair to say when they got back on the scoresheet the jitters kicked in slightly. We were strong though and on another day we might have had a similar scoreline to that of Forest, three points is three points, though. It was a fantastic month, bar the Chelsea game and it left the table looking like this…
| | | | |
| --- | --- | --- | --- |
| Team | Played | Goal Difference | Points |
| FM Wolves | 11 | +14 | 24 |
| Nuno's Wolves | 11 | +8 | 23 |
Only one point in it, two, if you count the goal difference. Nuno was still in the cup, although, Man City were his next opponents, so it's swings and roundabouts really. Next up we'll have a double header as we look at October and November. It'll be interesting to see who is on top by then.
Until the next time.