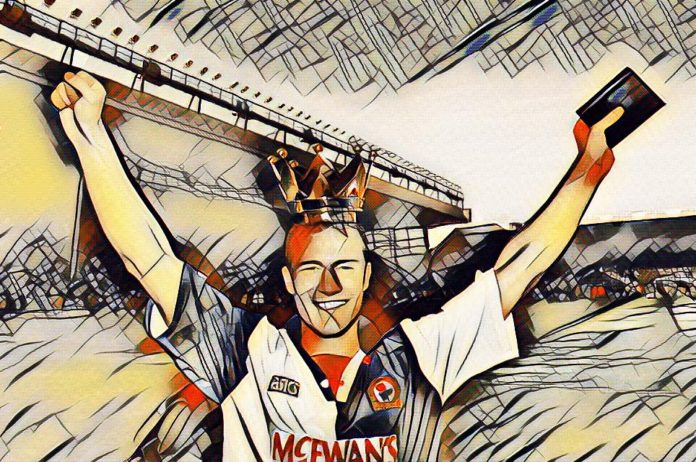 In game week 34 of the Football League, a Danny Graham double lifted Blackburn Rovers to the top of League One, which can only mean one thing. My 'Making Blackburn Rovers Great Again' series has inspired the team. But instead of soaking the applauds for my virtual and now real achievements, I instead remain focused on the Championship campaign that lay ahead of my newly-promoted Blackburn team.
It took just one attempt to get Rovers back to the Championship. But it was no easy feat. There were times last season when we were loitering just shy of the automatic promotion places, not quite being able to find the consistency needed to for promotion, let alone win the league. But with a strong finish in the build-up to Christmas and good business in the January transfer window, I was able to find that consistency and in the end, win the league title comfortably.
So with all the players and staff returning from their respected holidays, I wasted no time in getting straight to work on my team.
I decided to work with a 3-5-2 formation. One of the turning points in the title-winning season was the switch to 4-2-3-1, but surprisingly, it added very little defensive stability to my team throughout the season. With the 3-5-2 though, I'm to field 3 strong centre-backs, 2 wing backs and still have 2 strikers on the pitch.
So with a vacant centre-back slot in my team, I hit the transfer market. After a successful loan spell at Ewood Park last season, I was delighted to announce the second-coming of Alex Tuanzebe, as well as striker James Wilson in a double loan deal with neighbours Manchester United.
Wilson would go on to partner Dominic Samuel up front, with Kevin Luckassen becoming the back-up striker. As you move up the Football League, it is not just the quality of your team that needs to improve but also the depth. The boy clearly has talent, scoring 40+ goals last season, but when Jose offered James as well, it was an offer I could not refuse.
The defence was notoriously leaky last season, so I looked further into the transfer market for some talent. Both Paul Caddis and Matthew Platt had good stints in my team last season, and played their roles in winning the league. But with Caddis at 32 years old, and Platt only 19, I decided one to be too old and one to be too inexperienced. This prompted the arrival of right-wing back Cyrus Christie from Middlesbrough for £2.8 million, and centre back Liam Lindsay from Barnsley for £2.2 million.
I am a man who likes to business early, and with my first XI fully bolstered, I prepared for pre-season. Fitness was again the focus, and in contrast to last season where we had four pre-season friendlies, all of which at home, this time we had 4 friendlies all away from home.
You may recall some high-scoring matches in my last season, and the first game of pre-season was the first of this. A 6-2 win over Crystal Palace opened this pre-season, with a debut brace for James Wilson, and a debut goal for Cyrus Christie too.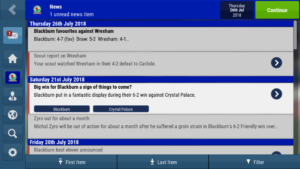 After a trip to South London, we then headed north to face Carlisle United, before trips to Bristol Rovers and Lincoln City – a lovely little tour of the UK. It was another perfect pre-season for my Blackburn team, winning all 4 games. Youngster Sam Hart continued to fill in at left-back, and impressed during pre-season. As too did Ben Gladwin who netted in the 2-1 win over Bristol, and Bailey Peacock-Farrell who, after claiming his first 8 Northern Ireland caps under me, conceded just 3 goals in preseason.
My Championship debut soon came around, and it was at Hillsborough. Having played 4 away games in pre-season, I felt we would hit the ground running at Sheffield Wednesday. The opening exchanges were relatively even but come the half-hour mark, we were a goal down thanks to Lucas Joao. Wednesday began to shut-up-shop early in the game so I decided to throw everything we have with 20 minutes of the second half remaining. We had nothing to lose, or to prove n our Championship debut. But with the kitchen sink being tossed around, we found an equalising goal in the 81st minute through the man, the myth, Dominic Samuel, and took a point back to Ewood Park.
After beating Swindon 4-1 in the Carabao Cup it was time for our first home game of the season. The newly-relegated Huddersfield Town came to Ewood Park, and before the game, I spoke of the talent they have, the parachute payments and so on in an attempt to get in the head of German gaffer David Wagner. But it seemed this had little effect as Town came, scored, and conquered. It finished 3-0 to Huddersfield.
A goalless draw at Hull followed, before we got our first win of the season at home to Reading. James Wilson again in the goals as we took a 3-1 win. With 5 points from our first 4 games, I was relatively pleased with my team but I knew we were capable of more. An attacking acquisition was required and it came in the form of former QPR midfielder, Michael Doughty, signing on deadline day.
The advanced playmaker was snapped up at a bargain price of £1.7 million and by the end of the first quarter, was our most creative player with 7 assists. The addition spurred us on to back-to-back wins against Millwall and Ipswich, and a draw against Wolves. Last season's hero Dominic Samuel took a couple games to get used to the intensity of the Championship, but was soon free-scoring how he was last year.
October started with two tough away fixtures against Sunderland and Fulham. Both joined my Blackburn team in the play-off places but I was handed two huge blows regarding injuries. Captain fantastic Darragh Lenihan suffered a hamstring injury in training whilst Ben Gladwin sustained a broken arm somehow, leaving both sidelined for some time.
Nevertheless, I took my good form into the games and came away with a point from each game. Jamie Allen opened the scoring against Sunderland before conceding a late penalty, which Wabhi Kazhri coolly finished.
Two days later at Craven Cottage, it was they who scored first, and second. But a (you guessed it) Dominic Samuel brace saved a late point for us. Speaking after the game, Blackburn Rovers manager Luke Phelps said:
"Dom's a great boy. He's a fantastic footballer and a fantastic person to have around. I think playing with someone like James (Wilson) has helped him out, he needed a bit more pace up there with him – and now he's flourishing at a higher level."
Two draws kept my just in the play-off places but this was soon to be tested, with a tough run of three games to the end of the first quarter of the season.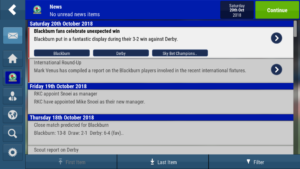 Newcastle and Derby would visit Ewood Park, with a trip to face Bristol City in between. The fixture of Blackburn and Newcastle is one littered with so much history, rivalry, and class. But this encounter was far from 'classy', with 7 yellow cards and a sending off for Liam Lindsay in the game. Liam saw a second yellow when he tripped Dwight Gayle on halfway, who was breaking at pace. With the sending off I saw I had nothing to lose, and went on the offensive, and rose victorious with a 2-1 win. Bristol was another good win, scoring twice and conceding none but the big result was a win against title chasers Derby. Dom, James, and Richie Smallwood scored the goals as we ran away 3-2 winners, firmly stamping our play in the play-offs.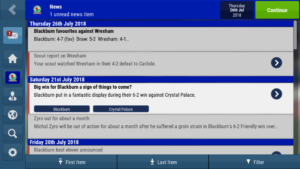 Sitting pretty at the end of the first quarter, I can't argue with the way my teams played. I again feel that the additions have been crucial to the success, James Wilson and Michael Doughty in particular. But we face an even tougher task than last time around. Every game is a difficult one in this league, but I have a slight feeling that we may be on for glory yet again.