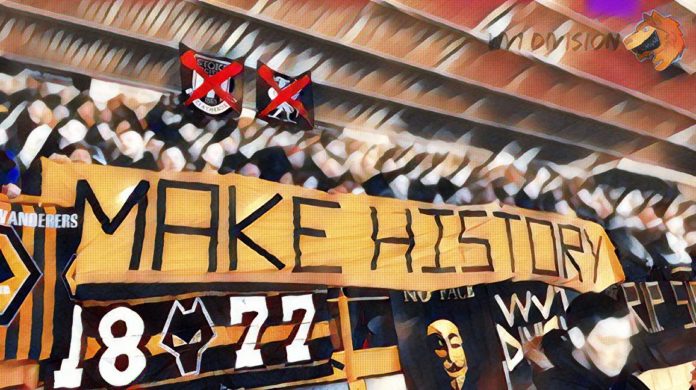 So here we are now, the first part of the season. For those of you that missed the prologue to this story, essentially, I am going up against Wolves manager Nuno Espirito Santo on a game by game basis to see if he can be matched or even beaten. Before we get down to the business end of the season, let's recap on the months gone by so far; naturally, starting from the very top and August. Pre-season is neither here nor there so we'll swerve that; the first game was against newly relegated Middlesbrough and I went into it with the mentality to be the best, you have to beat the best and that was certainly the impression I got from Nuno as well. In real life, Wolves beat Middlesbrough 1-0, courtesy of a debut goal from Leo Bonatini. I, on the other hand, did things slightly differently…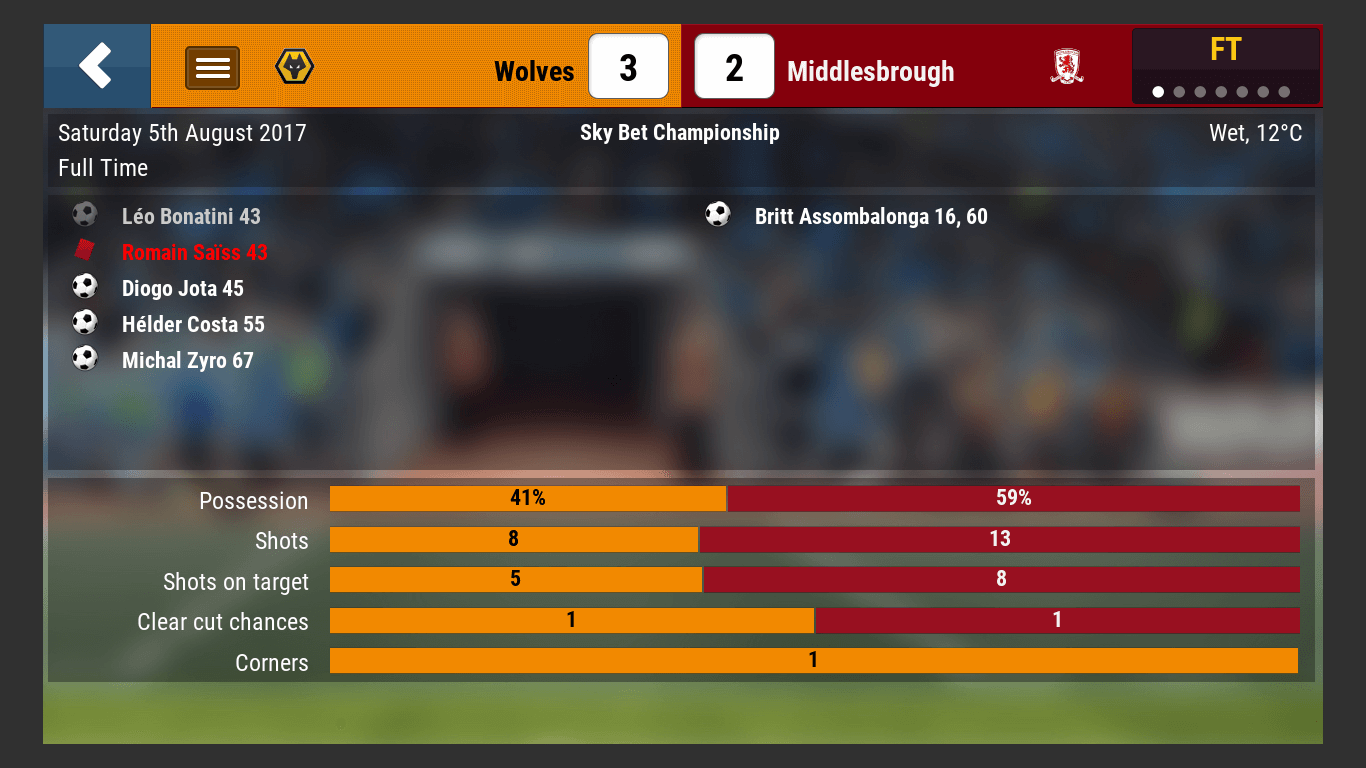 Yeah, you're looking at that correctly, Saiss got a second yellow for reacting to Bonatini's goal being disallowed. Start as you mean to carry on, Romain. So, as you can see, the score went 0-1, 1-1, 2-1, 2-2, 3-2. Not too bad considering we played more than half the game with ten men.
So, whilst Nuno may have won 1-0 and his side defended resolutely, I opted for the 'we'll score more than you' approach, they both worked, however, I was above Nuno on goals scored after one game and I have a feeling it'll be something similar that decides it all at the end of the campaign. Let's quickly run through the difference in formations. Nuno plays something like this and has done all season.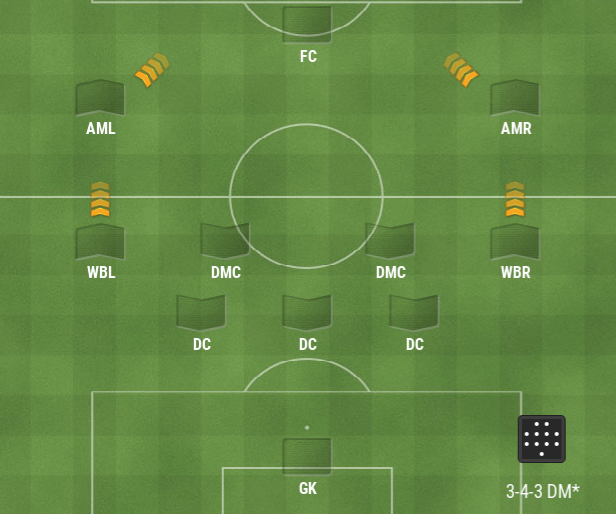 It has worked all season as Wolves are top of the league and do look on course for a return to the Premier League after more than half a decade away, however, I wanted to do things my own way, despite the majority of the personnel being the same and Nuno's way evidently working. This is how I opt to set the starting XI up in league games: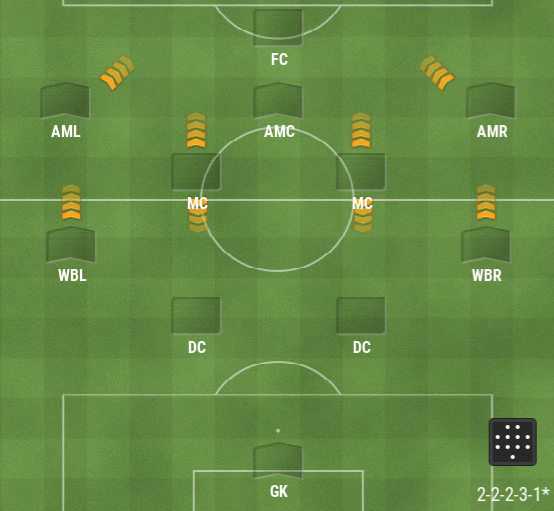 See what I mean now regarding the 'we'll score more than you' approach? I don't stick like that for the whole game, if I'm ahead by the odd goal, I'll drop the AMC into centre-half and mirror what Nuno does in many respects and if I'm chasing a game for whatever reason, I'll push the AMC up top to make it a two or sometimes just go downright ridiculous and go four up front. That's only if I'm in a bad situation with not much time left, which you'll see very soon.
Dicko Has The Last Laugh
Such is the wonder of how the Championship is set up, you always have one league game, to begin with, and then a League Cup game in the week. A much-changed Nuno's side saw off Yeovil Town 1-0 with a goal from the now departed Nouha Dicko sending the real Wolves into the next round of the competition where they would face Southampton away from home. Following suit with the real-time, I made wholesale changes as well, literally, every man and his dog were changed. Two second-half goals from Michal Zyro, which saw him make it three goals in two games, meant that we defeated Portsmouth 2-0 at home. Port Vale in the next round for us.
Two tricky away games followed; Derby on the Saturday then Hull in the week. Derby are one of those sides that are always there or thereabouts when it comes to the promotion picture at the end of the season and Hull were another relegated side, talk about a baptism of fire. Nuno's side came away with six points, winning at Derby 2-0 and then seeing off Hull 3-2. We lost to Derby 2-1 as Helder Costa gave us the lead after fifteen minutes, ex-Wolves boy Andi Weimann levelled minutes later and then somewhat of a pattern was emerging as we had another goal disallowed, this time through Kortney Hause. Seven minutes later, Chris Martin made it 2-1 and that was the end of that. Can only get better though, right? 
Wrong and it was the irony of ironies. Nuno's side were afforded the luxury of Nouha Dicko still playing for them when they went to Hull as he scored in the 90th minute for Wolves to put them 3-1 up. As you can see, it was the complete opposite for us as Dicko scored in the 90th minute to put Hull 3-1 up. Regardless of which way you look at it, three points from nine isn't the greatest of starts, is it? On the horizon next, Cardiff at home. This game saw Nuno's first loss of the campaign as Cardiff won 2-1 at Molineux. If the last two league games are to go by, we've got no chance. Sometimes though, you can completely disregard previous results…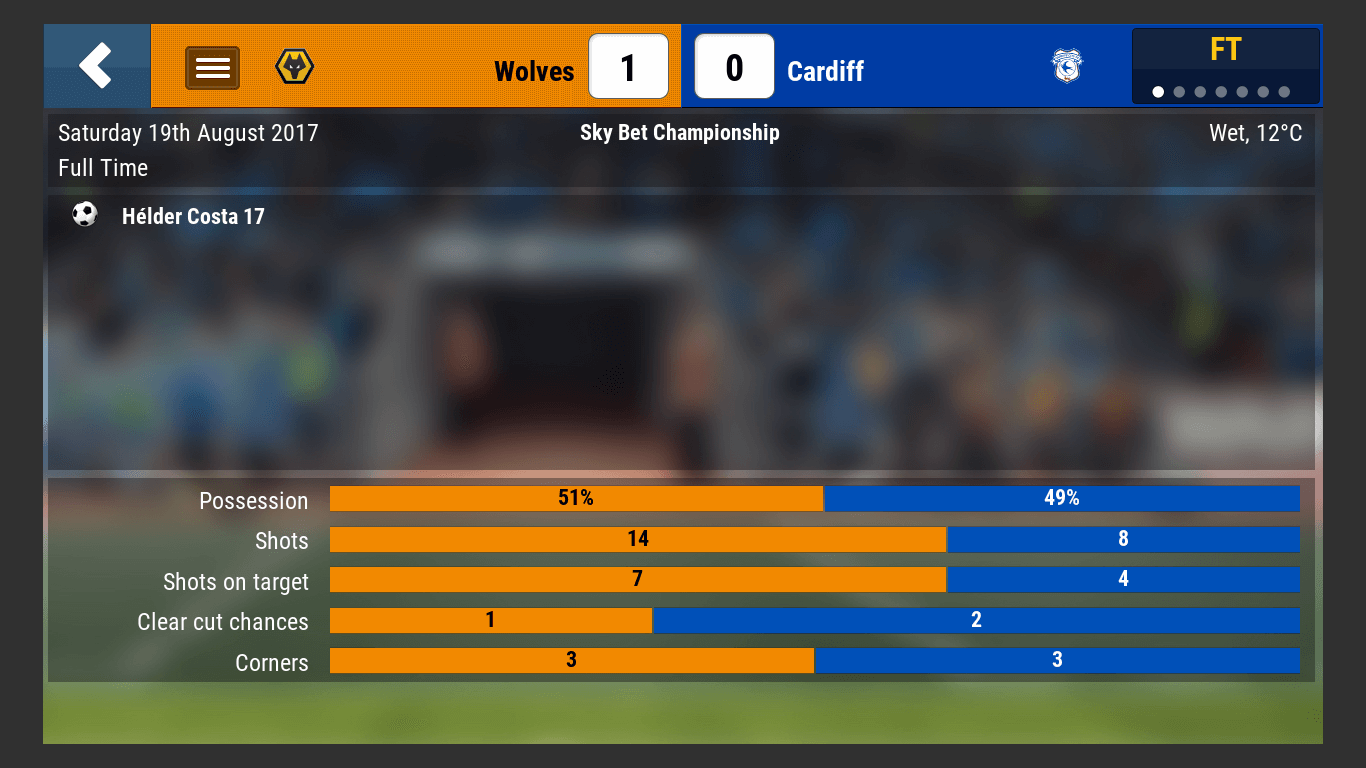 Going off my team selection, I must've looked at formation, shut my eyes and hoped for the best. Ruben Neves was the only central midfielder in the side which would suggest we set up in a 4-1-2-1-2 formation or something along those lines. Who cares though, it worked! The thing that was annoying me at this stage was that we weren't dominating teams and that's a trait I like my sides to have, Rome wasn't built in a day, mind. Back to the wonder of the Carabao Cup afterwards; Nuno's side beat Southampton 2-0 in their own backyard, once again making wholesale changes.
Chelsea Away In The Next Round
My task was somewhat easier as we travelled to local rivalsish Port Vale and won comfortably. Goals from Bonatini x2, Morgan Gibbs-White & Bright Enobakhare ensured that we came away from Vale Park with a 4-1 win and progressed into round three. Nuno got Bristol Rovers at home, we got Chelsea away…
The month closed off with a trip to the Big Smoke as Brentford were our opponents. Nuno came away with a 0-0 draw in what was a game that would be best forgotten. There was no danger of us drawing 0-0, I can assure of that much. We opted to stick with the 4-1-2-1-2 formation that served us so well against Cardiff and another 1-0 would have done just fine. How did that go for us?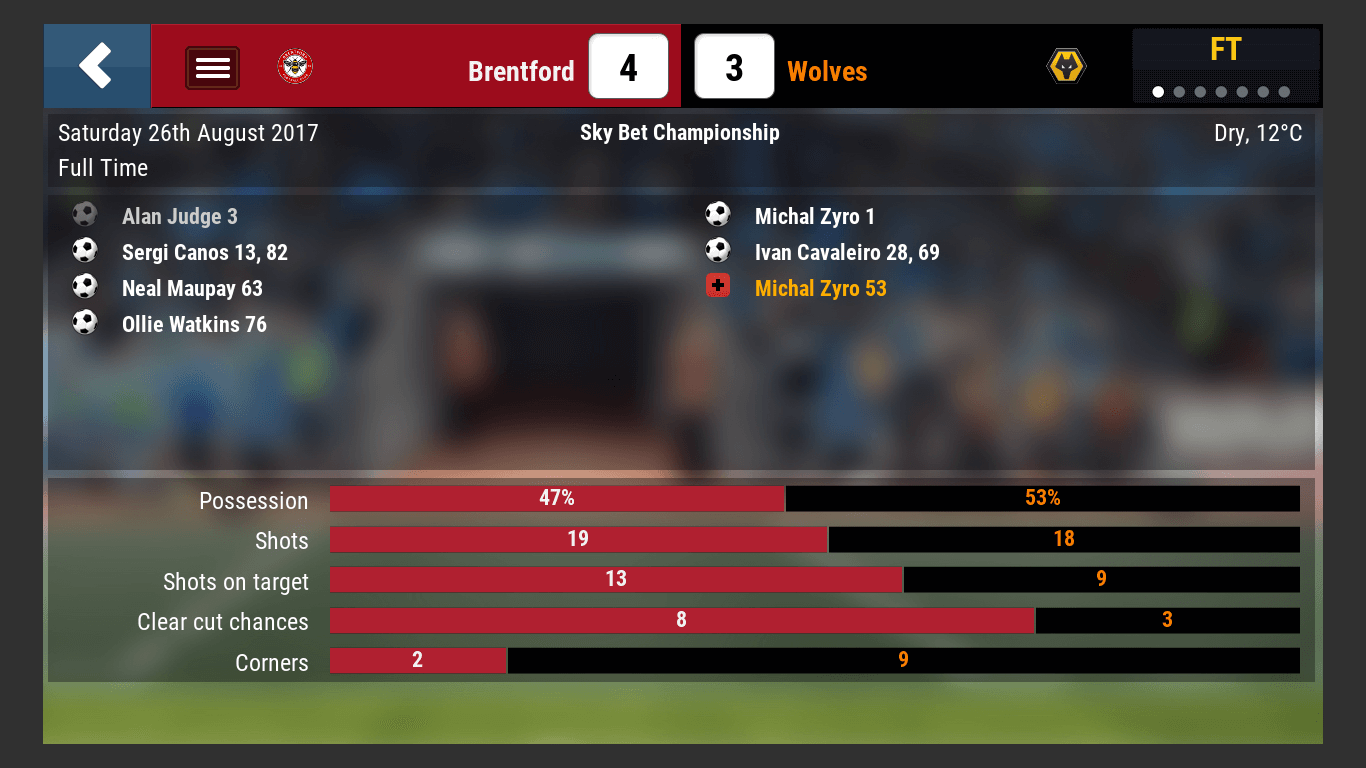 Despite leading this game on three different occasions, Brentford always looked the more dangerous and the fact that Ikeme got rated 9/10 after conceding four goals sort of suggests the type of game it was. That was August in a nutshell pretty much and a massive learning curve, we scored sixteen which was six more than Nuno's side, yet, he had four more points than me after the first five games.
Chelsea in the cup and six league games is next on the menu in what was a busy September. Tune in next time to find out how that all panned out.