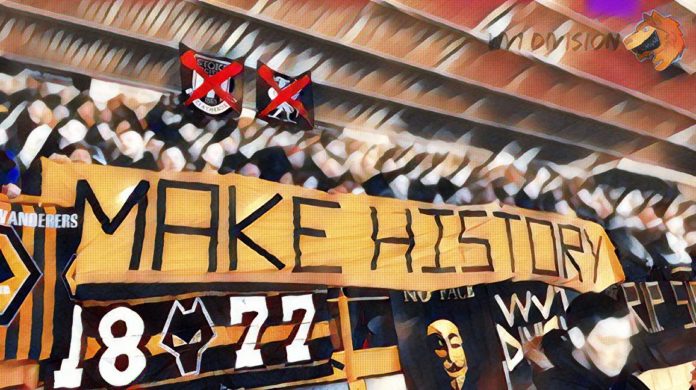 Wolverhampton Wanderers are flying at the moment. It's the best football that Molineux has seen in years, decades and perhaps longer. I'm a Wolves fan so it is a joy to behold at the moment, however, unlike previous seasons, it posed an interesting question, could I do better than the actual team? In any normal season there are no questions asked because we fall short of expectations in real life and if I finish in the top half then I win. So, it's not really a contest.
Can Nuno Be Beaten?
This season is a completely different kettle of fish. Nuno Espirito Santo came in over the summer and the football has been breathtaking; from the outside in it's a 'Chinese backed club with a huge influx with Mendes players' but it's so much more than that. The buzz is back around the club and more importantly the city, so what I wanted to do was to see if I could beat Nuno on a live basis. Let me explain.
Since FM18 was released, I've been playing on a game by game basis against Nuno to see who is the better manager. I know it's not that black & white, but it has certainly made the season more interesting and there has been the odd occasion where I've wanted us not to win because I didn't win on FM, weird isn't it? I must put a disclaimer in now, if that is the right word. I'm using FM Mobile 2018 because my Chromebook still isn't compatible with the normal FM which winds me up immensely but it's a lot more streamlined so it's not the end of the world. It's not the same, though, not by a long shot.
Ofosu-Ayeh Is Real!
Regarding the game itself, I was put in a rather good position squad wise as I didn't have any great need to tamper with the squad because it is pretty much tip-top. An added bonus was that Carl Ikeme is fit to play in the mobile version and that puts a smile on my face everytime I see him on my squad list. Ofosu-Ayeh is also fit as well which has given me some much-needed depth in the RWB role, something which most Wolves fans would agree we need. So yeah, because Ofosu-Ayeh isn't made of prawn crackers in the game, I was pretty much sorted in terms of a squad.
Well, almost. In real life we missed out on a striker on deadline day in the summer as Jurgen Locadia, now of Brighton, was going to sign, then he didn't and it was all a bit of mystery as we only ended up signing Alfred N'Diaye as opposed to any striker. So, my priority was to sign a striker as back-up for Bonatini. It was a bit weird how it panned out, I'll be honest.
Seventeen Out On Loan
I signed Milan Djuric from Bristol City for £4,600,000 + Ben Marshall in what I thought was an astute bit of business. Wrong. He played once and then I got rid of him. You'll get used to that, I'm rather rash and if I don't like someone, I'll act on it. In came Mason Bennett from Derby for Djuric + £1,200,000 and Chuma, most recently of Sevilla, signed as he was out of contract. Chuma was poor as well. He's now on loan at Albacete.
Apart from the activity up top, I didn't bring anyone else in; out went Prince Oniangue to Novara for £1,200,000. The rest of the departures were all loans as Oskar Buur went back to his native Denmark, Jose Xavier went to Coventry to play with Nazon who was already there at the start of the game and Ying Ming-Yang & Sylvain Deslandes went to Barnet. All in all, I've got seventeen players out on loan, an overhaul is definitely on the cards if I manage to make it to the Premier League.
The Bar Has Been Set
My aim over the next coming days is to bring you up to date with the season that I'm having in line with the season that Nuno is having. We face Norwich tonight and I've already played it (I won 1-0). That's how I've been doing it throughout the season, I play it earlier in the day/the day before and then see how Nuno gets on; the only exception to this rule was the bit at the start of the season when I had to play catch up because FM naturally doesn't get released in August and very recently as I hadn't been playing it so I had three or four games to play.
All will become a lot clearer over the next few days as I'll go through game by game who is getting the better of who. I hope you choose to join me on my task to beat Nuno, it's not going to be easy.
Until the next time.