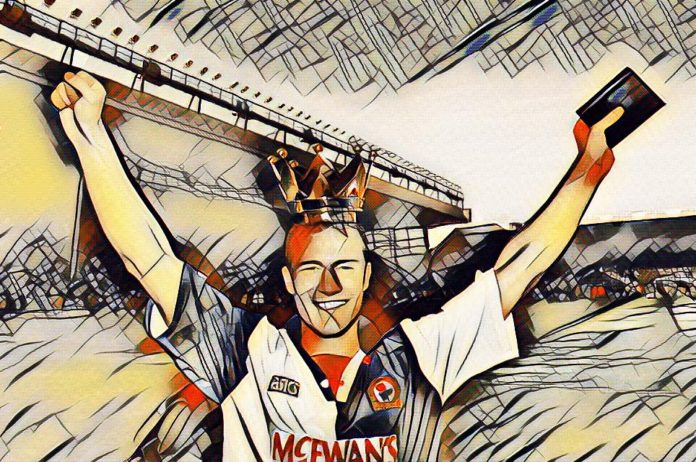 It's a Tuesday afternoon. I find myself strewn across the sofa with various crumbs and stains on my shirt, endlessly skipping through Netflix as we so often do. I decide to take my search for mild entertainment to Sky where I'm greeted by an omnibus of one of my favourite programmes – Premier League Years.
Upon striking this goldmine, I settle myself in for what would be a whirlwind recap of the 2011/12 Premier League season. Carly-Rae Jepson gifted the world with Call Me Maybe. The world didn't end. Manchester City so dramatically won the league and Blackburn Rovers saw their time in England's top flight come to a bitter end.
See: Steve Kean.
I soon realise that the handheld task of getting Blackburn back to where they belong is not one to be taken lightly, and the reality of the situation my club is in dawns upon me. But having guided my Rovers team to 1st place in League One after 12 games, I felt I'd set myself up for a strong run-in to the New Year, where a healthy wad of transfer money await.
So our journey resumes in early November with a trip to the Kassam Stadium to face Oxford United, and it required an injury-time goal from the Flying Dutchman Kevin Luckassen to secure a 3-2 victory.
I spoke highly of my defence in the earlier parts of the season, but it seemed that our initial solidity had disintegrated. Up next was a Peterborough United side enjoying a good season in the League One play-off places. It was the first encounter and after a casual 7-3 defeat, I decided a formation change was necessary. I resorted back to the widely used 4-2-3-1 formation and reintroduced fan favourite Paul Caddis into the team at right back.
I had been blessed with two goal-scoring strikers this season in Luckassen and Dominic Samuel, so the decision to drop one brought lengthy deliberation between me and my staff. We opted for the more aerially gifted Samuel but kept Luckassen in the starting XI as a shadow striker behind Samuel – a decision which proved to be pivotal.
The change had immediate effects with comfortable wins against Doncaster Rovers and Rochdale United on the run-in to the New Year. Whilst the switch to 4 at the back had improved our defensive record somewhat, we were still conceding needless goals so a defensive addition was the first task of 2018. Centre-back Alex Tuanzebe was signed on loan from Manchester United for the remainder of the season, and was a prominent figure in the defence making 24 appearances for Rovers.
Happy with my team and its depth, I felt all that was missing from the side was an engine. Someone in the middle of the park who is going to track, tackle and cover ground for me.
Just like Brian Clough needed his Dave MAcKay, I needed mine.
In came Burton Albion's box-to-box midfielder Jamie Allen for an undisclosed approximating £5.7 million – Blackburn's 2nd most expensive central midfielder behind the legendary Barry Ferguson.
With business settled early, it was time to settle my team as we look to hone in on the league title. Allen soon became the heartbeat of this Rovers team scoring twice in his first 4 games, and assisted thrice in the 6-1 demolition of Shrewsbury Town where Luckassen bagged himself 4 goals.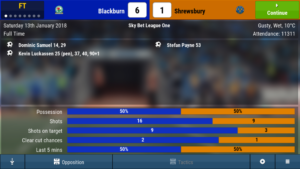 In the first episode of this journey, I wrote the breakthrough of 16-year-old Kyle Connell. His spontaneous introduction had lit up Ewood Park, netting 6 times in his first 4 appearances. But the hype was short lived and after failing to make an impact in several substitute appearances, was loaned out to Hamilton where he went on to the score 0 times in 8 appearances.
An unbeaten start to 2018 was rather unexpected as we entered the month of February, but this feat was dwarfed by the forthcoming month where I won my first Manager of the Month award. February started with routine wins at Portsmouth and Walsall, before seeing off promotion rivals Fleetwood Town 2-0 with a Samuel brace. Next came a 2-1 Checkatrade semi-final win over Wigan, before sealing of month with a dramatic 3-2 win over Northampton Town.
But I could only share the limelight of our current success, as Samuel and Luckassen had formed a partnership similar to that of Alan Shearer and Chris Sutton of past, with 12 goals between them in February.
In little over an hour of gameplay I had reached March, and my first piece of silverware at Blackburn Rovers. Wembley was acalling for Rovers where we would face AFC Wimbledon in the final of the Checkatrade Trophy. It was a tense encounter which either team could've won but with goals from Bradley Dack and Luckassen, we managed to hold on for a 2-1 victory and the clubs first trophy win since winning the League Cup back in 2002.
Speaking after the victory, Blackburn manager Luke Phelps said:
"What a feeling it is to win a trophy in my first season here. The boys were terrific today like they have been all season and obviously, we have to thank the fans who have come in masses today, we do everything for them."
The cup win capped another month of victories for my team who were beginning to run away with the title. Peterborough, Gillingham, Bradford and Oldham were this month's victims – all of whom conceding 2 or more as I narrowly missed out on consecutive Manager of the Month awards (Fleetwood's Uwe Rosler won the award, despite losing his job in real life last week).
My team and I were flying high come April, boasting a 15 game unbeaten run – some said we wouldn't be beaten in the remainder of the League One campaign. But my team with myself included, had become complacent with the Checkatrade Trophy win, and were brought back down to earth by MK Dons in the very next game. Bradley Dack opened the scoring for Rovers early on and it looked to be a routine victory, but three first-half goals from Dons brought our long unbeaten run to an abrupt end.
Despite the defeat, we remained 12 points clear of Bradford City at the top of League One and, due to results elsewhere, were presented with our first shot at securing not only promotion, but the title with 4 games of the season remaining.
We travelled in numbers to the Memorial Stadium to face a struggling Bristol Rovers team, who were desperate for a win themselves. After defeat at MK Dons, my team's confidence had been shocked and come the hour mark, we were 2-0 down. As it stood, Bristol had climbed out of the relegation zone and my lead at the top was reduced to 9 points. But I wanted the title, and I wanted it now. 15 minutes of the game remaining and I decide to throw everything I had at Bristol. Jamie Allen clawed one back before assisting Luckassen for the equaliser in the 84th minute. At 2-2 we had brought it back but were still shy of the league title as Bradford lead Gillingham by a goal to nil.
It is situations like these which define you as a (virtual) football manager. With 5 minutes remaining, I went to 3 up front, replacing defensive midfielder Richie Smallwood with striker Dominic Samuel, who had picked up a knock in the previous game. His pace had immediate effects on the game and, for the 42nd time this season, he found the back of the net.
The noise erupting from the away end at the Memorial Stadium was deafening. An 89th-minute winner had sealed both promotion and the title for my Blac
I achieved success in my first season at Blackburn Rovers, and the fans, and the chairman and everyone involved at Ewood Park were delighted. Our success was largely due to the form of both Luckassen and Samuel though, who scored a staggering 86 goals between them, over 75% of my total goals that season. Keeping them fit and firing all season was crucial, but it was obviously a team effort.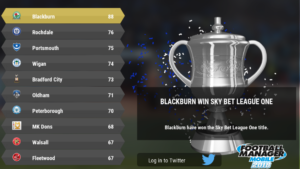 Captain Darragh Lenihan had been superb in defence throughout. Bradley Dack had chipped in with some important goals and Jamie Allen proved to be a class signing for this level of football, with 7 goals in his first half-season at Blackburn.
The Rovers return to the Championship. Phase One of my mission had been completed and we move with confidence into Phase Two – promotion to the Premier League.