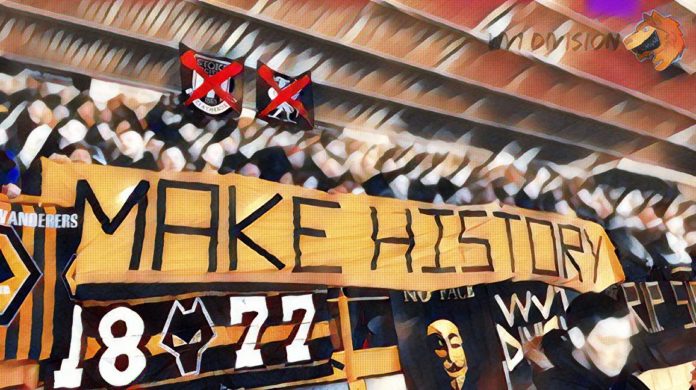 Good day to one and all and welcome back to the latest chapter of 'Beating Nuno', by now you should all know what's going on and what this all about, however, if you are a new reader of this book (that's right, a book), let me refer you to the prologue which will explain everything. Last time out, it finished with Nuno and I locked on sixty-five points each, with my FM side edging it ever so slightly on goal difference.
Factually speaking, this game had more home games than away so it should be an easier month, albeit, football sometimes works in wonderful & weird ways, so let's dive straight into the action.
Start As You Mean To Go On
We begin at Molineux where the Blades of Sheffield United were in the opposing corner and going into the game, there was a feel-good factor as Nuno had just completed the signing of Wolves old boy Benik Afobe until the end of the season on a loan deal from Bournemouth.
It was a late kick-off under the lights in WV1 and Nuno didn't disappoint as his side won 3-0 which ensured that the ball was firmly back in my court. How could I compete against a 3-0 win in which Nuno's side played total football at times?
That's how. As we were level on points, goal difference was going to be a key factor so when we blitzed Sheffield United with six first-half goals, as you can probably imagine, I was chuffed. Probably the craziest thing about the game was that despite scoring seven, their keeper still got a rating of six which tells you that it could have and perhaps should have been double figures. That bumped our goal difference up to +38 and more importantly, we were now six goals ahead of Nuno.
Revenge is a dish I enjoy. Well, providing it's me eating it. It was just that which was on the menu as QPR were next up in the Black Country; earlier in the season, October to be precise, the 'Hoops' got the better of me and Nuno as we both succumbed to defeat. Nuno won 2-1 and ensured that he got his own back, it was now over to us. We needed a win for revenge, but also to keep pace with Nuno's side.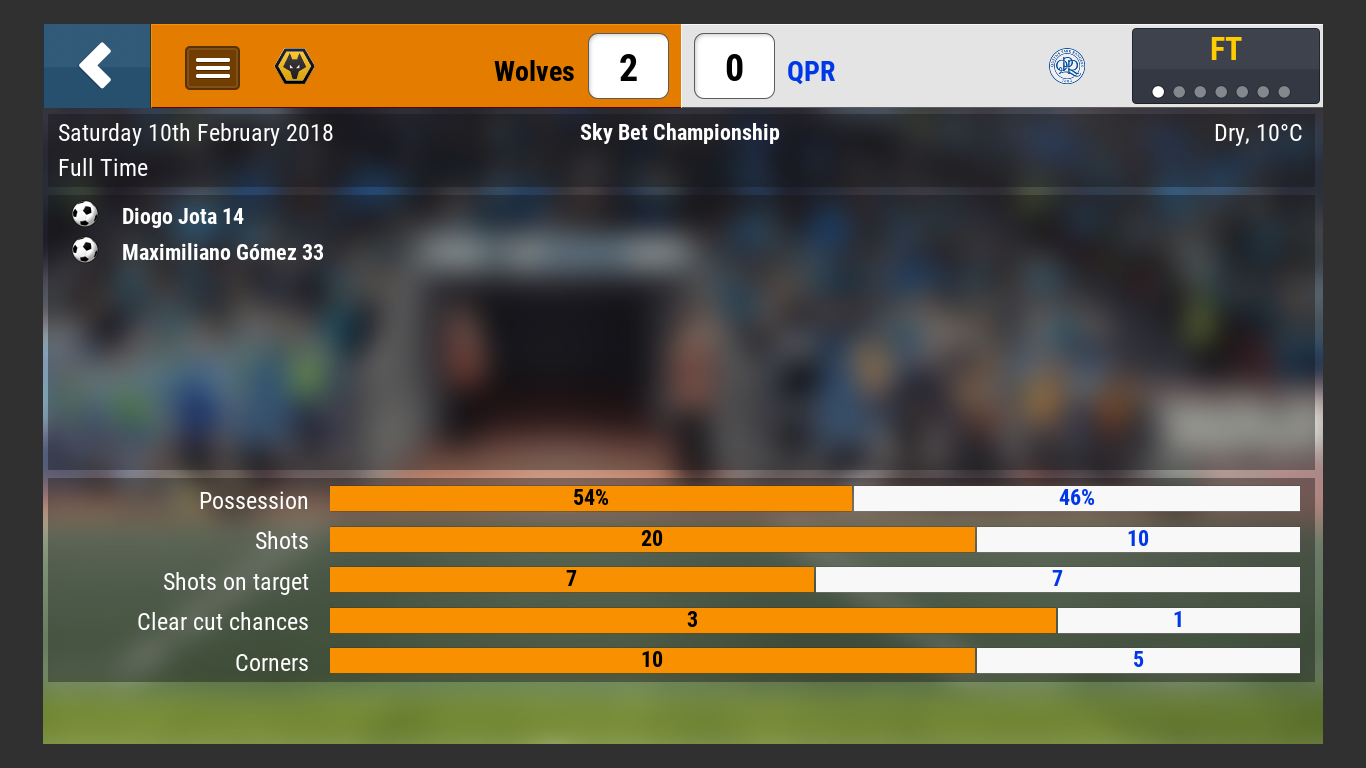 We were getting into the habit of scoring in the first half and then relaxing a bit more in the second half. It's not ideal, albeit if we keep on winning, who am I to complain? I stuck with the same XI that swept away Sheffield United with the exception of the two wing-backs as keeping those fresh is imperative for the system that we play. What that also meant was Connor Ronan still couldn't get a look in as Saiss and Neves were controlling the games as well for me as they were for Nuno. It's a nice problem to have, I'll be honest.  
Thick & Fast
Nuno had a slight advantage over me when it came to the next game. Due to our heroics at the Etihad last time out, we had an FA Cup on the 17th of February away at Reading whereas that's when Nuno's side faced Preston in the league.
We faced Preston on the Wednesday after the QPR game, so the games were coming thick and fast. While Nuno's side may have had a week's break, they came up against a resolute, in-form Preston side and could only manage a 1-1 draw which was actually a good result in the grand scheme of things. I wanted a win though.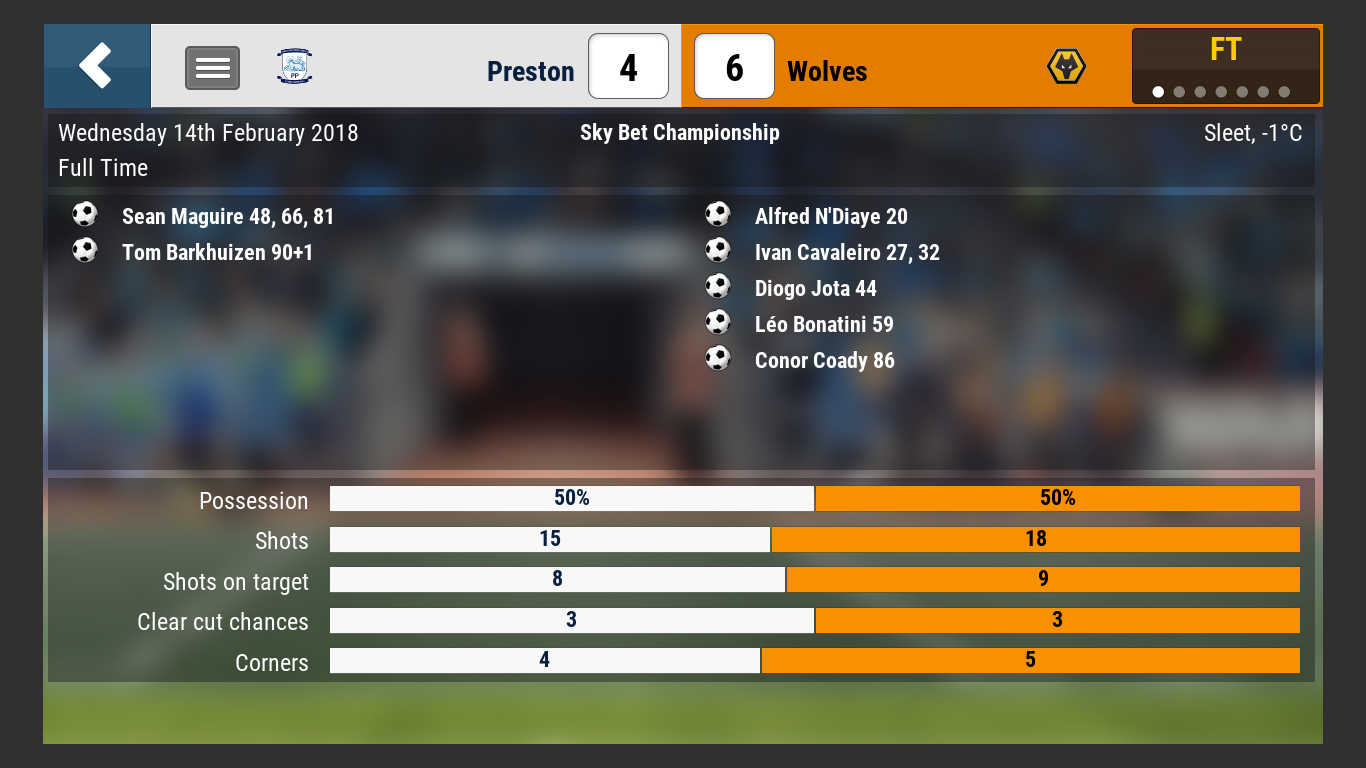 You may well be wondering what on earth happened. Believe me, you're not the only one. Again, we flew from the word go and went into halftime 4-0 up and cruising. N'Diaye got the nod over Neves due to his incapability to play two games in a week and he repaid my decision to pick him over Ronan by scoring one and assisting another. The second half was a complete abomination and even though the pattern of the goals meant they were never in touching distance, defensively it was barbaric.
Mercurial Neves Ensures Safe Passage
As mentioned, we then had a cup game. We faced fellow Championship side Reading at the Madjeski in a bid to make the sixth round of the FA Cup; we'd travelled to Berkshire once already this season and came away with nothing. This time, I was determined not to let the same thing happen again as I wanted the FA Cup. I wanted it bad.
Coady was the only one to survive the defensive cull as in came Ruddy, Bennett, Doherty & Douglas for Ikeme, Hause, Vinagre & Ofosu-Ayeh respectively. Unsurprisingly, a defensive error gave Reading a penalty within ten minutes…
Ruben Neves was back in the starting eleven at Saiss' expense and he put in a man of the match performance to ensure we marched on to the sixth round. He made the most interceptions in the middle of the park, assisted yet another goal, this time for N'Diaye and is just an all-round joy to have on the pitch.
Can We Find Any Cracks Against Arsenal?
Left in the hat for the sixth round was Barnsley, Spurs, Liverpool, Swansea, Southampton, Arsenal and Watford. Obviously, there were three names that I wanted to avoid like the plague, however, after thinking about, we are going to have to play them at some point, so let's get it over and done with. It's a good job I changed my mindset because we were drawn away at the Emirates. Fantastic.
Our penultimate game of the month was against Norwich and against all odds Norwich came back from two goals down to salvage a 2-2 draw versus Nuno's side. It was the last kick of the game which levelled things up, you've got to take what you can and if we got three points against the 'Canaries' it would mean going into the final game of the month with a four-point gap.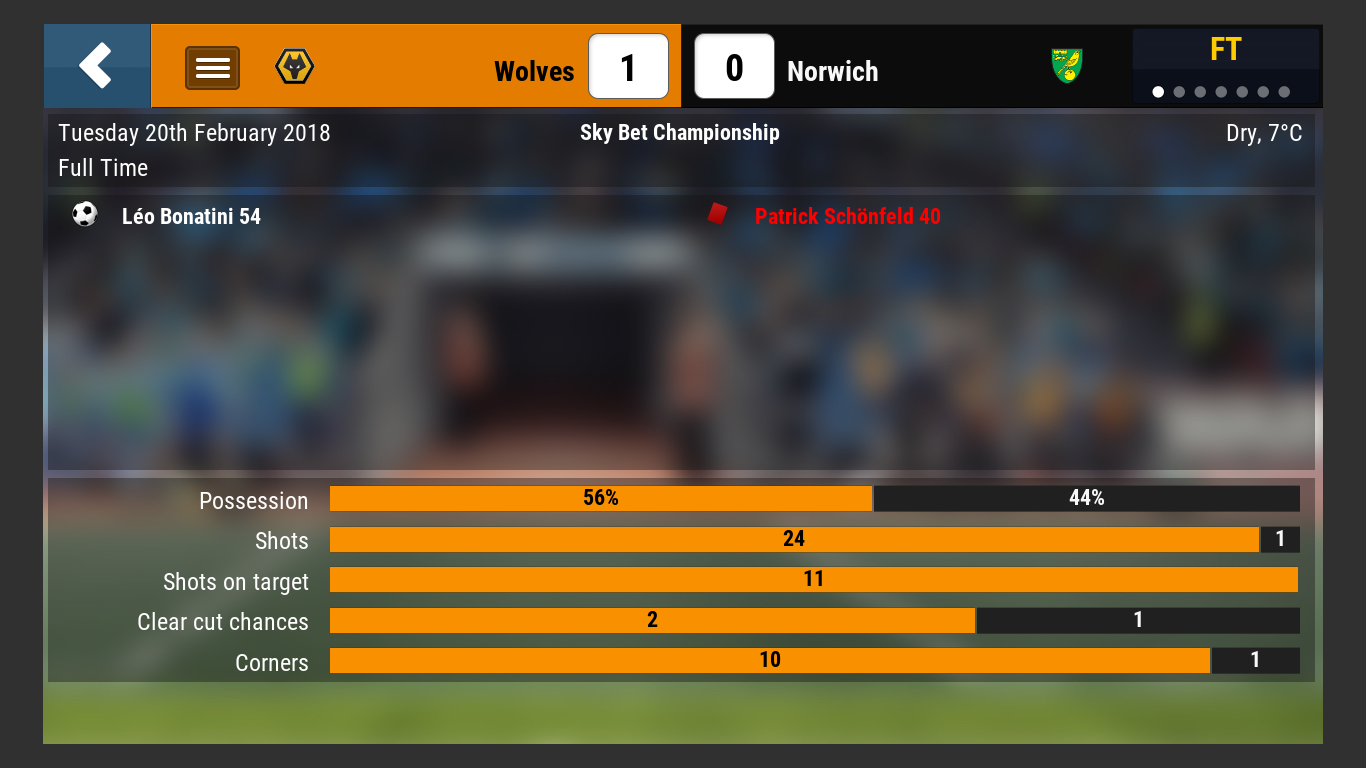 Just got over the line. Just. I had one eye on the game against Fulham on Saturday as I rested Neves and gave the highly thought of Pedro Goncalves his professional bow and he didn't disappoint. The issue was Goncalves was paired with the wrong player as he and N'Diaye went together like a packet of custard creams and a tin of baked beans, nevertheless, we got the three points which is all that matters.
This chapter ends in the Big Smoke, Craven Cottage to be precise. Nuno's had happier times in charge of Wolves as his side slumped to a 2-0 defeat and they missed Neves badly as he was suspended. I wasn't going to make the same mistake, though. Neves and Saiss came back in and I slotted the impressive Goncalves just in front of them because Jota was running on empty. Nuno's defeat meant I had the chance to open the gap to seven and after this, there would be only seven games left…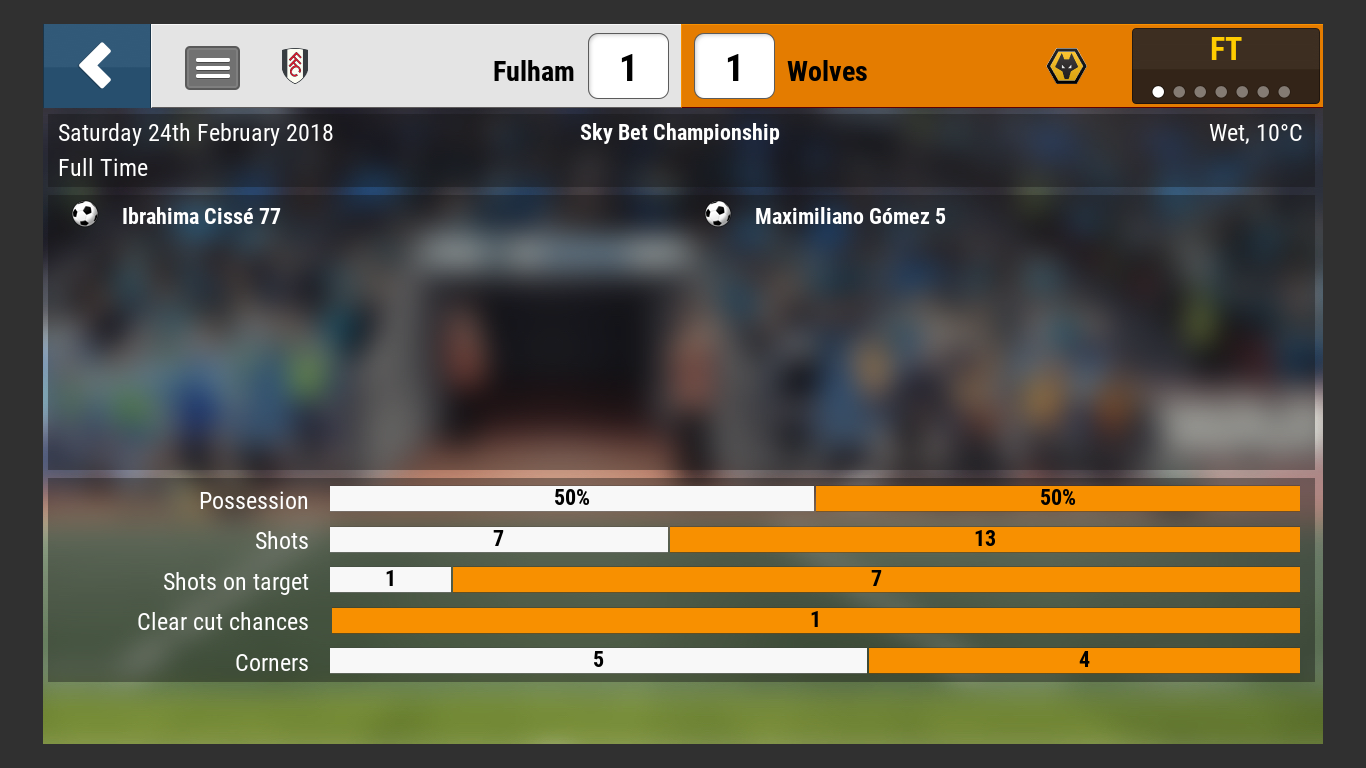 Gomez put us in the lead with a sensational free-kick and after I thought we were going to see another game in a similar fashion of the Preston game where we scored four without response in the first half. As it goes, David Button in the Fulham goal had the game of his life as we did everything but score a second and we paid the price late in the second half as you can see. It was there only shot on target which made things worse, on the other hand, we were now five points clear in the table. Speaking of which…
| | | | |
| --- | --- | --- | --- |
| Team | Played | Goal Difference | Points |
| FM Wolves | 34 | +43 | 78 |
| Nuno's Wolves | 34 | +31 | 73 |
Another chapter over and it's going rather well. Nuno still hasn't given me a call for any tactical advice which I find rather strange, maybe one day.
Until the next time.