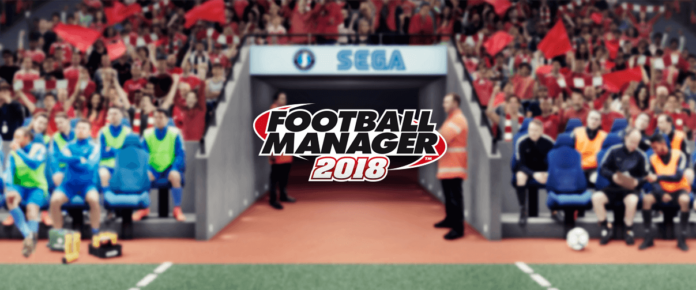 It's the World Cup draw this week on the Inept International Manager and Louis Henrik's Australia have been placed, unsurprisingly, in pot four alongside the likes of Algeria, Iran, Honduras and Saudi Arabia.
Pot three is a strange place to be, Bosnia & Herzegovina and DR Congo are alongside Spain, Mexico and the USA.
Pot two is filled with 'good but not great' sides like England, Denmark, Belgium, Portugal and Chile while the superstars are found in pot one – Argentina, Brazil, Italy, France and Germany.
As Louis Henrik takes his seat alongside Football Federation Australia CEO David Gallop and Chairman Steven Lowy, the format is reviewed. 32 qualifying countries will be divided into 8 groups containing teams in each. The top two teams in each group advance to the knockout stage. In knockout stage matches, should there be a draw then extra-time, penalties will be utilised.
As the draw is made, we'll go inside the mind of Louis Henrik…
Not a word from Steven or David. They really don't like me, do they? More than one website has picked up on the story that they wanted Luis Enrique and the Spanish secretary Lowy has been doing a kindness got the wrong end of the stick. They've not denied it to me or publicly.
Funny joke by Lineker about Diego Maradona's handling.
I'm making notes to look distinguished. I don't know why, they give us a printout afterwards. Say what you like about FIFA, they don't care about trees. Or morals.
First team out are the hosts Russia, or maybe they don't need drawing. Group A for them. Germany are in Group B… for Berlin obviously. Group C has Argentina, third out and they'll probably finish third anyway. Brazil are Group D, then France and Italy… Croatia? How did they get in pot one? Last team out are Colombia in Group H.
Group A: Russia.
Group B: Germany.
Group C: Argentina.
Group D: Brazil.
Group E: France.
Group F: Italy.
Group G: Croatia.
Group H: Colombia.
I'd be happy with Croatia or Colombia for the easiest draw. I don't care about how hard it can be, getting to the knockout stages will be an achievement. I want to avoid Russia, with their fans right behind them that's just not going to end well.
There's a delay as the pots are switched. I can't see any heating of balls (stop it) but with several former footballers up there, one wouldn't be surprised.
I was pleased with the win over Jamaica but boy was it tough in that second leg. The press are still making a big deal of me never having attended a game in the Hyundai A-League but given a choice I'd rather be in the north of England. Actually, I'd rather be in Dumbarton because their ground is lovely.
Second seeds to come now. Russia get Portugal, that looks tough. The hits keep on coming as England are paired with Germany. Bye bye, Southgate. Brazil get Poland, of course, they bloody do. It'll be like shooting fish in a barrel for Neymar and co.
In the two groups, I've got my eye on, Croatia are joined by Chile and Colombia get Switzerland. I still want one of those two, that's G or H as I mark that off on my pad. I say pad, it is paper and not an electronic tablet, tight bastards at the FFA.
Group A: Russia, Portugal.
Group B: Germany, England.
Group C: Argentina, Belgium.
Group D: Brazil, Poland.
Group E: France, Uruguay.
Group F: Italy, Denmark.
Group G: Croatia, Chile.
Group H: Colombia, Switzerland.
As the third seeds are drawn, I think it's time I made a confession. I was indeed previously a scout at Manchester United and that's what got me this job really, the fact that Lowy and Gallop could spin it that I worked with Sir Alex Ferguson at Old Trafford and discovered stars like Nemanja Vidić and Javier Hernandez.
The problem is, I didn't discover those stars. I barely made any contribution to success at Manchester United. Sir Alex, famed for taking calls from anyone in football, doesn't even know who I am. He's just a name on my CV.
I worked under Martin Ferguson, being sent to non-league games in England and Scottish games that nobody could pronounce. Nobody ever materialised from my visits.
Manchester United's pursuit of Nemanja Vidić lasted two-and-a-half-years. EVERYBODY in United's scouting pool saw him at one stage. We were watching him at Red Star, then for his full two seasons at Spartak Moscow. I saw him once play against Rubin Kazan when the office mixed up my name on the plane ticket with another scout.
I signed the scouting report but I doubt anybody ever saw it, there were so many scouts who Sir Alex trusted talking Nemanja up.
Oh, the draw. Let me check…
Group A: Russia, Portugal, USA.
Group B: Germany, England, Mexico.
Group C: Argentina, Belgium, DR Congo.
Group D: Brazil, Poland, Austria.
Group E: France, Uruguay, Spain.
Group F: Italy, Denmark, Ghana.
Group G: Croatia, Chile, Senegal.
Group H: Colombia, Switzerland, Bosnia & Herzegovina.
Brazil continue to be soft soaped, France vs. Spain and USA in Russia's group looks tasty. The look on Maradona's face when he pulled out DR Congo to play Argentina. Smug w*nker.
Where we I? Oh, yes. Confession.
The other claim to fame was the discovery of Chicharito, only that too was littered with 'issues'. In truth, I'd never seen Javier Hernandez play before he signed for Manchester United. I was tasked with scouting Bebé, a Portuguese striker at Estrela da Amadora. I liked him, I gave him a glowing report. Where the problem came was that as I was on my way to drop off my report with Martin Ferguson, another scout in a rush handed me his report of Hernandez to give in on his behalf.
Somehow when I passed them over to Martin's secretary they got mixed up, the girl wrote down the wrong name on top of the reports and I got credit for discovering Hernandez.
Even this job is a facade, just like poor Bebé, while Javier Hernandez scored goals for United, Real Madrid, Leverkusen and now West Ham. It's been exhausting carrying that around with me.
Australia. What? Ah, we've been drawn. Group F. Long faces from David and Steven. Not a good sign.
Group A: Russia, Portugal, USA, Japan.
Group B: Germany, England, Mexico, Ivory Coast.
Group C: Argentina, Belgium, DR Congo, Iran.
Group D: Brazil, Poland, Austria, Honduras.
Group E: France, Uruguay, Spain, Algeria.
Group F: Italy, Denmark, Ghana, Australia.
Group G: Croatia, Chile, Senegal, South Korea.
Group H: Colombia, Switzerland, Bosnia & Herzegovina, Saudi Arabia.
There we have it. David's just muttered that we'll start with Italy in a daunting prospect. This whole knockout round-thing looks a little distant.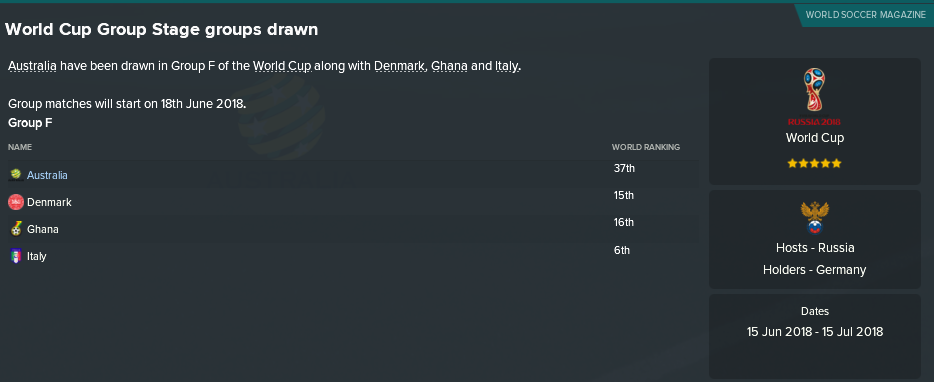 That concludes the draw with Australia finding themselves with a job on as they are drawn with Italy, Denmark and Ghana for the 2018 World Cup. There is one thing I noticed. Not once did his thoughts wander to his World Cup Squad.