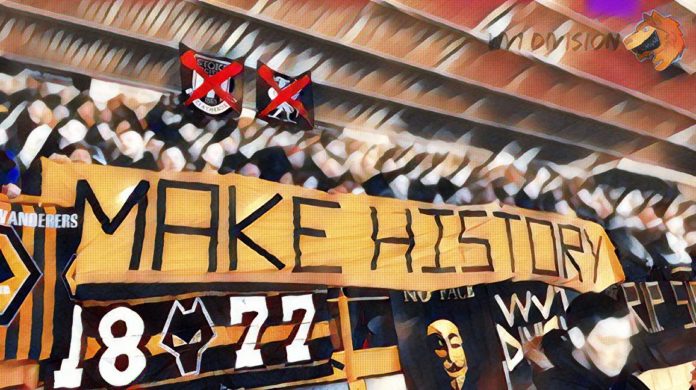 Welcome back to one and all to another edition of 'Beating Nuno'. With Wolves sitting pretty at the top of the table in the second-tier of English football, I felt it would be suitable to pit my wits against Nuno Espirito Santo to see whether he was doing a really, really good job or it could be bettered. Disclaimer: I am a Wolves fan, so any other season this wouldn't be any fun at all because, let's face it, normally we're shite.
It's a live challenge which means that I'm taking on Nuno a game at a time, however, at this present moment, we are still recapping the season so far. This chapter sees enter the year 2018 and a late Christmas present is in order. Don't get me wrong, we've been electric in front of goal this season as we've scored shed loads more than Nuno's side, take last month as an example. We scored twenty in six games. Nevertheless, I wanted more as I feel like we didn't have a great deal of strength in depth in the forward positions.
A Uruguayan From South Galicia
Naturally, I wasn't as lucky as Nuno when it came to transfers as he had Mendes working alongside him, so I had to dig deep. I didn't have a great deal of money to work with, so I took a leaf out of the way that the real Wolves conduct transfers and went after a player on loan with a view to a permanent. Step forward, Maximiliano Gomez. Celta Vigo signed him in the summer from Uruguayan side Defensor Sporting Club for £3,800,000, but as winter approached, he'd only played twice for the Galician based side.
I tried to sign him outright, but I couldn't justify paying over £15,000,000 for a player that hasn't even scored on the continent, so after some delicate negotiations, he signed on loan until the end of the season with a view to a permanent move worth an eye-watering £17,250,000. It was a helluva lot of money, although, if he didn't fit into our team, we wouldn't pay it, it was as simple as that. That was the only 'new' signing of the window, I also made Bonatini's loan move from Al-Hilal permanent as the £5,000,000 fee that was written into the contract was too good to turn down.
In all honesty, there wasn't much value in bringing anyone else in. It could be argued that my defence needed looking at due to the fact that I hadn't kept a clean sheet since September, on the contrary, I wasn't bothered by that as my motto was, if we score more goals than the opposition, we win. The Bees of Brentford were the opening game of the new year and I was seeking revenge after we lost a topsy-turvy game 4-3 in August at Griffin Park. Nuno started the year as he meant to carry on as his side won 3-0 which meant that the gap between us was out to six points before we played.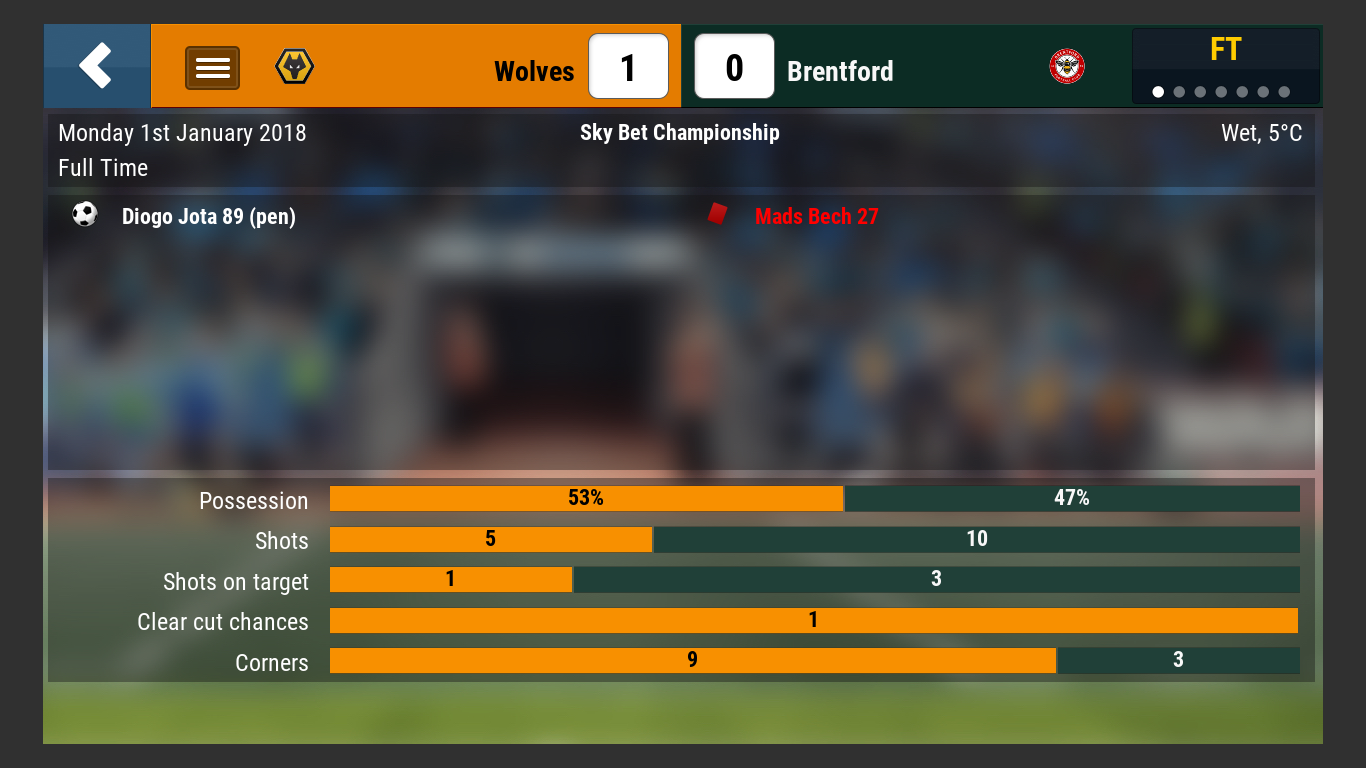 Talk about making hard work of it. Our run of games in December had taken its toll on our team as I had to drop Jota, Cavaleiro and Neves to the bench as risking them from the start wasn't in the script. With the game going into its closing stages, the treble substitution of Cavaleiro, Jota and Ronan ultimately made the difference. Ronan won the penalty, Jota converted and the rest, as they say, is history. It wasn't a game for the scrapbook by any means, we got the win and that elusive clean sheet so it wasn't all bad. The gap stayed at three.
A pleasant break from league football was next as the FA Cup Third Round took centre stage. I'll level with you, winning the FA Cup is more important than promotion and I mean that in real life as much as I do on the game, so when Nuno fielded a weakened side against Premier League Swansea and drew 0-0 he only had himself to blame. In his defence, if Bright had his shooting boots on, they would've been out of sight at halftime. We had been dealt the more favourable hand this time as we had been drawn against League One Blackpool at home and I wasn't pulling any punches against them in terms of team selection.
Our strongest XI set-up in a 4-2-3-1 formation was no match for them. Would it have been different if Tilt wasn't sent off for a reckless challenge early on? Maybe, albeit, the class would've shone through. Gomez debuted with style as the trio of Jota, Costa and Cavaleiro linked up with him seamlessly to put us well and truly in the hat for the next round. Nuno's side got drawn against Notts County, all they had to do was beat Swansea in the replay. We got Man City. Someone in the footballing world didn't like us as we kept getting stitched up with the cup draws.
Previously in Yorkshire, we scored six away at Sheffield Wednesday and if we could repeat something similar at Oakwell against Barnsley it would reduce the gap to one as Nuno's side drew 0-0. They did have a perfectly good goal ruled out for offside, but I don't make the rules, I just take advantage of them. Hopefully. We opted for the same eleven that played Blackpool of the park, more of the same will do…
17.25 million would be a bargain if he carries on at this rate. What made him such an important acquisition, asides from giving us more depth was that he plays as a carbon copy of Bonatini, so he pulls players all over the pitch and creates space for the others to work in. Bennett is a good squad player to have but he's no Bonatini or Gomez, which is quite harsh considering how well he's done for us. Gomez' afternoon consisted of the two goals which you can see, what you can't see is that his passing rate was 100% which is why he's ahead of the likes of the aforementioned Bennett and Zyro in the pecking order.
Gap? What Gap?
With the gap now at one, Nuno's side had the replay against Swansea to deal with, a second string side lost 2-1 in Wales which meant that Nuno's sole focus was now the league, unlike me who had dreams of doing an unorthodox double. We close the month with the City game, so that's coming up shortly.
Beforehand, we had a Midlands derby at home to Nottingham Forest to attend to and they were not going to roll over and die like they did when we trounced them at the City Ground in September (5-1). Nuno fell to a shock 2-0 defeat at Molineux which opened the door for me to move ahead of the ex-Porto manager in our ongoing battle.
A point is better than nothing. At least that is what I was trying to tell myself after the game anyway. We didn't quite click as Forest restricted us to long-range efforts, on a brighter note, it meant the gap was now eradicated between Nuno and I. It could've and perhaps should've been more, though. For once, my tinkering wasn't at fault as I stuck with the same side that had won against the two 'B's', Blackpool and Barnsley. Wasn't the end of the world that we didn't win.
Nuno's side had a week from the Forest to the Ipswich game, we, however, had Ipswich the Tuesday directly after the Forest game due to our continued involvement in the FA Cup. Nuno did what he does best and bounced back from defeat with a 1-0 win courtesy of a Matt Doherty goal early in the first half. I kept the team the same bar the players that were at risk of burn-out and this is what happened: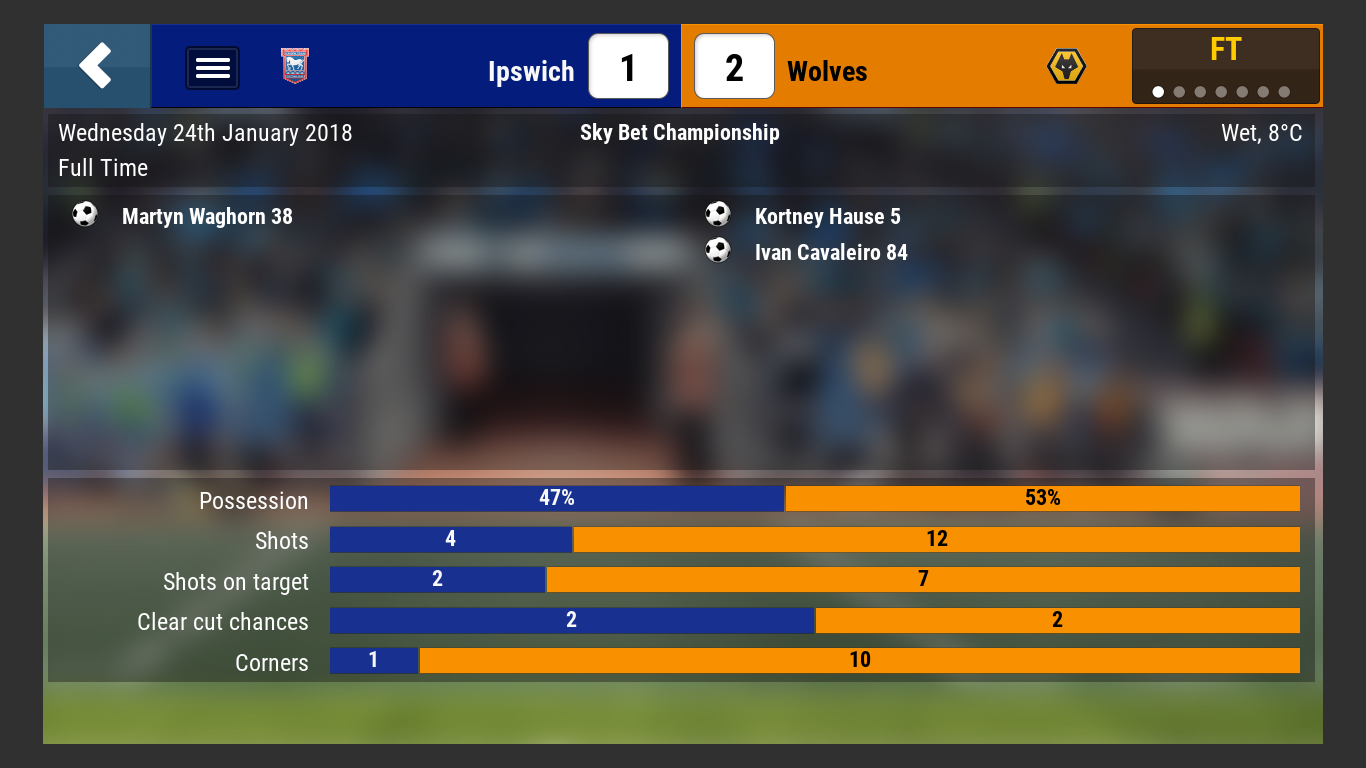 For long periods of the game after Waghorn equalised, I feared the worst because we were pulverising them without taking our chances. It would also be typical that as soon as we got rid of the gap, that we slipped up. Fortunately, Cavaleiro was on hand late on to get the goal we deserved and it left the table between Nuno and I looking like this…
| | | | |
| --- | --- | --- | --- |
| Team | Played | Goal Difference | Points |
| FM Wolves | 29 | +32 | 65 |
| Nuno's Wolves | 29 | +29 | 65 |
While Nuno's side may have the most clean sheets in the division and an incredibly strong defence, it goes to show that my complete disregard for defence works even better! We may have to add a goals scored column at this rate if it stays as tight, we'll play that by ear. So, the title 'Beating Nuno' was being achieved at the end of January, even if it was by the finest of margins, that's not where this chapter ends, though.
Earlier in the season, in October to be precise, Nuno's side lost to Man City on penalties in the Carabao Cup after churning out what was a highly commendable 0-0 draw at the Etihad or whatever it is called nowadays. My aim was to go one better than that. City lined up like this: Ederson, Mangala, Stones, Kompany, Bernardo Silva, Sane, Gundogan, Toure, De Bruyne, Che Adams & Aguero. Guardiola had thought sod the wing-backs let's have some fun as he lined his side up in a 3-2-3-2 formation, also, quite what Che Adams was doing at City, I have no idea. They paid Birmingham £8,750,000 for him in what can only be described as a bizarre move.
Once In A Blue Moon
Neves wasn't fit enough to play against City which was a massive blow, anyhow, we lined up like this Ikeme, Douglas, Hause, Coady, Boly, Doherty, N'Diaye, Price, Cavaleiro, Costa, Bonatini. The formation we used was straight out of Nuno's handbook as Douglas and Doherty had free roam to get the wings as much as possible to try and counter their narrow defence. When defending, it changes to a 5-4-1 so it's the best of both worlds. Could we do enough without Neves to get a result?
Once in a blue moon results like this happen. See what I did there? Blue moon against Man City? I should be a comedian. It wasn't just the result that was impressive, it was the way we did it as well. Restricting a Man City side laden with superstars to only two shots on target at home was as good as it gets. Well, for now, it was, anyway. In the fifth round, the draw was slightly more favourable as we got Reading away. Saying that they did beat us at their place earlier in the season, so we'll have to be at our best to beat them.
That's all for now, an unbeaten month and progress to the fifth round of the FA Cup, I'd call that a successful month, wouldn't you?
Until the next time.