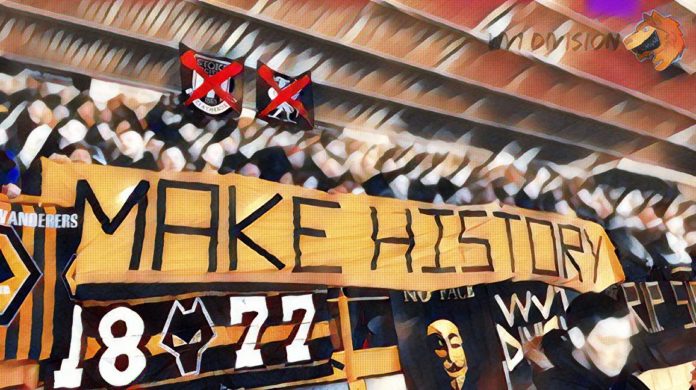 Here we are once more. This one is an interesting chapter. Of course, I'm going to say that, I'm writing it. Anyway, enough of the talking to myself. Sign of insanity that is, don't you know? Yeah, I did actually. ENOUGH.
Last time out, an impressive February meant that I finished winter five points ahead of Nuno's Wolves. If you're wondering what on earth I'm going on about and I wouldn't blame you if you were, I recommend reading the prologue, which should make things clearer. The reason why this chapter is interesting is that it's the last recap meaning that come the end of the chapter, we'll know where my FM team is in comparison to Nuno's Wolves.
In case you haven't heard, Nuno's Wolves are now thirteen clear of third, I hope to be doing as well, or better than that.
WARNING: BLIZZARD
We begin in strange circumstances, to begin with. Nuno's game against Reading was postponed due to a blizzard, however, the show must go on and luckily, the rearranged tie has been played now so the story still flows.
No drama and all that jazz. Nuno's side beat Reading 3-0 with what was a performance to die for, I, of course, had already played my game against them by this point…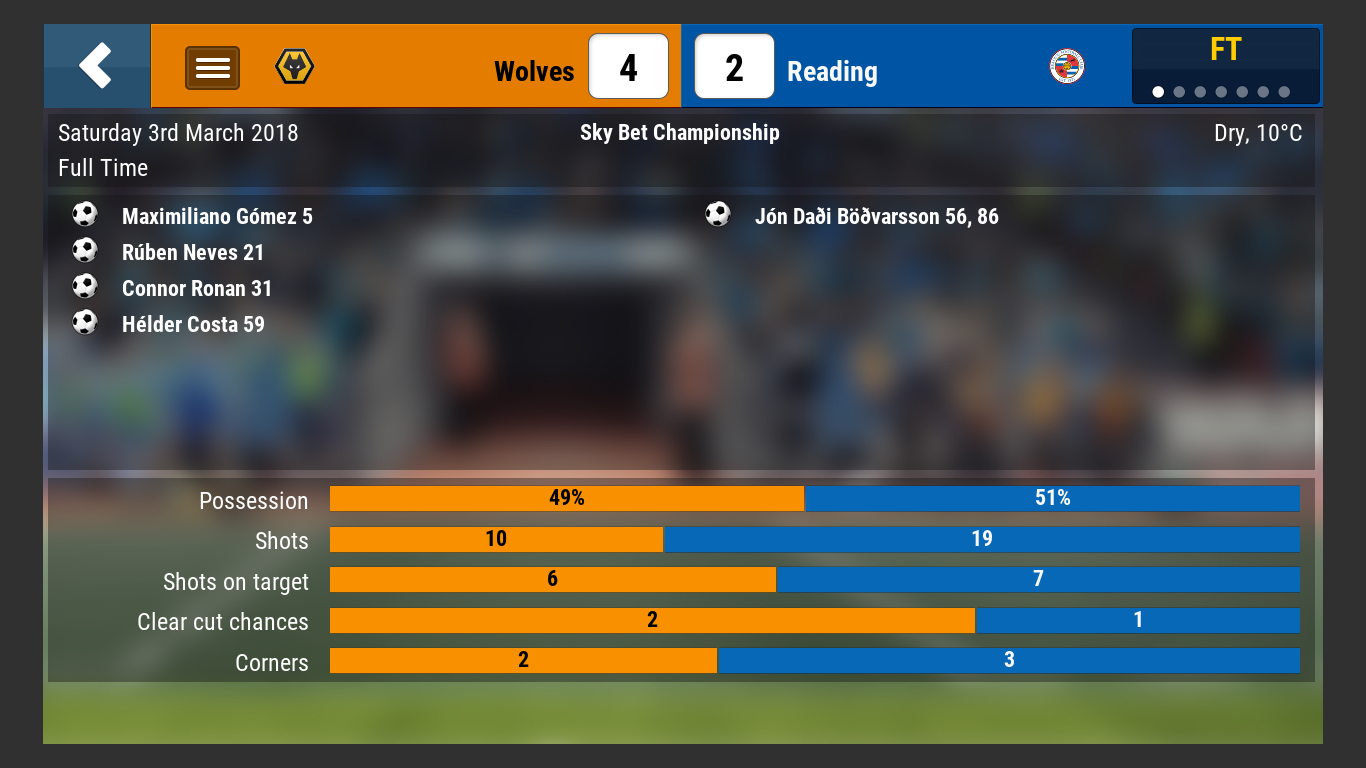 After the 1-1 draw with Fulham last time out, I opted to slot Ronan next to Neves and it worked rather well as you can see. Having the Ireland youth player next to Neves means the game flows a lot more, however, it also leaves us a little bit more exposed, reason for that is, out of the two, neither are really an enforcer. That is somewhat evident in the fact that we conceded two, nevertheless, my motto will remain 'we'll score more than you' until it all starts going pear-shaped.
A trip to Yorkshire beckoned next, Elland Road to be precise. Earlier in the season, Nuno and I both saw off Leeds with relative ease at Molineux and while we would have both been hoping for more of the same, only one of us really got their wish.
Tinkerman To The Rescue
The same eleven that saw off Reading was selected for me as I tried to get that perfect blend of consistency and freshness with the starting line-up, easier said than done. Nuno's side won 3-0 as they continued to set the benchmark.
Tinkerman to the rescue. When I say tinkerman, I mean me. One of the issues that I always face at halftime when a game is finely poised as this one was is whether to stick or twist. In this instance, I decided to twist.
Douglas and Doherty came off for Saiss and Morgan Gibbs-White as I went hell for leather with a 3-2-3-2 formation after the break. Almost immediately it worked as Ronan scored only minutes into the second half, however, as you can see, it was ruled out for offside. Rightly, may I add. It was Costa to the rescue as we got the goal we thoroughly deserved which ensured the gap remained at five between Nuno and me.
Sometimes Words Aren't Enough 
Next up, the big one. I'll level with you. I don't have an awful lot of time for Aston Villa. When Nuno lost 4-1 to them, I was royally pissed off. Words couldn't get close to describing how distraught I was, although I did give it a go here.
It didn't even occur to me that it was an opportunity for me to open the gap even further, I was that wound up by it. As the story goes, I was more bothered about not losing to them than I was beating them and this was the result…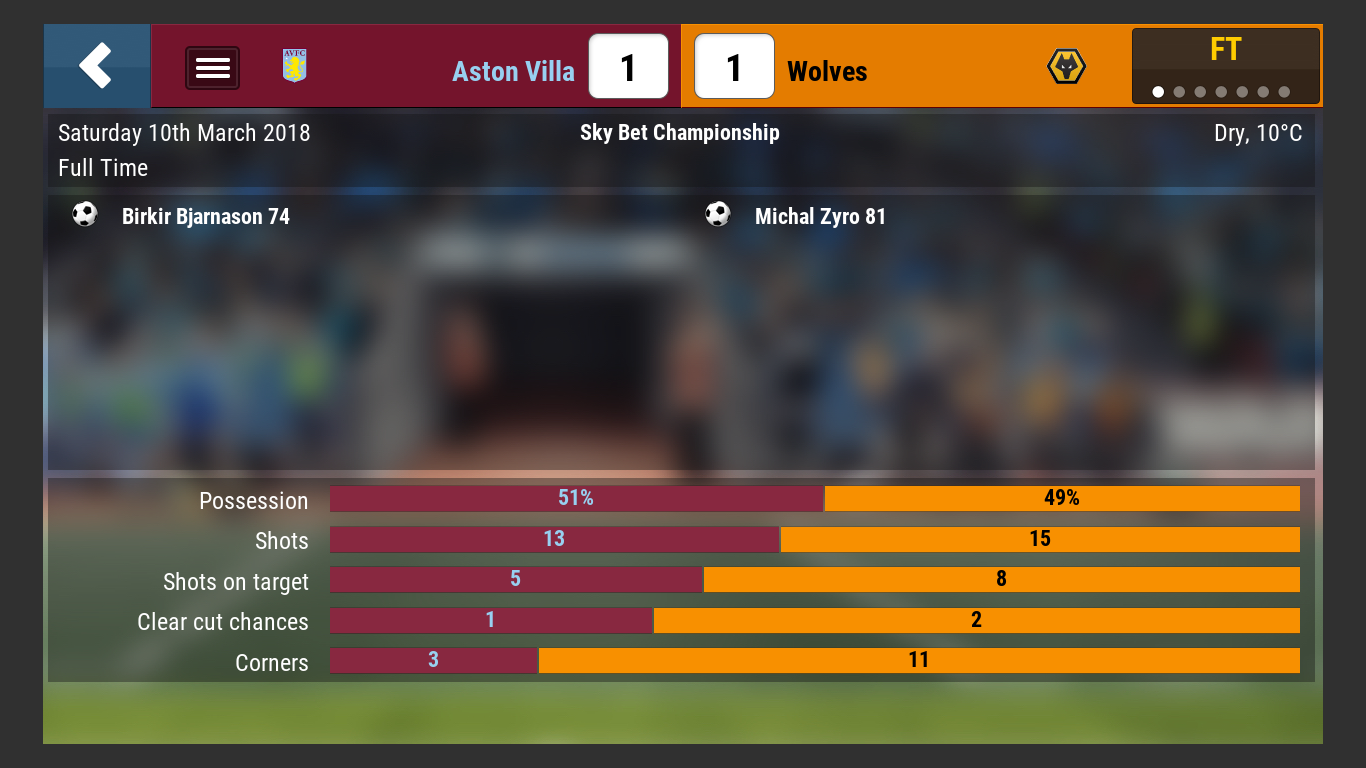 It was a fair result. Doherty was the best player and he got taken off after an hour as we went 3-2-3-2 again, so that should tell you all you need to know about the performance as a whole. Zyro scored which was a bonus.
I was still seething about Nuno's result to care enough about mine. The only saving grace was that it opened the gap between us up to six points, not that that really mattered in the grand scheme of things.
Seven Days Later, Champagne O'Clock – Nearly
Seven days is a long time in football. After the Villa game, the gap between Villa and Nuno's Wolves was seven points.
Fast forward a week and it was thirteen after the aforementioned win against Reading and a win in the last game of this chapter, against Burton Albion. Nuno's side brushed Burton apart 3-1 and it could have and perhaps should have been more. We didn't score as many, but we achieved the same result.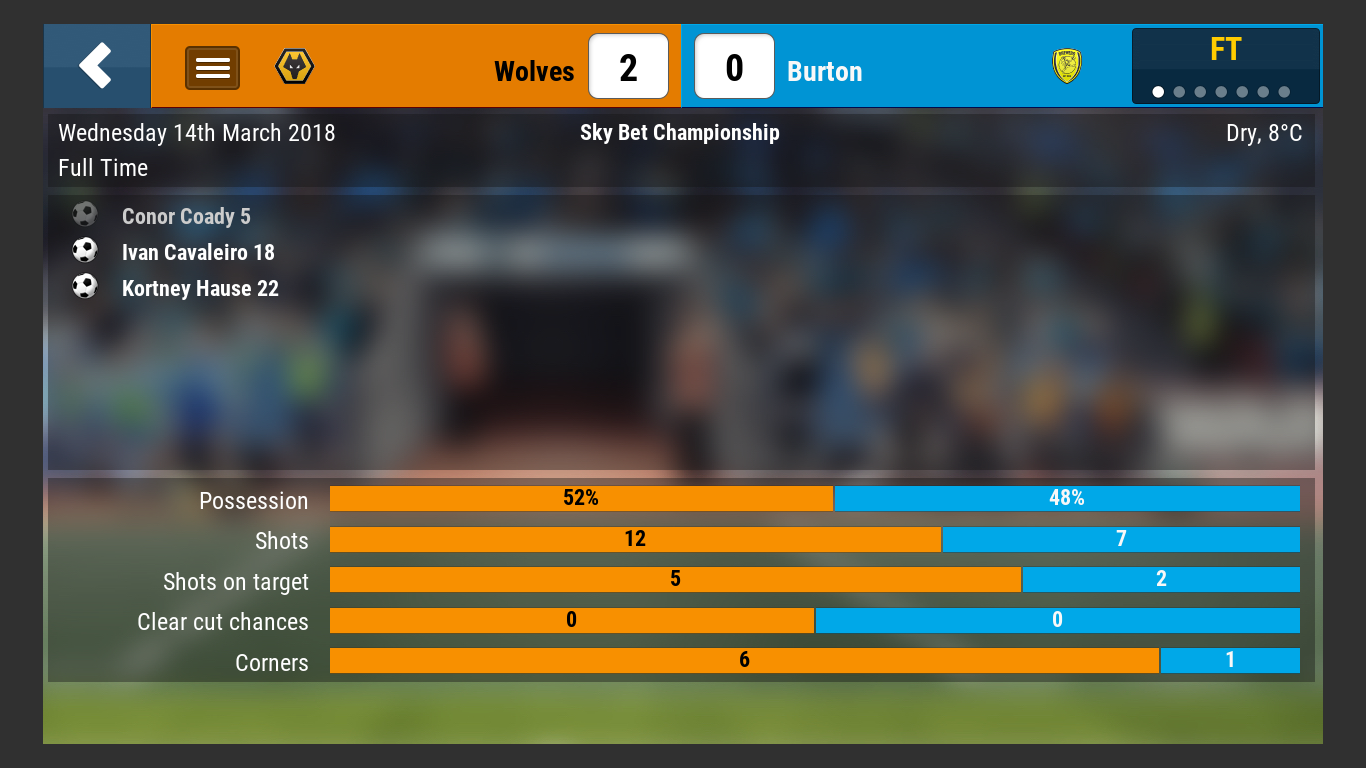 Early goals win games. Well, goals at any point tend to win games, but you know what I mean. Jota and Neves were rested for this as I had one eye on the upcoming FA Cup tie with Arsenal and luckily it didn't matter too much as we were too strong for Nigel Clough's side.
That was the end of that. So we are now at the present day and this is how the table looks…
| | | | |
| --- | --- | --- | --- |
| Team | Played | Goal Difference | Points |
| FM Wolves | 38 | +48 | 88 |
| Nuno's Wolves | 38 | +36 | 82 |
An added one-up on Nuno as well was that I was met with this message after beating Burton: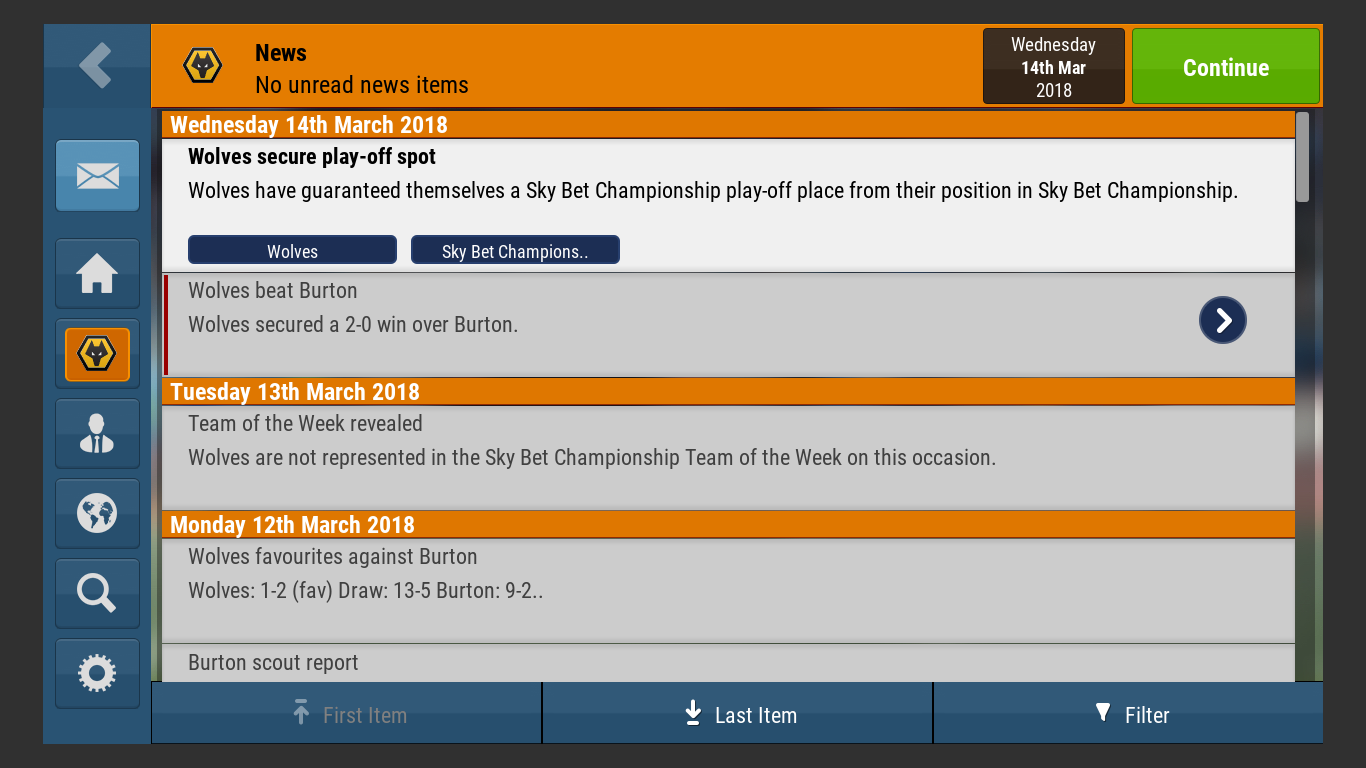 So, while Nuno maybe thirteen points clear of third, I'm six points clear of him. I'm not saying I'm better than him, but he's certainly not as good as me! With the international break now upon us, we'll take a look at our clash with Arsenal in the next chapter as we look to book a place in the semi-finals of the FA Cup. Easier said than done.
Until the next time.